If you like Napa, you'll love Douro Valley—a land of rolling hills, verdant vineyards and historic quintas. It's no secret that people visit this burgeoning viticulture region to drink. But even folks seeking a less tipsy getaway will undoubtedly find plenty to satisfy in Douro Valley. Need more convincing? Ahead, ten compelling reasons to plan a trip to Portugal's most magnificent wine destination.
1. Port, Port and more Port
Port (sweet, fortified wine) hails from Douro Valley. Translation: You don't have to look far to find a glass of sippable-dessert-worthy goodness. Speaking from experience, it's going to be the best you've ever tried.
2. World-class wine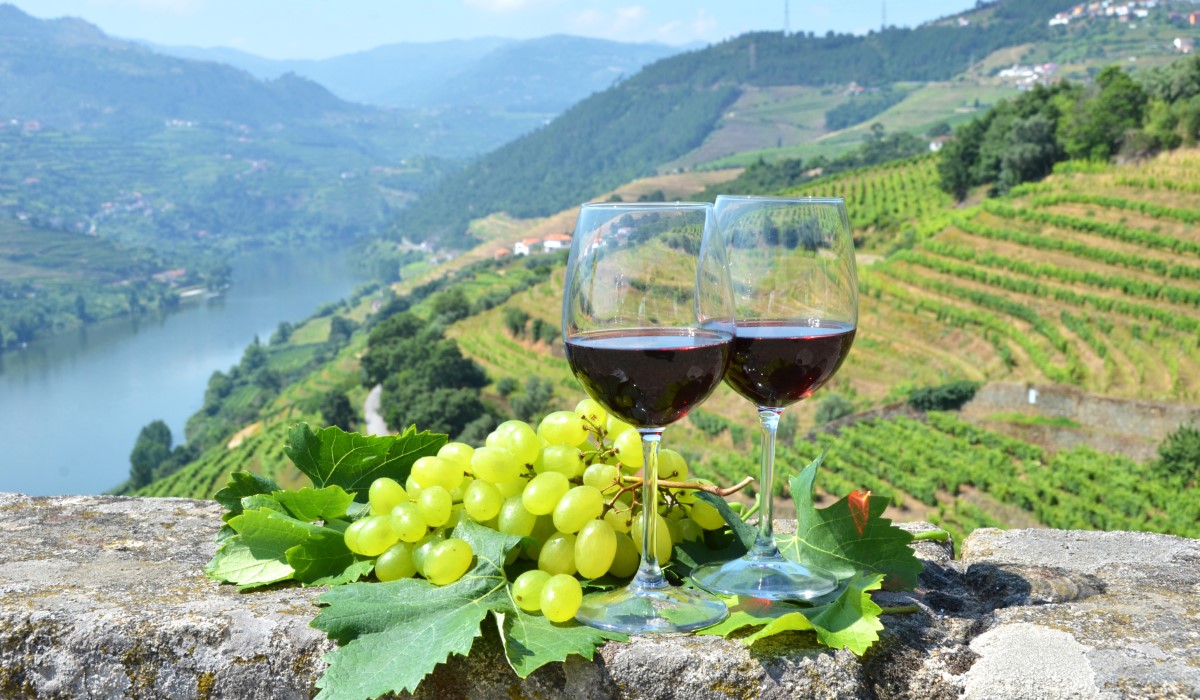 Outside of award-winning port, Douro Valley is still a bit of an unsung hero in the wine world—especially compared to the big guys like Bordeaux and Tuscany. With superb pours of red and white at literally every turn, we're not sure how that's possible.
3. Incredible food
The culinary scene in Douro Valley rivals gastronomic giants across the globe. Our top picks? DOC has special occasion written all over it, while Tasca da Quinta is a great spot for a cozy dinner that won't blow your entire vacation budget.
4. Heavenly holtels
Six Senses Douro Valley encapsulates everything that makes Douro Valley so special—next-level gastronomy, warm hospitality and vino. (If you need us, we'll be over here fantasizing about daily tastings in the property's wine library.) For a more affordable option with oodles of charm, consider Quinta da Pacheca.
5. Natural beauty
Picture rolling, vine-covered hills and a river that runs through it all. Describing Douro Valley as utterly breathtaking doesn't begin to do it justice. Word choice aside, this photogenic destination shines in all its verdant glory.
6. Easy trip from Porto
In many cases proximity (or lack thereof) to a major city is the reason a place flies under the radar for so long. Douro Valley seems remote, however it's actually super accessible. You can easily drive or hop on the train from Porto.
7. Not overly touristy
Of course, there's nothing wrong with being a tourist. But show us a person who legit wants to wait in a lengthy queue for wine. A stress-free weekend of tastings sounds a heck of a lot better, right? Douro Valley maintains a low-key status that bodes well for travelers aiming to escape the crowds.
8. Rich history & culture
One of the oldest wine regions and a UNESCO World Heritage Site, Douro Valley has heaps of history. Budding oenophiles can learn about traditional production methods and stomp grapes during harvest season. In between vineyard visits, why not admire centuries-old churches or hit up Museu do Douro?
9. Outdoor activities
Douro Valley is the perfect setting for outdoor recreation⁠. Early morning vineyard walks. Hot-air balloon rides. Picturesque cycling tours. Sunset boat cruises along the river. Hiking and chasing waterfalls in the Alvão Natural Park. Need we say more?
10. Relaxation
When you've had your fill of eating, drinking and exploring, pampering awaits. Retreat to the Six Senses Spa Douro Valley to indulge in locally inspired therapies, such as grape-pulp body scrubs and schist stone massages. Ahhh we're feeling relaxed already.
By: purewow.com