A bicycle is the perfect means of transport to explore the city and rural areas. Often, cyclists can follow a safe route on specially designed bicycle roads. Along the way, you will find plenty of places to enjoy a drink, a bite, and charge your e-bike.
Bicycles are so Dutch!
It was the first thing queen Maxima (she's originally from Argentina) noticed in the Netherlands. A mother on her bike, with two children, carrying the groceries: her image of a typical Dutch scene.
The Netherlands is the country for bicycles. It's a known fact that there are more bikes than people here. What is normal for us is not normal for people from elsewhere. We all know the tourists on bicycles in Amsterdam, not having a clue what to do. But what is it like for people who come to live here?
Living here means that you just have to get used to it. Some people love it. But for others, it's a nightmare.
Rules of the road—bicycle edition
Many roads have specific "cycleways" separate from the road itself, with their own traffic lights and controls. Tunnels and bridges segregate cyclists away from the rush of traffic in highly congested areas to ensure maximum safety and speedy travel (and minimal exhaust inhalation). Signposts and road signs are available in cycle ways and roundabouts and sometimes list alternative routes. While cycle lanes and cycle routes have the same type of traffic signals as the motor vehicle lanes, Dutch cyclists are pretty aggressive and notorious for ignoring traffic signals. This may be encouraged by those "automobile is always responsible" types of laws—being surrounded by two tons of metal makes it hard to point a finger of blame in a collision with a defenseless man on a bike.
Get around easily
The rules of the road are easy to learn in Holland. If you are willing to be a strong bicyclist without dilly-dallying around, cycling through the cities and countryside is one of the best ways to get to know both this land and its people. Because of the landscape, even those unused to cycling everywhere can get around just fine. Bicycle tours are popular ways to access the countryside without getting lost or see beautiful major cities like Amsterdam, Utrecht, the Hague, and Rotterdam in an exciting way. Bicycle rentals are available in just about every urban center.
General cycling rules in Holland:
Since July 2019, you are no longer allowed to hold a telephone or other electronic device in your hand while riding a bicycle.
Two cyclists are allowed to ride side by side, no more.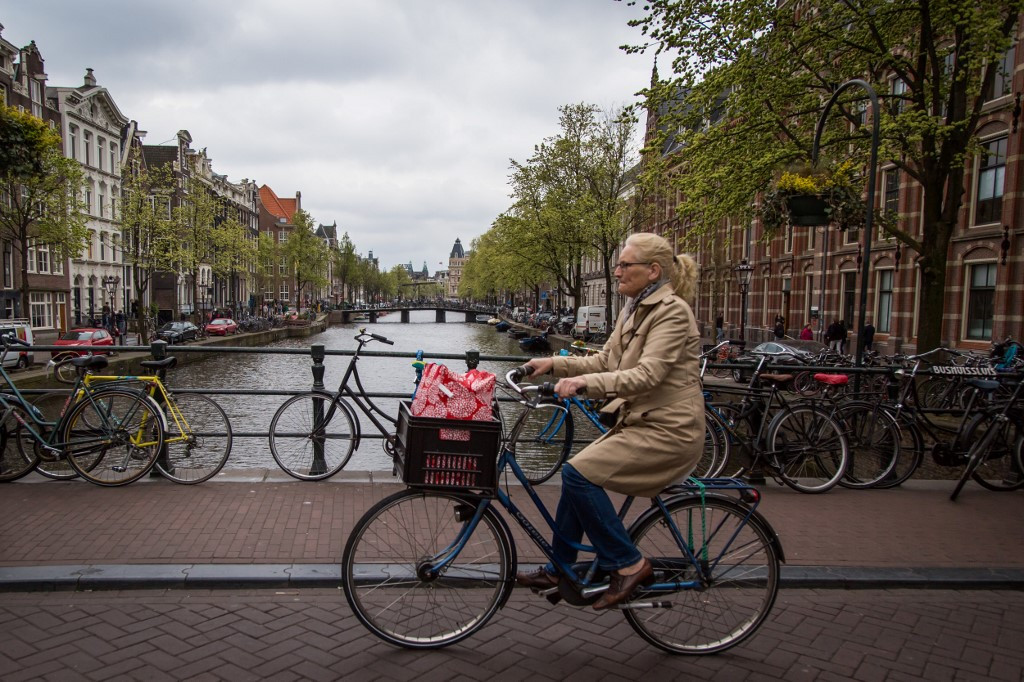 If cycling side by side hinders traffic, you must cycle in single file.
Cyclists are allowed to turn right at a red traffic light if there is a sign that reads: 'rechtsaf voor fietser vrij' (cyclists free to turn right).
Cycles can be parked on the sidewalk unless there is a sign that forbids it.
Cyclists are only allowed to transport children under 8 if they are in a safe seat.
Cyclists must pass each other on the left; they are allowed to pass other vehicles on the right.
Cyclists must have a working light on the front and back of their bicycle at night.
It's so much fun to cycle in the Netherlands
The Netherlands is a very flat country and the cities aren't too big. These two things mean that for a long time, the Dutch have been using their bikes for all sorts of things. Going to work, shopping, seeing friends, going out. The bike is often the way to go!
Students from summer school love this attitude and even miss it when they go home to their original countries!
Even though the weather isn't always the best, getting on their bikes in the rain, the Dutch say, 'There's no such thing as bad weather, there's only unsuitable clothing for the weather.'
I hate biking in the Netherlands
Coming to the Netherlands, you might not be used to bicycles being everywhere. And when you first come, there's a good chance you will stay or arrive in Amsterdam. It's the capital of the Netherlands and the capital of bike mania!
Amsterdam is known, even by Dutch people, for being chaotic and messy when it comes to bikes and traffic in general.
Dutch people use bikes for transport, to go from one place to another. This means it's not necessarily used as something relaxing to enjoy the environment. As a result, the Dutch tend to cycle pretty fast! If you are not prepared, you might encounter some angry Dutch bikers behind you, ringing their bells aggressively
No helmet!
Transporting large items? Phoning your friend? Writing a text message on your phone? We do all that without a helmet!
You might see some young children wearing a helmet. But still, most people here don't even know the Dutch word for it. And, unlike in a lot of other countries, there's no law saying you should wear a helme
How to lock your bike like a Dutch person!
Although I can claim that the Netherlands is very safe, bike crime is a big thing. I don't know how many bikes I've had in my life up to now. That's because bike theft is one of the most frequent crimes . And it's not usually reported to the police because it's just another bicycle. It would be too much for the police to go after every stolen bike.
In short, this is what you should do to minimise the risk.
Always use two different locks and attach your bike to something like a pole or bike rack.
There are also a lot of bike parking places in every city and many are free for the first 24 hours.
There are a lot of opportunities to cycle in the Netherlands
The Netherlands has 37,000 kilometers of cycle paths.
37,000 kilometers!
And this number doesn't even include the number of kilometres of roads with bicycle lanes.
This is in a country that from north to south is only a little more than 450 kilometres. The road network of the Netherlands is one of the densest in the world. But look at this number: 5,012 km. That is the number of kilometres of national roads. What a difference!
There are a lot of bikes in the Netherlands – more bikes than people
Around 17 million people live in the Netherlands. And according to the latest estimate by sector associations BOVAG there are 22.8 million bicycles in the Netherlands. This means that on average, every Dutch person owns more than 1.3 bicycles.
In short: the history of the bike
The bike as we know it was invented around 1865. Then it was called a velocipede. So it's not that old. It is strange to think that this was later than the train.
People then thought it was strange or even impossible to ride something with only two small wheels, one behind the other!
But looking at the mother with two children and the groceries, the Dutch managed this skill pretty well.
The bike nowadays
The bicycle has undergone several innovations before it became what we are all familiar with today. And the bicycle is still being further developed. Look for example at the advent of the electric bicycle.
First the electric bicycle was for old people, definitely not cool to be seen on! Nowadays it's becoming more and more popular. Especially for people who want to avoid car traffic or being packed like sardines into public transport.
Another explanation? These are the Dutch, so they're economical! They do this mainly to save costs.
By: learndutch.org