First time traveling to New Zealand? When planning a trip around New Zealand, it is crucial to know the best ways how to get around, especially when you are traveling on a budget. Is it better to rent a car, invest in a campervan, hop on a bus or hitchhike? We've got you covered.
Traveling to New Zealand is for many of us a thing of a lifetime. Have you finally decided to undergo the long and tiring flight and set off for holidays of your dream?
When it comes to planning, except for the task number one – narrowing down your perfect New Zealand itinerary, the second most difficult thing can be finding the best way of traveling around New Zealand.
New Zealand is a compact country (only a small obstacle is to take a ferry from North Island to South Island), and it is easy to get around as roads are generally in good condition and there is no lack of transportation options.
Although New Zealand for sure is not a cheap country, we believe that you can find the best way how to get around to suit your budget.
Because we spent more than a year in this beautiful country, we've laid out all means of transport you can choose from when preparing for your travels.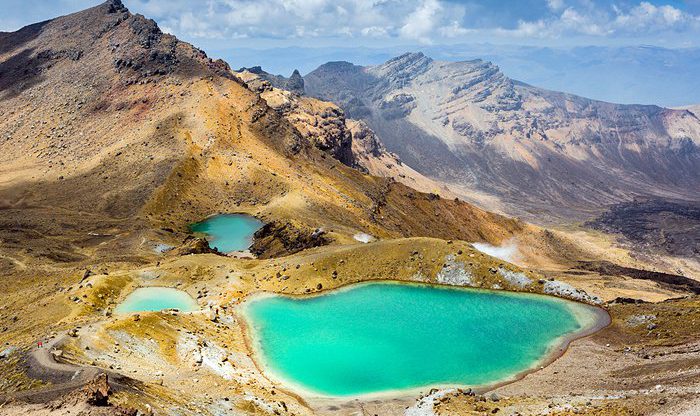 RENT A CAR
Driving in New Zealand is a popular way how to get around.
Having your own car will give you freedom as you can get to the more remote parts of the country, you can travel at your own pace, and you are also boss of your own itinerary. From our own experience, nothing can beat the road trip around New Zealand.
Don't forget that you must drive on the left side of the road in New Zealand!
The most common option of getting around New Zealand is to rent a car or campervan.
There is no shortage of companies providing rental service, the only question is, how much money you have to spend – always think in a context of accommodation here.
You can either rent a car and sleep in hotels, or rent a campervan or motorhome and sleep in your car in designated areas or campgrounds.
Although campervans and motorhomes tend to be more expensive, always calculate how much you will save on accommodation because campgrounds (very well-located and well-equipped) are cheaper than hotels (especially in the high season).
Also New Zealand has a great network of really cheap (basic though) DOC camps, or you can even find some designated areas for free thanks to great app WikiCamps New Zealand.
Prices of rental cars vary and sometimes double in high season.
Make sure you book your car well in advance, especially if you are traveling to New Zealand from December to the end of February.
Always check what is the drop off fee in a different location, in case you will arrive in Auckland and depart from Christchurch.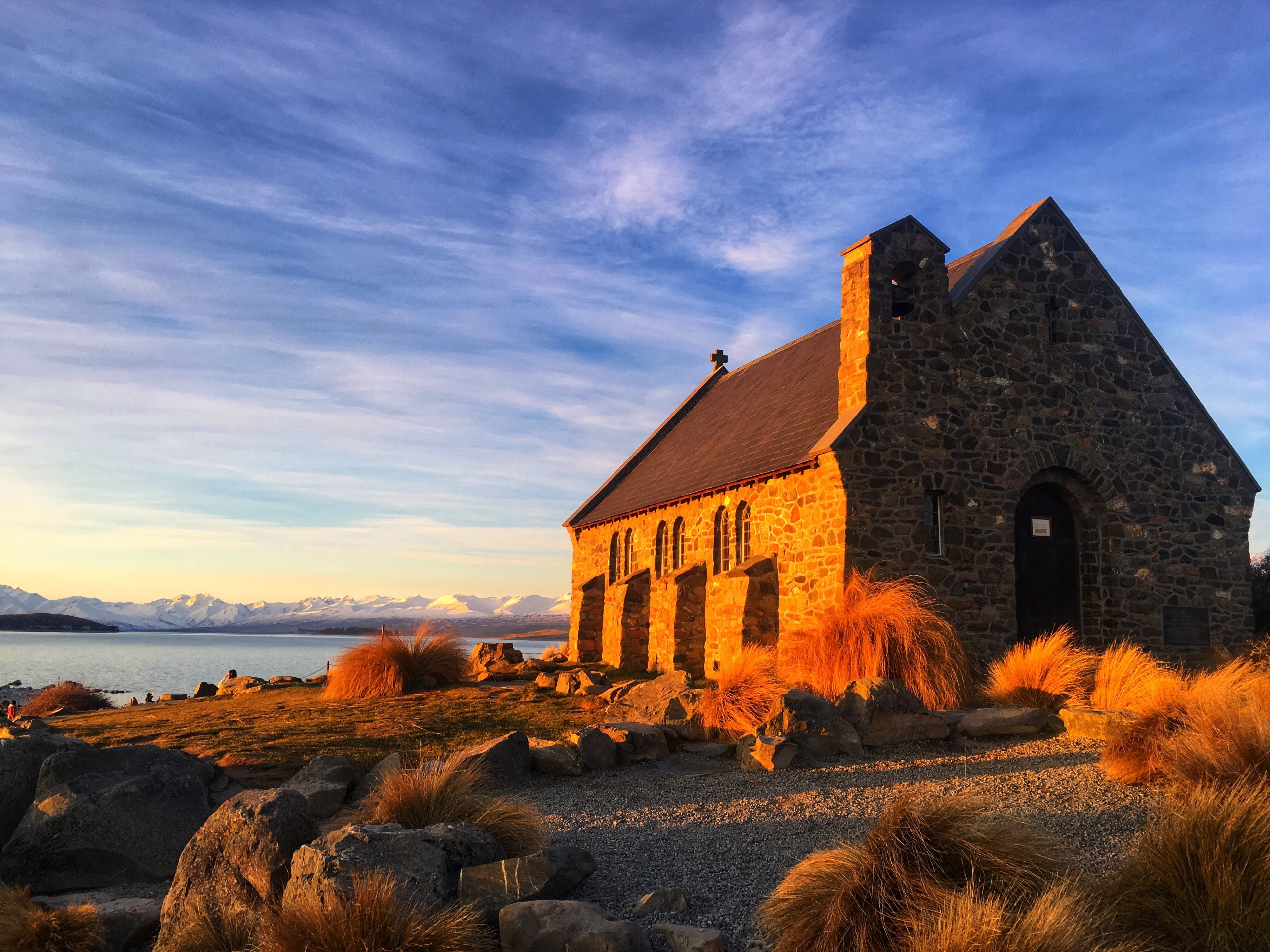 BUY A CAR
Buying a car might seem crazy and a bit off topic, but if you plan to spend in New Zealand for at least three months, we think it is a good idea.
Buying a car and the whole registration process is very simple, you only need to find a reliable seller and a car in good condition.
We bought a slightly more expensive car remade to a campervan on the market in Auckland for NZD 4000 and sold it when leaving to a couple who arrived to travel in New Zealand for three months for NZD 3500.
Overall, we paid for our car only NZD 500 in fifteen months (when we don't calculate some repairs and maintenance, but it is a different story though.
DOMESTIC FLIGHTS
New Zealand has many domestic airports so you can easily get around the country by plane.
Flying isn't cheap, but if you need to travel efficiently and quickly (usually between North and South Island), this is how to do it. Flights are operated by Air New Zealand and Jetstar.
Check their websites to secure first and last minutes deal.
When looking for flight tickets you can search Skyscanner to find the best price.
NEW ZEALAND TOURS
If traveling independently is not your thing, booking a tour might be a good solution.
You don't have to worry about your itinerary, accommodation and very often not even for your food, but be prepared to pay for this service.
Although this is not how we travel at the moment, we can see all the advantages tours can offer.
When booking tours online in advance, we prefer GetYourGuide for their easy to use interface and solid reputation. Another great alternative is Viator.
PUBLIC TRANSPORT
If you are on a tight budget, traveling by public transport might be your bet.
Buses depart frequently from town to town, and you don't need to worry you will get stuck somewhere for a long time. You can get better deals when booking far in advance.
With InterCity company, you can purchase either single tickets or bus passes, so have a look at what suits you best.
Our Tip: Traveling around New Zealand feels like being in a fairytale. But many other travelers want to enjoy the fairytale as well as you do.
Do not forget to book your reservation well in advance, especially when visiting New Zealand in high season.
HITCHHIKING
Hitchhiking in New Zealand is easy, and you shouldn't wait long for your next ride, especially if you follow the classic backpacker's route.
New Zealand is a safe country (as usual use your common sense), and if you are not on a tight schedule, it is a great way how to explore the country and get to know locals.
Also, in many hostels, you can find a board where others look for fellow travelers to share the cost.
TRAINS IN NEW ZEALAND
Trains are not a common form of public transport in New Zealand, however, you can take a train to enjoy a scenic ride more than to get from one point to another.
This ride comes pretty expensively, but if you are a fan of trains and want to experience New Zealand's countryside, you can check your options at one of the three providers in New Zealand: Northern Explorer, Coastal Pacific, and TranzAlpine.
NZ HOP-ON-HOP-OFF-BUS
The most popular option among backpackers who don't want to rent a car and travel on own.
Hop-on-hop-off-buses cruise New Zealand on selected routes and you can always break your journey according to your plans.
The advantage is meeting new people and the fact you can share your travels with others, the disadvantage we can see is that you will most likely travel in a large bus with 55+ seats here and that your journey can easily turn into party ride, and you won't remember much from it.
Of course, this might be the reason why some travelers want to join those tours, you should only know what to expect before jumping on.
If you are not an extrovert or you rather enjoy quiet nights, this service probably isn't exactly for you. The average age of travelers using hop-on-hop-off-buses is around 25.
There are two major backpacker operators in New Zealand: Kiwi Experience – focusing more on younger travelers and partying and Stray – which has smaller buses and a little bit more mature demographics.
FERRY
From one island to the other, you can either fly or travel by ferry.
The ferry ride from Wellington to Picton (or vice versa) is scenic so make sure you will go to the upper deck, especially when you'll be entering Marlborough Sounds near to South Island.
This is also your only possibility how to travel between islands by car.
Book with Interislander or Bluebridge.
You will also need to take a ferry from South Island to Stewart Island, home to Rakiura Track.
CYCLING
You can transport on own in case you are bike enthusiastic plus when you have at least a decent level of fitness.
Traffic on New Zealand's roads is not heavy (except for bigger cities such as Auckland), and you will have time to really connect with the stunning nature.
It is always better if you've done some long-term cycling trip before to know what to expect and enjoy the ride even better. Some walking trails can be closed for bikers during high season so plan accordingly.
HIKING – TE ARAROA
For ultimate hikers and those who want to walk through New Zealand on own without using transport, here's the challenge.
The 3 000 km long journey from the northernmost point of New Zealand Cape Reinga all the way down to Bluff in the bottom of the South Island should take from 50 – 80 days.
If you are an experienced hiker, this might be something for you.
Have fun!
7 THINGS YOU SHOULD PACK FOR NEW ZEALAND
What to pack is never an easy question. Especially when it comes to New Zealand.
Nevertheless, we think these 7 items are absolute essentials you should bring for your New Zealand trip.
Hiking Boots for Him & for Her | Camera | Windproof and Waterproof Jacket for Him & for Her | Fleece Jacket for Him & for Her | Sunscreen | Bug Repellent | Hiking Poles | GPS Watch
We've also created an in-depth New Zealand Packing List where you can find more information and useful tips.
TRAVEL INSURANCE – SIMPLE & FLEXIBLE
We never leave our home without travel insurance which is designed to help cover your expenses if something goes wrong on your trip. World Nomads Travel Insurance has been designed by travelers for travelers, to cover your trip essentials.
Travel smarter and safer!
Source: laidbacktrip.com