Want to know some of the best spots in Vienna for photography and Instagram? In this post I will tell you my top spots where you'll be able to capture perfect pictures to share with your friends and followers.
You'll also find photography tips and recommendations for some of the spots. Some of the suggestions may be a popular location, such as the Schönbrunn, but there are some hidden spots which make for really good Instagrammable photos and often get really good engagement.
For Christmas photography spots head to: Christmas in Vienna: The Best Places to See and Photograph the Lights.
Here are the best and must-visit Instagram and photography locations in Vienna.
1. Spittelberggasse
This is one of my favourite streets in the city with fantastic baroque architecture and cobbled streets. This street is beautiful to photograph and you'll also find great restaurants around here too, such as Ulrich which is amazing.
Best time for pics: Day
Cost: Free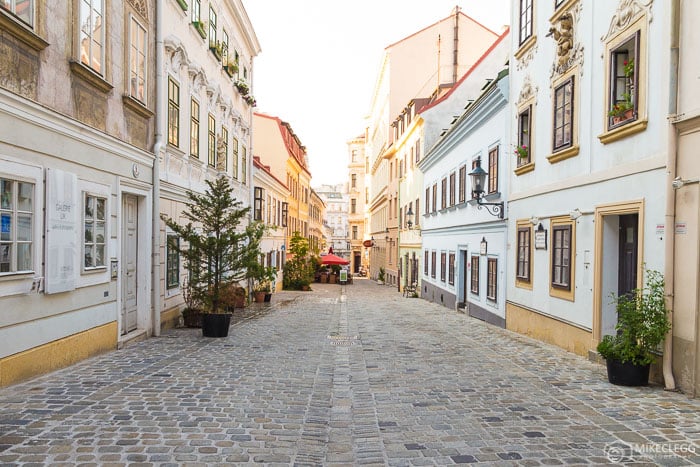 2. Stephansdom Towers
The view from the Stephansdom Towers is a must for photography and Instagram. Up there you'll get far-reaching views, especially from the South Tower. This is one of the best places for taking pictures of the Vienna skyline.
Tip: If you go during the winter months when the sun goes down early, you can get up there for sunset before it closes.
Best time for pics: Sunset
Cost: Ticketed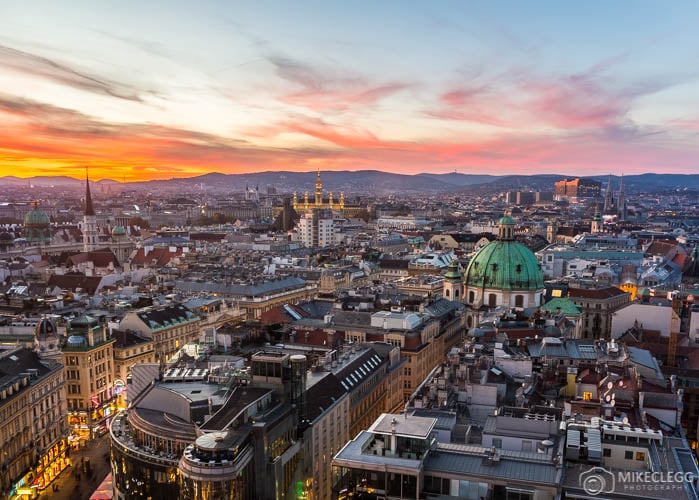 3. Ferstel Passage
This beautiful passage within the Innere Stadt is very Vienna with a magnificent and elegant design. There are also nice cafes if you fancy a delicious Melange (Viennese coffee). This is pretty much a secret Instagram spot in Vienna that you won't see many people posting.
Best time for pics: Day
Cost: Free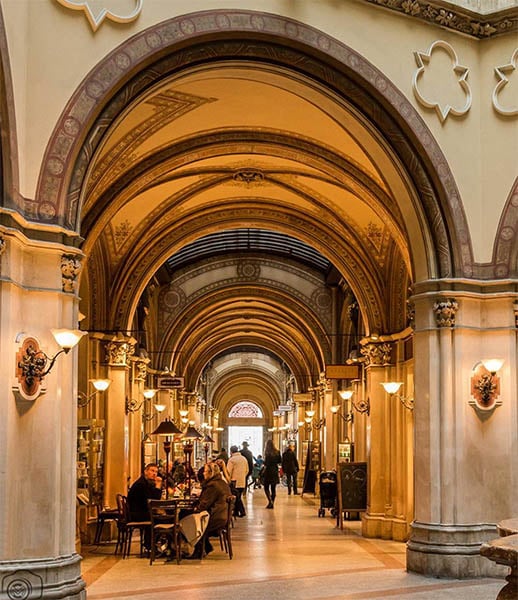 4. Café Central
One of Vienna's most picturesque coffeehouses is Café Central. As you go in you'll instantly be greeted by stunning pillars reaching from floor to ceiling. This cafe is also perfect for a break to get some tasty Viennese coffee and cake.
Tip: When taking photographs make sure you use a very wide-angle lens otherwise you won't get as much in the picture.
Best time for pics: Day
Cost: Drink or snack at the restaurant is polite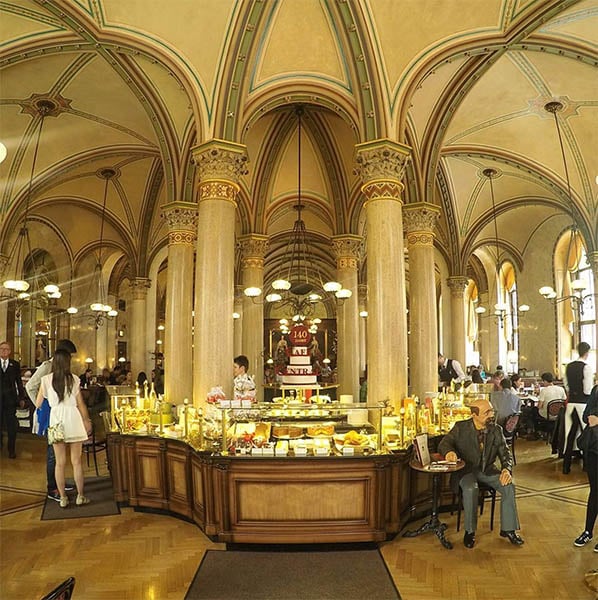 5. Graben
The Graben is one of the most beautiful streets in the city (especially at Christmas in Vienna).
Tip: Along this street, you'll find the Column of Pest(Column of The Trinity) which was built to commemorate plague victims. Using this column can help when composing your photograph.
Best time for pics: Anytime
Cost: Free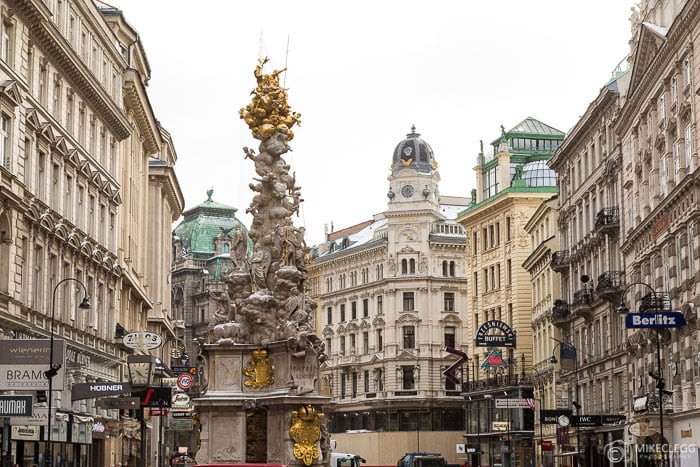 6. Kohlmarkt
Another fantastic street is the Kohlmarkt which leads from the Graben towards the Hofburg Palace. Towards the end closest to the Hofburg is another nice coffeehouse called Demel. This is similar to Cafe Central with a wonderful Viennese design (although it looks very different). You can also pop into the shop on the ground floor.
Tip: Try taking photographs leading down towards the Hofburg. This street is also particularly nice at Christmas.
Best time for pics: Night
Cost: Free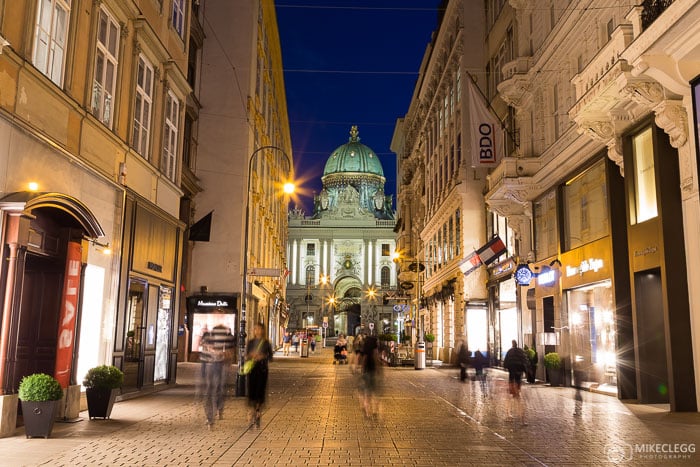 7. Staatsoper exterior
The Vienna State Opera is very impressive, even more so at night when it's lit up.
Tip: When taking photographs at night, use a tripod and a long exposure to capture light trails going past. This adds an extra element to the picture. Another good spot is near the entrance to the Albertina museum which is located on the other side.
Best time for pics: Blue hour/night
Cost: Free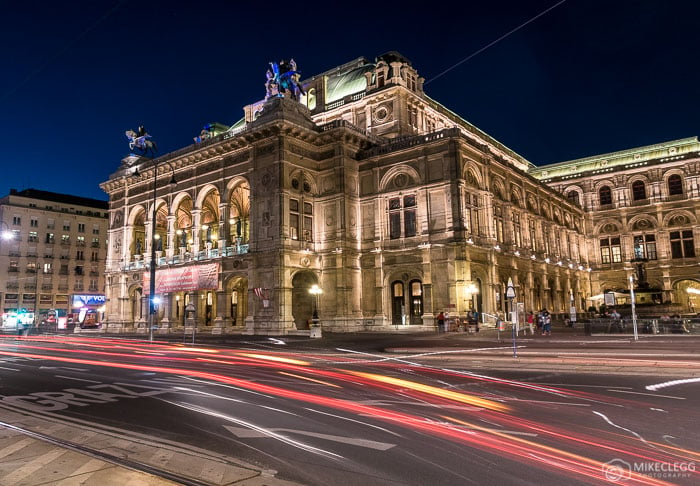 8. Staatsoper interior
The Staatsoper offers guided tours of the inside which provides the perfect opportunity for some interior shots. One of the famous photography spots is on the main staircase as you go in the front entrance.
Tip: If you fancy watching some opera you could avoid a tour and also get some pics of the staircase whilst waiting for the production to start.
Best time for pics: Day
Cost: Theatre tickets or a tour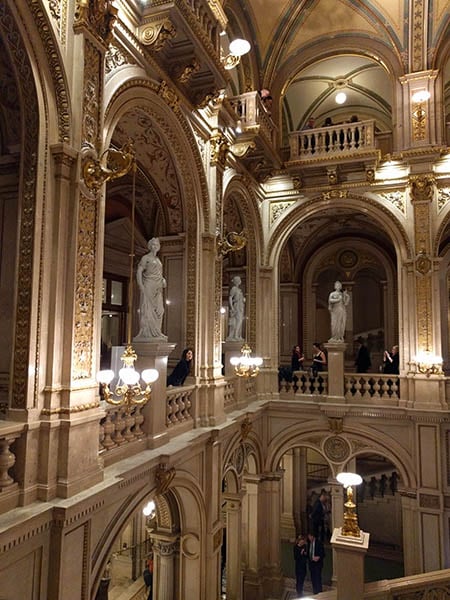 9. Rathaus
When I first saw Rathaus I was seriously impressed. Taking pictures of it isn't really the easiest as there is almost always an event or something going on in front of it.
So when taking photographs you will have to just see what's going on during your visit and if there is, then try and use it to your advantage. The Rathaus is also particularly nice at night when it's lit.
Best time for pics: Night
Cost: Free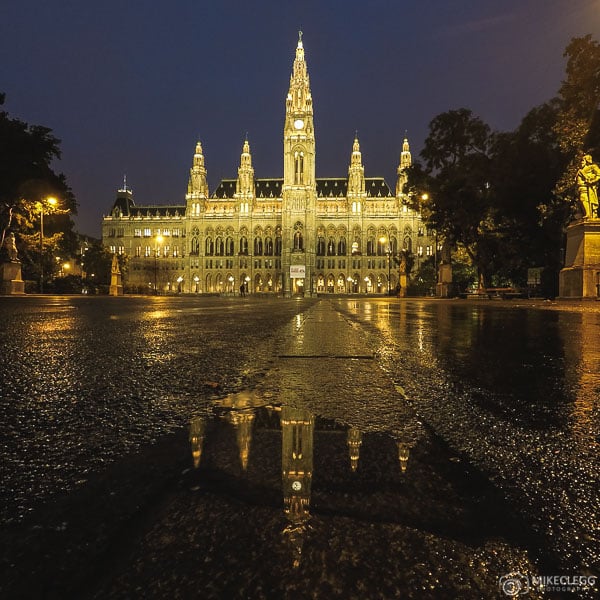 10. Austrian National Library
This library definitely isn't the easiest for Instagram as it's so wide. At night it gets lit up and also looks nice.
Tip: If you happen to be in the city just after the rain, then you might find puddles such as below where you may capture perfect reflections. This makes it a lot easier to take a picture that is square or portrait (landscape crops aren't that great for Instagram). You could also try using a wide-angle lens and then take pictures closer to the building.
Best time for pics: Anytime
Cost: Free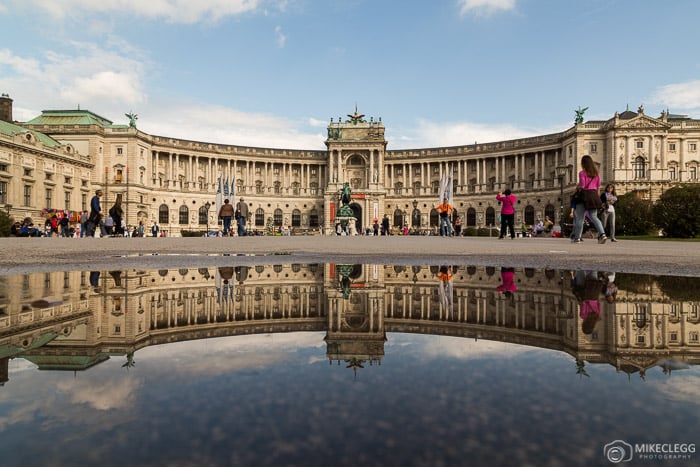 11. Palace of Justice
The interior of the Palace of Justice is a hidden gem. The main attraction in this building is the floor and architecture in the main hall towards the entrance. Head up the stairs and then go towards the back for a high perspective.
Another good spot is to head up the elevator to the top floor and visit the Justizcafe which has an outside patio overlooking the city.
Best time for pics: Day
Cost: Free
12. University of Vienna
At the University of Vienna there are a few magnificent staircases and corridors which make for great photographs. To find the staircases after you've walked through the main entrance and past reception, take the corridors either right or left.
Best time for pics: Day
Cost: Free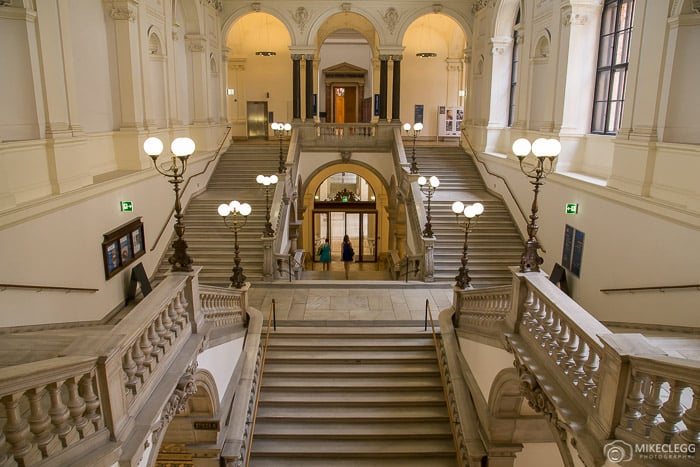 13. Hotel Imperial Vienna
Although not a public building if you decide to stay at the Hotel Imperial Vienna you can get some shots of the stunning interior which is a Viennese style at it's best. Even if you don't stay here, you could pop into the cafe, restaurant or bar.
Best time for pics:Anytime
Cost: Reservation or visit to the cafe or restaurant would be polite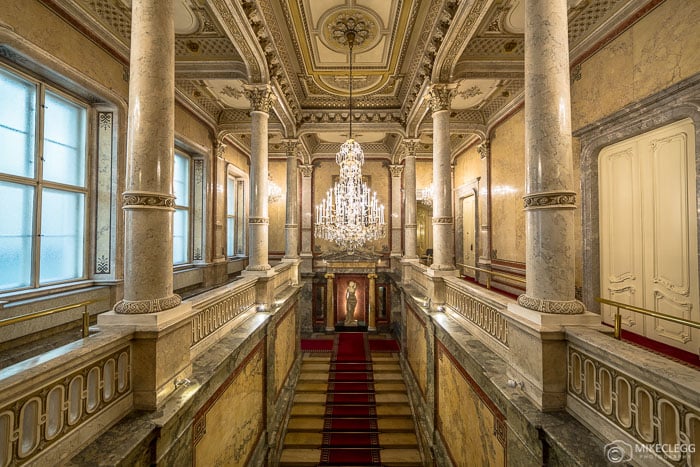 14. Karlskirche
Karlskirche is a stunning baroque church and is a fantastic photography spot. Often at night you'll find other photographers with their tripods out.
Tip: During the warmer months, most likely from late spring to early autumn there is water in front (this gets emptied in the winter). This water often provides mirror-like reflections as seen below.
Best time for pics: Night
Cost: Free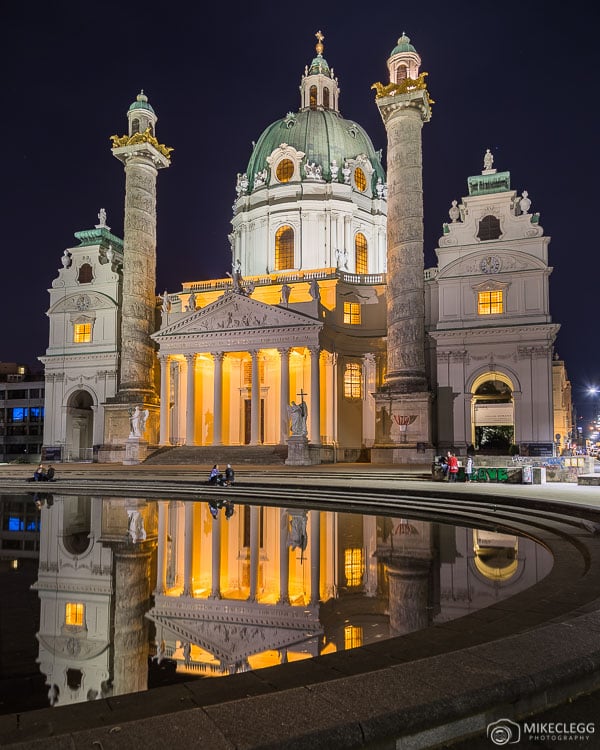 15. Votive Church
The front of the Votive Church isn't that impressive and often has ugly advertisements hanging on it. So instead head to the back of the church where you'll find more impressive and highly detailed architecture.
Best time for pics: Day
Cost: Free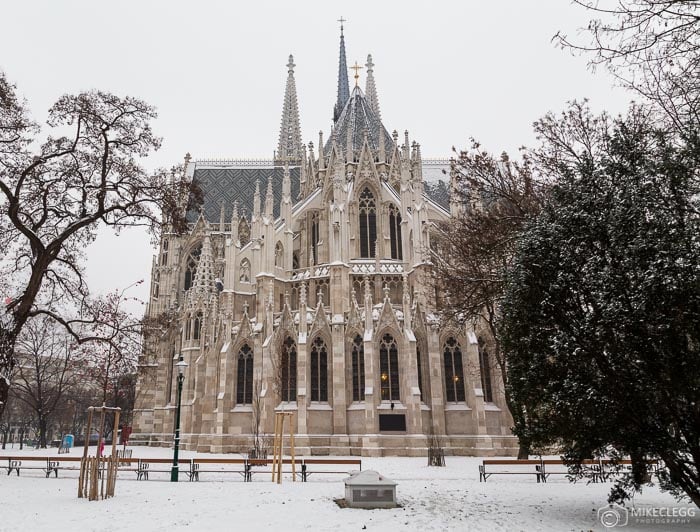 16. Jesuitenkirche
The Jesuitenkirche has a very picturesque interior and definitely a worthy Instagram spot. When I first visited it blew me away, as I was not expecting such a beautiful design.
Tip: Try taking your pictures vertically (portrait) to capture as much as possible of the ceiling down to the floor. This will make it better for posting on Instagram. You could try using a wide-angle lens if you have one.
Best time for pics: Day
Cost: Free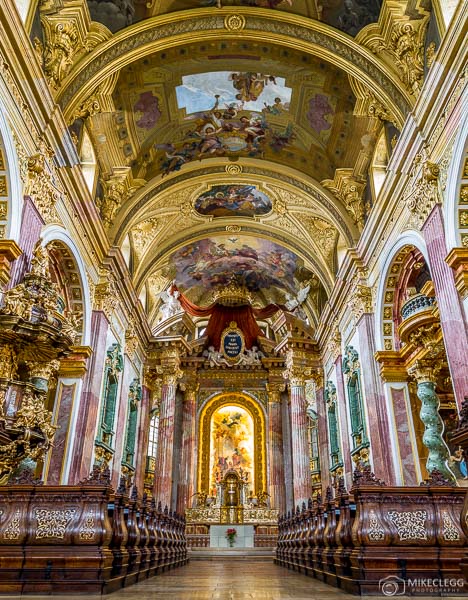 17. Dominikanerkirche
Around the corner from Jesuitenkirche is another stunning church, Dominikanerkirche. This is also worth visiting, especially as these churches are so close to each other.
Best time for pics: Day
Cost: Free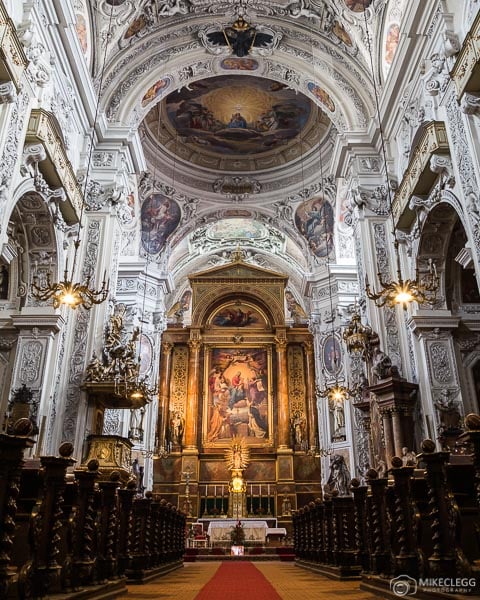 18. MuseumsQuartier
MuseumsQuartier is a cool place to go and hang out in the city (more so in the spring and summer).
Tip: Good viewpoints at this location include going up the steps at either side for some higher perspectives. I'd say MuseumsQuartier makes for better photography at night.
Best time for pics: Anytime
Cost: Free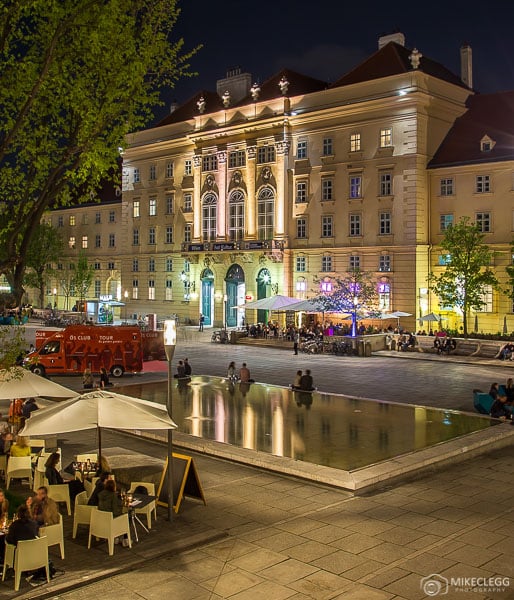 19. Schönbrunn Palace
Does this look like a typical Schönbrunn picture? Probably not!
At the Schönbrunn the classic spots are of the gardens and flowers, and from the top of the hill near the Gloriette. But towards the right-hand side of the gardens are some awesome tunnels such as this. I found this picture does very well on Instagram.
To get to this exact spot visit my marker on Google Maps.
Best time for pics: Day during opening hours
Cost: Free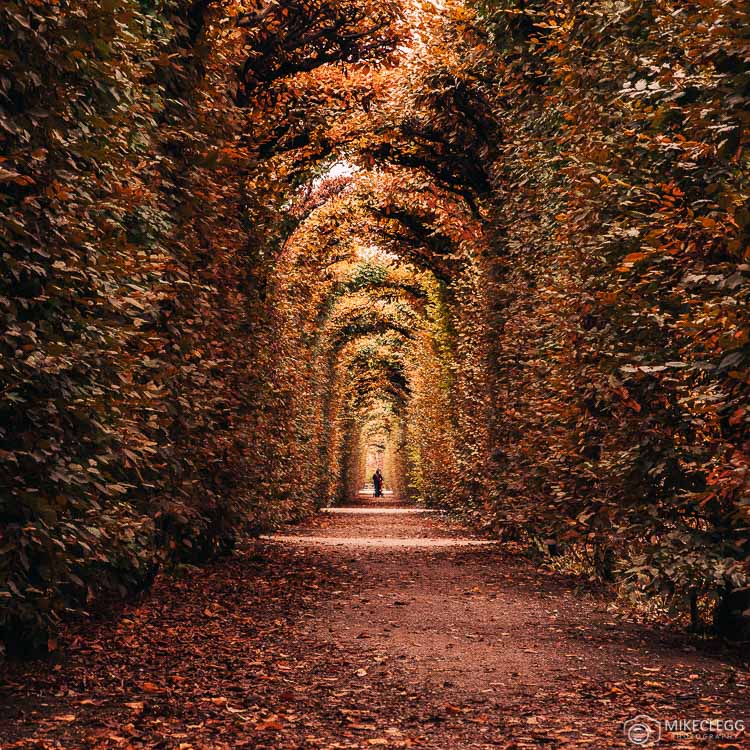 20. Wiener Riesenrad
The Wiener Riesenrad is one of the oldest and largest Ferris wheels. It was built in 1845 and still comes with wooden cabins. I prefer photographing this at night but it also looks good in the day. Going on the Wiener Riesenrad is also quite a romantic thing to do in Vienna.
Best time for pics: Night
Cost: Free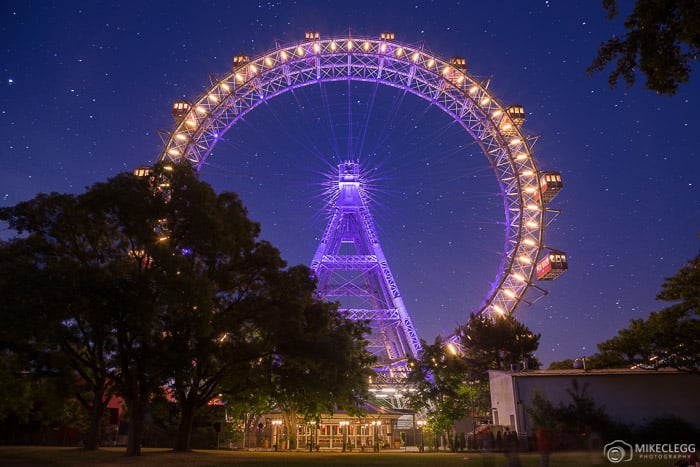 21. Streets within the Innere Stadt
Some other nice streets and squares around the inner city include Minoritenplatz, Judenplatz and Kurentgasse. I think if you are after Viennese street scenes you won't have trouble finding them by wandering around the inner city.
Best time for pics: Day
Cost: Free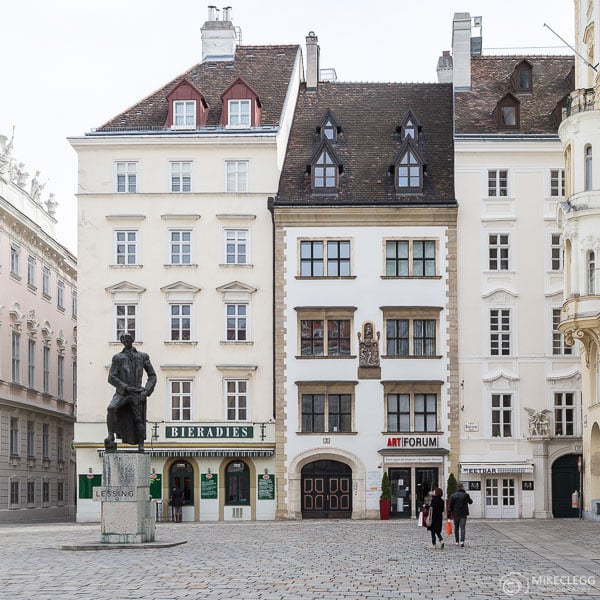 22. Alte Donau
Although not my favourite spot for photography, around the Alte Donau you can get different perspectives of Vienna showing modern skyscrapers. At night or on a calm day you'll also get reflections in the water. In the winter this lake often freezes and can have snow on it, if that's something you'd like.
Best time for pics: Night
Cost: Free
23. Peterskirche
This church along the Graben is particularly impressive and makes for beautiful photographs. You can also go inside too.
Tip: When taking pictures try using a slower shutter speed to capture the movement of Fiakers going past.
Best time for pics: Night
Cost: Free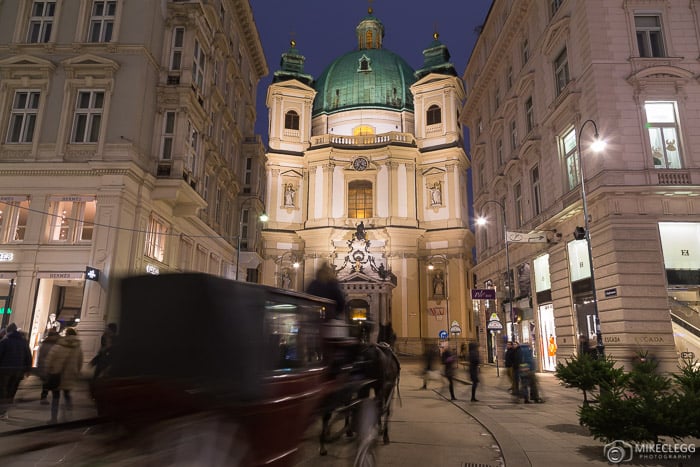 24. Kunst Haus Wien. Museum
The Kunst Haus Wien is a museum based on Hundertwasser's work. The exterior is pretty unusual and very Instagrammable with a fantastic pattern and design as you can see below.
Best time for pics: Day
Cost: Free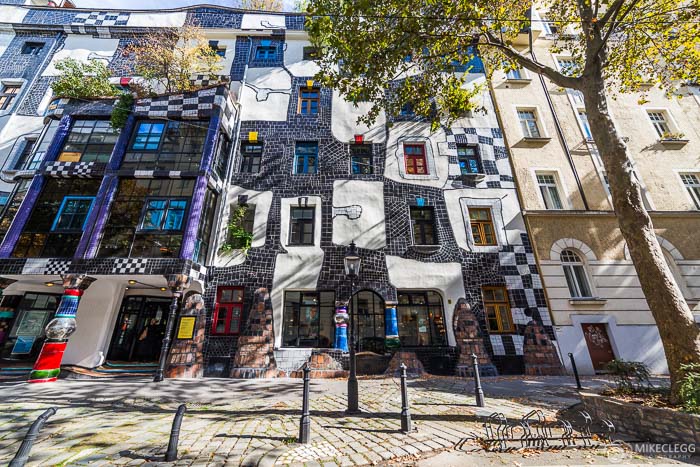 25. Hundertwasserhaus
One of my favourite exteriors (potentially that I've ever seen) is Hundertwasserhaus. If there is one place you absolutely have to photograph when in Vienna then this is it. You'll probably find your followers on Instagram will love pictures of this building as it's so different.
Tip: When editing photographs, try adding exposure compensation or exposing for the darks or mid-tones, then when editing add some saturation to make the colours pop a bit.
Best time for pics: Day
Cost: Free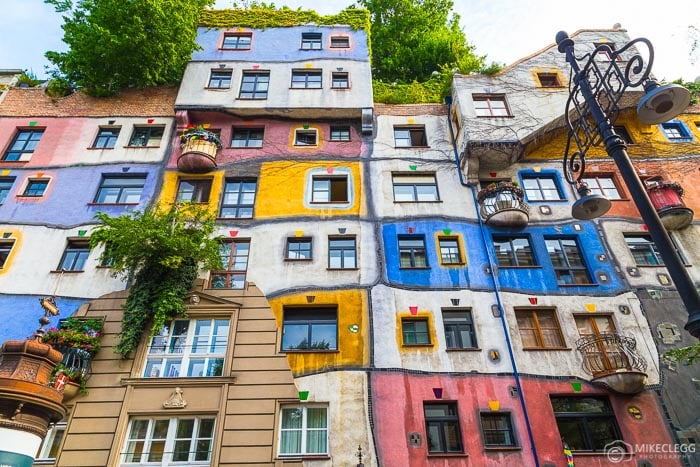 26. Capturing Fiakers
Photographs of the Fiakers (horse and carriage) normally do quite well on Instagram. You'll find these all around Vienna's inner city (Innere Stadt).
Tip: Try being patient when taking these pictures. Once you've identified a good spot where you know the Fiakers go past, such as on Michaelerplatz, be patient and wait. It'll totally be worth it.
Best time for pics: Day
Cost: Free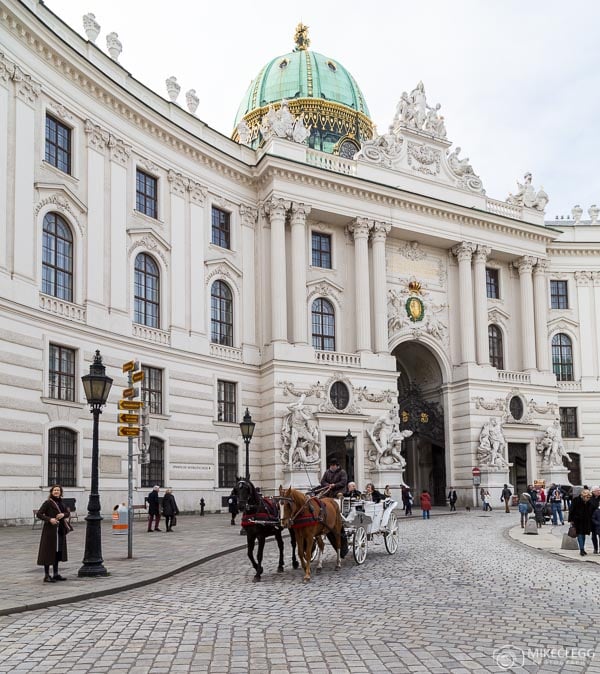 Photography Tips for Vienna
Explore the city at night and use a good tripod to capture night images.
Get out early in the Innere Stadt to explore the streets whilst they are quieter.
Use a wide-angle lens when taking pictures of interiors.
Try and time your visit up the Stephansdom Towers for sunset (easier in the Autumn, Spring and Winter) as you'll be more likely to get beautiful colours in the sky.
Use reflections such as in water features or puddles to enhance your composition.
Consider using photography presets to further enhance your images using Lightroom and Photoshop.
By: www.travelanddestinations.com