Austria's landscape is adorned with the snow-crowned Alps, lush green pastures in the countryside and of course the iconic cityscape of Vienna, Salzburg and other such stunning cities. Speaking of the Austrian food and its culinary scenario, the country will tempt you with its flavorsome delicacies you would want to gorge on.
Authentic Austrian cuisine is marked by rich flavours and dominated by meats and carb-dense foods like pastries and bread. From the fried Schnitzel to the hearty Goulash, there are Austrian food recipes for every meal! This blog features 16 of our favorite Austrian delights that one must try when in this paradise. So, if you're wondering what to eat in Austria, take a look at all these delightful dishes of Austrian food that will surely tingle your taste buds and help you take a taste of the Austrian culture.
20 Best Austrian Food
Are you looking for the best Austrian dishes? There are plenty of Austrian delicacies and traditional dishes that draw foodies and chefs here from different parts of the world. If you are wondering which food and drink in Austria you should consume, take a look at the best Austrian dishes for a delightful experience! Austrian food will surely put you in a food coma, and the best of it has been mentioned below!
1. Viennese Apfelstrudel: Austrian National Food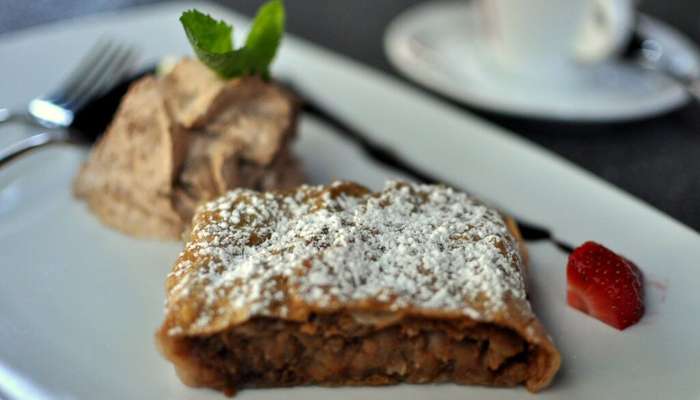 The Germans may argue that the Strudel belongs to them, but Austria has wholeheartedly taken to the sweet crusty Apfelstrudel, which is counted among their national foods. The Apfelstrudel is a flaky pastry that is lined with apple filling and qualifies as vegetarian Austrian food, while the restaurants in Germany also serve a different version. The filling itself is spiced with cinnamon, sugar and added with raisins. The smell of Apfelstrudel right out of the oven can make any foodie go weak in the knees! You can also find it commonly as it's beloved Austrian street food and is easily available for a bite anytime. This is amongst the most popular Austrian cuisine.
Where to eat: Cafe Mozart, Albertinaplatz 2, Vienna
2. Wiener Schnitzel: Fried Delight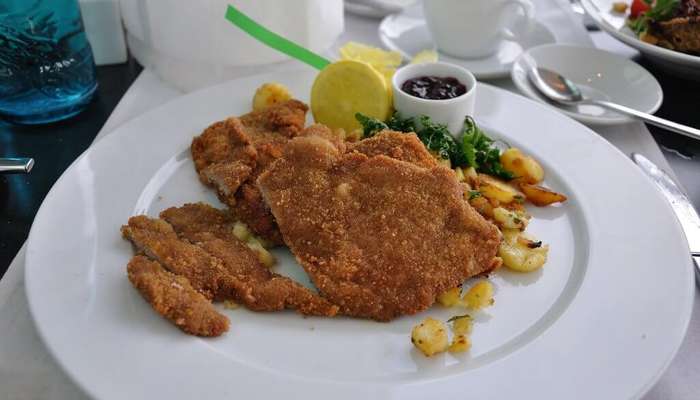 If there is one dish that is synonymous with Austrian cooking it is the Schnitzel! Known as the Wiener Schnitzel or the Vienna Schnitzel, it is counted among the Austrian national food dishes. It is a yummy fried delight and is served with a side of fried potatoes and sour cream and onions. You can find this dish right from street food stalls to high-end restaurants! Similar to fish and chips, the Schnitzel is often had at casual lunches. This is traditional Austrian food.
Where to eat: Figlmuller, Wollzeile 5, Vienna
3. Vienna Sausage: Austrian Authenticity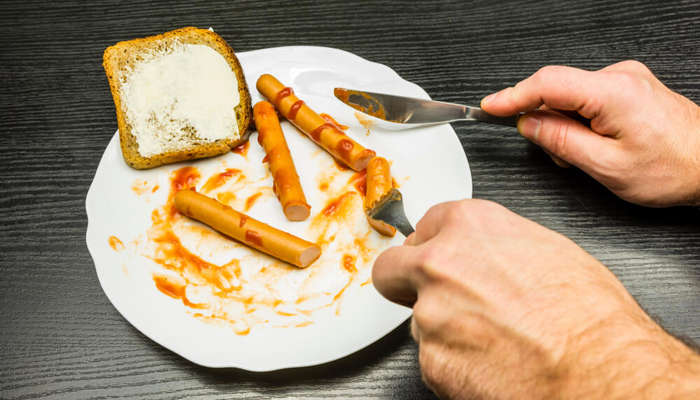 The Vienna sausage is bound to feature in your search for authentic Austrian food. Eastern European cuisine is dominated by the use of meats and the sausage is one of the favourite foods of Austrians. This type of sausage is parboiled made of pork and beef and then smoked at low temperatures. It is then used in main dishes or simply fried and served in a hot bun. It is one of the top Austrian foods and hence you must try while on your net trip to Austria.
Where to eat: Bitzinger Wurstelstand Albertina, Augustinerstrasse 1, Vienna
4. Knödel: Flavorful Dumpling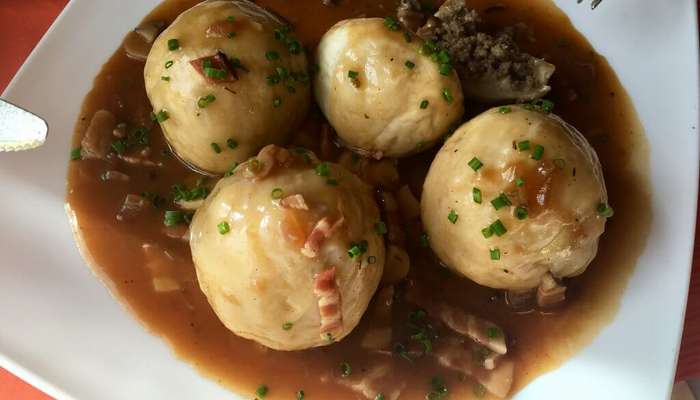 World over various cuisines have their own form of dumplings and Knödel is the form of dumpling that is popular all across Eastern Europe. In fact, it is even served at many Michelin-rated restaurants in the world owing to its classic taste. The Austrians too have adopted the Knödel and made it their own. Counted among the best Austrian foods and Austrian snacks, the Knödel can be both sweet and savory. The savory Knödel are served as a side dish or even as meatballs in soup, while the best of sweet Knödel is a variety made up of plums.
Where to eat: Knoedel Manufaktur, Josefstaedter Strasse 89, Vienna
5. Tafelspitz: Boiled Beef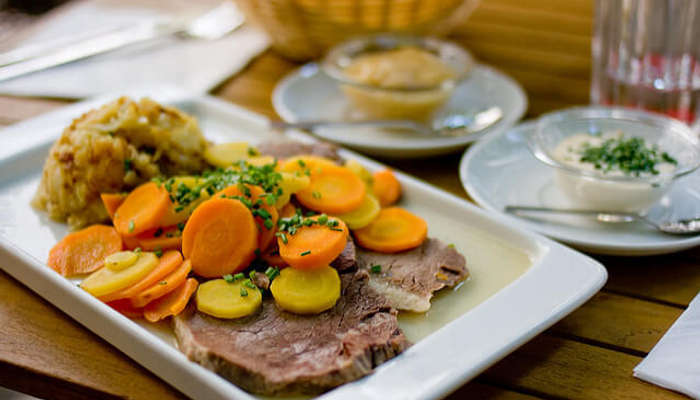 Tafelspitz is a typical Austrian food that is found as the main course in many restaurants across the country. A classic dish, it is made up of beef boiled in a broth of vegetables and spices. The beef is then served with minced apples and horseradish or sour cream with chives. The hearty meal is filling and has rustic beginnings. The name itself refers to a cut of the beef and will mean different things in a food market and a restaurant!
Where to eat: Plachutta Wollzeile, Wollzeile 38, Vienna
6. Tiroler Gröstl: Tradition Inspired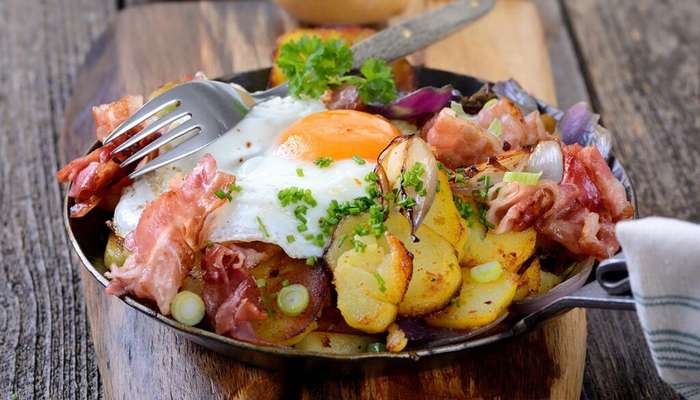 The Tiroler Gröstl is comfort food at its best! Among the most common traditional Austrian food in Vienna, it is more common in the Austrian Alps. The rich dish is also simple and is a pan-fried dish of potato, chopped beef, or pork with lots of butter and onion. Often topped with a fried egg, it's a must-try for someone fancying classic Austrian foods. Generally, it is called Gröstl, while this variant particularly belongs to the ski resort region of Tirol.
Where to eat: Gasthof Weisses Rossl, Kiebachgasse 8, Innsbruck
7. Käsespätzle: Cheesy Delight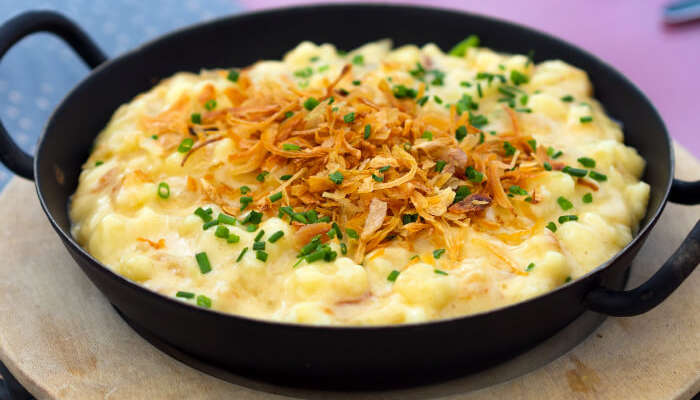 Nothing warms up your stomach like a cheesy bowl of macaroni & cheese! And those living and holidaying up in the mountains of Austria will vouch for the famous Austrian food, Käsespätzle, that is Austria's answer to Mac n' cheese! The spaetzle is essentially a soft egg noodle and found in different shapes and varieties and looks like little nuggets. The Käsespätzle comes with a generous helping of cheese and goes well with a nice wine. This is one of the best things to eat in Austria.
Where to eat: Gasthaus Seibl, Oberhaggen 1, Lochau, Vorarlberg
8. Potato Gulasch: Tasty Treat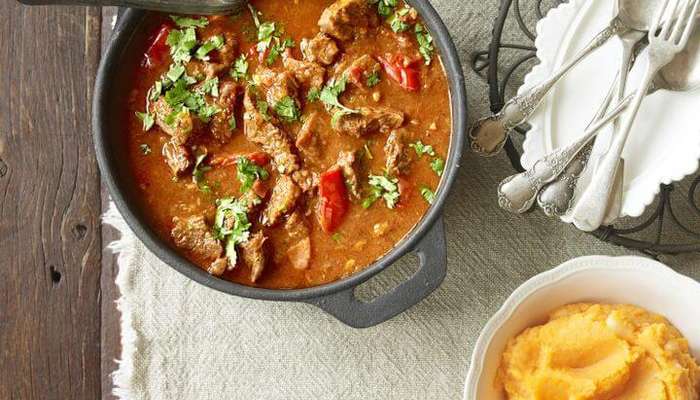 The hearty and spicy Gulasch although originally from Hungary has been a long-standing part of the Austrian food culture. The Gulasch is a hot soupy stew and comes in many variants as soups usually go. One of the most popular Austrian dishes that is also found in homes across Austria is the potato Gulasch. Made up of vegetables like potatoes, onions, bell pepper, and sausages; it is seasoned with hot paprika. A bowl of Gulasch tastes best with a side of toasted bread and works as the best Austrian breakfast.
Where to eat: Gulaschmuseum, Schulerstrasse, Vienna
9. Kaiserschmarrn: Flavor Palate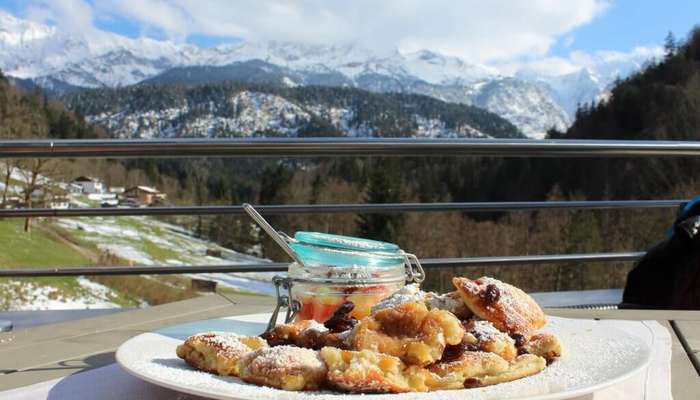 Kaiserschmarrn is literally a meal fit for the kings! The name of the dish is 'Kaiser' meaning King and 'Schmarrn' meaning shred. The dish is basically fluffy shredded pancakes! The sweet dish is served as a dessert or even as a meal on its own. The pancakes are shredded into small pieces and topped with jams, sweet sauces, fruit compotes, and caramelized dry fruits. The dish developed in the 19th century has since become a part of traditional Austrian food.
Where to eat: Cafe Central, Herrengasse 14, Corner Herrengasse / Stauchgasse, Vienna
10. Buchteln: Ecstatic Dessert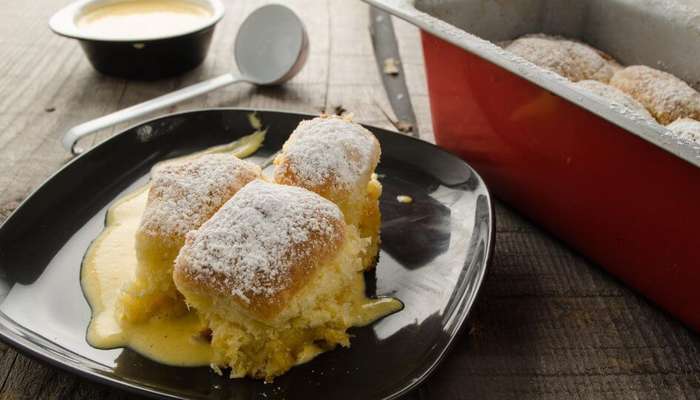 Austrian food has many Bohemian influences and the Buchteln is one such dish that has become a part of the Austrian everyday food. Buchteln is delicious baked food with sweet fillings of jam, ground poppy, or sweet curds. The soft buns have a browned crunchy top and are airy and spongy inside due to the yeast bread. They are often served as a dessert topped with vanilla sauce or simply sugared on top! This is one of the famous Austrian desserts you must try!
Where to eat: Cafe Hawelka, Dorotheergasse 6, Vienna
11. Brettljause: Amazing 'Snack'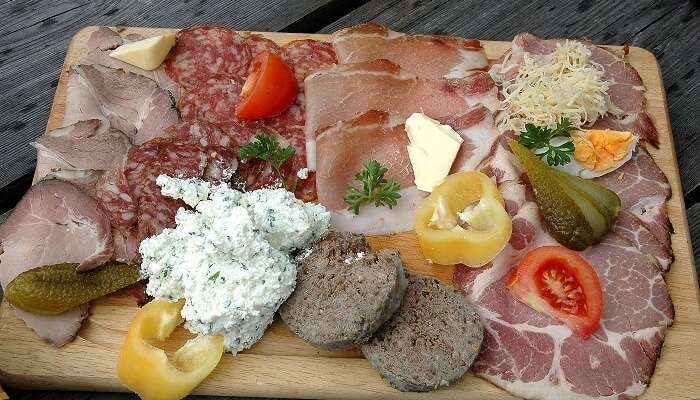 Sticking to the meaning of its name in which 'Jause' means a snack between meals and 'Brettl' is a wooden board on which it is served, Brettljause is a delicious Austrian snack that you must try. A basic Brettljause dish contains bread, meat, pickled vegetables, and spreads. There are different versions of this dish available in Austria for which will you have to explore the country a little!
Where to Eat: Zum Weissen Rauchfangkehrer, Vienna, Austria
12. Sachertorte: Sweet Retreat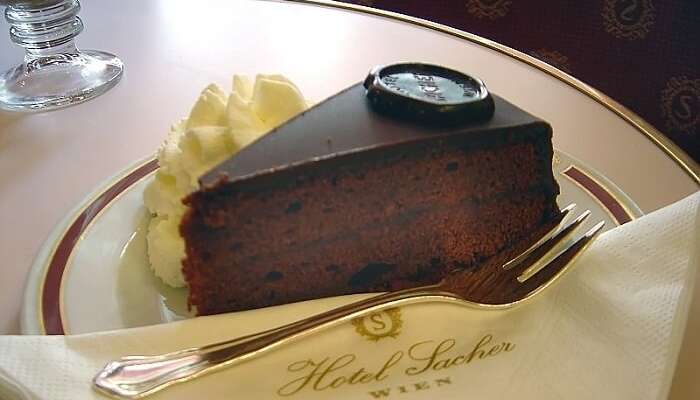 Who doesn't love desserts? Head to any bakery serving traditional Austrian food and try the local dessert Sachertorte which will make you fall in love with Austrian food for sure. Moreover, Austria has a long history of making some of the finest desserts in the world and you shouldn't miss out on the experience of tasting each one of them. Other than Sachertorte, don't forget to try other desserts like Esterhazy-Schnitte, Rehrücken, and Topfentascherl.
Where to Eat: Cafes in Austria
13. Kardinalschnitte: Potently Delicious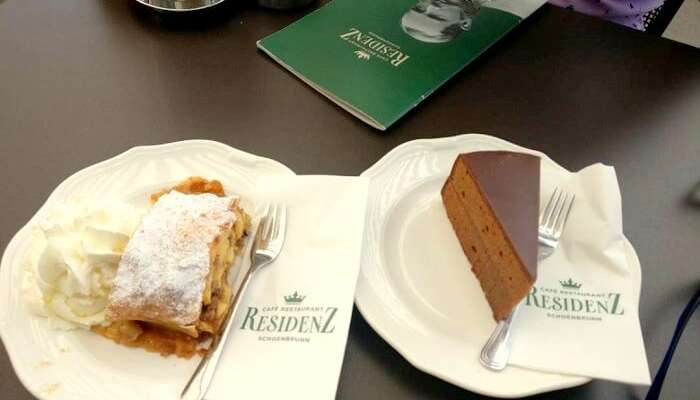 Kardinalschnitte is a layered dessert that is meringue-based and is really common in the city of Vienna. The colors of the desert, white and gold, are synonymous with the colors of the catholic church. The name of the dessert loosely translates to cardinal slices and is sure to excite your taste buds. The desert consists of thick cream on the interior and interlaced walls of cornmeal butter. Topped with coffee flavor and fresh berries, this dessert is best tasted with a glass of sweet wine.
Where To Eat: Teufner Backerei Cafe Konditorei, Melk, Austriaa
14. Fiakergulasch: Appetizing Dish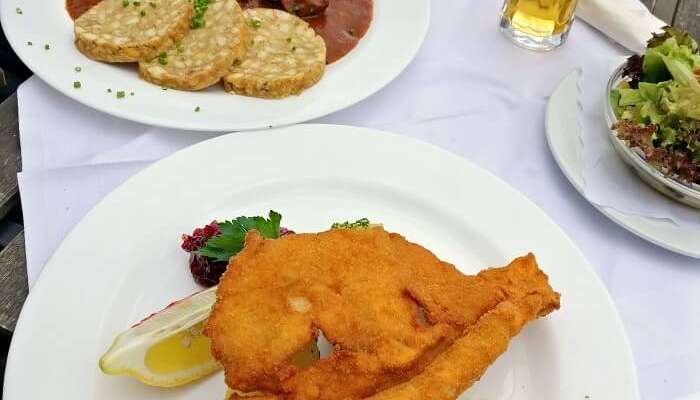 A variation of the traditional Viennese goulash, Fiakergulasch is an Austrian food made of diced beef prepared in a sauce of onions, garlic, water, tomato, vinegar, bay leaves, and more. This dish is usually served with a variety of garnishes and accompaniments such as fried wiener sausage, fan-cut pickled gherkins, bread dumplings, and sunny-side-up eggs. This dish is popular as a hangover remedy, and you will find this Austria food across cafes being served in the mornings.
Where To Eat: Gasthaus Zur Eisernen Zeit, Vienna, Austria
15. Martinigans: Savory Snack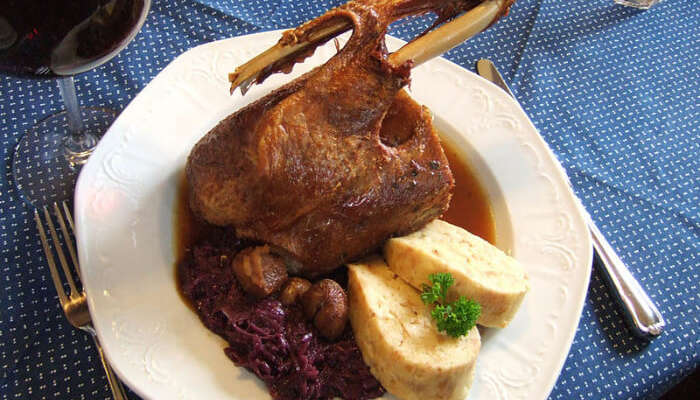 Martinigans is a type of stuffed goose that is widely prepared across Austria as a traditional food on the occasion of St. Martin's Day. Although there are many variations of this food in Austria, typically it is stuffed with chestnuts and dried plums before it is roasted. You may also put some gravy on the stuffed goose which is prepared as a combination of pan drippings, and stock.
Where To Eat: Restaurant Krone, Dornbirn, Austria
16. Mondseer: Cheesy Affair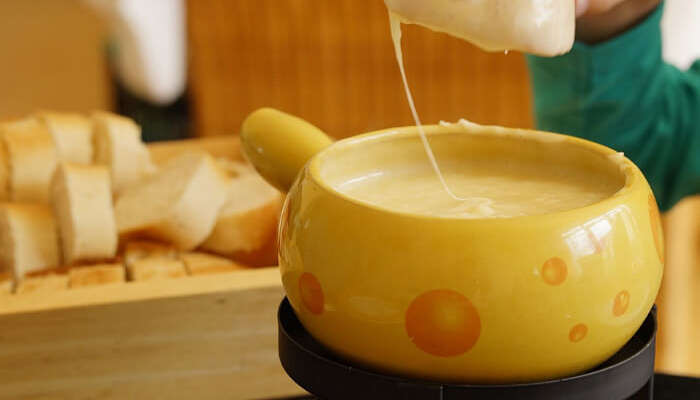 Mondseer is a type of Austrian cheese that is prepared from pasteurized milk obtained from cows. Mondseer originates from the town of Mondsee, thus giving it its name. This semi-hard cheese is of pale yellow color with its rind washed. The texture of the cheese is open, creamy, smooth, and firm, and has a strong aroma. The cheese is infused with red cultures and saltwater giving it a sweet and spicy flavor.
Where To Eat: Mondsee, Austria
17. Spargel: Leafy Goodness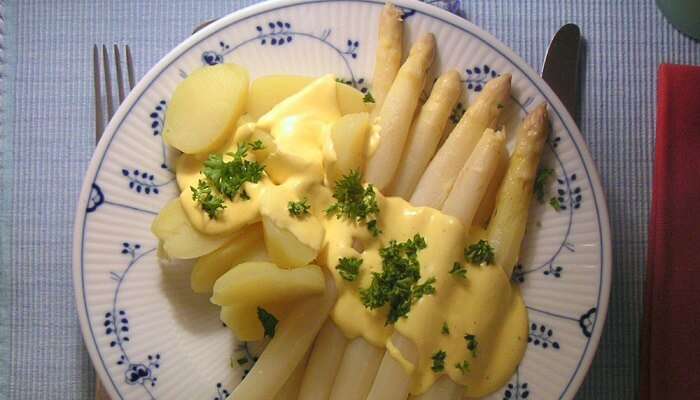 One local delight that we recommend trying if you're visiting in the spring is asparagus. Austria and Vienna offer some of the world's most delicious green and white asparagus, invariably prepared in creative, fresh ways.
Spargel is a delightful summer dish served in many restaurants and cafes across Austria. In fact, you'll start noticing this dish appearing in menus across all restaurants here just as the summer season starts to set in. Served with a hearty dollop of butter and a generous sprinkle of lemon, this dish is made with asparagus and is doused in breadcrumbs for that perfect taste. It can also be made as a fresh soup or simply wrapped in prosciutto with a dash of hollandaise sauce. Regardless of how it's made and served, it is one of the most famous Austrian traditional food served in Austria in summer.
Where To Eat: Marchfelderhof, Vienna, Austria
18. Powidltascherl: Plum Jam Turnovers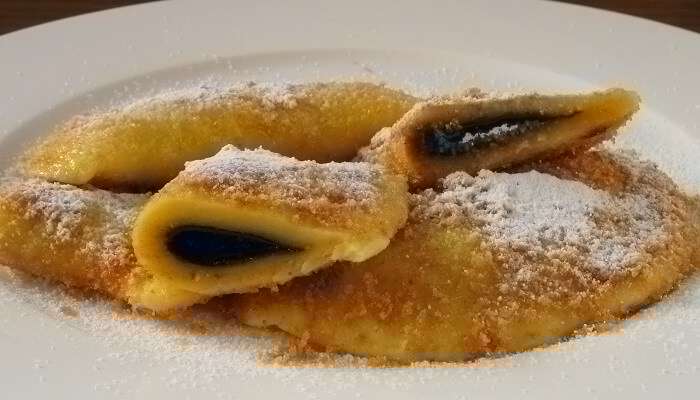 Powidltascherl is a delicious plum jam turnover that is a delicacy in Austria. It's the best food in Austria that you won't find anywhere outside this country and Germany, and we're not kidding! Though it was initially served in restaurants of Czech Republic, this dish has now become a staple in Austrian kitchens. It's essentially a delicate pastry that is made with a specific kind of potato dough before it is filled with a blend of plum jam, rum (or plum schnapps). For a final touch, it is usually topped with a mix of breadcrumbs, cinnamon, vanilla, dry fruits like walnuts, and butter. It often arrives on the table with melted chocolate, like other famous Austrian dishes.
Where To Eat: Pfudl, Vienna, Austria
19. Belegte Brote: Open Sandwiches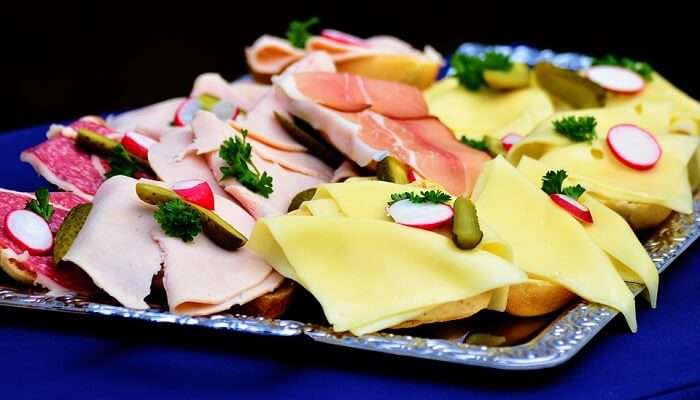 While sandwiches are supposed to be enclosed by bread on both ends (thus, "sandwich"), the Belegte Brote are mini sandwiches that are served open-faced. It's among the most flavorful food to try in Austria owing to its variety of fillings (or rather toppings since the sandwiches are open) and an absolute Austrian classic. There are various places across Austria where you can try these delicious and colorful sandwiches with any choice of beverage be it tea or beer.
Where To Eat: Trześniewski, Vienna, Austria
20. Topfentascherl: Curd Pastry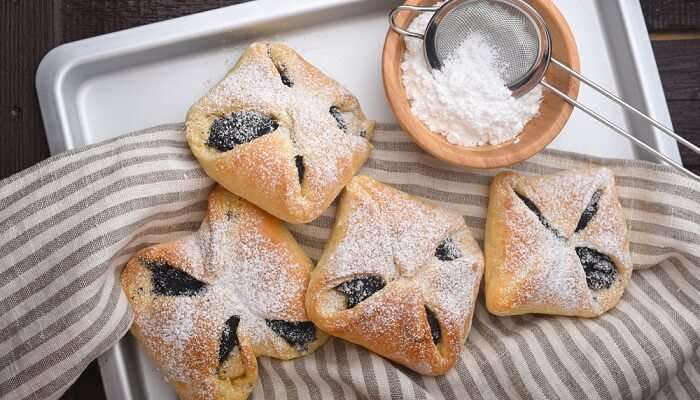 This is yet another delightful dessert for those with a sweet tooth. Just as delicious as crepes, apple strudel, and Austrian pancakes, Topfentascherl is the traditional sweet and savory dish served alongside almost all Austrian meals in the households, bakeries, local restaurants, and even the Indian restaurants in Salzburg and Vienna. It's essentially a pastry filled with curd and loaded with all types of fruit instead of sugar to make it appetizing and healthy at the same time. The usual fruits that become a part of this yummy pastry include apricots and bananas, but you can add more types of fruits if you're feeling creative and love the blend of fruits and curd!
Where To Eat: Das Restaurant Wasserfall, Salzburg, Austria
There's indeed a lot to savor when it comes to Austrian food, this list was just a short guide to help you pick your priorities during your vacation in the lovely land. If you are keen on relishing these authentic delicacies, pack your bags and book a fantastic holiday to Austria for a beautiful experience abroad.
By: traveltriangle.com