Capturing Australia's rich beauty in a photograph can be a daunting task. The sheer magnitude of the landscapes is awe-inspiring, yet the staggering beauty and bold hues of this sunburned land shine brightly for the lens. Emerald rainforests tumbling to sapphire seas; copper-earthed deserts; kaleidoscopic coral reefs; and rugged, red rocks sculpted by wind and water – these tell the story of an ancient land. But beauty, they say, is in the eye of the beholder. Whether you want to see World Heritage-listed rain forests, glacier-carved mountains, golden beaches, or tropical islands, Australia is home to some of the most beautiful places to visit on the planet.
1. Sydney Harbour, New South Wales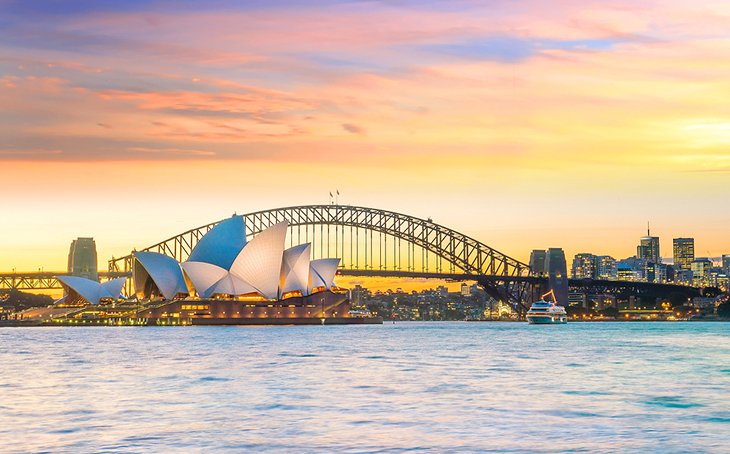 Sydney Harbour is considered by many to be one of the most beautiful harbors in the world. Crowned by the iconic Sydney Opera House and the Sydney Harbour Bridge, this famous body of water is the heart and soul of the city. Hop aboard a harbor cruise or ferry to explore its many secluded coves, tiny islands, and waterfront suburbs, or if you're feeling adventurous, sign up for the Sydney BridgeClimb adventure and admire stunning views from the top of its famous bridge.
2. Great Barrier Reef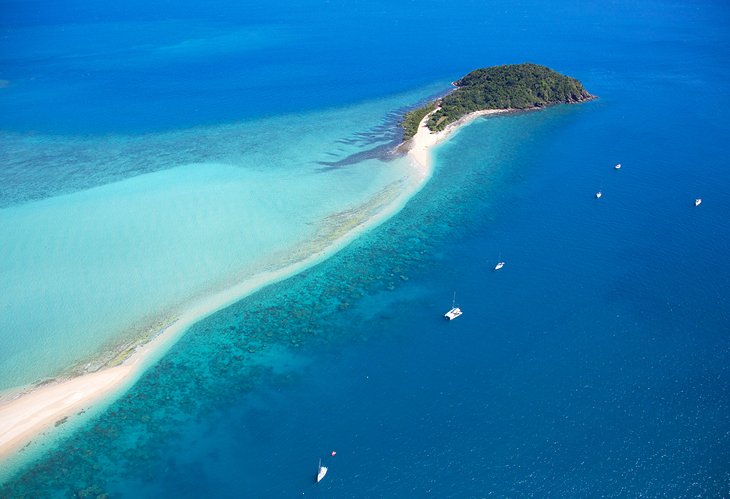 Shimmering in luminous turquoise water, the Great Barrier Reef in Queensland is the star tourist attraction in Australia. The only living thing visible from outer space, this 2,300-kilometer-long World Heritage-listed beauty is a fragile mosaic of coral cays; seagrass beds; mangroves; and tropical islands, like the idyllic Whitsunday Islands. SCUBA dive or snorkel in the warm, clear waters to see the colorful coral and fish up close, or hop aboard a helicopter or seaplane for a bird's-eye view.
3. Uluru-Kata Tjuta National Park, Northern Territory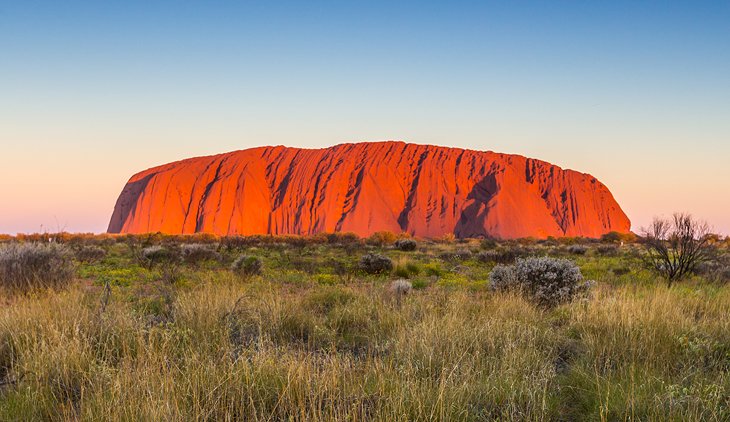 Presiding over the parched, flat desert like a sacred sentinel, Uluru is an Australian icon. The aboriginal people have long revered this magnificent, mystical landmark. Today, tourists come here to stand in awe and soak up the stark beauty of the surrounding desert. Besides 348-meter-high Uluru, this World Heritage-listed national park is also famous for the dome-shaped rocks called Kata Tjuta (the Olgas). Dusk is the best time to view these natural wonders, when the setting sun ignites their deep, russet hues.
4. Great Ocean Road, Victoria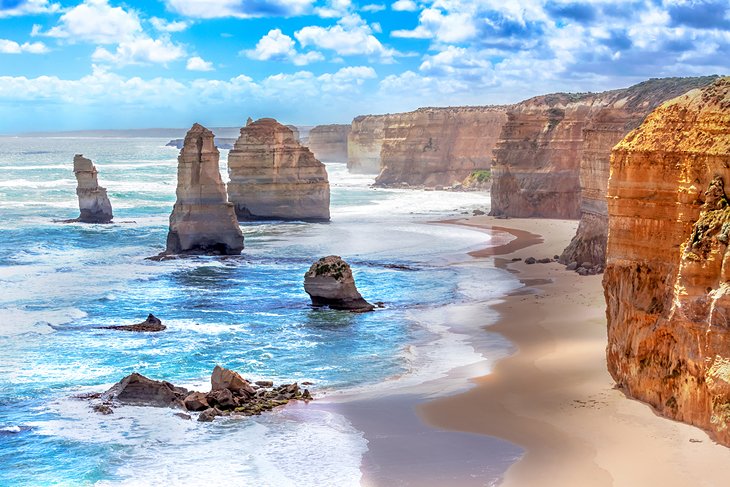 Over millennia, Mother Nature carved off huge slices of coast along the southern shores of Australia. Today, the rocky remnants of this ancient coastline rise out of the pounding sea like giant jigsaw puzzle pieces. To see these powerful forces of nature, cruise along the soaring sea cliffs of Great Ocean Road, one of Australia's most famous scenic drives. The Twelve Apostles, Loch Ard Gorge, London Bridge, and The Arch are some of the most famous landforms here. For a bird's-eye-view, hover over them in a helicopter.
5. Kakadu National Park, Northern Territory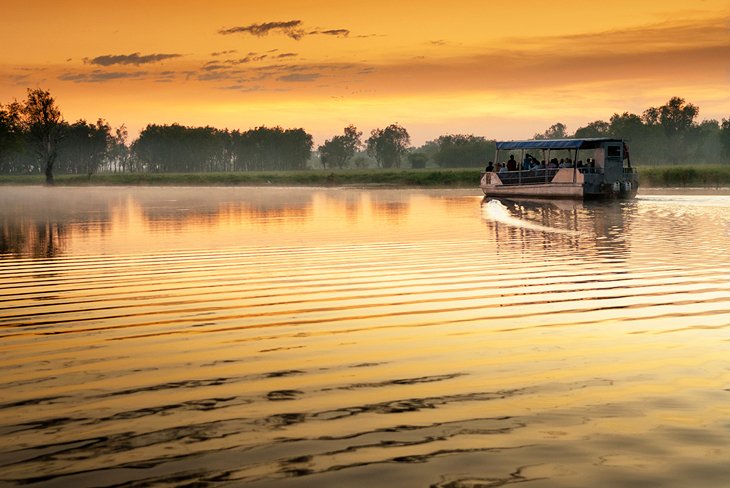 Starring in famous scenes of the popular movie Crocodile Dundee, Kakadu is Australia's biggest national park and one of its most spectacular. Tropical woodlands, wetlands, and monsoon rain forests are the main habitats here, and nature lovers can see an amazing diversity of wildlife, including saltwater crocodiles and many species of birds. Hiking and sightseeing cruises on the rivers and wetlands are some of the most popular things to do. The park is also known for its many impressive examples of aboriginal rock art.
6. Cape Tribulation, Queensland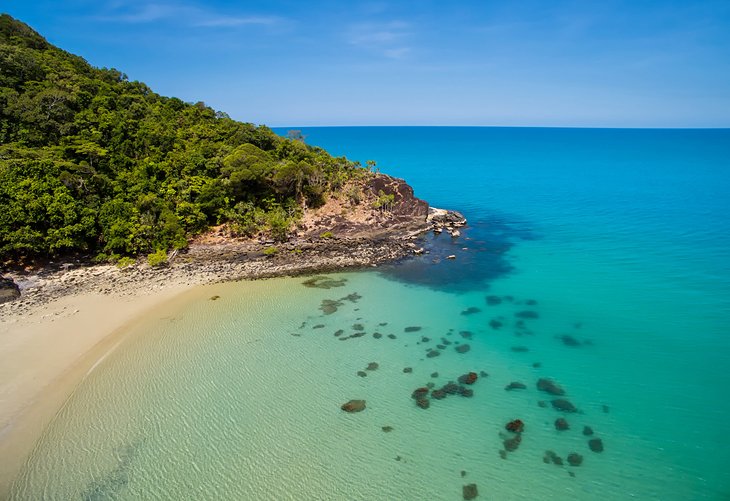 A spectacular mingling of reef and rainforest, Cape Tribulation is one of the few places on the planet where two World Heritage Sites converge. The dense jungle of the Daintree Rainforest tumbles to white-sand beaches, where the coral gardens of the Great Barrier Reef dot the shallows. You'll find plenty of tropical adventures here. Hike or zipline through the rain forest, horseback ride on the beaches, or snorkel and scuba dive along the fish-rich coral reefs.
7. Lord Howe Island, New South Wales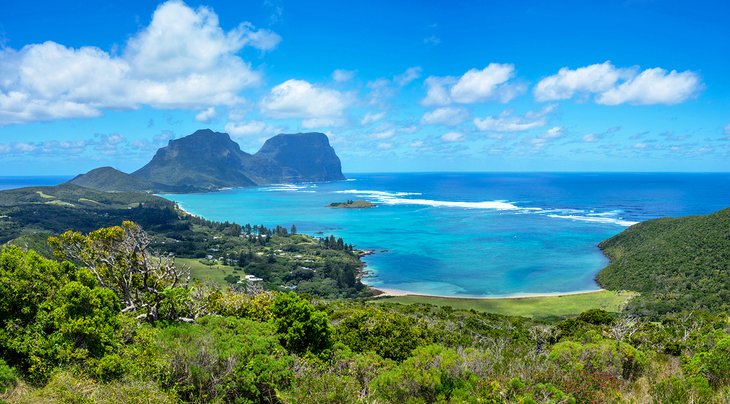 Ringed by the world's most southerly coral reef, World Heritage-listed Lord Howe Island, in New South Wales, is a haven for nature enthusiasts. National parks protect almost two thirds of the island, and hiking trails thread along coastal cliffs and through lush forests of kentia palms and pandanus. Bask on the white-sand beaches; bike the sleepy streets; snorkel and dive the coral reefs; fish, surf, and kayak the clear waters; or climb up 875-meter Mount Gower for panoramic island views.
8. Freycinet National Park, Tasmania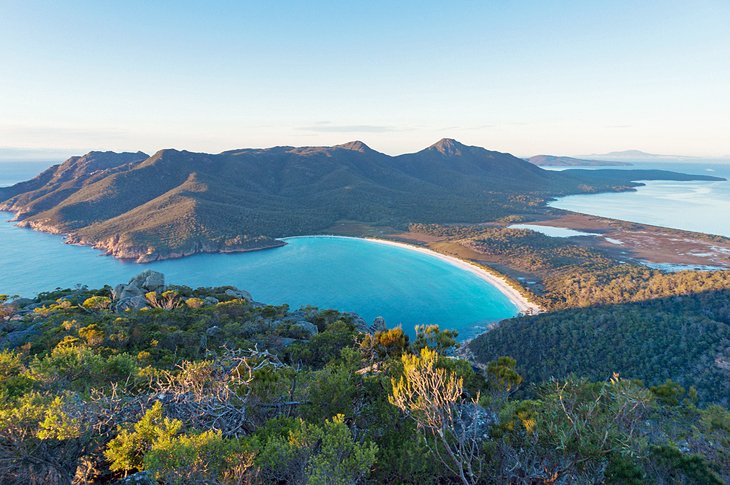 Tasmania is famous for its primeval forests and pristine wilderness areas, yet Freycinet still stands out from the pack. Its centerpiece is the seductive curve of Wineglass Bay, where the azure waters wash upon a dazzling arc of white-sand beach backed by bush. Hike the trails to panoramic lookouts; see the pink-tinged granite crags of the Hazards rising from the sea; and keep an eye out for black cockatoos, kookaburras, and other wildlife as you explore the park's secluded beaches and bays.
9. Blue Mountains National Park, New South Wales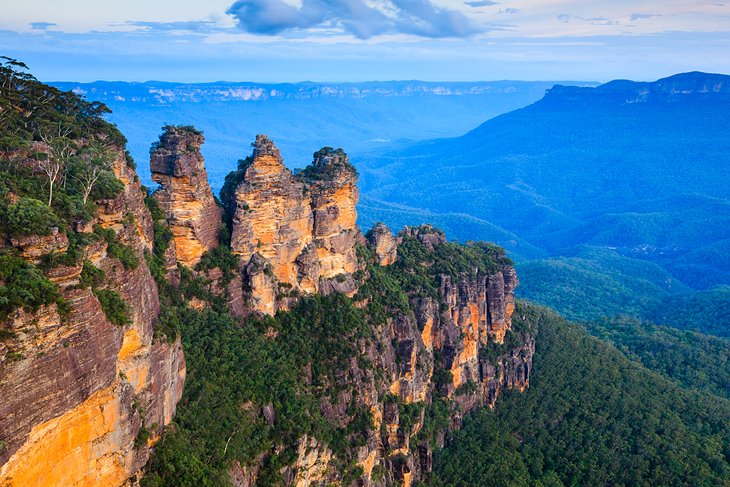 Suffused with a blue haze from the eucalyptus oil in the gum trees, beautiful Blue Mountains National Park is one of the most popular day trips from Sydney. Unspoiled bushland stretches as far as the eye can see, and the trio of rugged rock pinnacles, called the Three Sisters, are one of the park's most photographed features. Waterfalls, caves, and cute mountain villages are other top tourist attractions. Breathe in the crisp, fresh air and breathtaking views from several stunning viewpoints; hike the many trails; soar over the landscapes on the scenic cableway and Skyway; or go rock climbing, canyoning, abseiling, mountain biking, or horseback riding.
10. Ningaloo Reef Marine Park, Western Australia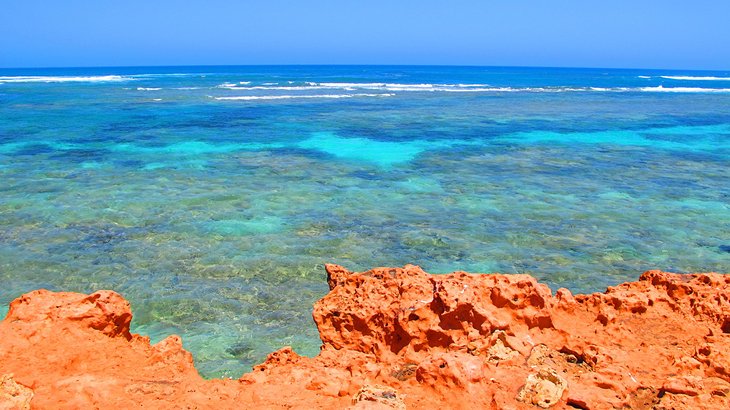 World Heritage-listed Ningaloo Reef is Australia's largest fringing reef and home to an impressive array of marine creatures. Dugongs, manta rays, humpback whales, turtles, and dolphins are just some of the species that swim in these translucent waters, as well as more than 500 species of fish and 300 species of coral. Swimming with whale sharks, snorkeling, SCUBA diving, swimming, and fishing are all popular things to do here, and you can also explore the rugged gorges and stunning beaches of Cape Range National Park. Don't miss Turquoise Bay, one of Australia's most spectacular beaches.
11. Fraser Island, Queensland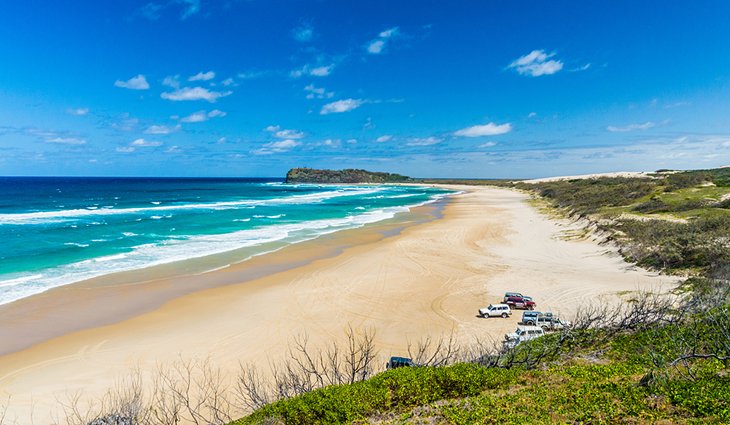 On Fraser Island, the planet's largest sand island, the golden beaches stretch for miles. Dingoes pad along the soft sands, and subtropical rain forest cloaks the island's interior, punctuated by sparkling freshwater lakes. Four wheel driving along the shore and through the forests is one of Australia's best outdoor adventures. Explore the emerald rain forest, fish off the beach, see old shipwrecks, and swim in aquamarine Lake McKenzie.
12. Kangaroo Island, South Australia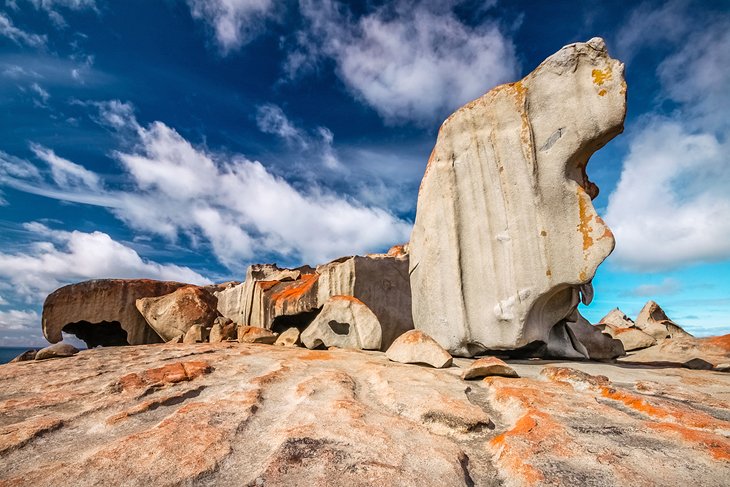 On Kangaroo Island, Australia's third largest island, wildlife is a prime draw, and the island's namesake marsupials are ubiquitous. But you can also see koalas, penguins, sea lions, echidnas, birds, and a dazzling diversity of marine species. Clamber upon the distinctive wind-blasted boulders in Flinders Chase National Park, delve deep into the island's crystal-encrusted caves, and surf down soaring sand dunes. Food is also a highlight. Fresh local produce like seafood, Ligurian honey, and creamy cheeses top the list of enticing ingredients on local menus.
13. Broome & The Kimberley, Western Australia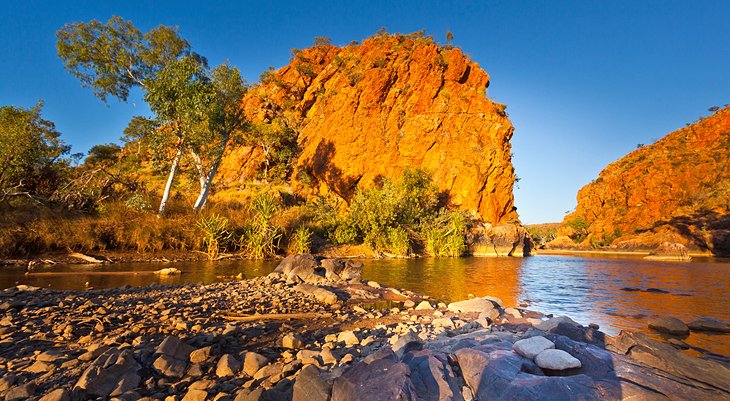 Rugged and remote, The Kimberley, in the far north of Western Australia, encapsulates Australia's spirit of adventure. Gargantuan red-rock gorges, thundering Mitchell Falls, Windjana Gorge National Park, Cape Leveque, the Horizontal Waterfall, the legendary 660-kilometer Gibb River Road 4WD adventure, and Purnululu National Park are some of the top places to see. Join a tour to get the most out of a visit here or soar over the striking desert landscapes on a small plane. The pearl-farming town of Broome is the gateway to this raw and ravishing wilderness.
14. Margaret River, Western Australia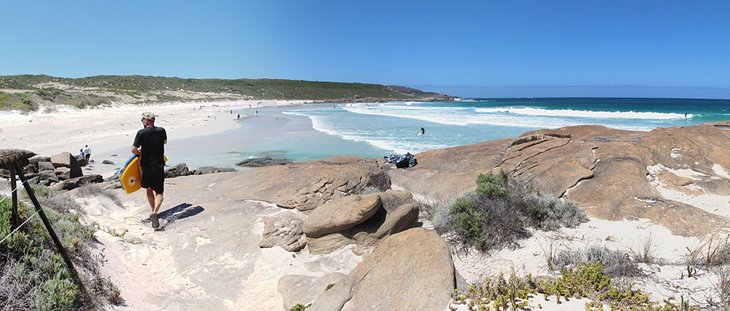 About 270 kilometers southeast of Perth, Margaret River offers all the ingredients for an idyllic getaway. Beautiful beaches, fantastic surf, tall forests, limestone caves, and plenty of glorious sunshine. Top it all off with fabulous food from talented local chefs, and it's easy to see why this is a favorite weekend getaway from Perth. Prevelly, at the mouth of the Margaret River, is particularly pretty. From here, you can hike part of the famous Cape to Cape track, surf the breaks, paddle up the river, or play on the pristine beaches.
15. Cradle Mountain-Lake St. Clair National Park, Tasmania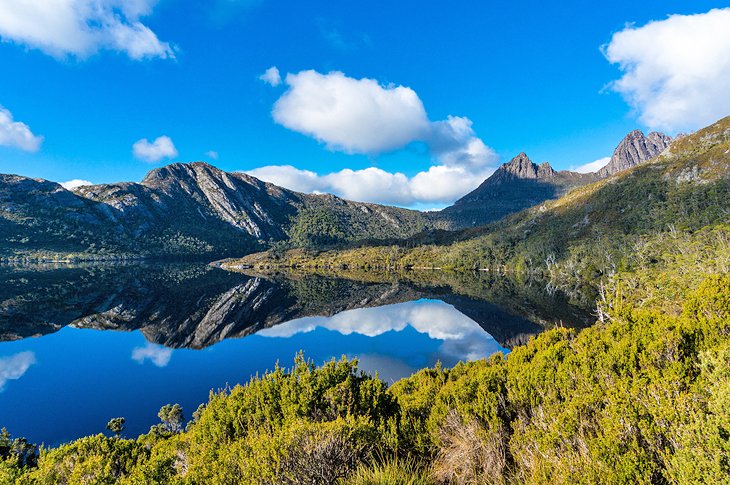 The raw wilderness of Cradle Mountain-Lake St. Clair National Park is what nature lovers cherish about this stunningly beautiful state. Part of the Tasmanian Wilderness World Heritage Area, the park's glacier-carved crags, dense forests, sparkling lakes, alpine heathland, and serrated peaks inspire all who travel here. Hiking is fantastic. Climb to the summit of Cradle Mountain for incredible views over the central highlands or hike to Lake St. Clair, Australia's deepest lake.
16. Port Douglas, Queensland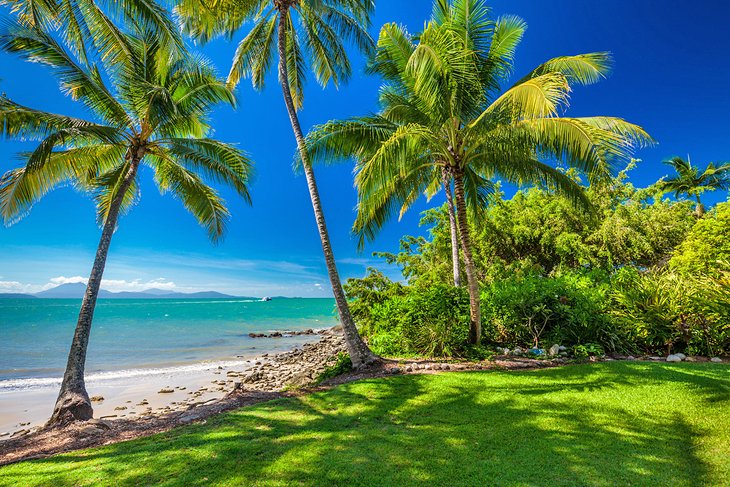 Pretty Port Douglas in Far North Queensland is Cairns' cute little sister. You can do all the popular Great Barrier Reef and Daintree Rainforest tours from here, but the town itself has more of a sleepy charm. Mango trees and coconut palms line the streets, petite St. Mary's Church presides over the waterfront, and the white sands and turquoise waters of Four Mile Beach echo the beauty of Cape Tribulation, farther north. Drive or hike up to Flagstaff Hill Lookout for the best beach views and venture to Mossman Gorge to swim in the cool, clear rain forest pools.
17. Wilson's Promontory, Victoria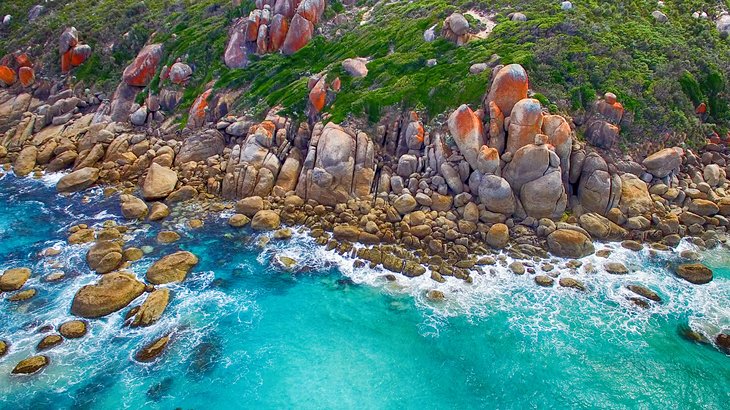 Dubbed "The Prom" by locals, this much-loved national park is one of Victoria's natural treasures. The park covers the southernmost point of the Australian mainland and is home to an astounding diversity of wildlife, from koalas and kangaroos, to wombats, echidnas, emus, and many species of birds. The scenery is just as diverse. Rugged granite rock outcrops, squeaky-clean white-sand beaches, and lush rain forests make for beautiful photos. Popular things to do here include hiking, diving, fishing, swimming, and kayaking.
18. Nitmiluk (Katherine Gorge) National Park, Northern Territory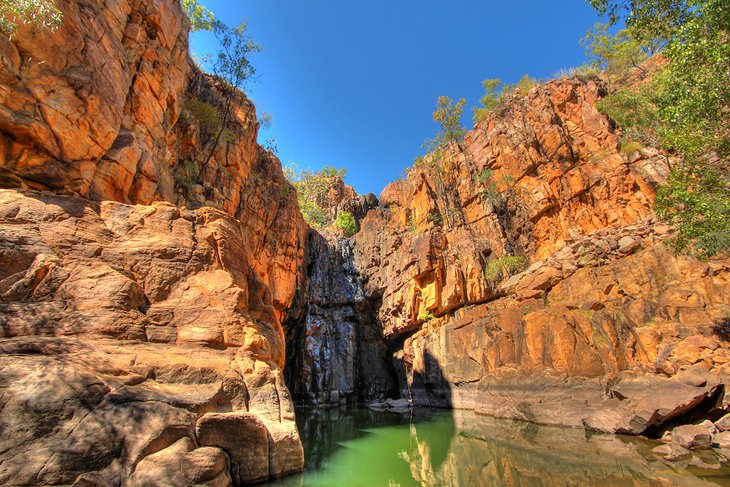 A series of 100-meter-deep gorges is the centerpiece of this magnificent wilderness area in the Northern Territory, about 244 kilometers east of Darwin. The mighty Katherine River carved these steep-sided gorges from the soft sandstone layers of the southern Arnhem Land Plateau, creating rugged cliffs, vast pools, and when the rains come, tumultuous waterfalls and surprisingly lush vegetation. Kayaking through the gorges is one of the best ways to experience the striking landforms and to spot some of the resident wildlife, including freshwater crocodiles, macropods, possums, flying foxes, and more than 200 species of birds.
19. Noosa Heads, Queensland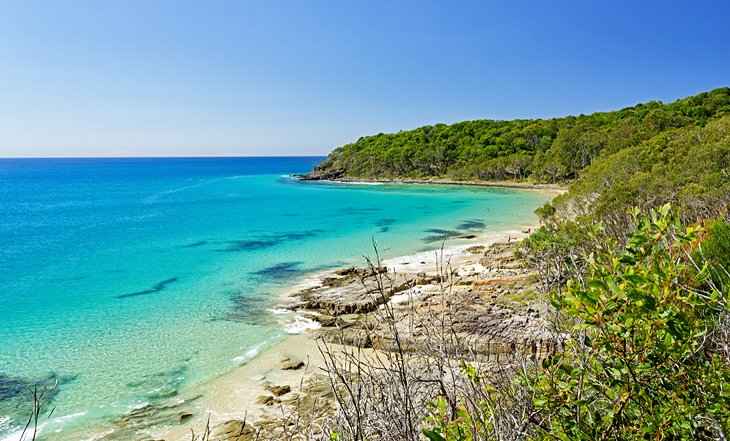 A sun-kissed slice of classic Aussie beach overlooked by the bristling eucalyptus forests of Noosa National Park is the focal point of Noosa Heads, one of Australia's favorite vacation destinations. After basking on the sun-soaked sands of Noosa Main Beach, stroll along the coastal track though the national park to see koalas and glorious sea views, then head to hip Hastings Street, where you can enjoy a gourmet lunch and browse the boutiques and galleries.
20. Byron Bay, New South Wales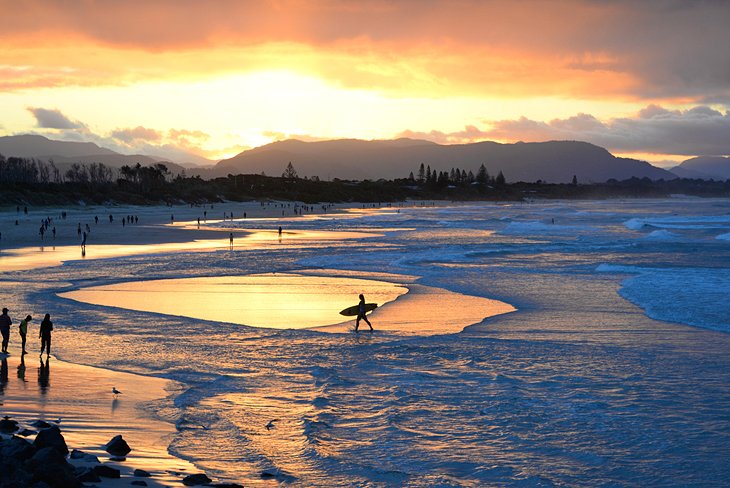 Hip and happening but also beachy and beautiful, Byron Bay is a favorite Aussie holiday destination with a hippy vibe. This chic beach resort on the north coast of New South Wales is known for its picturesque surf-washed shoreline, yoga and health retreats, and funky markets. Inland, World Heritage-listed Wollumbin National Park offers even more of an escape for nature lovers, with waterfalls and rain forests. Be sure to hike the Cape Byron Track while you're here. It leads to the most easterly point in mainland Australia and its iconic lighthouse.
By: www.planetware.com