Lake Lungern (also called as Lungernsee) is a natural lake in Obwalden, Switzerland. It is nestled between impressive mountains and beautiful scenery. The lake is named after the town Lungern on its shore. Our accommodation was really close to it, so we spent several days exploring this area. There are so many things to do at Lake Lungern. It is a paradise for outdoor lovers.
Hiking at Lake Lungern
There are several hiking trails in the area, leading through flower-filled meadows, like the Brünig Safari walk or Butterfly trail. You can get free suggestions and maps in the local Tour Inform. An easy and obvious walk is around the lake, which is about 9 km. If you want to see the lake from above you can take the Lungern – Turren cable car up. Turren is the start of many hiking trails e.g. Schönbüel or Briezer Rothorn.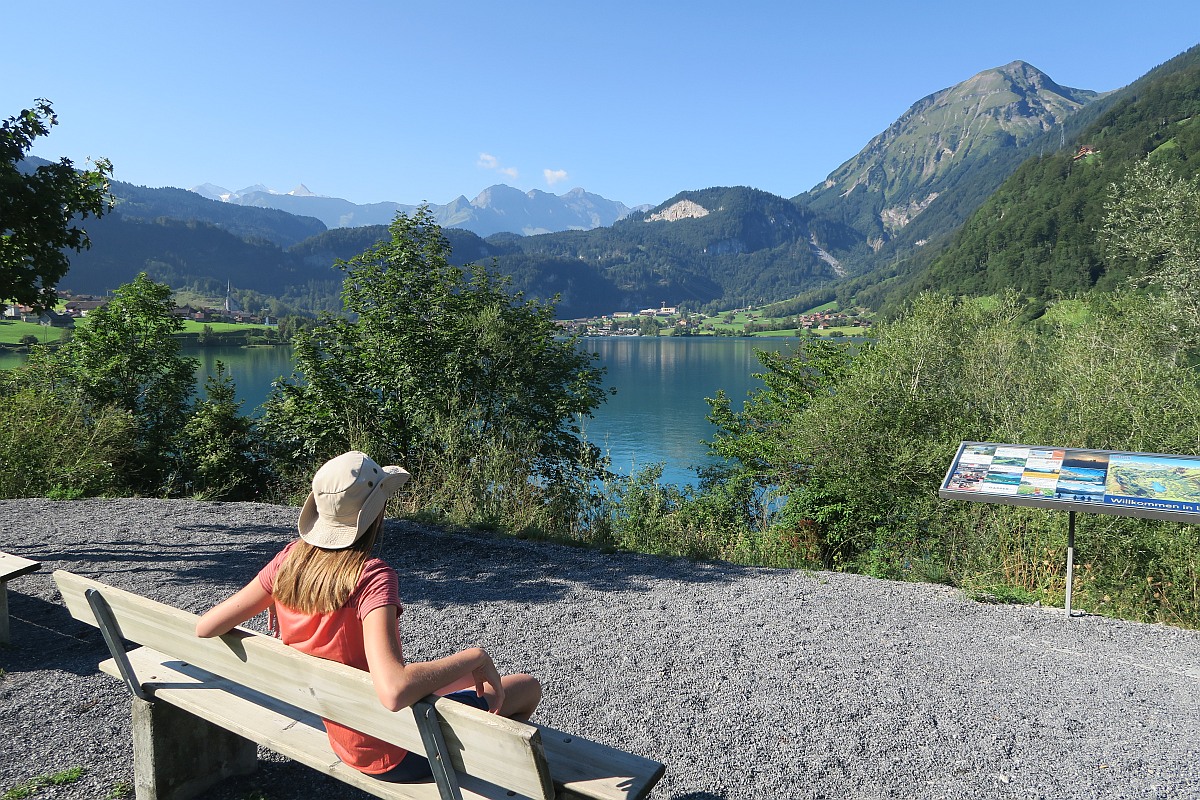 Swimming at Lake Lungern
Lake Lungern is home to several beaches. There is nothing more refreshing on a hot summer day than going for a swim in a crystal clear lake surrounded by mountains. The water temperature can reach around 23 °C in the summer.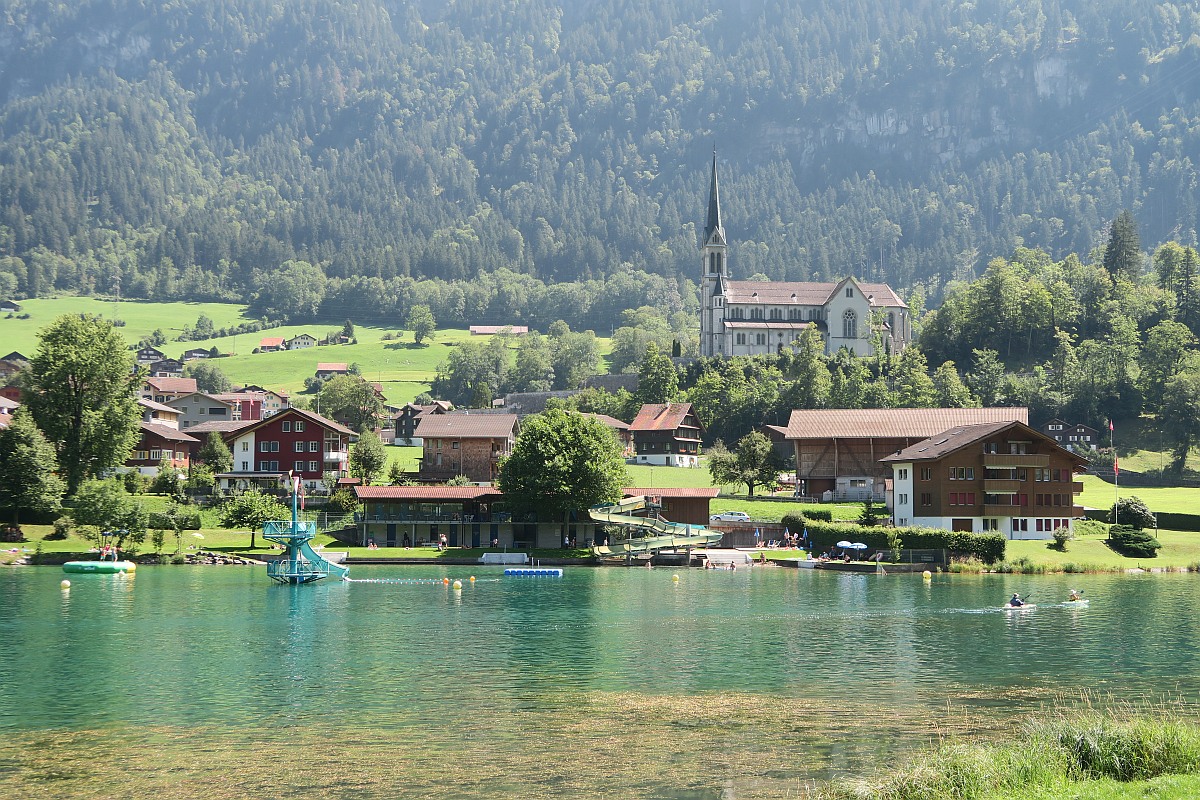 Seebad Lungern
Seebad Lungern is a beach with a small entrance fee. The site is very clean and beautiful with SUP and pedalo hire facilities. Changing rooms, toilets and the sunbathing area provides comfort for all the guests. The sandpit, table football, table tennis, 56 m long water slide and diving tower is a big hit for the kids.
Parking is free.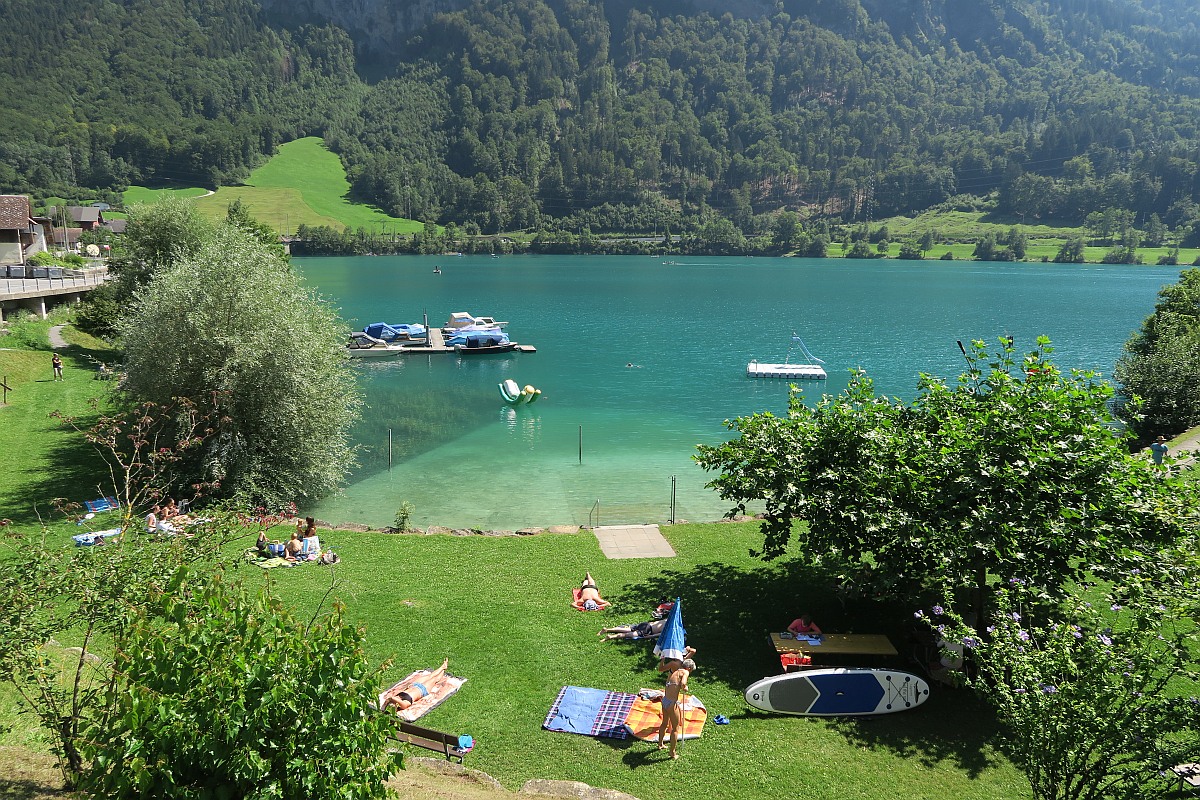 Seebad Bürglen
If you are travelling Switzerland on a budget you can visit Seebad Bürglen free of charge. There is a small box, where you can put some money to help a team maintain the site, but this is completely up to you. We had a lovely time at this beach. There are clean toilets, barbecue facilities and table tennis. The setting is gorgeous and there is even a small waterslide and inflatable water sea-saw in the lake.
Parking is free, but quite limited on the side of the road.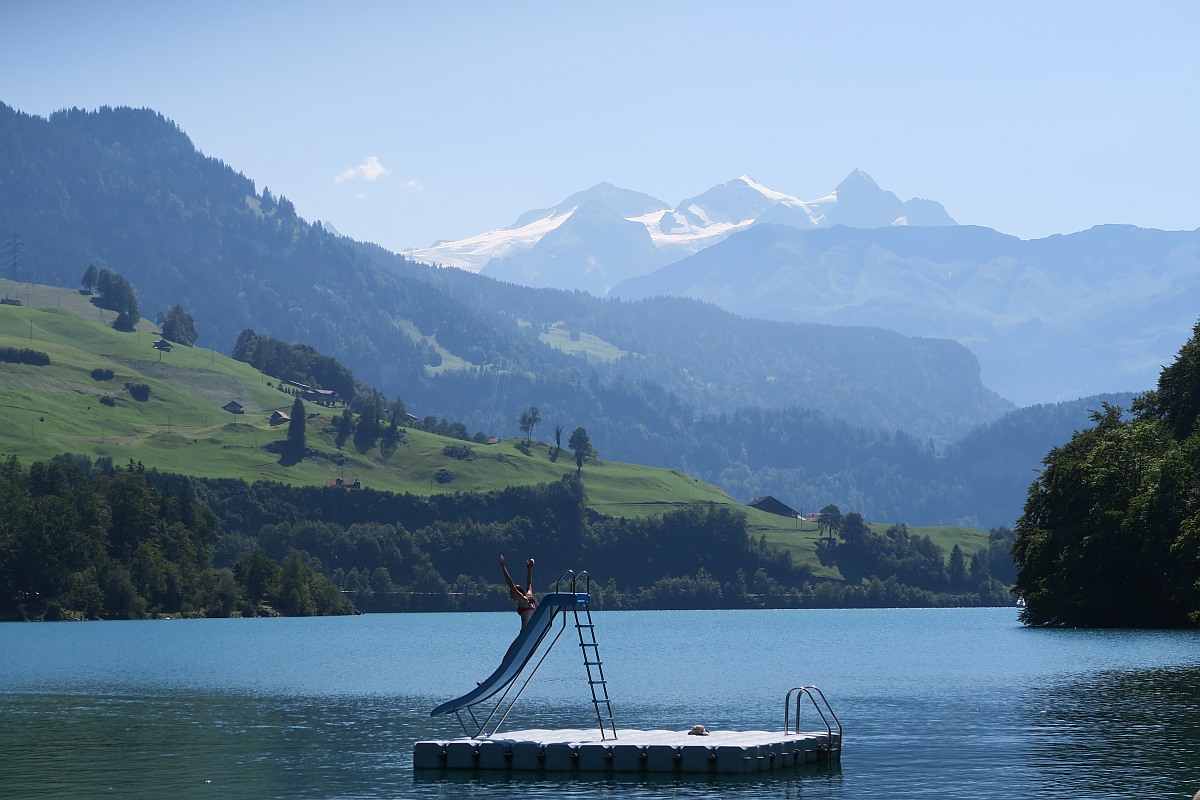 Visit Dundelbach waterfall
The Dundlebachfall is a stunning waterfall under national protection. It has a total drop of 150 m. It plunges down in two stages: the upper part is a little bit higher. After a rainy day or at early spring, when there is a lot of snow melting down from the mountains the waterfall looks more impressive. However if you want to have a dip under the waterfall, I suggest going on a hot day, when there isn't so much spray. To me, the bottom fall looked more interesting, but it is worth to hike up to the upper waterfall as well. It takes about 15 minutes. You will also have a nice view of the lake and the town of Lungern.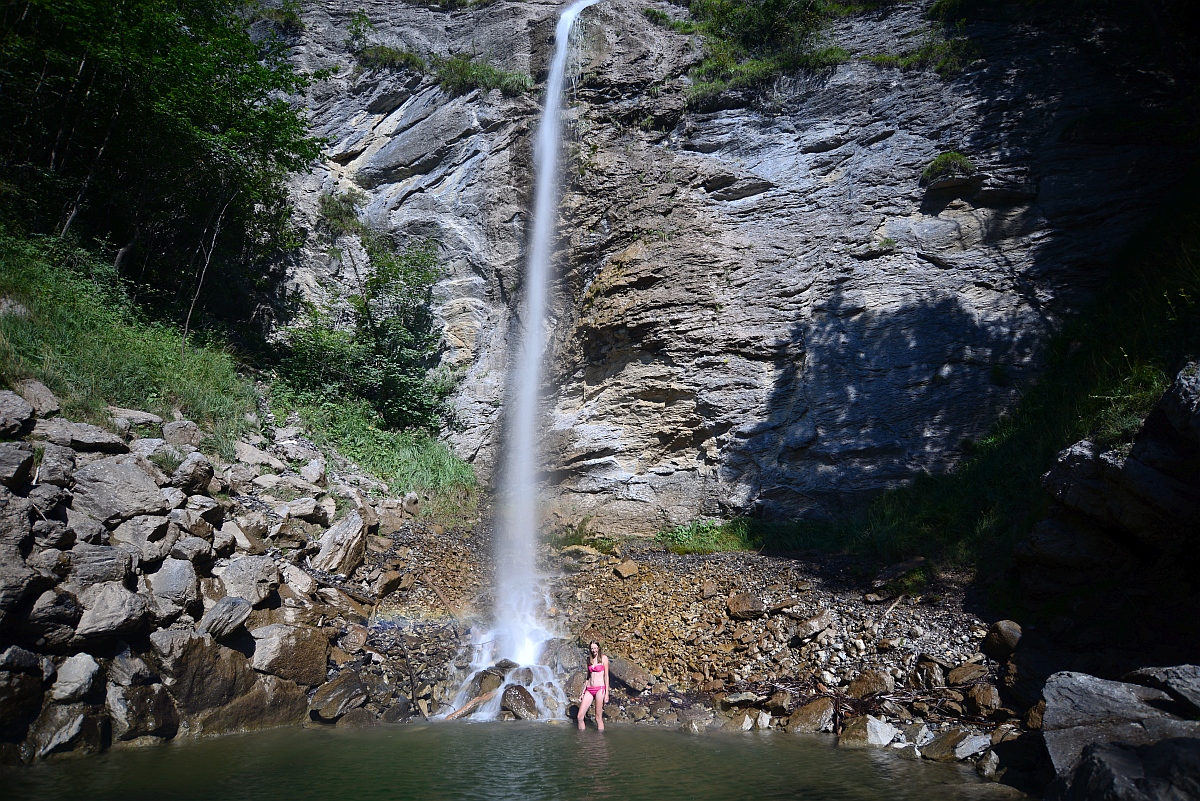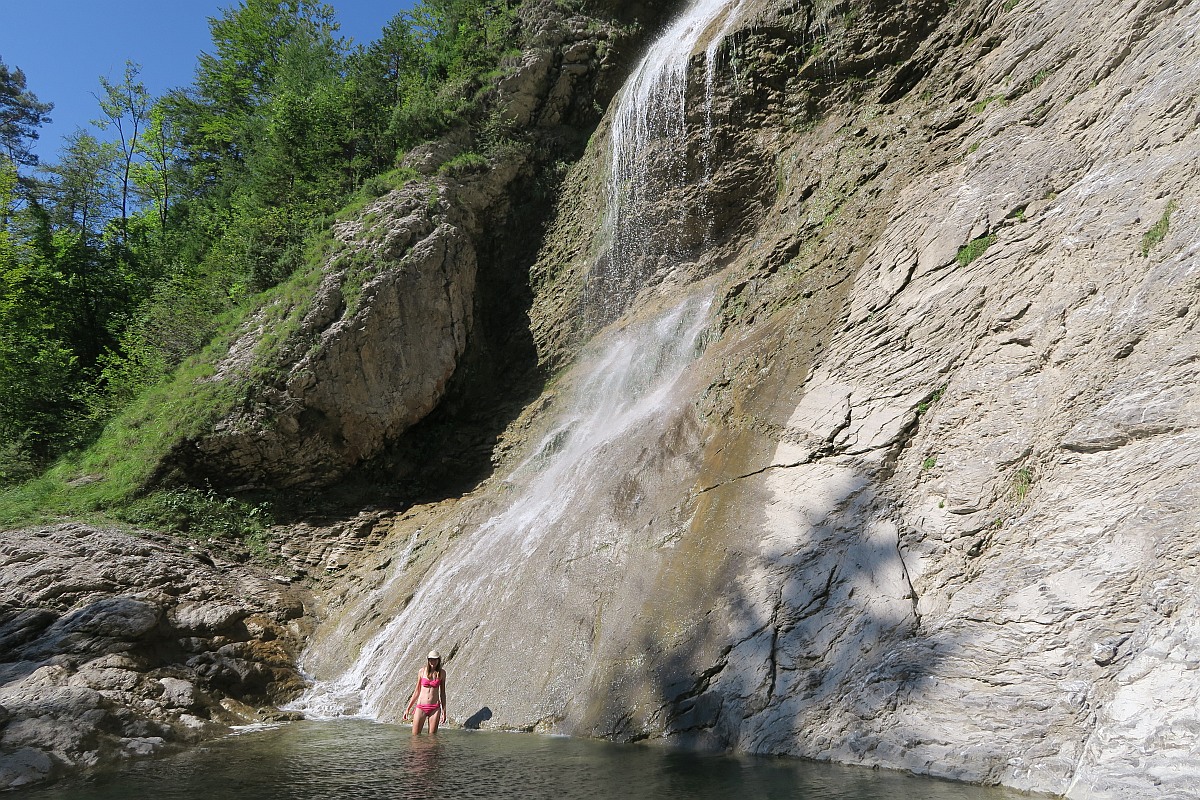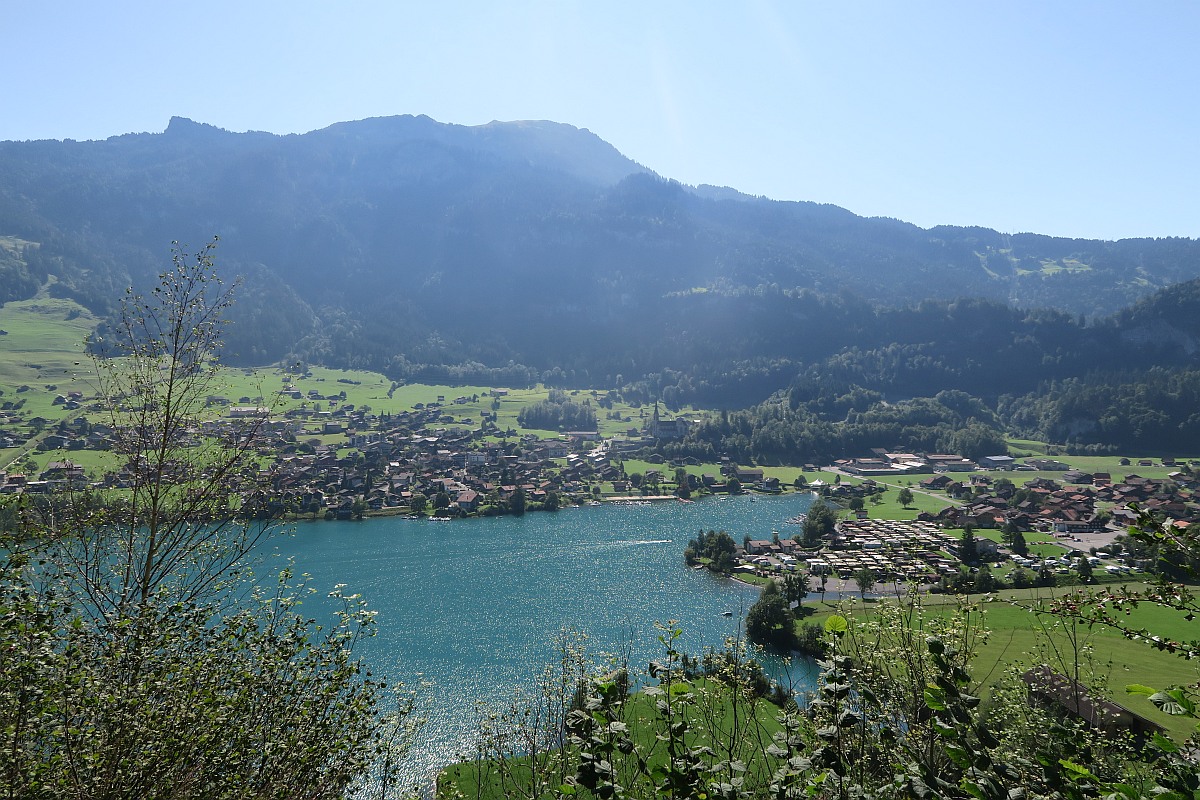 Kayaking at Lake Lungern
We went kayaking on Lake Brienz and really enjoyed it. Lake Lungern also offers a great setting for a paddle. We saw quite a few kayakers on the lake and I was envious we were not paddling with them.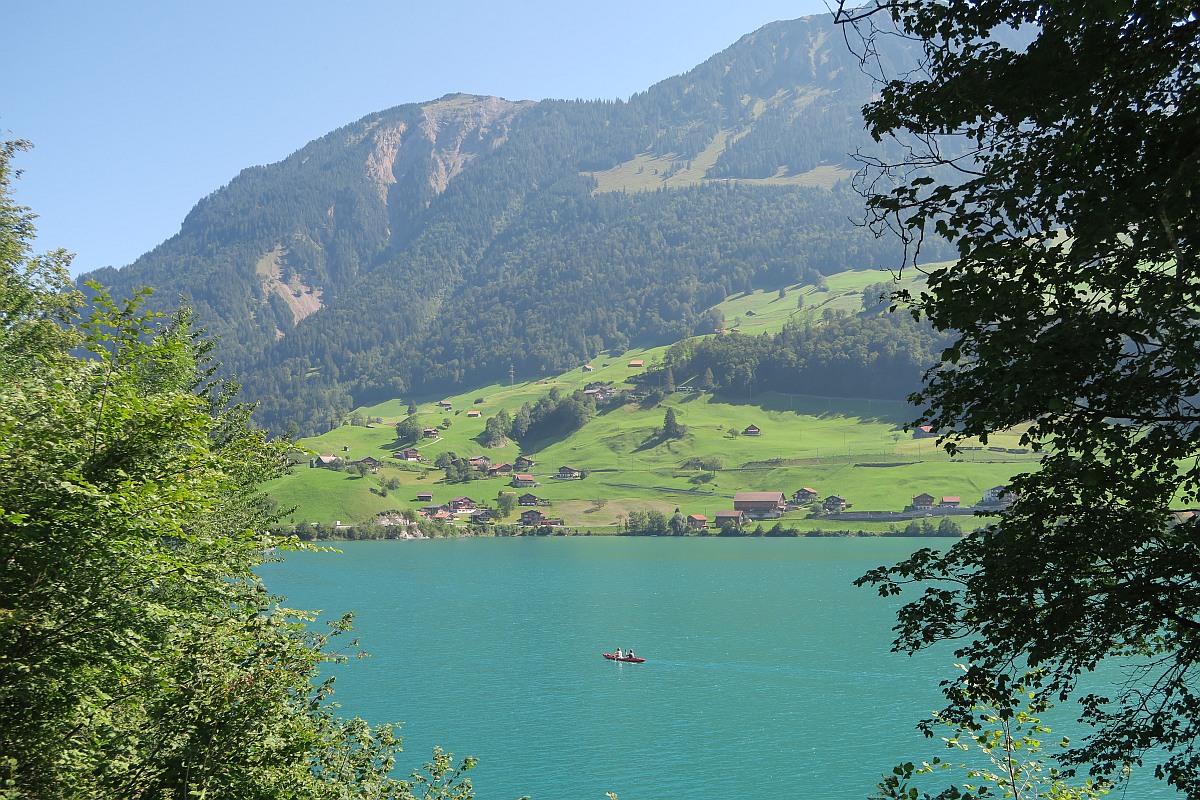 Cycle around Lake Lungern
Switzerland is a great place for cycling. Many bike paths are hilly and can be exhausting. You can also find mountain bike trails at the top of Turren. However, if you want an easy, flat bike route, I suggest cycling around Lake Lungern. It is 9 km and well sign-posted. Just follow signs for 701 Lungerersee rundfahrt. It is a really nice and fun trail for children as well. If you follow signs for bike route 9 you can cycle all the way to Lucerne or Interlaken. Bikes can be hired from the station in Lungern.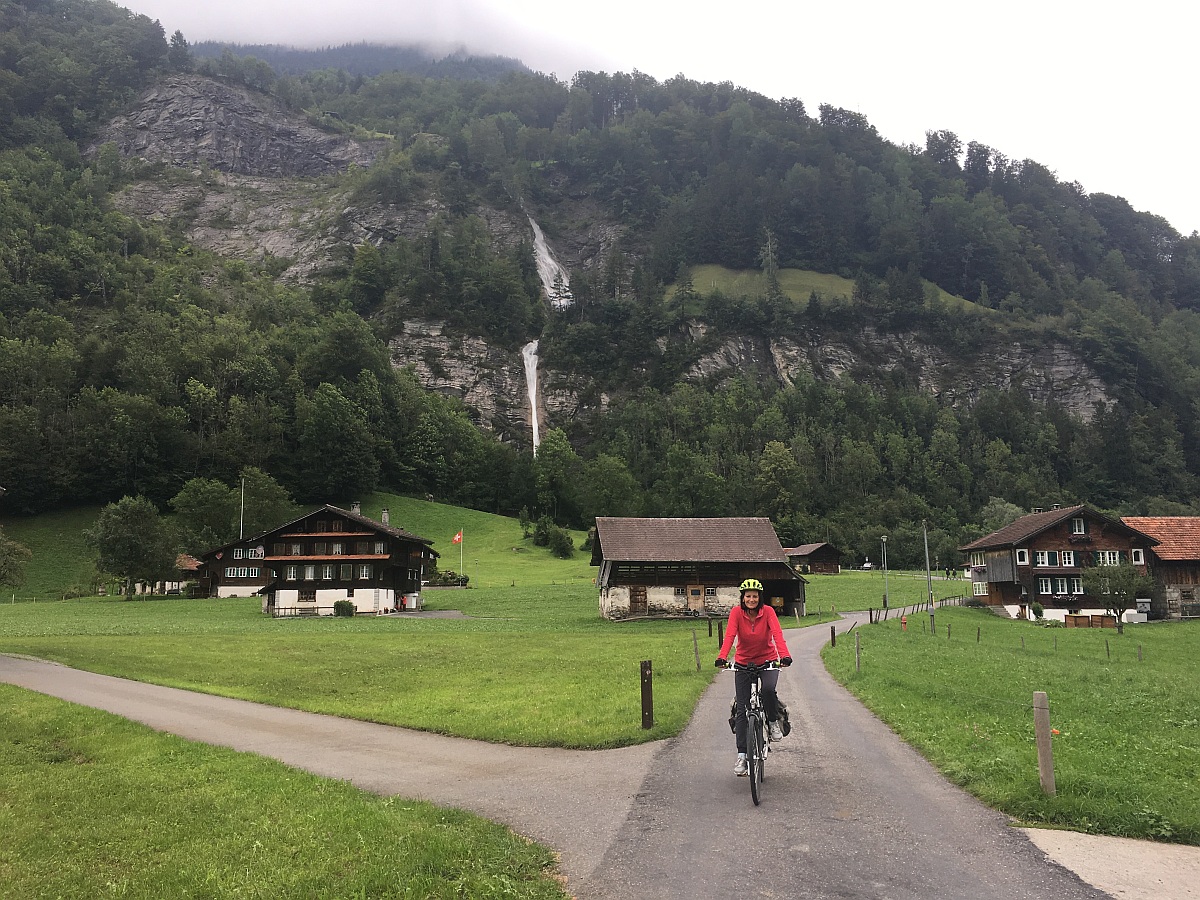 Fishing at Lake Lungern
Fishing at the lake is very popular. You can catch trouts, eglis, whitefishes and pikes. You will need to purchase a patent and obey the regulations. Fischerparadies Lungern offers patens for purchase, training and even boat hire. They can also help you with parking.
Sailing on Lake Lungern
Switzerland has several thousand lakes, so no wonder that sailing is such a popular activity in the country. Lake Lungern has a few marinas and even a yachting school called Terraqua Segelschule Lungernsee. Sailing on the lake is a relaxing way to enjoy the jaw-dropping views.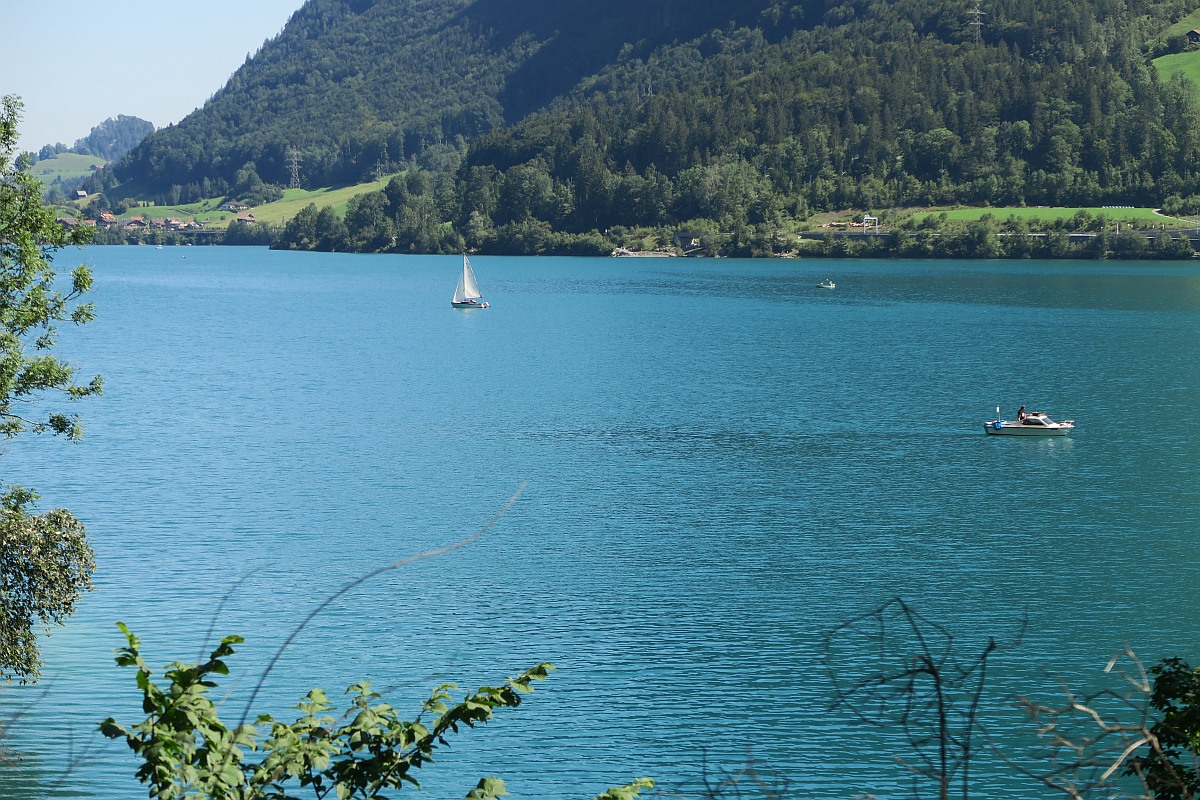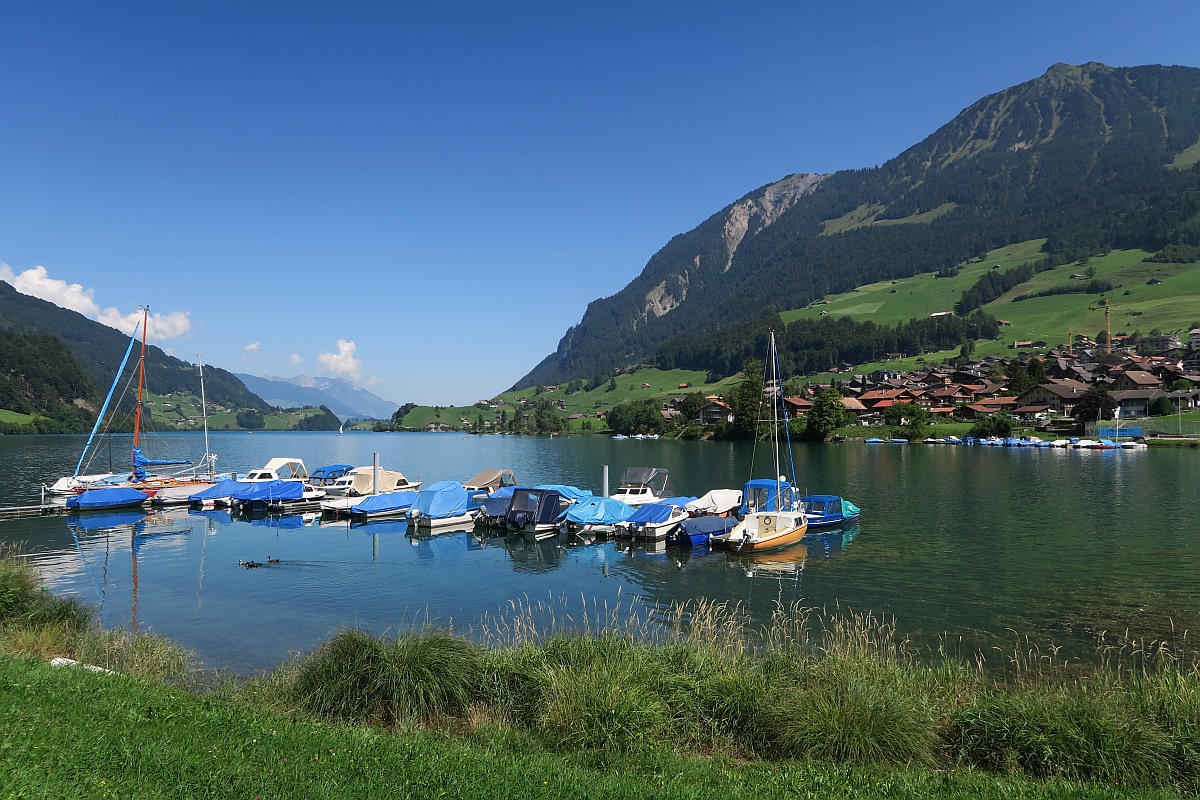 Visit the Viewing Point Schoenbuehel
Perhaps the best view to Lake Lungern is from the Viewing Point Schoenbuehel. It is easily accessible by car and there are normally enough parking spaces to stop and admire the beauty. This is just a viewing point next to a busy road. There are no toilets or restaurants here, but it is a must-see if you are in the area!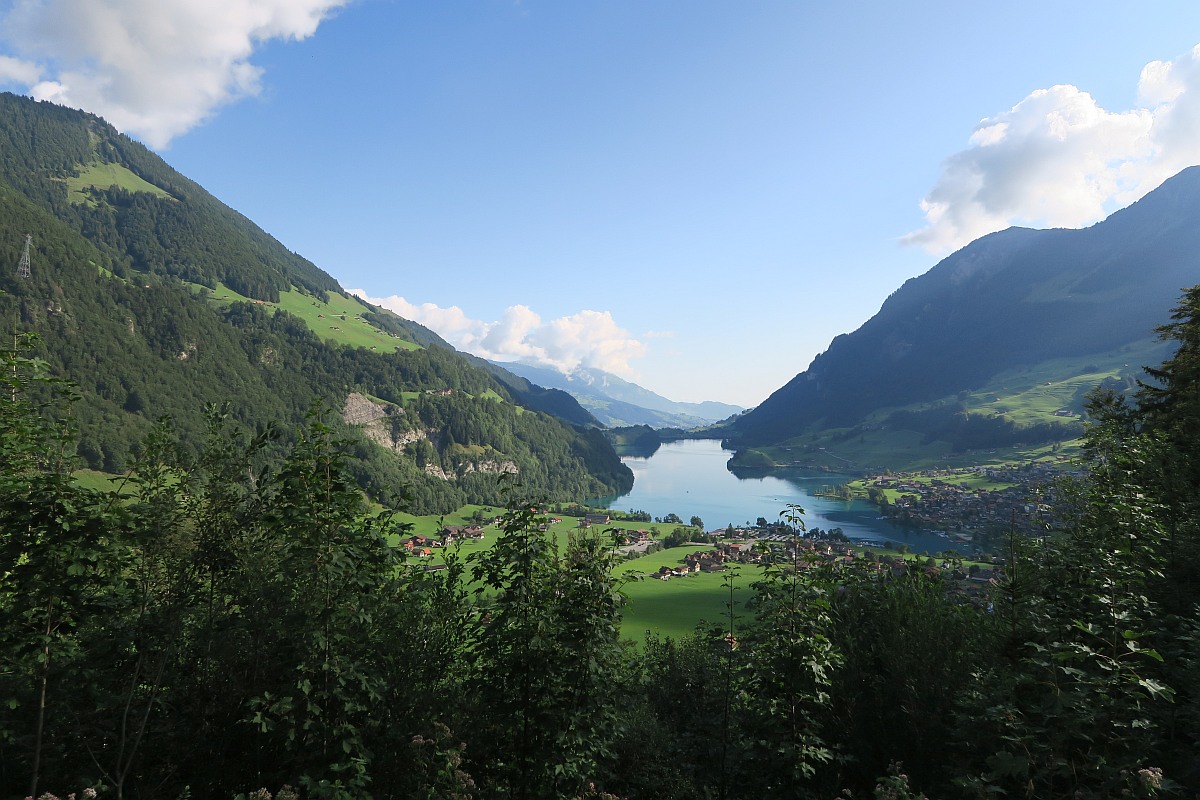 Camping at Lake Lungern
To truly experience all that Lake Lungern has to offer you need to stay in the area. You can get really close to nature by camping. Camp Obsee is conveniently situated at the lakeside. It has a beach and little marina as well for boats. Seebad Lungern and the Lungern-Turren cable car are just a few minutes walk away. It really is a great base to explore the area. If sleeping in a tent and cooking with a gas stove is not really your thing, you can also rent a bungalow and the onsite restaurant can make mealtimes enjoyable.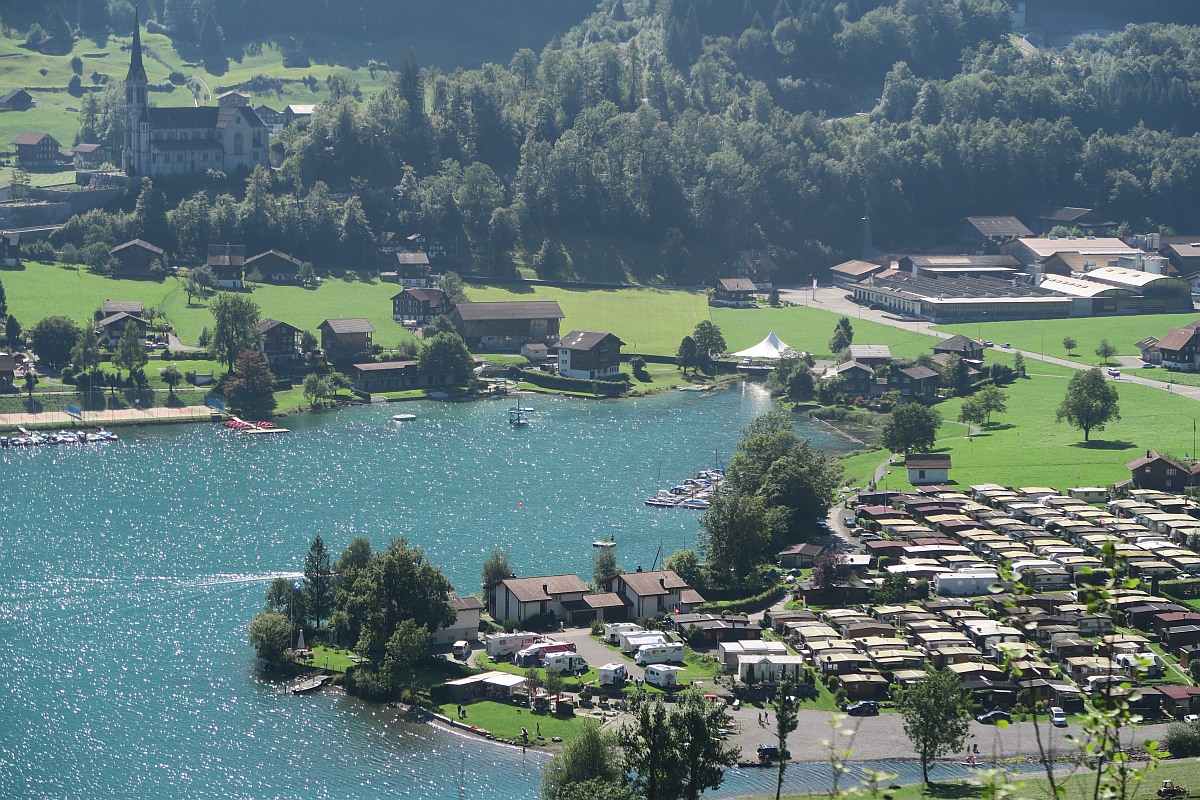 Source: travelhackergirl.com