New Zealand is known for sprawling mountains and awe-inspiring landscapes. Movie buffs also know New Zealand as the home to the iconic film locations of the famous Lord of the Rings trilogy. The gorgeous landscape is enough to make anyone book a flight here. But not many are aware that New Zealand also has tons of beaches to offer to tourists and locals. Its beaches are breathtaking and truly worth the visit. There are so many places to choose from. If you are planning on visiting, then we have collected the most beautiful beaches in New Zealand for you to check out.
1. Ninety Mile Beach
Ninety Mile Beach looks like it came from the gorgeously shot Apocalypse movie with its long sand strips. The famous beach begins from Ahipara to Scott Point. It's 88 kilometers (54.6 km) long making it one of the longest beaches in New Zealand. The beach now has a highway which can feature large automobiles. The beautiful beach is not only good for strolling or driving – it also can be perfect for a day of swimming, body surfing, and other exciting water and sports activities. Simply trek along the beach for gorgeous afternoon of fun and chill time.
2. Wharariki Beach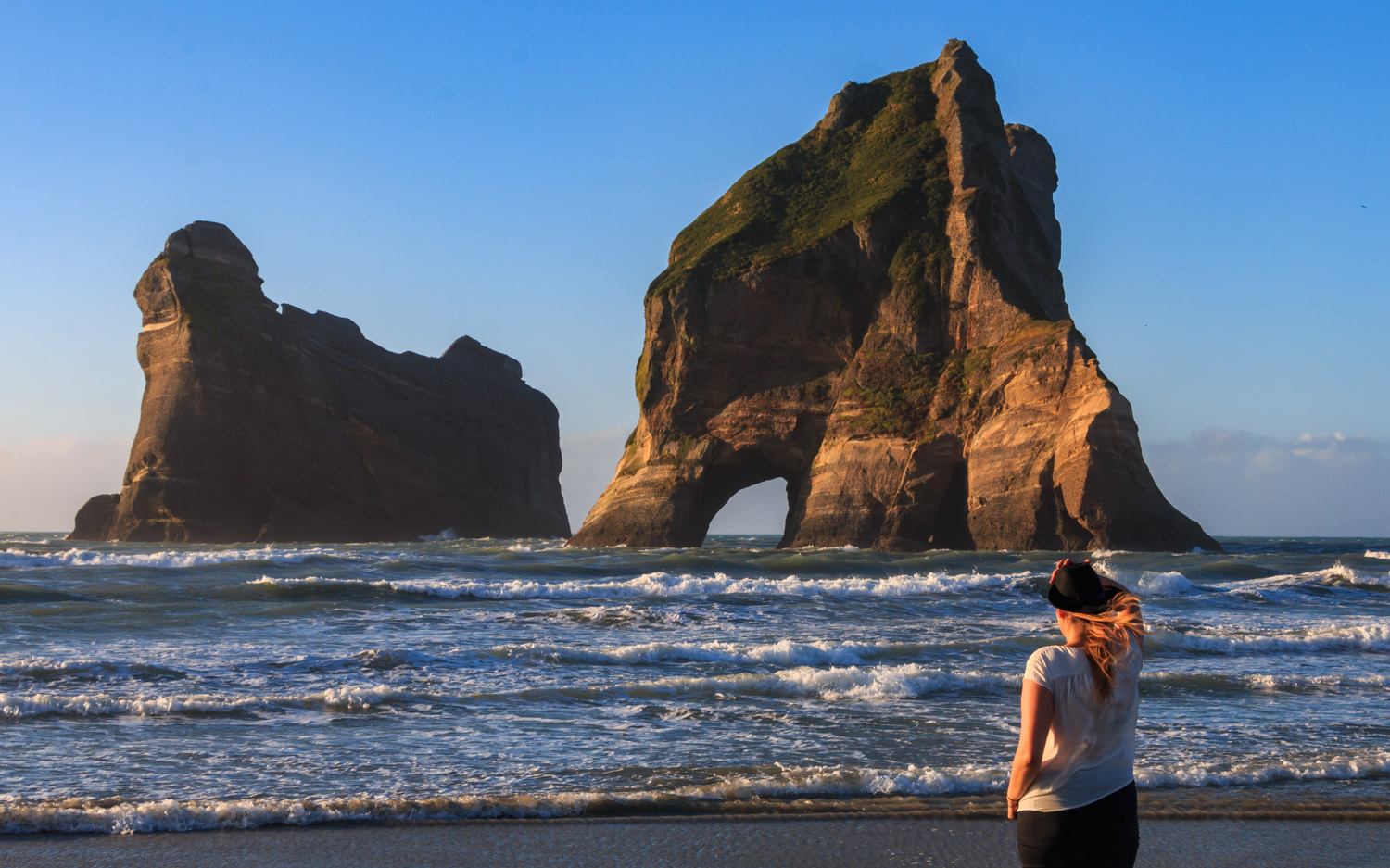 Before you arrive at the breathtaking Wharariki Beach, you will first have to traverse through over farm paddocks and a beautiful forest. The windswept beach will greet you. It's decorated with large rock formations which is perfect for sightseeing and breathtaking photoshoots for your Instagram. The coastlines, sand dunes, and big waves are enough to transport you into another dimension away from the world's problems. Since the waves in the beach are pretty big, swimming is not advisable for some times. However, you can still enjoy the beach by hanging out at the large shoreline and enjoying your friends and family's company.
3. Piha Beach
If you want a laidback beach holiday then Piha Beach is definitely one of the best beaches to visit. It boasts gorgeous black sand that's mostly popular for surfing. The good waves are enough to make any surfer go crazy. People can also play volleyball, swim, and sand board at the beach. Piha Beach is located at 45 minutes west of Auckland City. An ideal afternoon at this beach would be to have a fun picnic or visit the local surfing club. The whole family will simply enjoy.
4. Koekohe Beach
The Koekohe Beach is one of the most fascinating rock formations in New Zealand. Many would think that these boulders appeared magically but actually they were all caused by erosion. Kids will love playing and posing against the fun boulders whenever they visit Koekohe Beach. The boulders also look fantastic when photographed. After swimming and relaxing, the whole family can hang out at the boulders and just pose and have fun enjoying a good summer afternoon at the beach. Revel with the beauty of this place today.
5. Medlands Beach
The gorgeous Medlands Beach is the perfect summer getaway for the whole family. A cruise is offered from the iconic Abel Tasman National Park to Medlands Beach. The long, golden, powdery sand beach is enough to take anyone's breath away. There are also other bodies of water to see such as the Falls River and the gorgeous Cleopatra's Pool. Take a swim at the refreshingly cold waters and sunbathe while enjoy a family picnic. There are also boats that can take you to other attractions available near the area. A fun weekend at this beach is always a treat.
6. Hokitika Beach
Hokitika Beach is the largest coastal town in western New Zealand. Its beach offers a fantastic view that will surely awe you. The perfect powdery sand is a good treat for sunbathing. Swim or surf in the dazzling sea. What makes this location perfect is the fact that it's completely created for a good time. There are other attractions near the area perfect for tourists. There are also restaurants near the beach so getting food or drinks before or after heading to the beach is not hard. Hotels are also available which means you can stay as long as you want in the area.
7. Cathedral Cove
Cathedral Cove should be included in your New Zealand itinerary. It's simply brilliant. The stunning formation and the experience of passing through the cove is just wonderful. The Cathedral Cove can be accessed through foot or by car. Aside from taking photos of the formations and trekking, you can also swim and kayak at the beach. This is perfect for those who are thirsty for adventure and something new to their beach holidays.
8. Mission Bay Beach
Mission Bay is celebrated for many tourists and locals. The beach town is known for the prettiest beach and warmest people. A weekend at this location will surely create many memories. At Mission Bay, you can enjoy various activities such as swimming, kayaking, and paddle boarding. There are also restaurants and cafes in the area perfect for grabbing some grub before heading down to the beach. There's a movie theater just in case you get bored at the beach and would want to see the latest blockbuster. There are tons of hotels and accommodations at Mission Bay so staying there for the weekend is definitely a good idea.
9. Maitai Bay
Maitai Bay is the iconic sand and grass landscape available around New Zealand. Perfect for summer driving, swimming, and sun bathing – Maitai Bay simply has all you'll need for a good summer. There are camp sites near the beach which means you and your friends can easily get a tent and just stay overnight near the beach. This is the perfect location if you want good views and good company since there are many people who camp near the beach. There are also gardens and rivers near the beach perfect for exploring.
Source: trip101.com