From barefoot trails and cheese-tasting routes to high-altitude hikes and hut-to-hut treks – experience Vorarlberg through all of your senses on these outdoor adventures
Teeter on the edge of an Ice Age ravine
It takes time to create a masterpiece – so it's little surprise that the Vorarlberg landscape took 10,000 years to reach today's jaw-dropping perfection. It was formed by ice and water: thousands of years ago, the region was covered with glaciers – but their gradual melting and retreat created the spectacular ravines and plateaus you see before you now.
Venture to Bürser Schlucht in Brandnertal – a ravine whose origins can be traced back to the Ice Age – to discover a geological nature trail through ancient forests. Guided tours run weekly in July and August, offering unrivaled insight into the earth's ancient history.
Seek out traditional Alpine hospitality
Hut-to-hutting is a national past-time in Austria – but outside the country, it's Austria's best-kept secret. Follow in the footsteps of all those rosy-cheeked locals: they're headed for the hills, to embark on a few days' walking between cozy Alpine huts.
Bregenzerwald's huts might well be the most invigorating digs you'll ever sleep in. What they lack in luxury they make up for in rural charm – and you'll feel thrilling far from the beaten track. You can be guaranteed there will always be great conversation, delicious mountain food, and plenty of schnapps to keep you well-oiled.
Mix it up on the Lechweg trail
If you're looking for a long-distance hiking route, you can't go wrong with the 125-kilometre Lechweg Trail. Following the Lech River from its source to a cluster of spectacular waterfalls, this trail meanders through fairytale forests, across quiet pastures, and through the beautiful region of Lech-Zürs am Arlberg.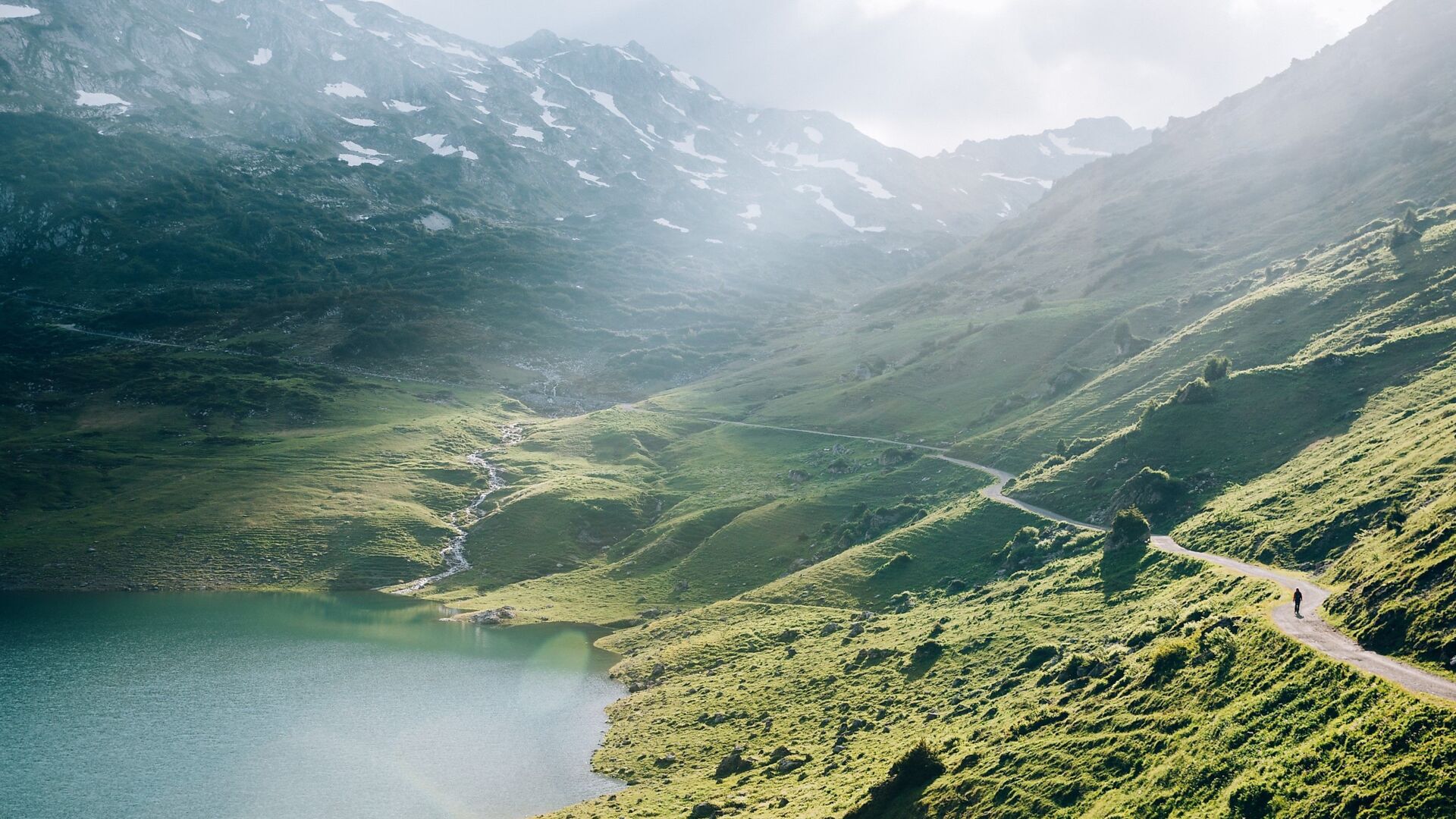 With the breeze at your back and the faint river mist in the air, this is more of a retreat for body and mind than a grueling cross-country hike. Breathe in that fresh Alpine air, skip over the stone pathway, and keep the river as your constant companion as you thread through the countryside. With plenty of welcoming villages and good transport connections along the way, you can pick and choose which sections to walk, and treat yourself to comfortable hotels at the end of each day.
Walk barefoot in Brandnertal
Peel off those hiking boots and go barefoot on the purpose-built trail above the Dorfbahn Brand mountain station: you'll squelch and skip through spring waters, meadows, boggy marshes and lush forest – connecting with nature like never before. Trust us: barefoot walking makes you appreciate the landscape in a totally new way, and even the most squeamish of hikers will relish the muddy patches by the end of the trail.
You'll walk slower, more mindfully, and with greater respect for your surroundings. Plus jumping in puddles is even more fun! Walking in Vorarlberg is a feast for your eyes, but while you drink in those magnificent mountain views and rolling Alpine pastures, this is the perfect place to indulge your sense of touch too.
Immerse yourself in myths and legends
Vorarlberg's scenery often feels like it's from a fairytale: all those moss-covered pathways, misty forests and towering mountains will make your imagination run wild. The Green Ring in Lech-Zürs am Arlberg is designed to indulge your inner storyteller – with a little help from local myths and legends too. At each of the 36 information points, you'll find a few lines of local folklore, with hobgoblins, wizards, and witches galore.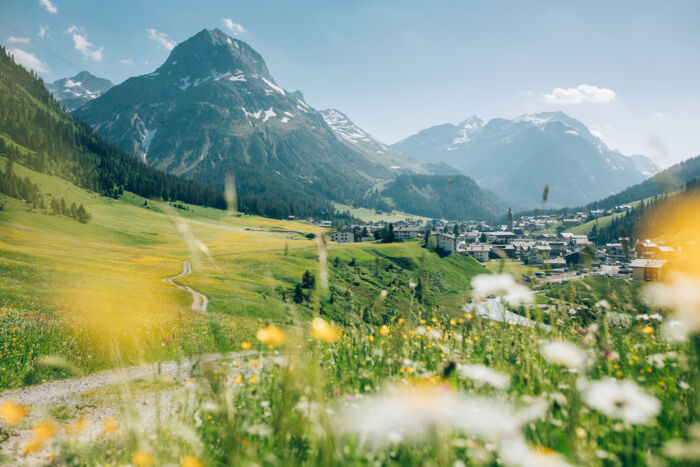 Along some sections of trail, you'll encounter characterful wooden sculptures by Tyrol-based sculptor Daniel Nikolaus Kocher, designed to bring those stories to life. There's also a fun selection of puzzles at the information points to get your brain moving too.
Follow the footsteps of history
The three parishes of Warth, Schröcken and Lech might be small, but what they lack in size they make up for in history. The Tannberg Themed Trail in lovely Lech-Zürs am Arlberg brings this fascinating region to life – particularly the heritage of the Walser people, who settled here in the 12th century.
As well as some great rural hiking sections, you'll find former Walser settlements, ancient spiritual sites, and old tracks which served as vital trading routes. They're largely crumbling, but most are accompanied by information boards and illustrations.
Discover Bregenzerwald's beautiful villages
Fancy giving your thighs a break from all that mountainous hiking? Seek out the Bregenzerwald Umgang – 12 marked pathways that thread through Bregenzerwald's charming villages. Each one takes between 1.5 and 4 hours, and if you stop by the local information office you'll be furnished with a map to guide you on your way.
Information points pick out the villages' most interesting features, but don't just keep your nose in a booklet or board: stop for a coffee in a little local cafe, buy a picnic lunch from the delicatessen, and try out your rusty German when you ask for directions. By interacting with local people you'll learn more than you ever could from a guidebook – and you might even get some recommendations for dinner too.
Tuck into a cheese path
Austria is famed for its fantastic cheese – and you'll find lots of tasty varieties in Vorarlberg. Over 40 varieties are produced in Bregenzerwald, including nutty yellow cheeses, soft cheeses, and all kinds of flavour combinations that'll get your tastebuds twirling (don't miss weinkase, which is ripened in red wine for three months).
Cheese is excellent hiking fuel, so you'll eat up the miles on Bregenzerwald's Cheese Path, which stops by plenty of dairy farms where you can taste and buy cheese. Handy for souvenirs and impromptu sandwiches on the trail – just remember to make room in your rucksack!
Interact with nature on a whole new level
Got inquisitive kids in tow? Let them loose on Brandnertal's Natursprünge Trail, a walking route with interactive exhibits which dish out nuggets of info and fascinating facts. Where does the river water come from? Why are the flowers so colourful? All of your little ones' weird and wonderful questions will be answered – and you'll probably learn a few things too.
To reach the start of the Natursprünge Trail, take the Dorfbahn Brand cable car up the mountain and walk towards the Burtschasattel. It's an easy walk, perfect for an afternoon's stroll with the kids.
This article is supported by the Vorarlberg Tourist Board, but it is impartial and independent – just like all Wanderlust editorial
By: www.wanderlust.co.uk