Lausanne, in Switzerland, is the host of the International Olympic Committee, and since 1994 is recognized as the "Olympic Capital". In a city known for sports, you can bet there there's a heavy emphasis on food too. Lucky for you, there are many interesting options when choosing the best places to eat.
Located on the French-speaking side of Switzerland, Lausanne has a lot to offer when it comes to French and Swiss cuisine. Great cheese, amazing wine and mouth- watering chocolate – everything is high quality! From the many options, this article selects some of the best places to eat for you to consider during your visit.
Word of advice! Sunday is the mandatory free day for all workers in Switzerland, so many restaurants and coffee shops are closed.
1. Modern menu at the oldest pub – Pinte Besson
Opened in 1780, Pinte Besson is not only the oldest pub in Lausanne, but is also ranked as one of the ten oldest in all Europe. With a menu that expresses the best of traditional French cuisine, you may enjoy a one of a kind fondue and wash it down with the amazing selection of red wines.
The owners have struggled over time to preserve the structure of the building and offer their clients a picturesque swiss alpine atmosphere. In spite of the fact that the menu is not big, the selection stands out for being unique. You can share one of the cheese fondues with family or friends or have a meal for yourself of fish or meat. The prices are at the level of the food quality.
As warned before, this restaurant is closed during Sundays and public holidays, but from Monday to Saturday it stays open until midnight. For late eaters, this is a great advantage!
2. Local food from local specialists – Le Café Romand
This bistro is another trademark of Lausanne. Le Café Romand has been in the city since 1951. If you are looking for a good menu with a variety of meat cuts, this is the place for you! Take your pick from the selection of beef, salmon or pork dishes. The atmosphere is impressive, with the oak furnishings and traditional decorations still preserved to give you a taste of old times.
3. Treat yourself to a meal by a top chef – Anne-Sophie Pic
Placed in one of the most luxurious hotels in Lausanne, the Anne-Sophie Pic restaurant honors the quality of its location. Pic is France's first female chef to be awarded three Michelin stars. The restaurant itself has been awarded two stars in the Michelin guide and ranks 18/20 in the Gault Millau.
A business lunch is served from Tuesday to Friday for the price of 95 CHF (94 USD). Or you may choose the signature "Emotions" menu for 260 CHF (257 USD) or the Winter Pic Collection for 350 CHF (346 USD). The price equals its quality.
4. A little taste of the world – Eat Me
If you wish to take a break from French-Swiss food, this is the restaurant for you. At Eat Me, you can enjoy tapas from all around the world. The slogan is "the world on small plates" and it truly meets its purpose. The chefs at Eat Me have traveled the world and gathered the required knowledge to build a menu reflecting all styles, from street food to modern gastronomy. Their goal is to take customers on a culinary journey.
5. The sweet spot of Lausanne – Blondel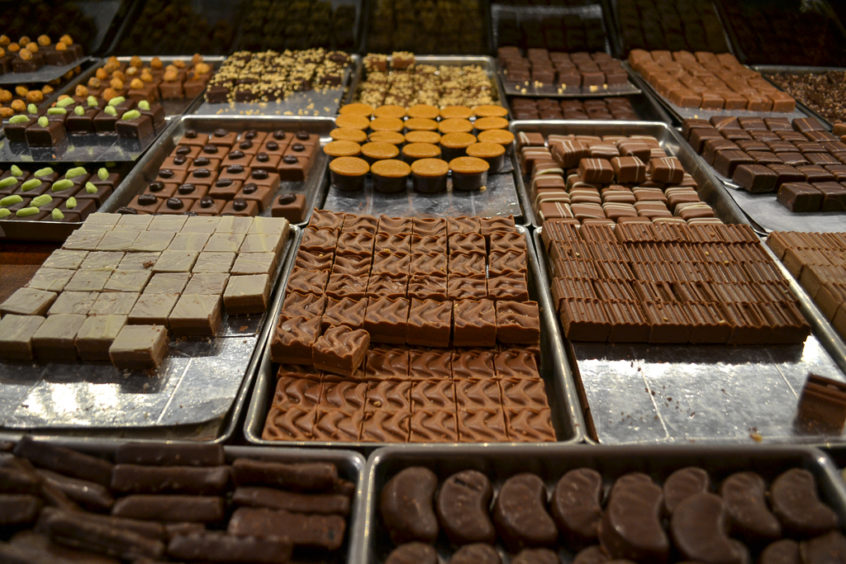 Get hit by the wonderful chocolate aroma the minute you walk by Blondel, one of the finest Swiss chocolate makers in the world. The chocolatiers at this shop are constantly working in the kitchens to bring customers new innovations when it comes to chocolate and fruit combinations. It might be an expensive shop, but it's totally worth paying a visit to get a taste of true French and Swiss chocolate. Treat yourself or someone you love with a sweet gift.
If you have a sweet tooth, Blondel is a must!
6. The movie experience – Caffé Bellini
Have a meal at this modern bistro, with its characteristic Italian menu. Caffé Bellini offers a great atmosphere for movie lovers as the cafe's decor pays homage to Italian film director and scriptwriter Federico Fellini's Amarcord. Pasta, pizza and an economic lunch menu. One of the top picks, it's a great place to have a coffee, for snacks, brunch or dinner. It also has a nice patio where you can enjoy the warm days of summer. It has a lunch menu with delicious dishes that come with either salad or soup, each day of the week, for only 18 USD.
7. Diets are not for holidays – Holy Cow
Gourmet burgers are popular around the world and Lausanne is not missing out on this trend. Join the fast food revolution in this restaurant that specializes in top quality burgers and salads. And it's open on Sundays so you can cheat on your diet every day of the week!
8. Refreshing but warm – Café des Artisans
This coffee shop is a perfect option for young travellers. Located in the center of Lausanne, Café des Artisans attracts attention with its colourful atmosphere. This comfy cafe becomes a lovely shelter from the winter days, filled with tourists from all over the world, looking to meet and connect.
9. Crème de la crepe – Crêperie la Chandeleur
Having a crepe in the Swiss-French area of Switzerland is as mandatory as trying some Swiss chocolate, since it's one of the country's specialties. Crêperie la Chandeleur is famous for the quality of their delicious crepes. Don't miss out on the best of Lausanne.
In Lausanne you'll never be hungry
Lausanne might be a small city, but it's full of options. No matter if you are looking for a simple burger or a luxury dinner, a wake-up coffee or an elaborate dessert – if you know where to look, you'll feast like an Olympic champion.
Source: trip101.com