New Zealand's world-famous vineyards are just one reason to visit the land of the long white cloud
There are a thousand reasons to visit New Zealand – but we only need one. The country known for Lord of the Rings, Crowded House and sheep (actually, Australia has more) is the place to go for a boozy wine holiday. Forget the Hunter Valley or Margaret River, the wine regions of Aotearoa (New Zealand) are pristine in quality and still relatively undiscovered by tourists. From Marlborough to Gisborne, here's why you need to book your next vino vacation to New Zealand.
1. The sauvignon blanc is something special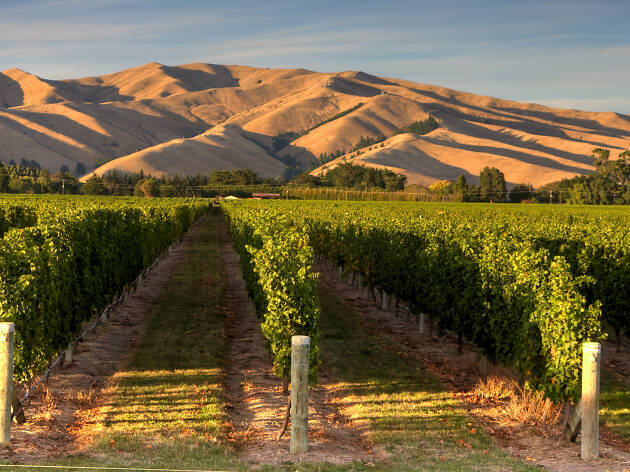 There's sauvignon blanc, and then there's Marlborough sauvignon blanc. The wine (affectionately dubbed "savvy b" by locals) has a distinct taste to it that has made it world-famous and representative of the land in the Marlborough region.
Master of Wine Sam Harrop says despite being a wine of style (which are thought to lack a sense of place), Marlborough sauvignon blanc has a distinct taste found only in wines in the region. No matter how sauvignon in the region is blended, it always retains the clean, waterfall-pure and just slightly tropical taste that is distinct to the valleys and rivers of Marlborough.
2. New Zealand's best wine regions are also home to some jaw-dropping sights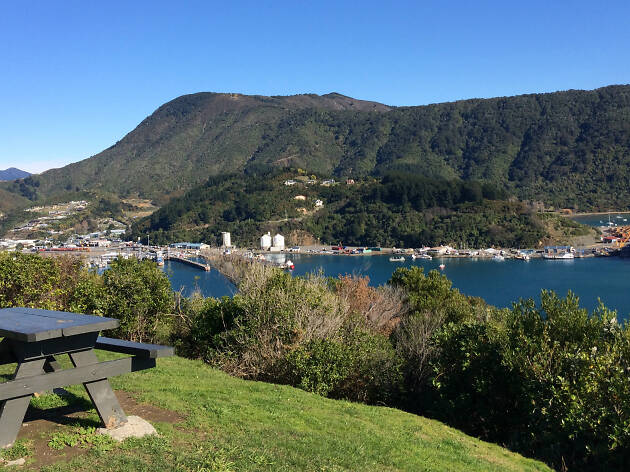 The Marlborough Sounds is a 20-minute drive from the central Marlborough town of Blenheim, and visiting it is worth every minute in transit. The sounds are a series of sea-drowned valleys – essentially the land subsided at the same time as sea levels rose, creating a maze of lush mountains that rise sharply out of crystal-clear seawater.
The best way to experience the sounds is by boat, and there are a handful of friendly operators who'll take you out. Choose from public cruises to on-water seafood experiences – you can even join the mail boat that drops supplies to remote residents.
3. The vines here are the first in the world to see the sun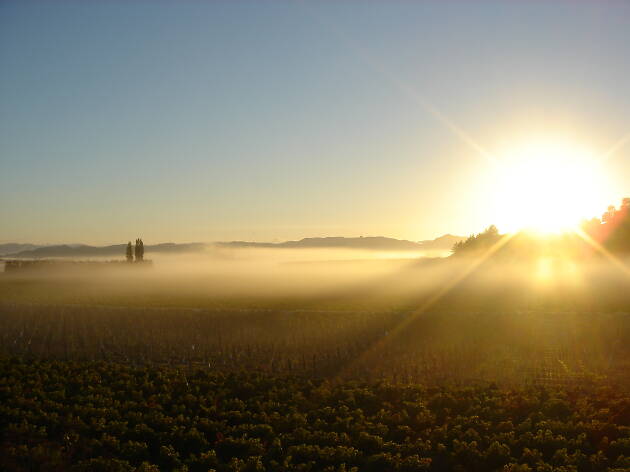 Gisborne is located on the eastern coast of New Zealand's north island and is the first city in the world to see the sun each day. Consequently, its vineyards are also the first to see daylight. While we're not scientists, we reckon those early morning rays might just be the thing that makes Gisborne's chardonnay so delicious.
The Gisborne region is known in New Zealand for being the home of chardonnay and has the only truly dry-farmed (no irrigation or fertilization) vineyards in the country. Here the variety is fruit-forward – you'll find everything from banana and melon to raspberry and cucumber flavors.
4. The vineyards are young – but not inexperienced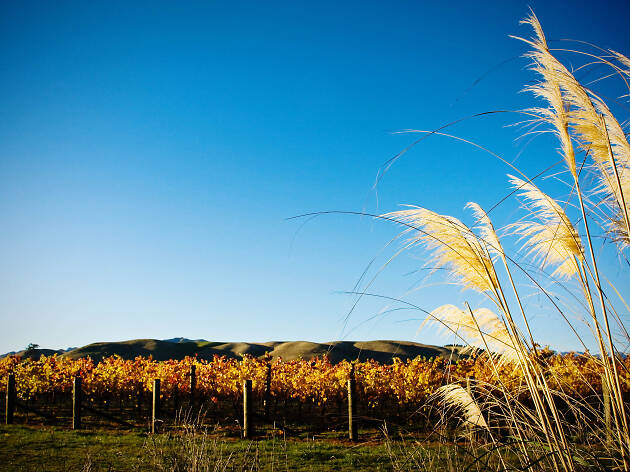 Winegrowing in New Zealand started around 40 years ago, making it a relatively young wine-growing region. Some might say with youth comes inexperience, but in our opinion, it's just made the region's winegrowers more open to experimentation.
Keep in mind that many NZ winegrowers are small producers and might not have a cellar door arrangement – though if you call ahead at small wineries you might be treated to private tastings with the winemaker. In Marlborough, we suggest dropping into the oldest vineyards like Brancott Estate and Cloudy Bay but also try a more intimate tour somewhere like Mahi.
5. You can stay in some very luxe accommodation options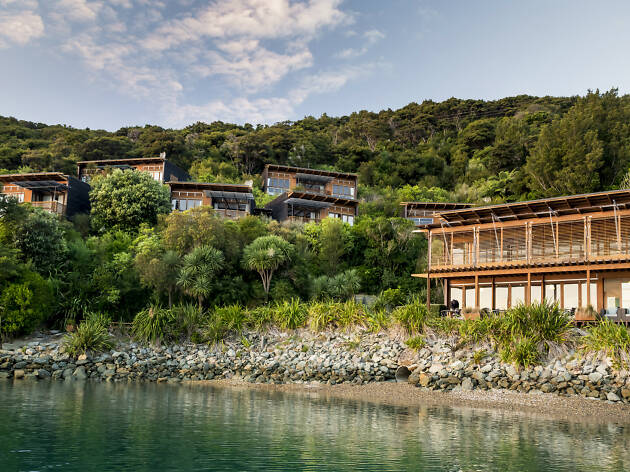 If you're planning a trip to Marlborough you could stay in one of the many fine accommodation options in Blenheim and its surroundings. Or you could live your best life at the Bay of Many Coves.
The luxury retreat is built onto the side of a hill in the Marlborough Sounds, and you'll need to arrive by either boat or helicopter. There are only a handful of rooms, all of which are built to look out over the bay. There's also a day spa, a fine dining restaurant, an all-day dining lounge, pool, hot tub, kayaks and stand-up paddleboarding and glow worm caves to explore. Traveling on a budget? You can still visit the Bay of Many Coves pier-side public café.
6. It's the perfect international long weekend away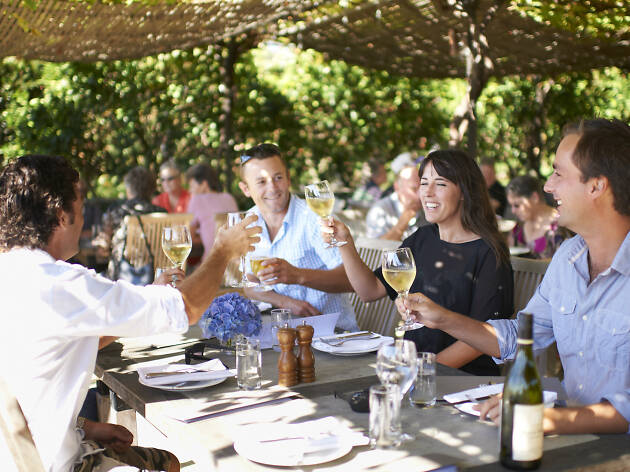 Once you've exhausted your local wine regions the next obvious step for Aussies on the east coast is Margaret River, right? Wrong! It's quicker to get to New Zealand from Melbourne or Sydney than it is Perth, making it a very appealing option for a boozy long weekend.
Hop a plane Friday morning and you'll get into Auckland just after lunch – did we mention there's even a winery barely ten minutes drive from the airport? Or fly directly into Queenstown to take advantage of the wineries of Central Otago (including Sam Neil's Two Paddocks winery).
7. Wine vending machines. You heard me.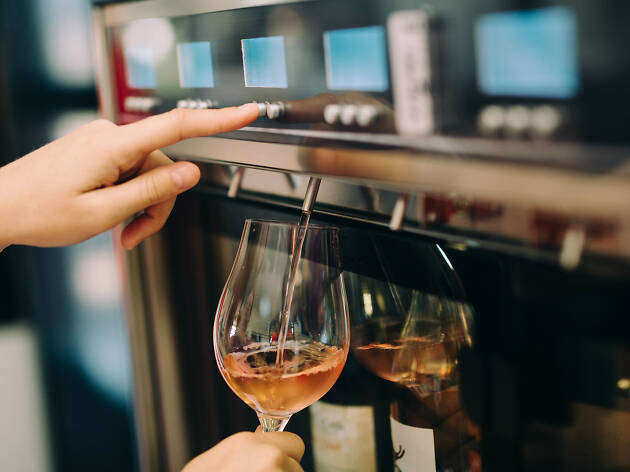 Stuck for time? The Wine Station is located in the heart of Blenheim (conveniently and eponymously at the train station) and has more than 80 wines to taste by the glass. Do you know what else it has? Wine freaking vending machines.
Here's how it works: you get a glass and a card, which you insert into the vending machines each time you want a tasting. Then you enjoy the range (full and half glass amounts are available, too) and when do you pay for whatever you've drunk. The Wine Station also serves platters to go with your wine and stocks a variety of local artisan products to take home and nosh on.
8. You'll eat as well as you drink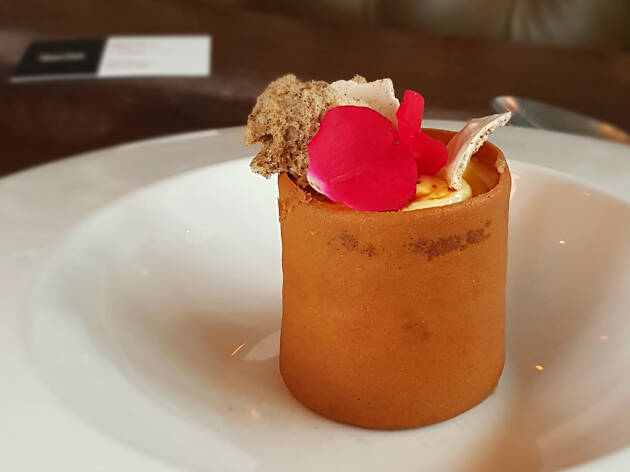 If you want a restaurant that takes its wine as seriously as its food, try Baduzzi. The waterside Italian eatery has everyone from families to first-dates walk through its doors to try the tender meatballs and handmade pasta. The menu is informed by the recipe's owner Michael Dearth enjoyed as a child in Connecticut. For French-inspired fine dining visit Baduzzi's sister restaurant the Grove.
Dining in New Zealand also means the opportunity to try Māori cooking techniques like hāngi. The traditional technique involves cooking meat and vegetables in a pit preheated with hot stones. There are a few locations where you can try hāngi food yourself (like at the Waitangi treaty grounds) or you can try and score a booking at Hiakai, where chef Monique gives traditional Māori methods and ingredients a fine-dining facelift.
By Nicola Dowse