1. Monschau
A few years ago I visited the picturesque town of Monschau. It was during a hiking trip with my parents in the Eifel nature reserve. I remember the village was covered in snow and it was so enchanting. We didn't really have the chance to fully explore Monschau at the time.
A year later Jan and I decided to visit Monschau again, but this time on a beautiful late summer day. We spent a full day exploring everything this fairy-tale town had to offer. And Monschau certainly didn't disappoint us. The setting of the village with its half-timbered houses, canals, authentic bridges, cozy terraces and panoramic views from the neighboring hills definitely contributed to the romantic vibe.
This destination is therefore definitely recommended for a romantic getaway. If you want to know more about Monschau, be sure to read my blog post about the perfect day trip to Monschau.
If you want to spend more time in Monschau, then these are my favorite places to stay Haus Stehlings, HIER & JETZT in Monschau City, Hotel Lindenhof and Horchem Hotel-Restaurant-Café-Bar.
2. Bernkastel Keus
During one of our first trips as a couple, way before the instagram and blog period, Jan and I traveled to Trier. This was my first introduction to the German countryside. Our weekend in Trier was not that great. The weather, the accommodation and the city disappointed us. If I have to be honest, I had already written off Germany in my mind. But a trip to Bernkastel Keus changed my opinion.
This small, charming village along the Moselle in the midst of the vineyards, was able to amaze me and turn my disappointment in Germany around. This was also the place where my love for traditional German towns with authentic half-timbered houses, cobblestone alleys and historical castles began.
The market square of Bernkastel Keus with the medieval houses is one of the most beautiful and therefore one of the most famous along the Moselle. What means that it can get pretty busy there.
Besides admiring the beautiful town market and soak up the local atmosphere in the surrounding narrow streets, we also hiked along the steep wine flanks to Burg Landshut.
This medieval castle is located at the top of the hill and has been transformed into a German wine bar and restaurant. Enjoying a dazzling view over Bernkastel and the river has never been so pleasant with a glass of Moselle wine.
If you're looking for a cosy stay in Bernkastel Kues, then I would recommend Burgblickhotel, Märchenhotel or Hotel Doctor Weinstube.
3. Cochem
Cochem is a well-known and slightly larger, but no less romantic, town on the Moselle. This city is mainly known for its beautiful Castle named Reichsburg that proudly stands over the city. This castle was number one on our to do list when we visited Cochem.
A walk to the top along the narrow, cobbled streets with a view over the wine flanks made us excited. When we arrived at the entrance of the castle we heard that we could only enter the castle with a guided group tour. This was a bit disappointing for us. The beautifully preserved interior and the spectacular view of a stunning river landscape from the gardens of the castle transformed our disappointment into astonishment. A visit to the castle in group may not be the most romantic activity, but I certainly thought it was worth it.
After our visit, we walked down to the centre of the historical city where we found, besides the beautifully, traditional decorated houses, many local beer- and wine bars. The perfect way to end our day in Cochem!
Looking for an amazing stay in Cochem? Be sure to check out Boutique-Hotel Lohspeicher, Hotel Villa Vie Cochem and Hotel Ravene.
4. Bacharach
From the picturesque villages on the Moselle we went further inland. We passed many green hills and vineyards till we reached the small and colorful town of Bacharach. This village was once one of Victor Hugo's favorite destinations. And I can fully understand why.
Bacharach isn't that touristy at all, at least not when we were there. It was so peaceful to stroll through the old town. The authentic half-timbered houses were well kept and decorated with colorful flowers, which led to beautiful images.
From the medieval castle we had a dazzling view of the Rhine landscape. We also saw the ruins of the ancient city wall.
In short, Bacharach is a wonderful place to enjoy the local delights in an enchanting setting. When you're in Bacharach, don't forget to taste the famous Riesling wine.
Want to stay a bit longer? In Altkölnischer Hof, Hotel am Markt, Bacharacher Hof and Hotel zur Post you can enjoy an authentic German stay.
5. Rhüdesheim am Rhein
Not so long ago, we unexpectedly explored Germany a bit more. This is how we ended up in Rhüdesheim am Rhein. A small picturesque village along the Rhine with an amazing view over extensive wine flanks. Unknown to us, but clearly not to everyone.
Rhüdesheim am Rhein attracts many tourists every year. It's a place where all Rhine cruise ships pass. It goes without saying that it can get crowded over here especially during the high season.
Despite the many tourists, I enjoyed the pleasant bustle during our visit. I especially loved the well-known street Drosselgasse with its many wine bars and local shops.
You definitely shouldn't come here for the tranquility, but for the great location along the Rhine and the wonderfully vibrant atmosphere.
Best places to stay in Rhüdesheim am Rhein are Hotel Höhn, Hotel Rüdesheimer Hof and Hotel Felsenkeller.
6. Michelstadt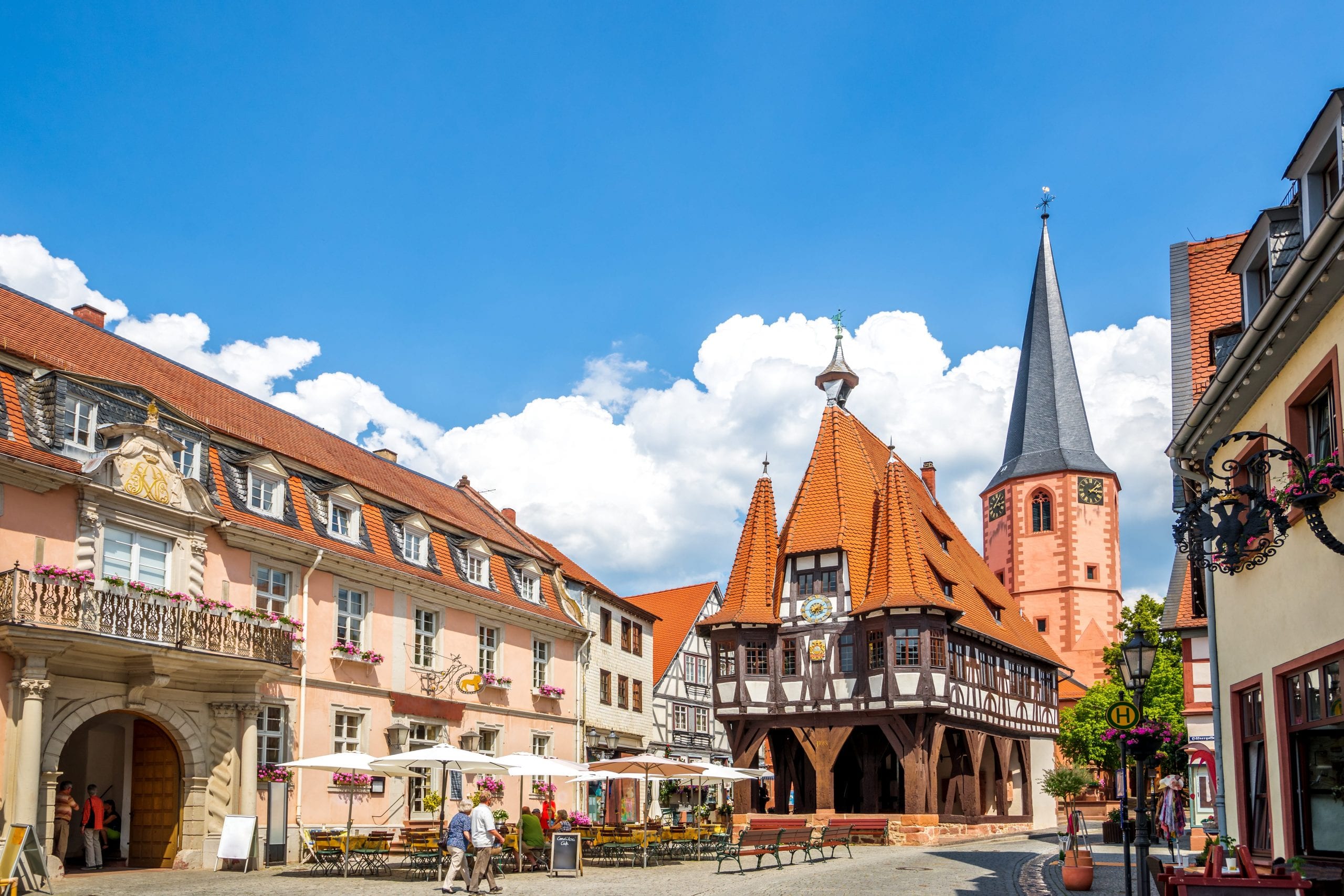 In Michelstadt we experienced the opposite of in Rhüdesheim am Rein. This small city is gorgeous and still completely undiscovered. In the middle of the day we practically had the city to ourselves. We made great use of it and discovered all cobblestone streets and alleys with their authentic half-timbered houses, to the fullest.
In the maze of streets we came across a hidden, super cozy bar with terrace "The Elephant House". This place is perfect for one or even more romantic moments.
One of the most beautiful places in Michelstadt is definitely the enchanting market square located around the fountain overlooking the stunning town hall.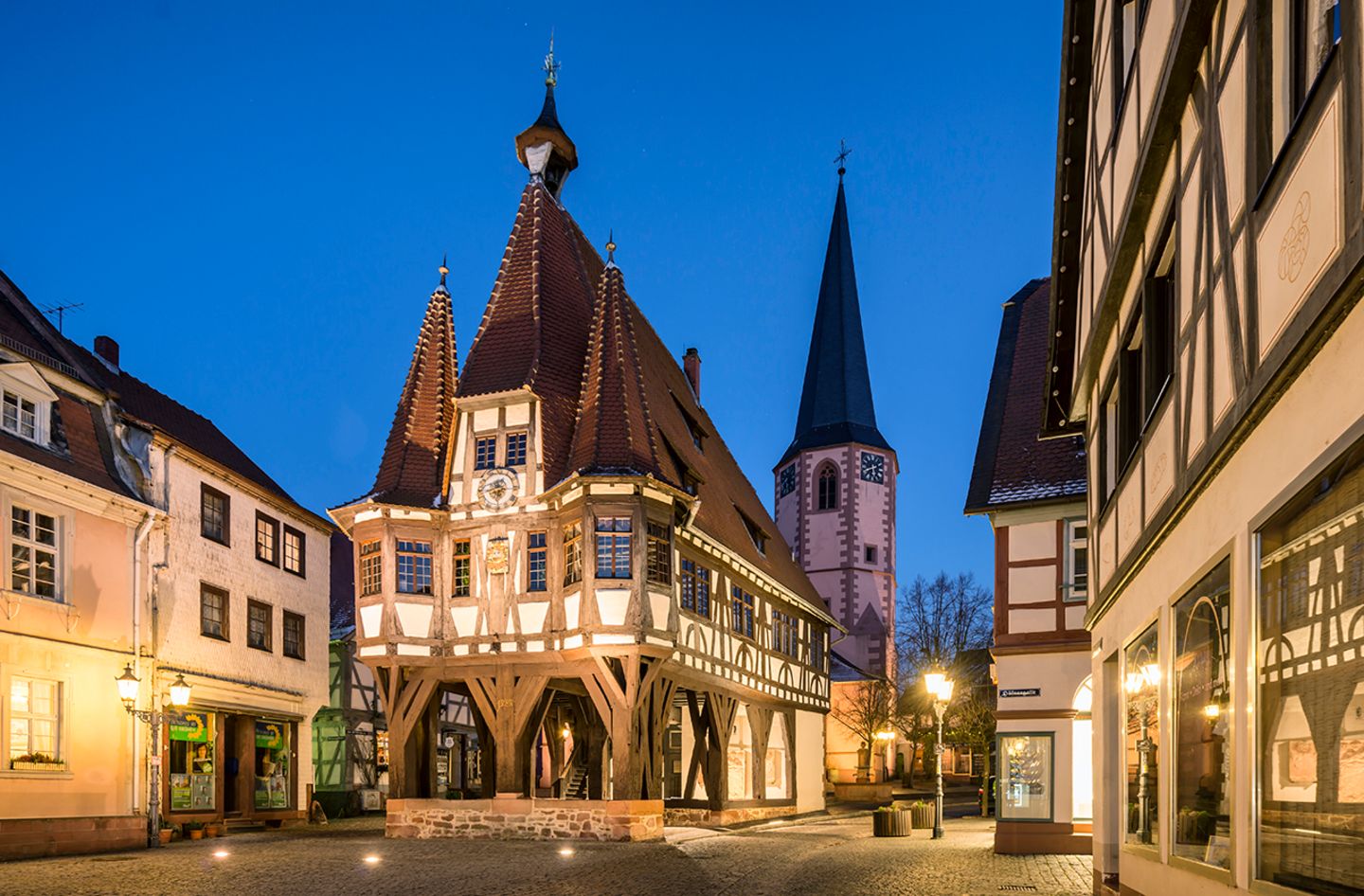 Michelstadt is definitely the place to be if you like to avoid too touristy places and want to enjoy a little peace and quiet in an authentic and picturesque setting.
Want to stay in Michelstadt for a couple of day, then I would recommend staying in Hotel-Restaurant Drei Hasen.
7. Miltenberg
As icing on the cake we visited one of the most beautiful villages in Bavaria. The town is called Miltenberg and is situated along the Main. Since Bavaria is still relatively unknown to me, I don't have other Bavarian towns to compare with. But if they are somewhat like Miltenberg, I'll definitely want to visit them.
The old city centre was jaw dropping. It was a feast for the eyes to wander through the main street with it's beautiful authentic half-timbered houses on both sides. But the absolute eye-catcher was the market square with the fountain. It's no wonder that this place often serves as a backdrop for various films.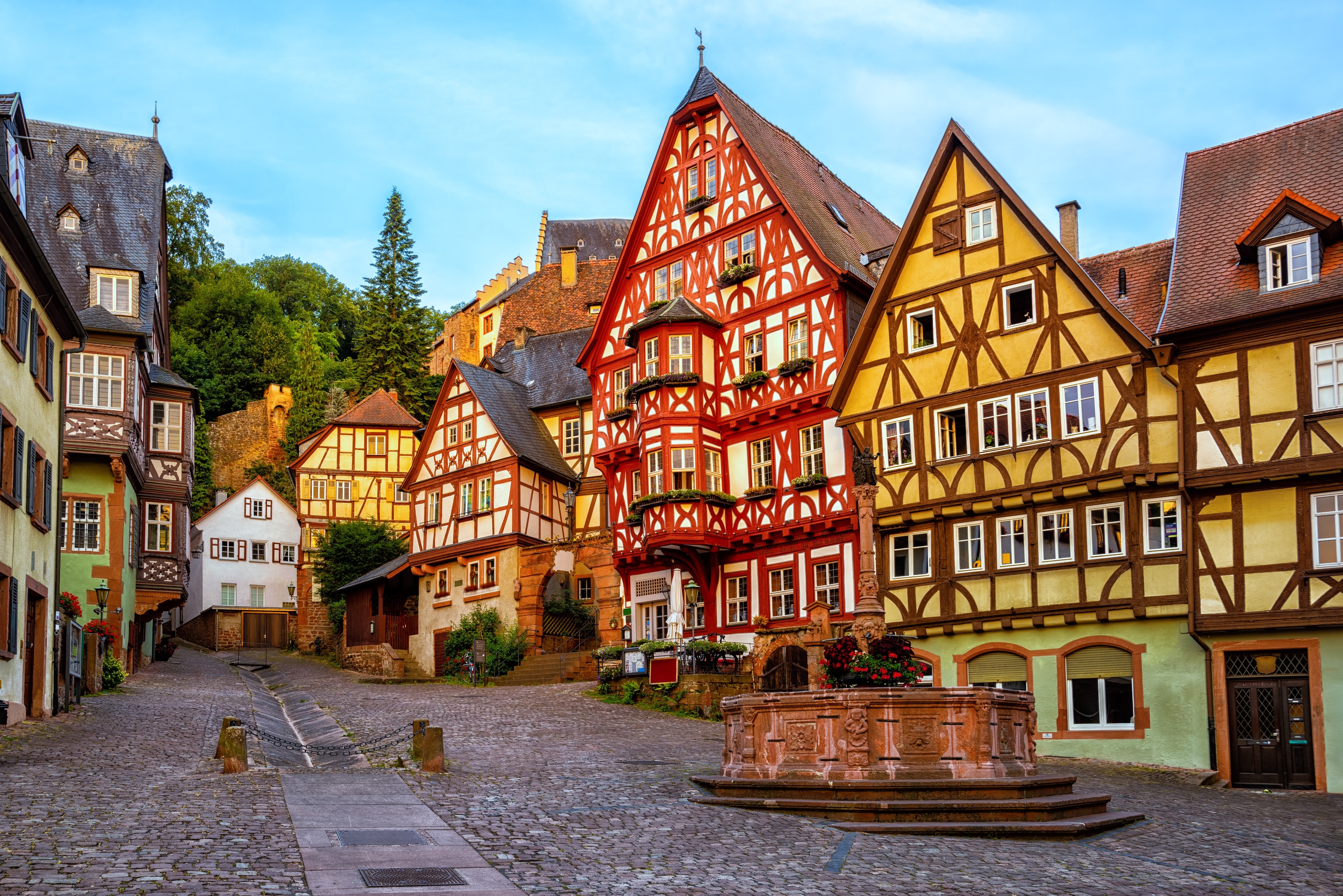 Via a narrow alley on the market square we made our way up hill to the castle where we had a magnificent view of the old city and the Main.
Miltenberg is called the pearl of the Main and I couldn't think of a better nickname for this town. This town is definitely worth a visit.
If you're looking for a unique accommodation in Miltenberg, be sure to check out the famous Hotel Schmuckkästchen or Hotel zum Riesen.
By: sarahdegheselle.com