From hiking in the Blue Mountains to snorkeling the Great Barrier Reef, there are so many places to visit in Australia as a family. Here are five recommendations from guest blogger and Aussie native, Emily.
This article is by Emily, a wife, mum of two, and keen explorer who's hoping to pass her and her husband's passion for travel onto their two girls. It was written in collaboration with 1Cover Travel Insurance, something Emily and her family never travel without.
Australia is one of the most picture-perfect places in the world. With a winter that's basically summer, and a summer unlike anything else, why wouldn't you want to take your whole family abroad to sample all that Australia has to offer? There are so many amazing Australia tours, it's sometimes a bit difficult to decide what you want to do first.
If you've taken your kids on a long-haul journey before, you'll know it's vital to plan as much as possible. Specifically, you need to find kid-friendly destinations. While the majority of this country is family-friendly, there are some real treasures that you simply have to visit. Here are some of the best places to visit as a family in Australia.
Pro Tip: From getting around to vaccinations, here's everything you need to know when planning a trip to Australia.
Australia Destination #1 – Western Australia
Off the coast of Perth, Rottnest Island is one of the best places to visit in Australia as a family.
Western Australia covers quite a few areas, but is one of the best places to start your adventure as a family, because there is so much to do here. The best outdoor adventures in Western Australia include everything from swimming to hiking. You could choose to swim the gorgeous Ningaloo Reef as a warm-up for the Great Barrier Reef! Head over to Perth, where you can visit the zoo and Kings Park, before hopping on a ferry for a short ride over to Rottnest Island. This wonderful nature reserve bans cars and is the perfect place to experience some of the best natural beauty Australia has to offer.
Australia Destination #2 – Kangaroo Island
Stay on Kangaroo Island to experience Australia surrounded by its unique native animals.
What better place to take the kids when exploring Australia than the famed Kangaroo Island? The name is pretty self-explanatory, but, in addition to kangaroos, you will get to enjoy some amazing koalas and seals as well. There's even some pretty stunning accommodations on Kangaroo Island, so you can spend the night here as well and enjoy the natural beauty of this iconic place.
Australia Destination #3 – Blue Mountains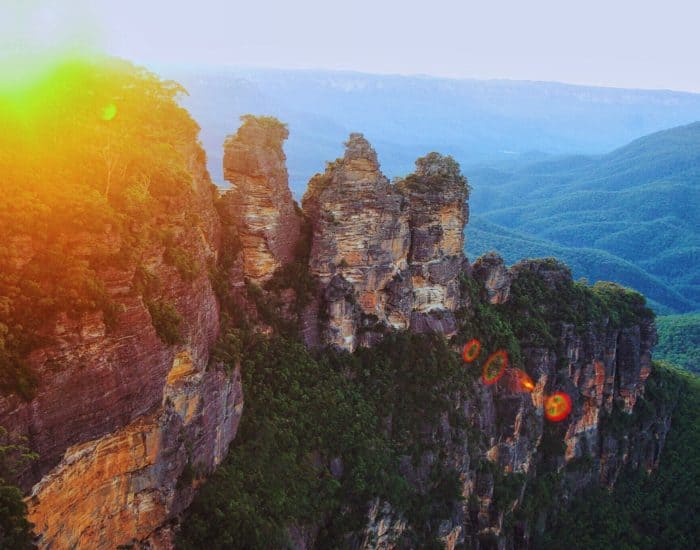 Visit the rugged Blue Mountains to hike in eucalyptus forests and admire cascading waterfalls.
If you fancy an active and jaw-dropping day, you should take an hour's train ride out of Sydney, and head for the majestic Blue Mountains of New South Wales. This is the perfect place for the family to enjoy some hiking opportunities, as well as unique sightseeing adventures as well. If you're feeling bold, you might consider taking the Scenic Skyway Cable Car Ride, which gives you breathtaking views of the mountains, and stunning natural beauty of the area. You could even consider a camping experience here as well if you have the time to do so.
Pro Tip: From koalas to fish swimming through coral reefs, watch 35+ animals via these live animal cams.
Australia Destination #4 – Darwin
Named for Charles Darwin, this is the largest city in Australia's sparsely populated Northern Territory.
There is a wet season in Darwin (November to April) and a dry season (May to October). It can be very, very hot, and you'll need to be aware of this. However, it's also perhaps the most beautiful part of Australia. Nestled in the middle of the country's sparse Northern Territory, Darwin is home to some of the most amazing wildlife and scenery. The best place to enjoy and indulge all of this is to make sure to head to some of the epic national parks here, most notably Litchfield National Park, and Nitmiluk National Park.
Australia Destination #5 – Queensland
The Great Barrier Reef is one of the most magical places to visit in Australia as a family.
There are plenty of wonderful reasons to visit Queensland as a family, but the main draw here is the Great Barrier Reef. The largest coral formation in the world, stretching for some 2,300 km (1,430 miles) and made up of hundreds of small islands. Queensland is also considered one of the best diving spots in the world, according to The Secret Traveller blog at 1Cover.
When it comes time to explore Oz as a family, be sure to check out some of the most exciting and iconic places the country has to offer. The Great Barrier Reef, the Blue Mountains, and Kangaroo Island will give your kids the perfect example of what makes the best Aussie adventure.
By: everydaywanderer.com