Scottish castles are rugged and stark. There is no fairy tale quality about them, but visitors can conjure up visions of knights in shining armor who fought the good fight for their clan and country. Scottish castles were built mostly for defense and frequently sit atop cliffs overlooking lochs and ocean, making them seemingly impregnable. These stone structures today evoke a sense of grace and peace. They are awe-inspiring, to say the least.
 Dunnottar Castle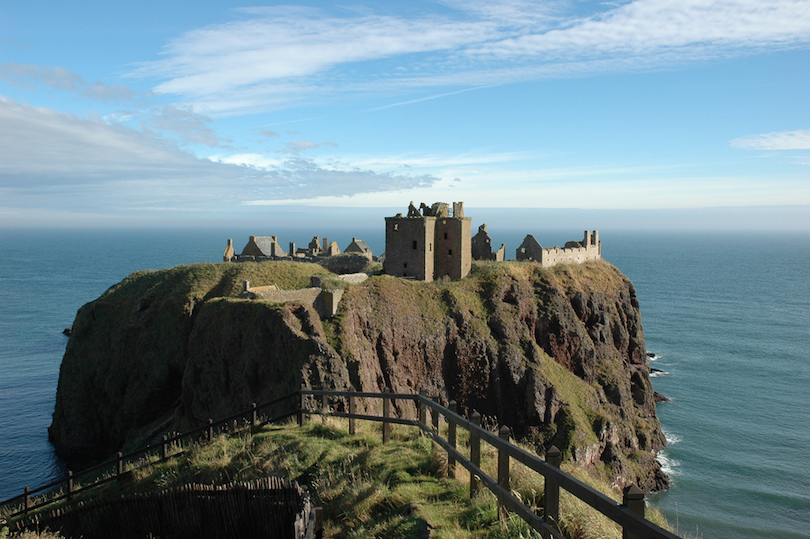 Dunnottar Castle has a high wow factor, sitting as it does atop a cliff overlooking the northeast coast of Scotland. This medieval fortress is now in ruins, but has a rich history connected to Scottish persona such as William Wallace, Mary Queen of Scots and Charles II before he became king. It is perhaps most famous as the site where a small garrison held out for eight months against Cromwell's army, thus saving the Scottish crown jewels. Couch potatoes may want to avoid this castle, as getting there involves a steep walk with many steps.
Duart Castle
Duart Castle, located on the Isle of Mull, started out as a rectangular stone wall surrounding a courtyard. The castle passed to a Scottish chief as part of the dowry his bride brought to the marriage back in the mid 14th century. It fell into ruins over the centuries; for the last 400 years it has been considered the ancestral home of the Maclean clan. Visitors to the castle today will see a stone castle perched upon a hill overlooking the Sound of Mull. The Macleans have been restoring the castle for the last two decades, but visitors can still walk through the dungeons and admire the castle's strategic position at the end of a peninsula.
Urquhart Castle
Urquhart Castle was once considered one of Scotland's largest castles, but today pretty much only the tower house remains of this medieval fortress. Oh, and the stunning views overlooking Loch Ness. Its history is anything but peaceful since it changed hands between England and Scotland as well as between clans. The last invaders blew it up in 1692 so it could never be used as a military stronghold again. Today its claim to fame lies in its medieval artifacts and that more people claim to have seen the Loch Ness Monster from this location than any other on the loch.
Balmoral Castle
Balmoral Castle started out as a hunting lodge for King Robert II in the 14th century. Various royal residents have added to it over the years and now contains a wide variety of landscapes. Though the present building looks like a castle it is considered an estate in the Baronial architectural style. It is most known today as the holiday home for British royalty. The grounds and many rooms are open to the public, though some rooms are considered the queen's private rooms. In 2014, the castle will only be open for public viewing April through July.
Inveraray Castle
Inveraray Castle is considered a must-see on Scotland's west coast. Home to the Dukes of Argyll for centuries; it took 43 years to build and then was partially destroyed by a fire in 1877. Castle rooms tell the story of the Campbell Clan, once the most powerful clan in Scotland. The castle has formal gardens and an extensive collection of weaponry, which parents say fascinated their children. The castle, open only between April and October, features a tea room that offers traditional Scottish fare.
By touropia.com