Zermatt. A stunning village set in the shadow of the mighty Matterhorn. This village has much to offer the active explorer, check out our top tips to make the most of a visit!
Zermatt is a town we've long wanted to visit, best known for living beneath the mighty Matterhorn. The name has always evoked images of dreamy Swiss Alps villages for us and something different to places like Adelboden which we've been to before. On our third trip to Switzerland, we were elated to finally visit this summer. Here's our top things to do in Zermatt.
Getting to Zermatt
Getting to Zermatt is easy, regardless of how you travel. Train is likely the most obvious route, and a beautiful journey to boot. For those arriving by car like we were, you will need to be conscious that Zermatt is a car free town. Whilst the village has electric vehicles (including buses and taxis), you'll be getting around on foot mostly.
If you've arrived in your own vehicle, there are parking lots at Zermatt Taesch. If you've hired a car, you can do the same. A better option depending on how many nights you're staying in Zermatt might be to hire via Hertz. Hertz is the only car hire in Zermatt Taesch, so you can pick up elsewhere in Switzerland and drop it off here. Be warned, the one way fee in Switzerland is CHF150. You may want to do your sums to determine the most economical option.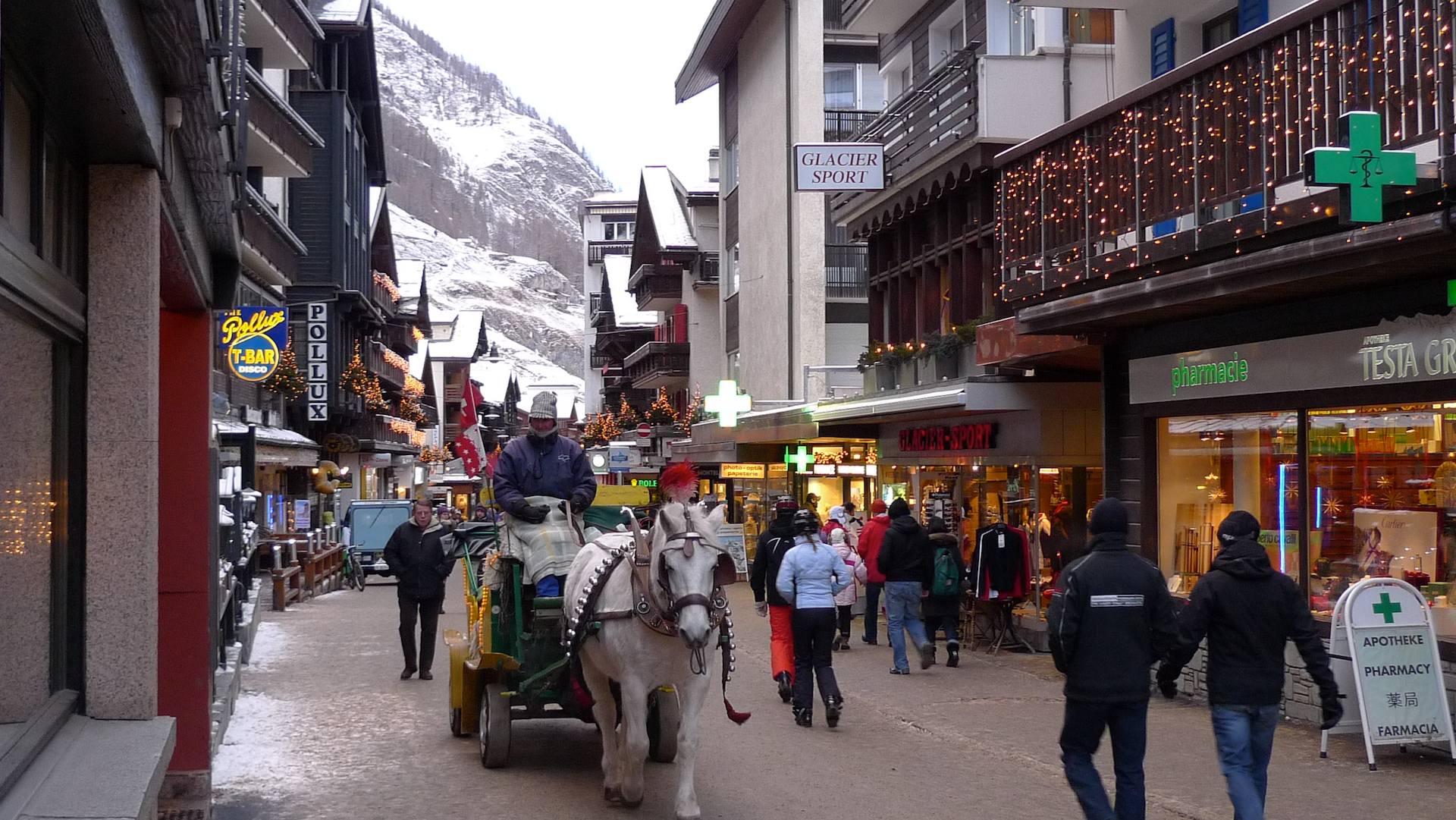 A short train trip for Taesch is available. You can also get dropped off at the Zermatt train station and connect with an electric vehicle to your hotel. The absence of cars from the village is a welcome one. Roads are narrow and it's a much more enjoyable atmosphere.
Once you've arrived, what can you do? Here's our top things to do in Zermatt to help you get the most of your visit.
#1 Check out the Matterhorn at different times of day
That stunning mountain is an ever changing beast throughout the day. In our experience over 3 days, it did follow a consistent pattern. The mornings would be clear and you'd have visibility before the clouds would set in.
Throughout the day, the cloud would build around the face. Each day saw a varying amount of cloud. Our first day was the worst since we couldn't see it until late in the day. By sunset however, the clouds cleared. We were treated to the most stunning and our first sighting of the majestic mountain. Different times of day and weather, the mountain looks different and you'll never get bored of looking at it. So always look back, look up and enjoy the awe of it all.
#2 Get those feet moving
Whilst electric vehicles are available within the village, the best way to see Zermatt is on foot. The river running through Zermatt, the Matter Vista is a great place to wander. It winds its way towards the Matterhorn right through the middle of the village. On a warm summer's day, it gives off a breeze which is an excellent way to cool down.
#3 Get hiking
By far one of the main things to do in Zermatt is to get amongst the great outdoors. If you are visiting Zermatt for 2 weeks and hiked every day, you'd still be finding new hikes to do. There are plenty of mountain tracks to explore and hikes appropriate for all levels. If you're short on time, and your prerogative is to find stunning scenery, it's difficult to go past the Five Lakes Walk including Stellisee. It's not taxing bar a few inclines here and there. It's one of our favourite places to hike in Europe.
You can get to Stellisee and the Five Lakes walk via funicular to Sunnegga and connecting gondola to Blauherd.
From there, it's a 20-30 minute walk, mostly downhill. The best advice would be to go as early as you can and beat the crowds. The earlier you go, the fewer people you'll be sharing this lake with. It also seems you'll have a better chance of seeing the Matterhorn and its beautiful reflection.
You can then continue on to do the hikes via the many other lakes. For me, Stellisee is the most impressive and scenic of them all. If you're short on time, prioritise here first.
On your way back down from Blauherd, be sure to stop in at Sunnegga. There's a restaurant and bar available with seating outside. There are perfect views of the Matterhorn from here as well. The high views come with high prices. Best bring that wallet and look to share some fries and a bratwurst.
#4 Matterhorn Paradise
This was one of the top things to do in Zermatt that we didn't get to experience unfortunately. If we had extra time, we would have spent some time here. It's a winter playground year round, with something for all ages. If you're travelling with a family, it's likely to be the preferred stop rather than the hikes. Everyone we spoke to had a great time up there, so do check it out.
#5 Have a rosti
This could be a cut and paste from any visit to the Alps! Rosti is my most favourite Swiss food. Yes, even beyond the cheese and chocolate. There is something about them and enjoying them amongst the Alps that make them all the better!
Restaurant Klein Matterhorn does a mean rosti, so check them out. They also do great pizzas.
Wash down your bratwurst and a rosti with a Zermatt beer!
#6 Pay homage to the fallen hikers
Near to the centre of town, you'll find the Climbers cemetery. Over 500 people have perished on their travails up or down the Matterhorn. This cemetery pays homage to those who have lost their life. Many of the graves are decorated with picks and other climbing paraphernalia.
I hope you enjoy your visit to Zermatt, it's hard not to!
Source: ourpassionfortravel.com