If you were to ask me what my number one focus is when planning a trip, it usually isn't planning out my food spots. Sure, I'll save a few that were recommended to me, but it's not the driving force being my trips!
On my latest trip to the Big Island, I had all the breweries and wineries on the island picked out and allowed myself to ask for food recommendations and to wander in places that had good ratings. I lucked out on this trip and went to some pretty great places! Here are my 15 picks for where to eat and drink on the Big Island of Hawaii!
1. PINE TREE CAFÉ
I HAD to make a stop here on the way from the airport to downtown Kona. First for nostalgia as I first discovered this place in 2009 and second, because they make a mean Loco Moco!
2. COSTCO
Why Costco?! A travel hack I always suggest when going to Hawaii is to buy a few containers of their poke. They generally have 3-4 varieties to choose from and for $15 for a lb. of poke, that is a pretty good price. You can also pick up their seaweed salad. We ended up grabbing the little minute rice individual containers and were set with our own poke bowls.
3. OLA BREW CO.
We went here the first night we arrived…and then 2 more times during the 8 days we were there. Not only do they have beer, but they have a bunch of ciders as well. I always recommend trying a flight whenever you go to a new brewery. I ended up loving their IPA (shocker) and really loved their Dragonfruit cider. If you are lucky, you will visit on a night they have a food truck outside. We got to eat some really good BBQ the first night!
The next few spots are ones that I mentioned in last week's blog post. You can check out the full details by reading the link here:
The Ultimate Guide to a Day Trip on the Big Island of Hawaii
4. PUNALU'U BAKE SHOP
You can find this popular bakery on the way to Hilo if you choose to drive the scenic route. Get there early so you can grab the best malasadas.
5. VOLCANO WINERY
This is the only winery on the island..and only one of two in all of the Hawaiian Islands. There is nothing like drinking wine in Hawaii. They utilize local ingredients so it makes for some interesting wines and even tea!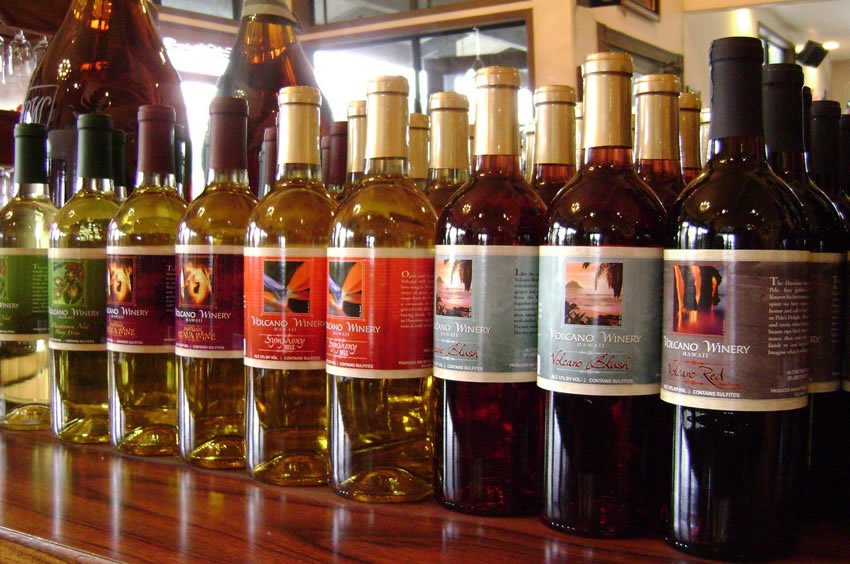 6. MEHANA BREWING COMPANY
If you know me, you know I am a beer girl at heart. I had to go all the way to Hilo to try the last brewery on my list. I didn't really drive JUST for this brewery but I was able to try all the breweries on the Big Island.
7. HILO BURGER JOINT
If you find yourself in Hilo, definitely check this place out! It has one of the best burgers I have ever had! Again, you can read all about it in last week's blog post!
8. BIG ISLAND BREWHAUS
This brewhaus isn't exactly in the middle of Kona. It is about an hour and 15 minutes north of Kona. Want a reason to go to the brewhaus? Hang out at Hapuna Beach, or Waikoloa Village. You can then drive just 25 more minutes to the Big Island Brewhaus because you really can't miss it! It is right in the middle of a little town called Waimea. A tip when visiting Waimea (or anywhere in the mountains), bring a jacket! The temperature difference can decrease by 20 degrees on some days. We loved the Brewhaus so much that we took our cousins there after one of our excursions the next day! Try their ahi taco and porter.
9. HUMPY'S BIG ISLAND ALEHOUSE
Voted as one of the best places to have a drink + watch the sunset in Kona, this spot has a great location right on Ali'I drive which is the main waterfront street in Kona. We started out sharing one of the picnic tables with another couple and once they left we upgraded our views! If you are set on the best view for sunset get there 45 minutes early to allow time to get the best seat! Oh,they also have a bunch of beers on tap which was another plus.
10. BONGO BEN'S
This spot is just down the street from Humpy's. One of my friends who moved to Kona a year ago brought me here for breakfast. I loved their iced vanilla lattes and ate the entire breakfast burrito! I usually always have leftovers so this one was especially good. We lucked out with outside, front row seats of the amazing views.
11. DAIICHI RAMEN
Naturally, half way through our trip I ended up craving ramen. There is only one true ramen restaurant on the island and one opening in the next few months. This one is in a shopping center across from target. They had so many ramen options and even curry dishes. The ramen ended up being delicious and was even better as leftovers later that night!
12. KONA BREWING COMPANY
If you are a beer lover, chances are you have had a kona beer sometime in your life. On our first visit, we got invited in to their 25 anniversary celebration. We felt so spoiled as we got to try all of their beers including some that aren't normally on tap. The second time we went here, I enjoyed their IPA and a kahlua pork bowl! They are currently working on a new location just a few blocks away. It's going to be even bigger and better!
13. GREEN FLASH COFFEE
We got breakfast almost half of our vacation…or maybe more. It was a convenient one minute walk from our Airbnb. I highly recommend the salmon and lox bagel. Best bagel I have ever had. It wasn't an overwhelmingly doughy bagel and the salmon was fresh. Also their iced coconut latte or iced vanilla lattes are amazing.
14. BROKE DA MOUTH GRINDZ
I didn't know this until we stumbled on a crowded restaurant that they were featured on a food show. Order the Kahlua pork plate and get their mac salad as a side!
15. GYPSEA GELATO
Not exactly shaved ice but I thought this was even better. Get half and half: Lilikoi and Tom Kha. Lilikoi is passionfruit and the Tom Kha is ginger, lemongrass, coconut and turmeric. It sounds weird but you have to try it!
Are there places we missed that we need to check out next time? Leave them in the comments below!
Source: hmgtravelstheworld.com