Sydney is famous for its golden stretches of sand and buzzing beach scene. Bronzed Aussies, zinc-slathered noses, teeny-weeny Speedos, and surf lifesavers are classic snapshots of Sydney beach culture, and you'll find a range of water sports on offer along the coast for every type of beach lover.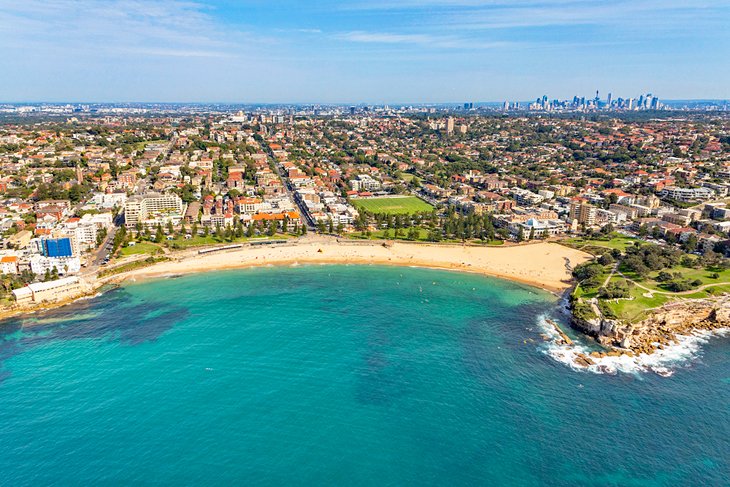 Aerial of Coogee Beach with the Sydney CBD in the distance
Swimmers enjoy relatively warm water year-round, but make sure you swim between the red and yellow flags on patrolled beaches, as rips can sweep unsuspecting swimmers out to sea. Some beaches also offer inviting saltwater beach pools. Kayaking, snorkeling, SCUBA diving, stand up paddleboarding (SUP), and fishing are other popular things to do, and surfing is another top sport along Sydney's coast, with fantastic breaks for all abilities.
If relaxing is high on the agenda, Sydney has plenty of picturesque slices of coast where you can lay out a towel and soak up some rays, or plonk down with a picnic or some fresh-cooked fish 'n' chips.
From iconic Bondi to beautiful Balmoral, plan your seaside fun with our list of the top beaches in Sydney.
Note: Some businesses may be temporarily closed due to recent global health and safety issues.
1. Bondi Beach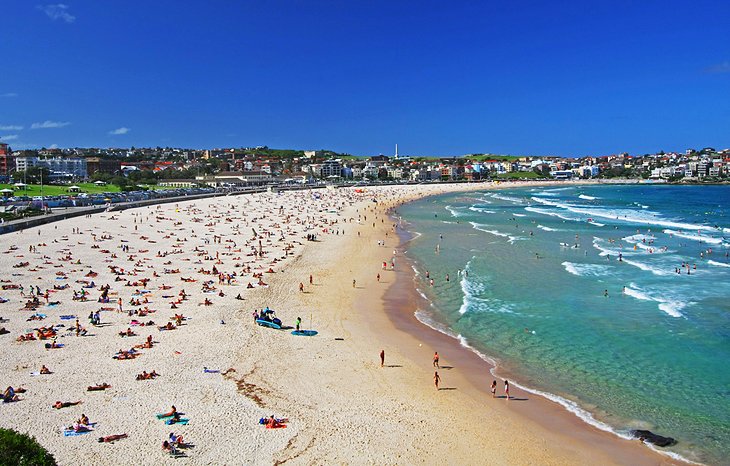 Bondi Beach
Hands down, Bondi is a favorite for best city beach, in fact it's one of the closest beaches to Sydney's CBD, and its fame lands it on the list of the top beaches in Australia. About 15 minutes by car or bus from the city center, it's a great spot to trade the hum of traffic for the soothing slosh of surf-Bondi actually comes from an aboriginal word meaning "noise of water breaking over rocks."
People-watching is a top perk here. Bondi's beachfront promenade buzzes with laid-back locals, globe-trotting tourists, and throngs of fun-loving backpackers, and if you love shopping, you can browse the market stalls along the beachfront every Sunday.
Swimmers should beware of "Backpackers Rip," a dangerous riptide at the southern end of the beach, which also provides much of the drama for the Aussie reality hit TV show Bondi Rescue. Those who want to don their cap and goggles for some serious laps can opt for the Bondi Baths at Iceberg's. This oceanfront pool has been a famous Sydney swimming spot for more than a century, with a 50-meter Olympic pool and a smaller pool for children.
When you want a little exercise out of the water, you can admire beautiful scenery along the Bondi to Coogee Walk, one of Sydney's best coastal walks, which winds its way along the sandstone cliffs past Tamarama, Bronte, and Clovelly Beach, as well as popular cafés and restaurants. The walk takes about an hour, but allow more time, so you can soak up the gorgeous views along the way.
If you're looking for somewhere to stay near this iconic beach, QT Bondi is a great option, with stylish studios and apartments steps away from the shore.
2. Manly Beach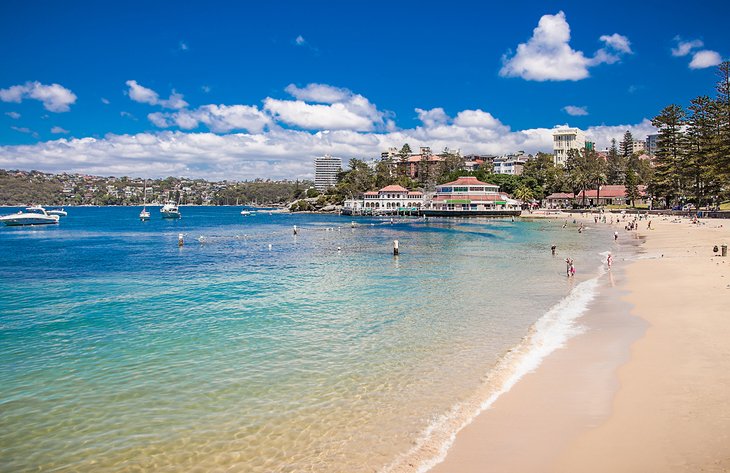 Manly Beach
Besides Bondi, Manly is one of Sydney's most famous beaches, and if you're based in the city, getting here is part of the fun. Hop on a ferry from Circular Quay, chug past the Sydney Opera House and Sydney Harbour Bridge, and in 30 minutes, you can be surfing the swells and basking on its golden sands.
If you want a beach in the heart of the action, Manly makes a great base, with plenty of shops, restaurants, activities, and attractions nearby. You can rollerblade and bike along the beach; relax at one of the many cafés; and browse the shops along The Corso, a pedestrian-only shopping mall.
Beginner surfers also love Manly. Swells are usually consistent, and if you need some tips from the experts, you'll find surf schools here, as well as board rentals along the beach.
Manly is also a top spot for families. Kids can swim in the netted beach pool, visit the Manly SEALIFE Sanctuary, slurp some gelato, and feast on fresh-cooked fish and chips. A great place to stay with the kids is Quest Manly, with fully-serviced apartments, just a short stroll from the surf.
3. Shelly Beach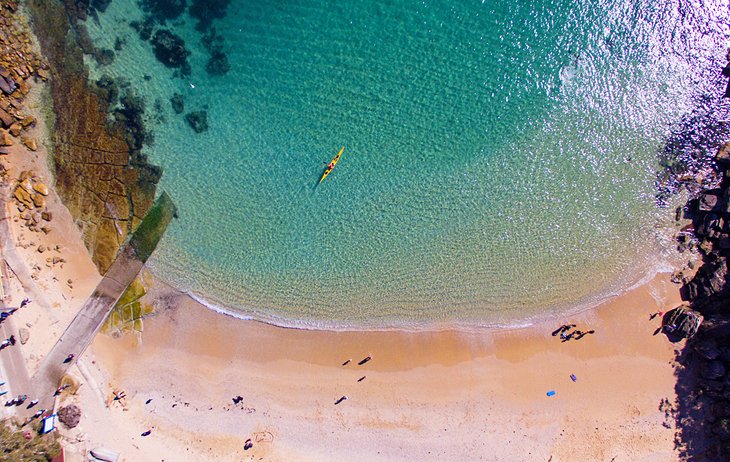 Shelly Beach
If you're looking for a relatively quiet beach experience near Manly, head to picturesque Shelly Beach, one of the best beaches north of Sydney. A 20-minute walk from The Corso, Manly's pedestrian-only shopping mall, around Cabbage Tree Bay, this lovely sheltered cove is a peaceful spot to paddle, surrounded by a nature reserve. It's also the only west-facing beach along the Sydney coast, making it a perfect spot to watch a seaside sunset.
Shelly Beach is also one of the best places to snorkel and SCUBA dive from the beach in Sydney. The calm waters are part of a no-take aquatic reserve, which protects a diversity of marine life. Don a snorkel and mask, and you might see blue groper, wobbegong sharks, cuttlefish, and even sea dragons darting among the kelp and seagrass beds.
When hunger strikes, you can grab a bite to eat at The Boathouse Shelly Beach, an upscale café/restaurant overlooking the bay. You'll also find picnic benches, showers, and drinking fountains along the beach.
4. Palm Beach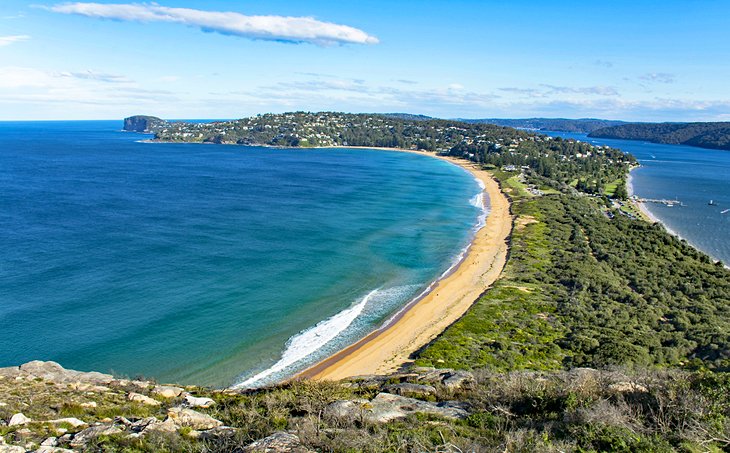 Palm Beach and Pittwater
Sydney's most northerly stretch of sand and sea, and the film location for the popular Aussie TV series Home and Away, posh Palm Beach offers activities and water sports for the whole family. The beach sits on a peninsula between Pittwater and Broken Bay, about a 50-minute drive from the city center, but this distance from the city means Palm Beach has some of the best water quality of all Sydney beaches.
You'll find things to do for all ages here. The south side is a perfect spot for picnics. Kids can splash about in the calm water, swim in the 35-meter ocean pool, and build sandcastles along the shore.
On the north side, the waves are great for surfing, and this is an excellent spot to teach the kids how to ride a wave. If fishing is your favorite pastime, you can cast a line off Palm Beach Wharf. Another popular thing to do here is hike to the beautiful lighthouse-topped Barrenjoey Head.
Palm Beach also attracts many artists, actors, and affluent Sydneysiders, and the upscale cafés and restaurants here offer prime people watching.
5. Balmoral Beach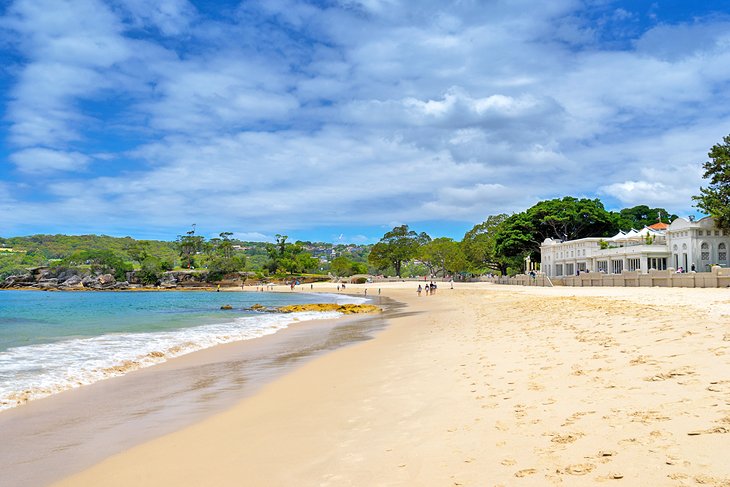 Balmoral Beach
Close to the city, Balmoral Beach is fabulous for families. Calm waters lap this harbor beach, and a shark net ensures safe swimming. You'll also find plenty of cafés nearby, as well as idyllic picnic spots in the adjacent parkland for when little bellies start to rumble. Gazing out over the blue-green water, you can see yachts bobbing on the glassy surface and the Sydney Heads looming beyond.
Besides splashing about in the water, popular things to do here include stand up paddleboarding (SUP), kayaking, SCUBA diving, and windsurfing.
A landmark here is the grand, heritage-listed Balmoral Bathers Pavilion, a white-washed 1920s building with an upscale restaurant and café featuring inspirational views of the sea.
6. Bronte Beach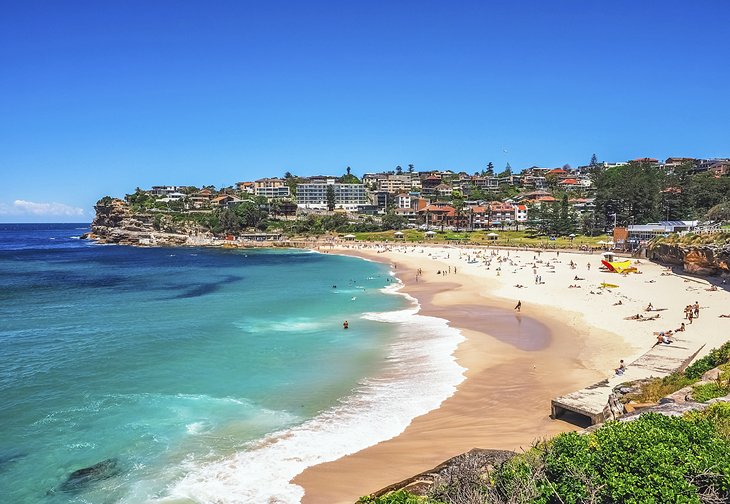 Bronte Beach
Smaller than nearby Bondi Beach, but usually less crowded, Bronte has all the ingredients for a relaxing day by the sea. Waves can be rough here, but you'll always find safe swimming in the free 30-meter saltwater pool, called the Bronte Baths. Parents with toddlers love to take them for a paddle in the shallow natural rock pool adjacent to the Baths.
Picnickers will love the sprawling grassy areas fringing the sand, with white gazebos for larger gatherings. If you didn't pack lunch, you can also saunter across the road to a range of popular cafés. Bronte is about a kilometer walk away from famous Bondi Beach along the Bondi to Coogee walk.
7. Bilgola Beach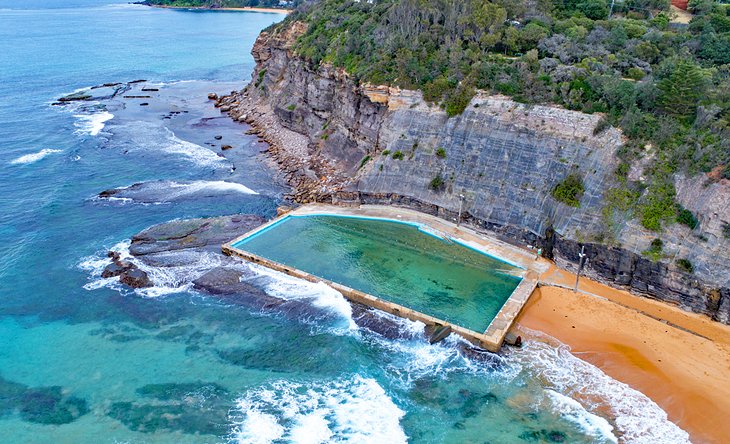 Saltwater swimming pool at the end of Bilgola Beach
On the Northern Beaches in Sydney, Bilgola Beach is one of the most private beaches along this stretch of coast-and one of the most beautiful. To access this golden slice of sand slung between steep headlands, you drive down a long, windy road aptly called, The Serpentine. This descent through a relatively quiet residential area makes the beach feel secluded.
Swimmers should stick to the flags on this beach, as rips often suck unsuspecting paddlers out at either end of the beach. Families love the 50-meter saltwater rock pool for safe swimming, and when you get hungry, you can refuel at the little café.
Depending on conditions, surfers can find good swells here, but advanced surfers also enjoy the neighboring Newport Beach. This busier beach faces east and catches the swell from any direction.
8. Nielsen Park (Shark Beach)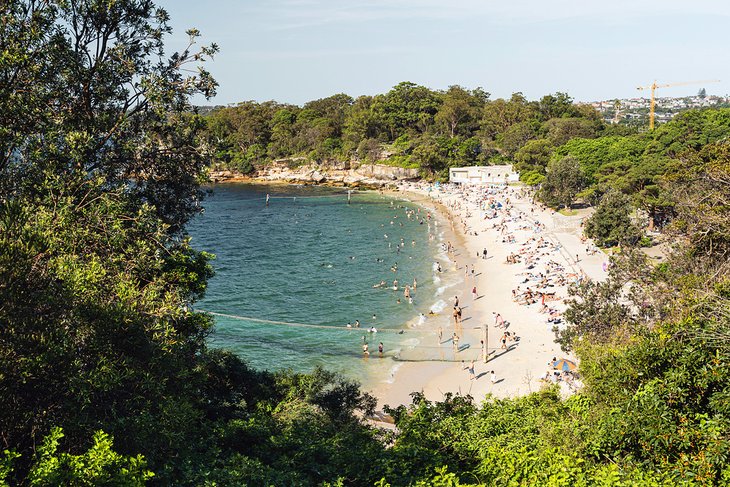 Shark Beach | Robert Linsdell / photo modified
Surrounded by Sydney Harbour National Park, in the upscale suburb of Vaucluse, Shark Beach and Nielsen Park are a little slice of heaven only minutes from the city. Despite its intimidating name, shark nets make swimming safe at this picturesque harbor beach, and the calm waters are ideal for young children. Highlights include three grassy picnic areas shaded by large fig trees, scenic walking tracks through the surrounding bushland, and lovely harbor views.
Change rooms and showers are available here, and you can relax with a coffee and snack at at the little café, where resident kookaburras cackle in the gum trees. This tucked-away beach is one of Sydney's best-kept secrets.
9. Coogee Beach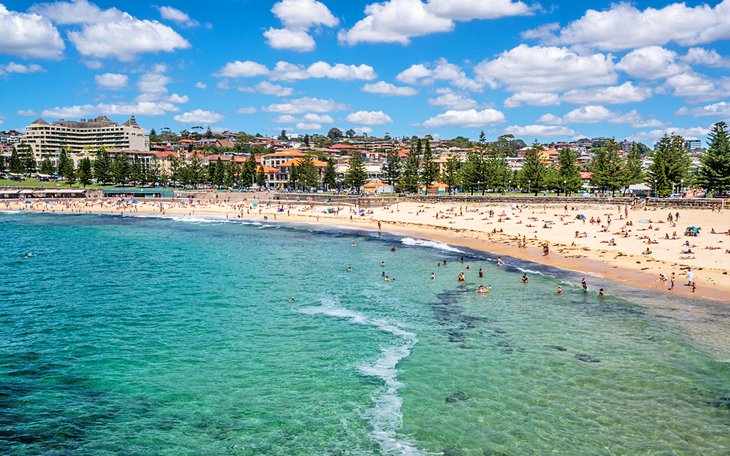 Coogee Beach
One of the most popular of the South Sydney beaches, Coogee Beach has something for everyone. Families love the typically calm waters, thanks to Wedding Cake Island, which shelters it from the larger swells. Picnickers love the seaside parks, hipsters love the nearby restaurants and cafés, and swimmers love doing laps in the ocean-fed pools.
Dating back to 1886, McIver's Baths at Coogee Beach is the only seawater pool in Australia reserved for women. Female swimmers (and children) can paddle here in privacy and unwind afterwards with a relaxing massage overlooking the beach. Farther along the beach, Wylie's Baths are tidal pools with a small fee for admission.
If you prefer to keep active off the beach, this is the end (or starting point) of the famous Bondi to Coogee walk.
10. Freshwater Beach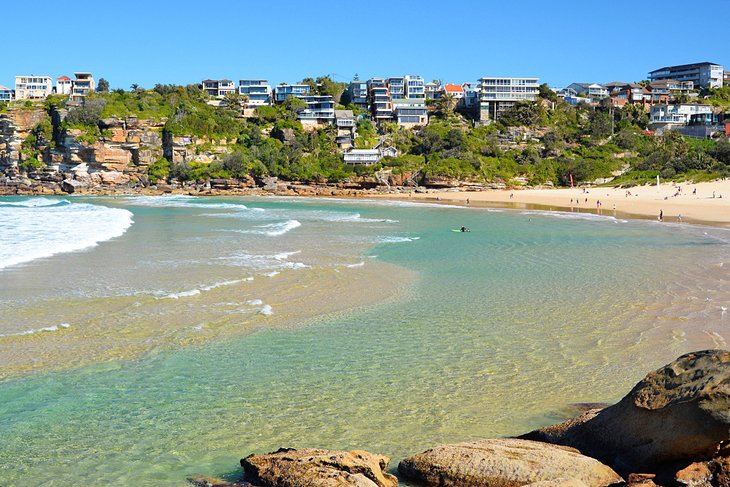 Freshwater Beach
Freshwater Beach, known affectionately as "Freshie," is the birthplace of surfing in Australia. In 1914, Hawaiian "Duke" Kahanamoku first hit the waves here, and today, it's still a top pick for board riders, with fairly consistent swells.
Headlands embrace this enticing stretch of sand, protecting the shoreline from strong winds, and families love the wave-washed rock pool at the northern end of the beach. You can also swim laps in the 50-meter saltwater pool. Freshie is a short walk from busier Manly Beach, and you'll find plenty of cafés and restaurants nearby.
11. Tamarama Beach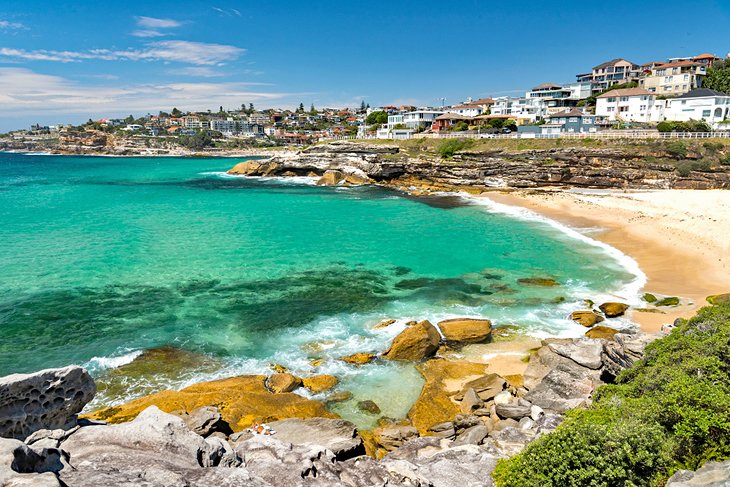 Tamarama Beach
Just around the corner from Bondi Beach along the Bondi to Coogee coastal walk, but way less crowded, teensy Tamarama Beach is a hipster and model hangout. No wonder it's nicknamed "Glamarama." Powerful rips and a steep drop-off deter swimmers here, but it's a great beach to see and be seen, with an appealing pocket of soft, creamy sand sandwiched between two headlands.
When the conditions are right, the beach is a favorite surf spot, with an exposed reef break. Body surfing is also popular, and beach volleyball games are known to break out along the shore.
If you're feeling peckish, a café with a sunny deck overlooks the beach, and the adjacent parklands are perfect for picnics, with a playground for the kids and plenty of gazebos.
12. Cronulla Beach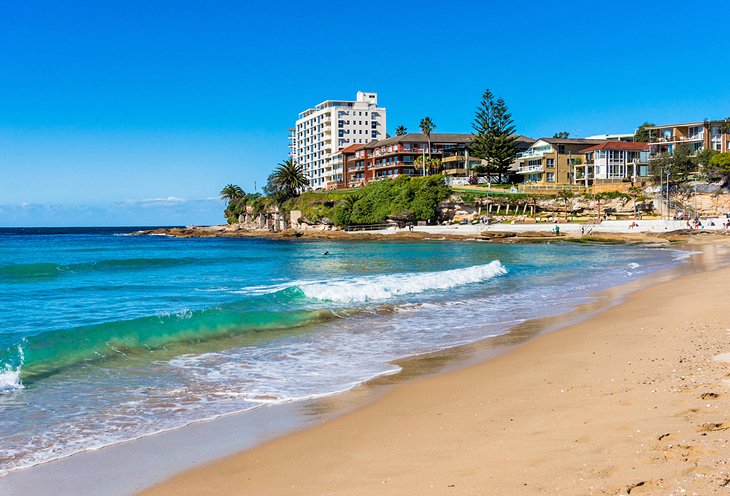 A sunny day on Cronulla Beach
Besides fantastic surfing, Cronulla's claim to fame is that it's the only beach in Sydney accessible by train, which means no parking hassles on hot summer days. This stretch of coast actually combines four popular beaches, including Cronulla Beach (also called South Cronulla), North Cronulla, Wanda, and Eloura. Cronulla Beach has an exposed beach break with decent waves year-round, and surf lifesavers patrol in every season. Swimmers will also enjoy this beach, and you can explore rock pools between here and North Cronulla Beach.
Another highlight is the multicultural café scene, offering everything from Lebanese food and gelato to good ol' fish and chips. You'll also find plenty of shops selling surf gear and equipment.
13. Clovelly Beach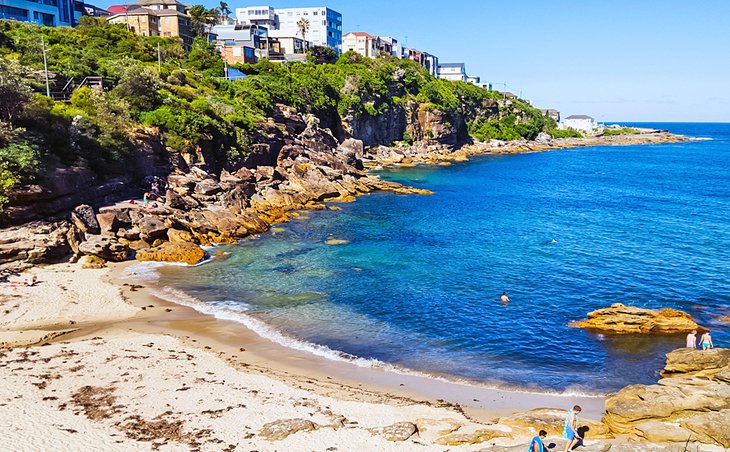 Clovelly Beach
Swimming and snorkeling are the top things to do at cute little Clovelly Beach, a narrow bay edged by concrete walking paths that sits along the Bondi to Coogee coastal walk. This super slim pocket of sand sits between two tall rock cliffs, and its protection from the wind means the water is usually calmer than neighboring Bronte and Coogee, with better visibility.
If you enjoy exploring the underwater world, you can access the nearby Gordons Bay Underwater Nature Trail from here, a 500-meter snorkeling and diving trail through the reef and kelp beds. Swimmers love doing laps at the beachside pool.
14. Garie Beach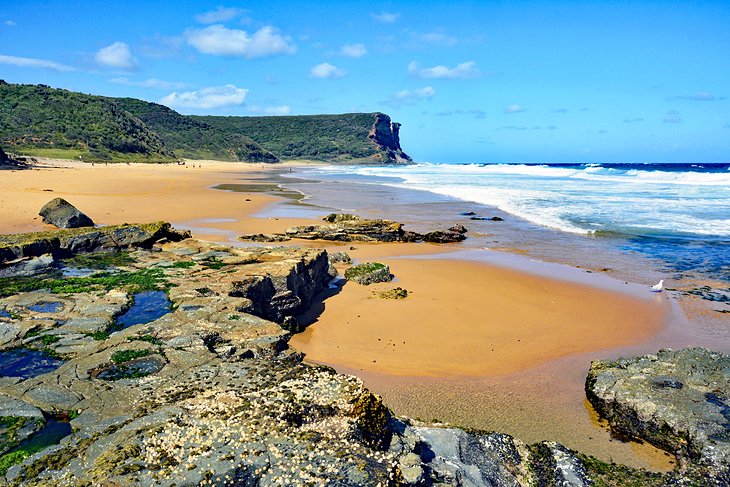 Garie Beach in Royal National Park
Tucked deep in Royal National Park, Garie Beach is one of Sydney's secret beaches. If you're seeking a quiet stretch of beach with a back-to-nature feel, this is a great choice. Backed by rugged cliffs, this pocket of golden sand is accessed via a scenic drive through the national park, but its relatively remote location is part of its appeal.
The swell can be strong here, but the beach is patrolled by surf lifesavers in summer. Surfing and fishing are also popular along the windswept shore, and in winter, you might even spot whales offshore. Amenities are limited to public toilets, so you need to bring your own food and water. Note that you have to pay a park entry fee to use this beach.
Tips and Tactics
Swimming, surfing, strolling, and sunning on Sydney's beautiful beaches can be fun, but following safety signs will help beach lovers stay safe.
Swim Safely: Swim between the red and yellow flags. Surf lifesavers use them to mark safe areas, so that swimmers can avoid rips and collisions with watercraft. Surfers are prohibited from riding waves in these areas.
By: www.planetware.com