South Africa, officially known as the Republic of South Africa, is a great place to visit for a first-time safari. You'll find classic African scenery: golden savannah, great gaping gorges, and hauntingly beautiful deserts, as well as an awe-inspiring cast of African creatures — and, as a bonus — all the creature comforts.
Apart from the big-name game parks of Kruger and the Kgalagadi (Kalahari) Transfrontier Park, South Africa is home to some of the world's most luxurious private game reserves and lodges. Wildlife lovers come here from all corners of the globe in search of the "Big Five": lion, buffalo, leopard, rhino, and elephant, and often they find it, and so much more.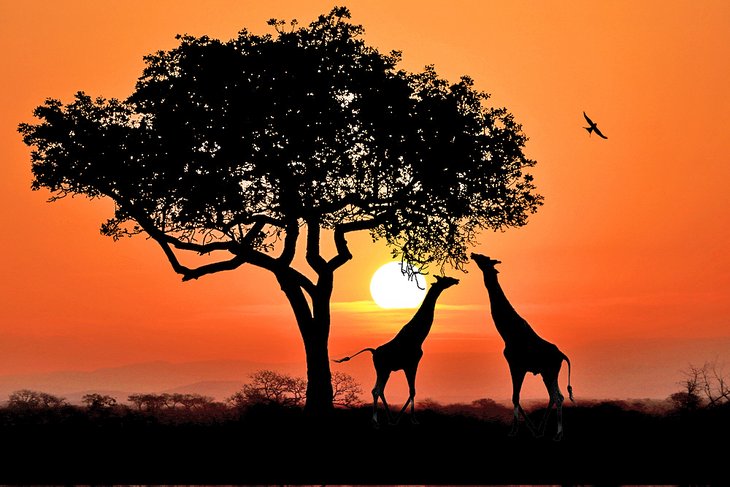 Coral reefs, dragon-backed mountain ranges, white-water rafting, and golden beaches lapped by legendary surf breaks are some of South Africa's many other attractions.
Traveling around this vast land and touring the vibrant cities, you can learn about the nation's turbulent history — in Cape Town, one of the world's most beautiful cities; in Durban, a melting pot of cultures and cuisines; at the poignant museums and galleries in Johannesburg; and in Soweto, the birthplace of Nelson Mandela, who helped birth democracy here.
Discover the best places to visit in this diverse nation with our list of the top tourist attractions in South Africa.
1. Kruger National Park, Mpumalanga, and Limpopo Provinces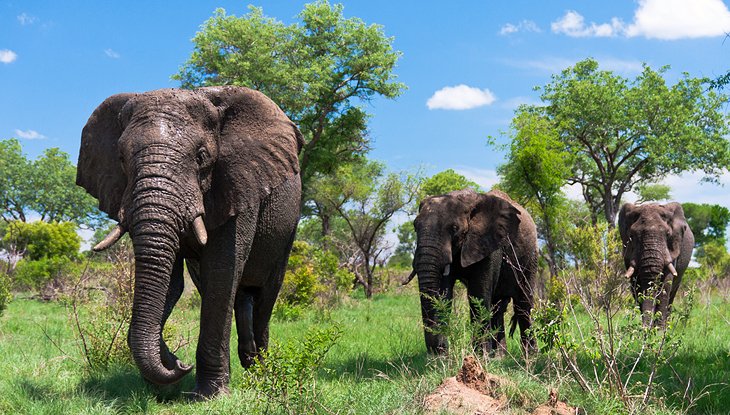 Kruger National Park is one of the best game reserves in Africa, and one of the oldest in South Africa. If you're a wildlife lover, this famous park definitely needs to be on your South Africa itinerary.
The park lies about a 3.5- to 4.5-hour drive from Johannesburg and offers visitors the chance to see the "Big Five": lion, leopard, buffalo, elephant, and rhino, as well as an astounding diversity of other wildlife. It's also home to San (bushman) rock paintings and archaeological sites.
You can explore Kruger National Park on the large network of sealed roads; organize a walking safari; or soar over the vast grasslands, gallery forests, and river systems in a hot air balloon.
One of the best things about Kruger National Park is that the accommodation caters to all budgets — you can stay in basic campsites, book a thatched bungalow, or relax in a luxury lodge.
2. Cape Town, Western Cape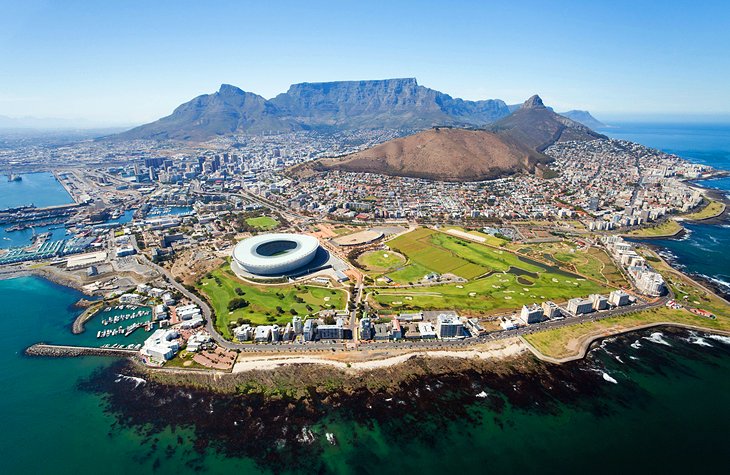 Cape Town, South Africa is one of the planet's most breathtaking cities. Nature surrounds this multicultural city, which nuzzles between a rugged range of mountains and the sea.
One of the top things to do in Cape Town is visit Table Mountain, the flat-topped peak presiding over the city. For a spectacular overview, hike to the summit, or glide up on the cableway. The hour-long hike up Lion's Head also provides panoramic city vistas.
On Table Mountain's eastern slopes, the magnificent Kirstenbosch Botanical Gardens lie within a UNESCO World Heritage Site.
Cape Town's coast is also full of natural wonders. Strolling along the waterfront boardwalk, you might see whales spouting from the harbor. Penguins waddle along the golden beaches in False Bay, and south of the city, Cape Point is home to abundant wildlife and diverse botanical beauty.
Cape Town is also known for its beautiful boulder-flanked beaches. Camp's Bay is a favorite, with plenty of chic shops and cafés nearby.
Cape Town residents love their coast so much that at sunset, they stake a spot along spectacular Chapman's Peak Drive to toast the sunset in a dusk ritual known as "sundowners." Celebrating nature's beauty in this way is one of the unique things to do in South Africa and something you might encounter on your travels at various locations around the country.
Another one of Cape Town's top attractions is the Victoria and Alfred Waterfront, reminiscent of Fisherman's Wharf in San Francisco. Here, you can shop, dine, and enjoy the many entertainment venues, including Two Ocean's Aquarium.
3. The Garden Route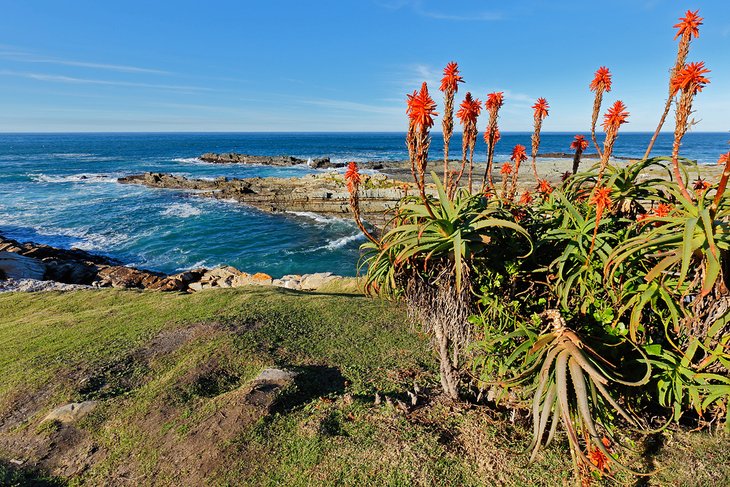 Along the country's southeast coast, the Garden Route runs for about 200 kilometers through some of South Africa's most breathtaking coastal scenery. The route stretches along the Indian Ocean from Mossel Bay, in the Western Cape, to the Storms River, in the Eastern Cape.
This popular driving route passes through rolling green hills, pretty coastal towns, lagoons, lakes, and coastal cliffs. Highlights of the Garden Route include the charming town of Knysna, snuggled between dense forests and a sparkling lagoon; the beautiful Garden Route National Park, with its gorges, tidal pools, and thick forests; Oudtshoorn's ostrich farms and Cango Caves; and the seal colony of the Robberg Nature Reserve in Plettenberg Bay.
Adventures along the way run the gamut, from elephant experiences and whale watching trips to bungee jumping and tree canopy tours.
4. Kgalagadi (Kalahari) Transfrontier Park, Northern Cape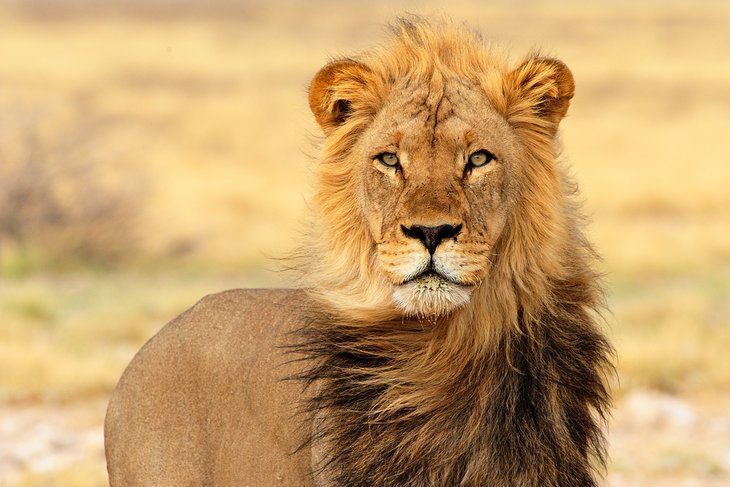 A merger of South Africa's Kalahari Gemsbok National Park and Botswana's Gemsbok National Park, the Kgalagadi Transfrontier Park is one of the largest wilderness areas in the world.
Established in 2000, it is Africa's first officially declared transfrontier park and one of the top places to visit in South Africa's Northern Cape. Gnarled camel thorn trees, red sands, golden grasslands, and deep blue skies provide a bold backdrop for photographs and game viewing.
Among the huge diversity of wildlife, this vast conservation area is home to the famous black-maned Kalahari lion; stately gemsbok, with their V-shaped horns; the sprawling nests of sociable weavers; meerkats; and many birds of prey.
Other predators such as leopards, cheetahs, and hyenas are also found here. Four-wheel drive vehicles are recommended for some of the minor rugged roads or for those venturing into Botswana.
5. Stellenbosch, Western Cape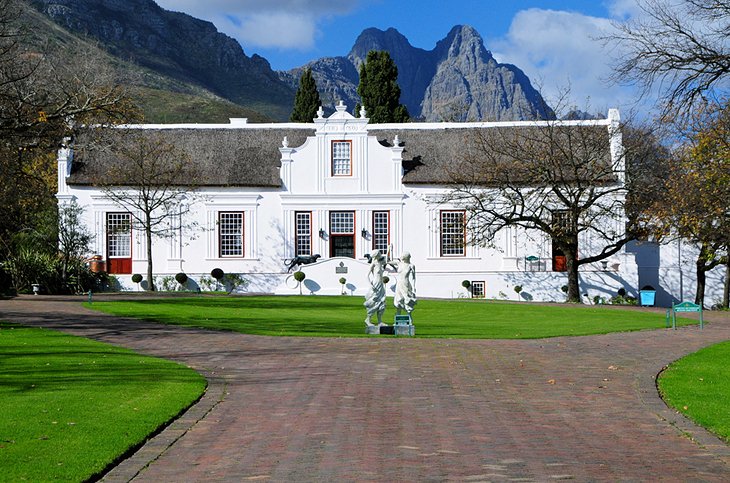 Stellenbosch is one of the most picturesque towns in South Africa. A mosaic of farms, old oak trees, and white-washed Cape Dutch dwellings, it's one of the best-preserved towns from the era of the Dutch East India Company.
Today, it's a university town, with a vibrant feel and fantastic scenery. Foodies will love it here. Stellenbosch is home to some of South Africa's best restaurants, as well as many sidewalk cafés.
History buffs can take a walk back in time at The Stellenbosch Village Museum, a group of four restored houses and gardens dating from 1709 to 1850. Rupert Museum displays important works by South African artists, and strolling around the Botanic Garden at the University of Stellenbosch is another top thing to do here.
In the surrounding area, nature-buffs can hike and bike on the wilderness trails in the breathtaking Jonkershoek Nature Reserve.
6. The Drakensberg, KwaZulu-Natal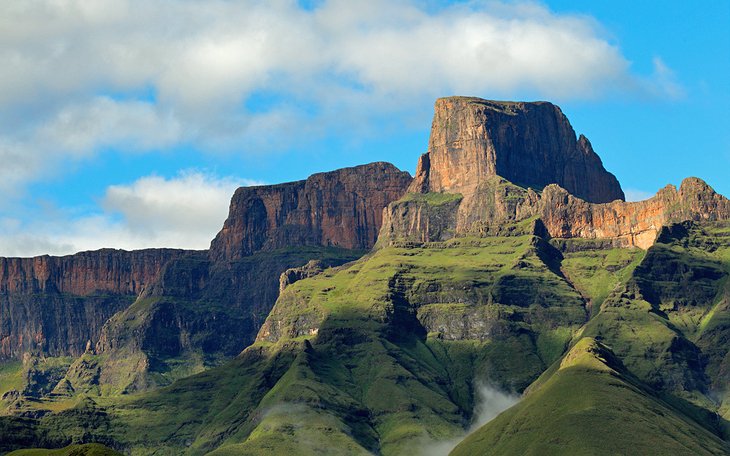 The spectacular Drakensberg, meaning "Dragon Mountains," is one of the top places to visit in KwaZulu-Natal and a popular vacation destination for South Africans. It's also home to the country's highest peaks.
The region encompasses the World Heritage-listed uKhahlamba-Drakensberg Park, a region of jaw-dropping beauty, with jagged basalt buttresses and San rock art, and Royal Natal National Park, home to the awe-inspiring Amphitheatre, a magnificent cliff face, and source of South Africa's main rivers.
The Giant's Castle Game Reserve in the region protects large herds of eland. Dense forests flourish in the sheltered valleys, and the area is home to more than 800 different species of flowering plants, as well as a rich diversity of wildlife.
In the summer, the mountain landscapes are lush and fertile, with gushing waterfalls and crystal-clear streams. In the winter, snow cloaks the dramatic peaks.
Visitors flock here to hike and bike the scenic mountain trails, fish for trout, rock climb, abseil, parasail, and raft the waters of the fast-flowing rivers. Hot air balloon rides are a great way to appreciate the dramatic topography.
7. Pilanesberg National Park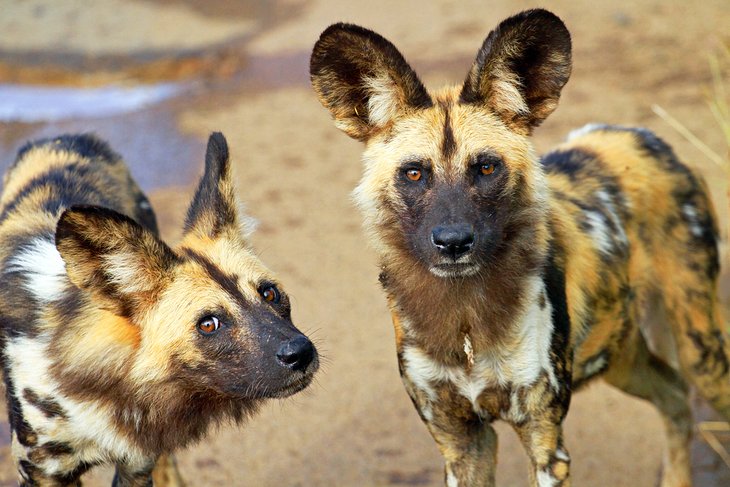 Are you short on time but want to see Africa's Big 5? Pilanesberg National Park is home to prolific wildlife and a dazzling diversity of birds about 2.5 hours away from Johannesburg and Pretoria. Easily accessible from these major cities, it makes a great day trip or multi-day stay. It's much smaller than the massive Kruger National Park but as a consequence, it has a higher concentration of game.
Pilanesberg lies in a transition zone, between the parched Kalahari Desert and the rain-soaked Lowveld, which means you can see a rich variety of animals here. Besides most of the Big 5 (elephant, rhino, leopard, lion, and buffalo), you have the chance to spot African wild dogs, herds of zebra, the magnificent sable and roan antelope, giraffes, and more than 350 species of birds.
Accommodation caters to different budgets. Choose from permanent safari tents, self-catering units, beds, and breakfasts, or luxury guest lodges.
Best of all, this park is malaria-free, making it a great choice for family safaris.
8. iSimangaliso Wetland Park, KwaZulu-Natal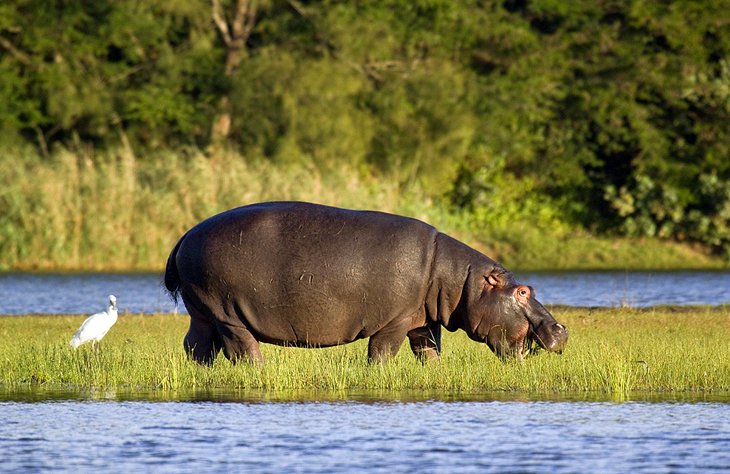 iSimangaliso means "miracle and wonder" in the Zulu language, and it's a fitting name for this World Heritage Area, home to Africa's largest estuarine system. Formerly the Greater St. Lucia Wetland Park, iSimangaliso lies on the northeastern coast of Kwazulu Natal and connects eight interwoven ecosystems, including coral reefs, croc-filled rivers, lakes, towering coastal dunes, swamplands, and savanna.
Not surprisingly, the area supports an incredible variety of wildlife. More than 526 species of birds inhabit the reserve, as well as leatherback and loggerhead turtles, leopards, rhinos, and Africa's highest concentration of hippos and crocodiles.
This unique wilderness area offers you the chance to combine a classic safari experience with coastal adventures in the marine reserve, such as kayaking, fishing, diving, and snorkeling.
9. Blyde River Canyon Nature Reserve, Mpumalanga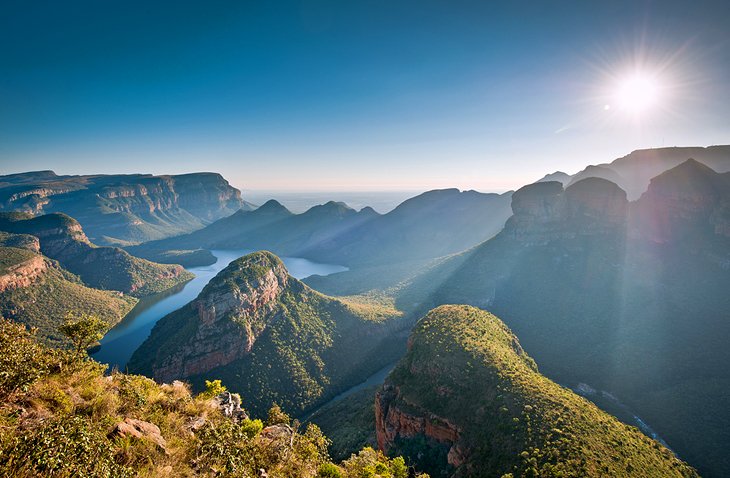 Beautiful Blyde River Canyon Nature Reserve (also called Motlatse River Canyon) is a favorite stop on the drive between Johannesburg and Kruger National Park. The park is home to Africa's second-largest canyon, as well as a rich diversity of wildlife and plants. Lush subtropical foliage, waterfalls, glistening rivers, and lichen-covered rock formations create a striking canvas of color and texture.
Game viewing can be particularly rewarding, with all the common species of South African primates and many hippos and crocodiles.
The best way to explore this spectacular park is via the scenic driving routes or by hiking the extensive trails. Panoramic viewpoints include Three Rondavels and the aptly named God's Window.
Boat trips and whitewater rafting are also available on the rivers.
10. Robben Island, Western Cape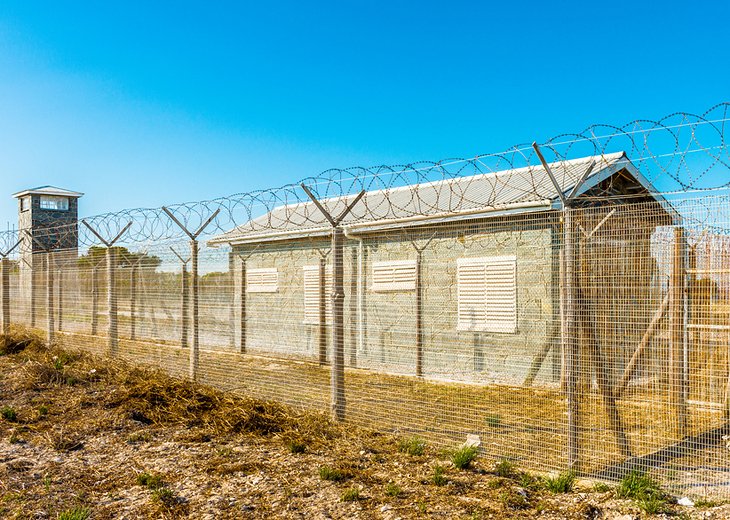 In Table Bay, World-Heritage-listed Robben Island is a haunting reminder of the horrors of apartheid. Nelson Mandela spent 18 years imprisoned in a tiny cell here along with other political dissidents and social misfits.
Perhaps the best part about this experience is that ex-prisoners are usually the guides, sharing poignant first-hand accounts of the atrocities they endured.
Tours to the island begin with multimedia exhibits in the museum at the Nelson Mandela Gateway in the Victoria and Alfred Waterfront. Sightseers then board boats to Robben Island, often braving rough swells on the 30- to 45-minute ride. Be sure to book early, as the tours can fill up fast.
11. Durban's Golden Mile, KwaZulu-Natal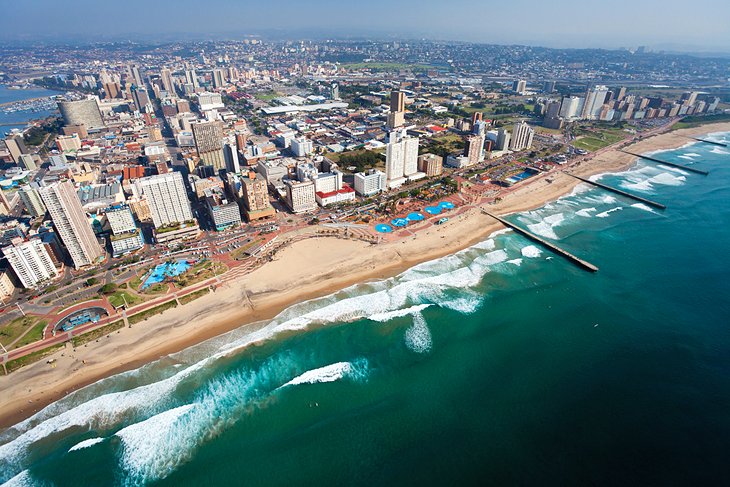 The sweeping waterfront promenade called the Golden Mile is a legendary Durban tourist attraction and a great starting point for a tour of the city. Long blond beaches lure swimmers, surfers, and anglers, while the bustling promenade feels like Miami Beach with its high-rise hotels, shops, restaurants, and flashy entertainment complexes.
You can stroll along the promenade or rent a bike or Segway. Besides the beach scene, top attractions along this stretch include uShaka Marine World, a wonderland of sea-themed attractions; Moses Mabhida Stadium; and Mini Town, a tiny replica of Durban with a miniature rail network, airport, and harbor scene.
12. Cage Dive with Great White Sharks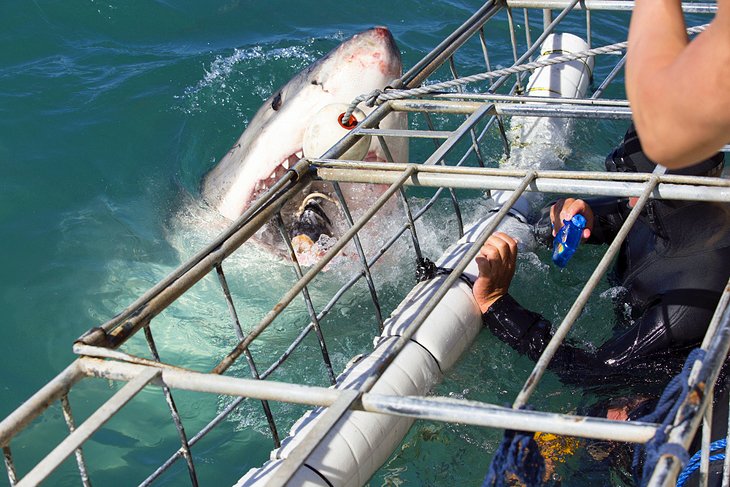 Climb into a thick iron cage, plunge into the ocean, and come face-to-face with a great white shark. Believe it or not, this is one of South Africa's top attractions — for thrill-seekers. The sport has become so popular that new tour operators keep sprouting up every year.
The best time to try the dive is April through October, but great whites swim these waters throughout the year thanks to healthy populations of seals and fish.
Cape Town tour operators organize shark cage dives to areas such as Simon's Town, Seal Island, Dyer Island, Mossel Bay, and Gansbaai, the self-proclaimed "Great White Shark Capital of the World." Trips can also be arranged out of Durban and Rocky Bay.
Since divers are enclosed in the custom-designed cages, no diving certification is required. For a little less excitement, it's also possible to watch the action from the boat.
13. Johannesburg and Pretoria, Gauteng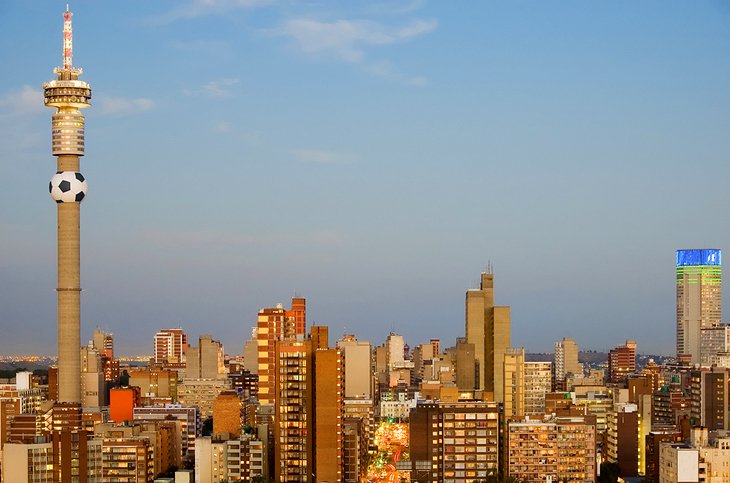 Johannesburg, also known as Jo'burg, is the largest city in South Africa by population and a gateway for many travelers on safari. Named the "City of Gold" for its rich deposits of precious metal, it's also the economic engine and vibrant heart of the country.
Top Johannesburg attractions include the Apartheid Museum, a poignant look at the oppression of apartheid to the birth of democracy; Constitution Hill; and Gold Reef City, which traces the region's history through mining-themed attractions.
If Johannesburg is the heart of South Africa, the shanty towns of Soweto, are its soul. An abbreviation for "southwestern townships," Soweto birthed the freedom movement, which created South Africa's new democratic constitution. One of the popular things to do in Johannesburg takes a guided tour of the townships, which often includes a visit to the Mandela House, now a national monument.
Close in distance, but a world away in feel, Pretoria is the administrative capital of South Africa. It's a city of parks and gardens and home to popular attractions like the Voortrekker Monument and Heritage Site and the highly-lauded Freedom Park.
By: planetware.com