Planning on visiting a beach in the Netherlands this summer? Take a look at our pick of 13 popular beaches that can be found on the Dutch coastline. We've listed them in geographical order, from the Wadden Islands way up north all the way down to Zeeland in the south!
Most of these coastal areas are easy to visit, so many people don't wait for their holidays to visit the sea, but just head out as soon as the sun appears. Are the beaches too crowded? The beautiful dunes and nature areas surrounding most of them are great for walking or cycling.
The Wadden Islands
The Wadden Islands are wonderful holiday destinations filled with nature and great sights.
Schiermonnikoog
The North Sea beach of Schiermonnikoog is amongst the broadest in Europe, and the cleanest in the Netherlands. Its shallow waters are great for swimming, and the windy climate attracts many windsurfers. There are plenty of small dunes with all kinds of greenery.
Terschelling
Terschelling has a 30km-long, clean sandy beach, giving you a good chance to find a nice, private spot. The dunes are great to traverse by bike, and every year this island hosts the popular theatre festival Oerol.
Vlieland
Vlieland is a calm island that hosts a village, forest areas, beautiful dunes full of nature and a wide beach that's great for seal spotting. For some more rugged nature, this is a great place to look.
Texel
Texel is the biggest of the Wadden Islands and it has eight nice, guarded beach zones. The further south you go, the more nature you'll find. Even though it is a desired location, it doesn't get too busy compared to mainland beaches.
North Holland
North Holland is in the Randstad area, and knows many large seaside spots.
Bloemendaal aan Zee
Bloemendaal is one of the more popular beaches and is surrounded by nature area Kennemer Duinen. Many nice cafes line this spot and you can often find all kinds of big beach parties.
Zandvoort
Zandvoort has a 9km long, 100m broad sand beach that is beloved by sunbathers. It is easy to reach from Amsterdam. Its white sands have earned Zandvoort the nickname "Pearl by the sea". Explorers will come across two gorgeous dune areas full of plants and wildlife, a naturist area and a circuit park that was used for Formula 1 races.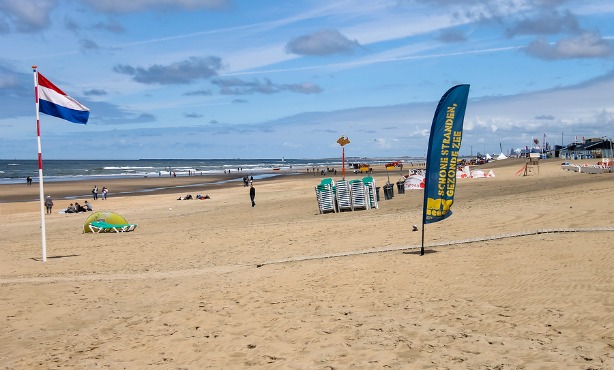 South Holland
Part of the Randstad, these beaches are popular and easy to reach.
Noordwijk
Noordwijk is located in the heart of the Dutch flower bulb area and is near the famous Keukenhof. Cyclists can explore the flower fields and visit Europe's first permanent space exhibition, Space Expo.
Katwijk
Katwijk is a bit smaller than some of the other beaches but is quite nice to visit. Amongst other things, you can find a large shopping area and a beautiful boulevard. Old fisherman's houses and a lighthouse remind visitors of the area's fishing history.
Wassenaar
Wassenaar is an 8km long, relatively calm beach, surrounded by a rugged dune area that's ideal for walks and cycling.
Scheveningen
Scheveningen, in The Hague, is the most popular beach area in the Netherlands. It is well-known for its annual events, such as the Kite Festival and the Fireworks Festival. Scheveningen is large but very busy. You can find all kinds of amusement, such as museums, sculpture gardens, a shopping district and many cafes. Scheveningen Pier offers a great view of the sea.
Kijkduin
The lesser-known beach in The Hague is Kijkduin, a large area with gorgeous dunes and shell paths. It is beloved for its calm atmosphere, great views and nice little shopping streets and terraces. Cyclists can find the bunkers of a World W.a.r II defence line, an old lighthouse and the "Hemels Gewelf" – a large elliptical crater.
Zeeland
In summer, Zeeland has the most hours of sunlight in the Netherlands.
Domburg
Domburg is the oldest bathing site in Zeeland and attracts many tourists to the region. It is well known for the characteristic poles sticking out of the water. The area's seawater and beaches are said to benefit your health and are used for various wellness activities.
Cadzand
Cadzand is the most Southern beach in the Netherlands. The 11km sand beach is surrounded by dunes, and you'll find various good eateries that offer local seafood. Old polders and other areas offer beautiful sights of nature.
It's beach time!
So, now you know some of the most popular beaches in the Netherlands, it's time to start planning your trip to one of them. With summer just around the corner, beach time is now!
By: www.iamexpat.nl