Australia is legendary for its fantastic fishing. Thousands of kilometers of fish-rich coastline rim the country, from the cool waters of the south to the tropical Top End and the world's largest fringing and barrier reefs.
Saltwater fishing in Australia is particularly rewarding. Flats fishing, rock fishing, and beach fishing, are all popular pursuits whether you fish with bait, spin a lure, or cast a fly. Game fishing is also excellent. Marlin, sailfish, mahimahi, and tuna swim the blue waters along the coast, and the country hosts the largest game fishing tournament in the Southern Hemisphere.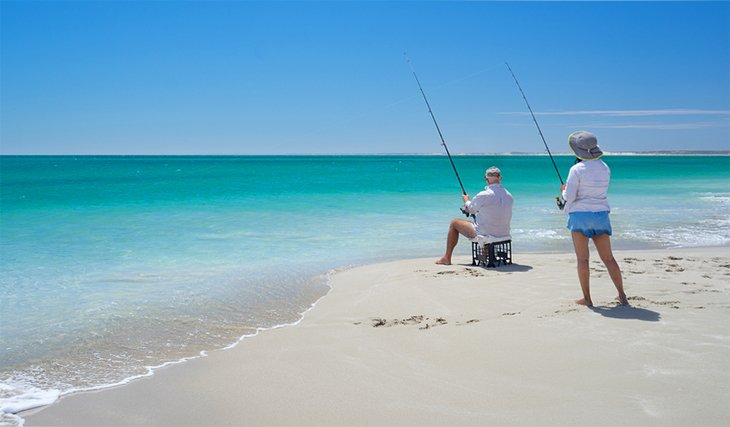 A couple beach fishing in Western Australia
Freshwater fishing in Australia takes anglers to pristine lakes, mighty rivers, and mountain streams. You can fly fish for trout in the Snowy Mountains or fish outback billabongs brimming with barramundi.
You can even fish in the cities. Fishing in Sydney, Australia is an unforgettable experience, with a wide variety of species in the harbor, bays, beaches, and rivers.
Wherever you cast your line, make sure you fish sustainably—take only what you need and be sure to respect seasonal closures, as well as local size and bag limits. Fishing licenses are required for both freshwater and saltwater fishing. Once you land at your favorite fishing destination, it's a good idea to pop into a tackle shop to chat with the locals about recent catches and conditions.
Find the best spot to catch the "big one" with our list of the top fishing destinations in Australia.
Note: Some businesses may be temporarily closed due to recent global health and safety issues.
1. Cairns, Queensland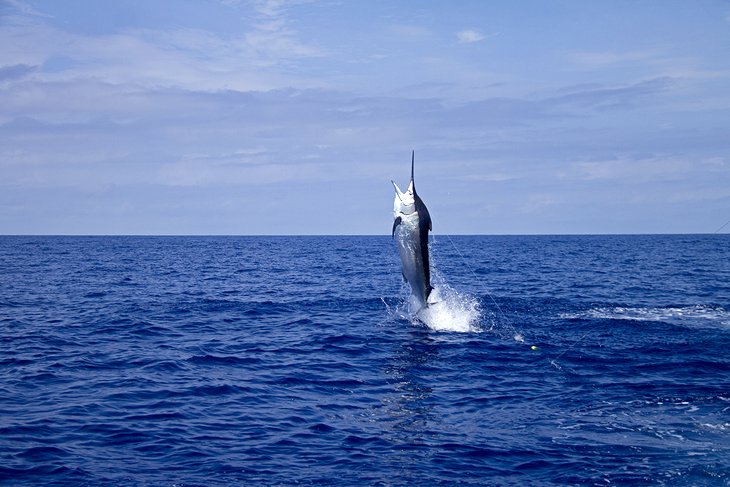 Marlin launching out of the sea in Cairns, Queensland
If it's your dream to catch a huge black marlin, as well as just about any other Australian gamefish species you can name, this is the place to come. North Queensland, in particular the area from Cairns northwards along the Great Barrier Reef, is known as the black marlin capital of the world.
Cairns fishing can be exhilarating. According to International Game Fishing Association records, up to 70 percent of all "granders" (black marlin exceeding 1,000 pounds) are caught in these waters each year. The season runs from September through late December, and nowadays, most of the marlin are tagged and released.
The tropical waters adjacent to the reef and along the continental shelf are incredibly rich in bait fish and plankton and also attract species such as yellowfin tuna, Spanish mackerel, mahi mahi (dorado), barracuda, trevally, wahoo, and sailfish. You can also cast a line from the shore or cruise the mangrove-fringed rivers for barramundi. Trolling and spearfishing are also popular.
A range of charters are available out of Cairns, from estuary fishing and inshore and offshore light tackle sports fishing to reef fishing, fly fishing, and liveaboard trips. Another bonus is that Cairns has an international airport, making it easy to access for anglers arriving from outside Australia.
2. The Top End, Northern Territory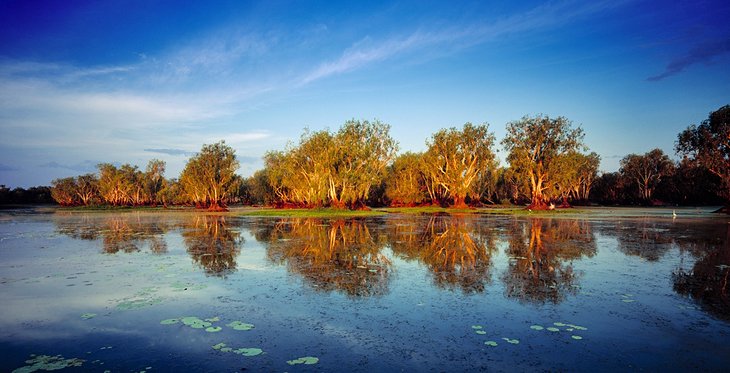 Yellow Water Billabong, Kakadu National Park
Encompassing Darwin and Kakadu National Park, the tropical northernmost tip of the Northern Territory or "Top End," as it's called, is famous for some of the best barramundi fishing in Australia.
The best times to fish here are during the barra build-up, from October through December, when the fish school in the local billabongs and saltwater estuaries before monsoonal rains inundate the region, and the barra run-off, from February through May, when the barramundi tend to congregate at the river mouths.
The best fishing spots in the Top End include the Daly River, the Mary River at Shady Camp, and the Adelaide River. In World Heritage-listed Kakadu National Park, the South and East Alligator River are top spots to fish by boat. Corroboree and Yellow Water Billabong are also promising.
But the Top End is not all about barramundi. During the dry season, from May through November, reef fishing is popular, and deep sea fishing is a possibility at any time of year when the seas are calm. You can book a guided trip, stay at a fishing lodge, or hire a boat and fish the areas independently (but beware of saltwater crocodiles). Heli-fishing is also available on some of the rivers.
3. Cape York, Queensland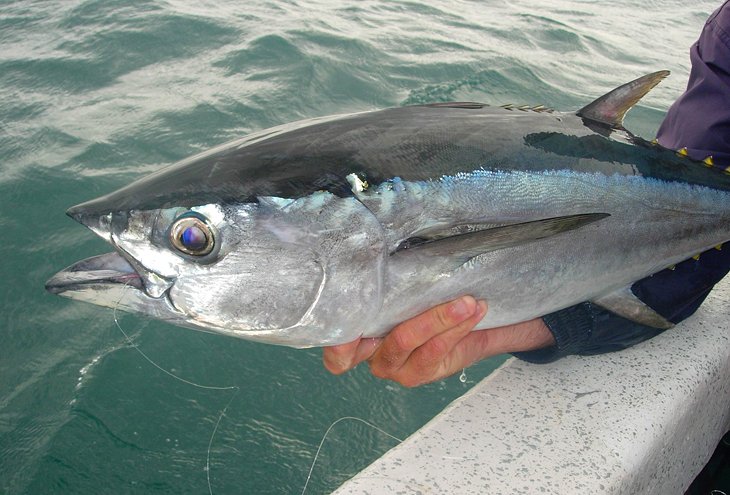 Longtail tuna caught off Weipa, Cape York | Photo Copyright: Brian Hastings
Cape York offers anglers the ultimate Aussie fishing adventure. Accessible only by 4WD, the remote far north tip of Australia is famous for its pristine beaches; uninhabited islands; and fish-rich tidal estuaries, lagoons, and rivers.
During the wet season, the roads here become impassable, but from May through December, a stream of thrill-seeking travelers venture north into this wild and remote region, where indigenous people have lived off the land for thousands of years.
Barramundi, cobia, mangrove jack, trevally, queenfish, mackerel, king salmon, cod, giant trevally, and tuna are all top catches here. You can cast along inshore reefs for coral trout, fish for baby barramundi in the billabongs, or try your luck off a rocky headland. Top off your angling adventure by cooking your catch of the day on an open fire under a glittering night sky.
To avoid the rough multi-day drive, you can fly into Bamaga or Weipa in less than two hours from Cairns and stay in a remote fishing lodge, or book a liveaboard boat trip. However, for many anglers, the 4WD journey is part of the adventure. Always check local conditions before heading out and beware of saltwater crocodiles.
4. Exmouth, Western Australia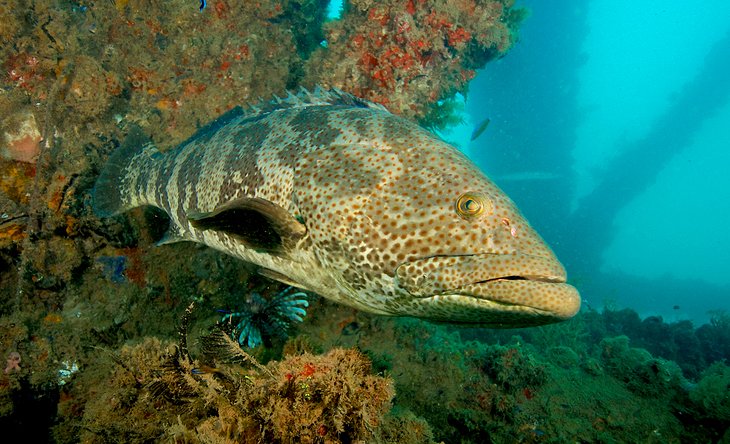 Exmouth, Western Australia
Bordering World Heritage-listed Ningaloo Reef, the world's largest fringing reef, Exmouth is one of the most diverse fishing destinations on the planet. The crystal-clear waters surrounding this remote town, near the tip of Western Australia's North West Cape, are famous for the hundreds of whale sharks that swim here from March through October, but they are also home to a dazzling diversity of other fish.
You can cast a line here for species such as milkfish, bonefish, blue bone, queenfish, cobia, permit, trevally, mahi mahi, wahoo, and tuna. The continental shelf lies only a few kilometers away from the edge of the reef, offering excellent deep sea fishing.
Gamefish found in these waters include all six of the Australian billfish species: sailfish; black, blue, and striped marlin; broadbill swordfish; and shortbill spearfish.
Other fishing options include sight casting across crystalline flats for giant trevally or prowling the flats of Ningaloo lagoon for bonefish. Fly fishing, trolling, bait fishing, and lure fishing are all possible here, and guides should be booked well in advance.
Exmouth is a two-and-a-half-hour flight from Perth. Note that the Ningaloo Marine Park encompasses sanctuary zones where fishing is prohibited. Check before you head out.
5. Central Highlands, Tasmania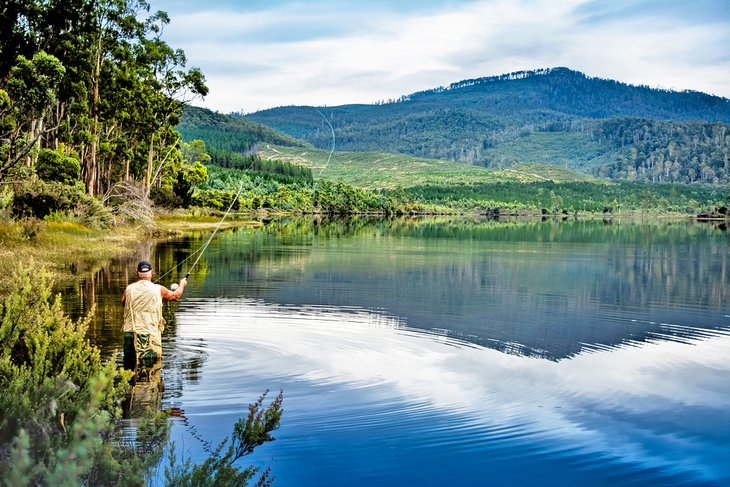 Woolly Bugger, a great Tasmanian trout fly | Swandives / photo modified
Laced with more than 3,000 lakes, the Central Highland of Tasmania is one of the top spots for trout fishing in Australia. Hooking one of these fish can be rewarding, as the wild brown trout and rainbow trout here are known to be a tough match, even for experienced anglers.
Arthurs Lake, about an hour from Launceston, is one of the most popular lakes for brown trout when it's open, from August until May. Great Lake is also a favorite. During spring, highland waters are great for wet fly fishing.
Some lakes can only be reached by foot, but this is part of their magic. The prime time for fishing is in the early Southern Hemisphere summer through mid-fall.
Tasmania also has excellent ocean fishing, especially along the east coast near towns such as St. Helens. The rivers around Launceston such as Macquarie, the South Esk, and Brumbys Creek are also favorites, and the Tyenna River, with both rainbow and brown trout, is a popular fly fishing spot.
Check to make sure the river or lake is open before you head out, and dress in layers, as the weather here can change quickly.
6. Broome, Western Australia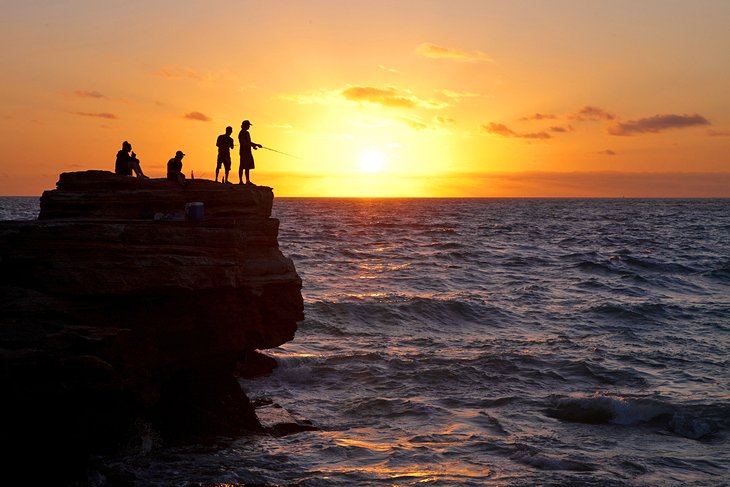 Sunrise fishing at Gantheaume Point
The remote pearling town of Broome in Western Australia offers a little bit of everything for avid anglers. You can snag a barramundi in the creeks, bays, and rivers, and fish for other species like black-spotted croaker, cod, jacks, and threadfin salmon.
Beach anglers should head to Cable Beach. Here, you can cast along the gutters or from the craggy headlands to catch dart and blue-spotted trevally. Threadfin salmon and Northern bluefin tuna can be found close to shore, too. To the left of Gantheaume Point is another great fishing spot, where you have the chance to catch queenfish and trevally.
Offshore offers even more excitement. Anglers can catch sailfish, Spanish mackerel, black marlin, cobia, mahimahi, and northern bluefin tuna in these nutrient-rich waters. Broome's harbor lacks facilities for charter boats, so the best place to launch a boat is Gantheaume Beach, south of Cable Beach, or from one of the boat ramps around town.
Broome is also the gateway to the rugged and remote Kimberley region, with some of the best fishing in Australia for a variety of species. It's difficult to access this rugged region, but that's a big reason why fishing here is so rewarding.
7. Hervey Bay, Queensland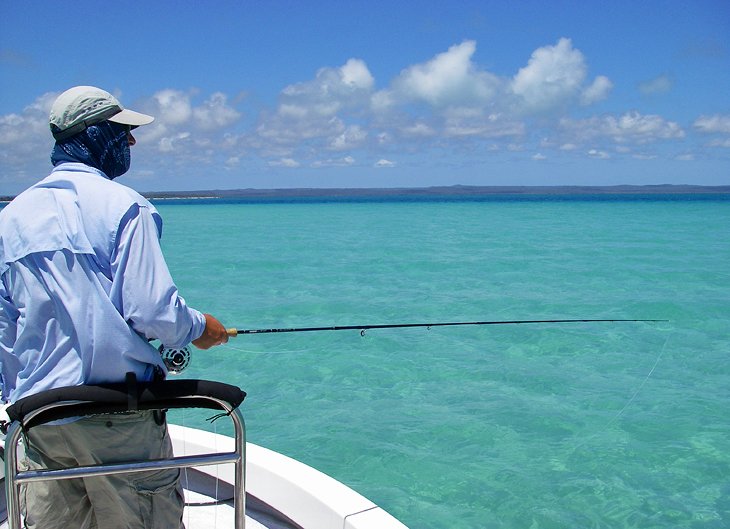 Hervey Bay, Queensland | Photo Copyright: Karen Hastings
About 300 kilometers north of Brisbane in Queensland, Hervey (pronounced "Harvey") Bay is famous for its fantastic fishing with crystal-clear subtropical waters and diverse species of Australian gamefish.
Sheltered by neighboring Fraser Island, the planet's largest sand island, the nutrient-rich waters off the coast usually offer calm nooks to fish, even on windy days. In particular, the area is famous for its beautiful golden trevally, which cruise the crystalline flats, but you can also cast for different kinds of tuna, giant trevally, cobia, sailfish, and marlin (striped, blue, and black).
For those seeking to catch a meal, tuna, whiting, tailor, flathead, and snapper are found in these waters, and beach fishing for bream is also popular.
Thanks to the protection of nearby islands, humpback whales often calve in these waters during winter. Charter options from Hervey Bay include sports fishing trips, guided saltwater fly fishing, and multi-day liveaboard excursions. You can also cast off the two-kilometer-long pier into deep waters during high tide to catch flathead, tuna, and kingfish.
8. Port Stephens, New South Wales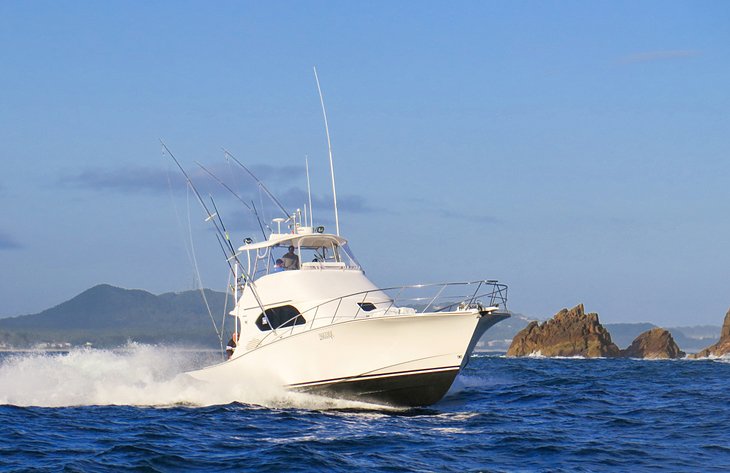 A big-game fishing boat heading out of Port Stephens
The resort area of Port Stephens, about two-and-a-half-hours' drive north of Sydney, is a fishing hot spot and is known in particular for its fantastic game fishing. In February and March, the region hosts the Southern Hemisphere's largest game fishing tournament, the NSW Interclub Tournament, with record catches of Australian billfish species. Local guides also offer big game fly fishing.
Besides chasing Australian game fish, anglers can also fish the brackish waters of the extensive Myall Lakes system; cast in the Karuah River; or fish the flats along Nelson Bay, where you can wade, kayak, or explore by boat. The best times to fish these weed-strewn shallows is during the rising or falling tide.
Frequently-caught species in the region include bream, dusky flathead, sand whiting, snapper, luderick, tailor, mulloway, and kingfish. Lure fishing in this region is especially rewarding. Note that some areas of the Great Lakes Marine Park are designated sanctuary zones, so be sure to check before heading out.
9. Port Lincoln, South Australia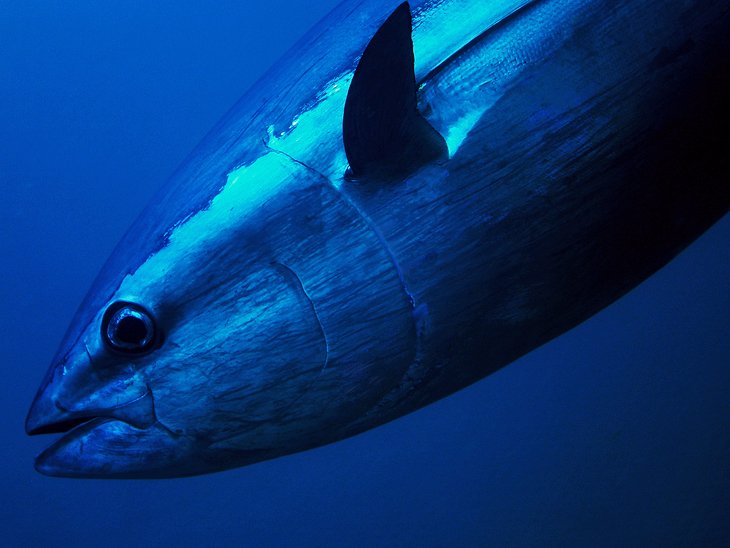 Port Lincoln, South Australia
About 650 kilometers from Adelaide, Port Lincoln claims to be the seafood capital of Australia, so it's no surprise it's one of the best fishing destinations in South Australia.
The town lies along the lower Eyre Peninsula on the shore of Boston Bay, where the cold nutrient-rich waters of the Great South Australian Coastal Upwelling System mingle with the waters of the Great Australian Bight and Spencer Gulf, resulting in fertile fishing grounds. In particular, the area is known for southern bluefin tuna.
You can cruise the blue waters by boat or cast a line off the beach. Jetty fishing and rock fishing along the rugged coastline are also popular things to do. Frequently caught species here include snapper, salmon, snook, whiting, garfish, and squid.
Prime time for tuna is late summer and autumn, while kingfish swim these waters in late spring and summer. Marinas are at Port Lincoln and Tumby Bay, and boat ramps are at both of these locations as well as Taylor's Landing, North Shields, Port Neill, Mt. Dutton Bay, and Coffin Bay.
Note that the ocean can be rough here, so check local conditions before hitting the water.
10. Gippsland, Victoria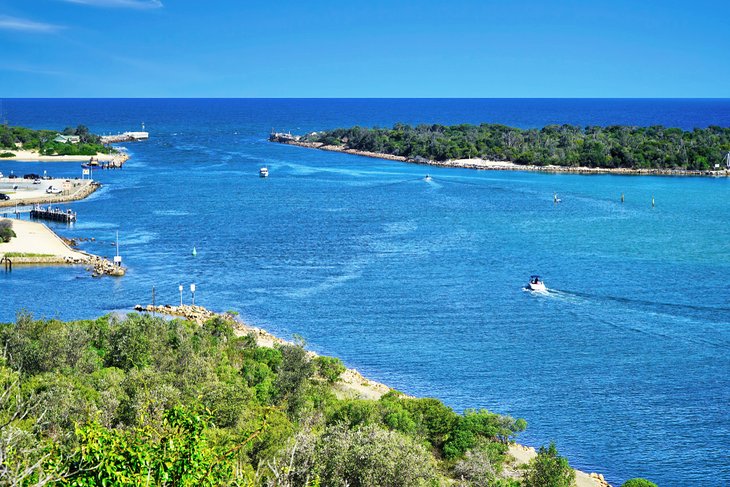 South of Lakes Entrance | Ron Bennetts / photo modified
For diversity of habitat, it's hard to beat Gippsland as one of Victoria's favorite fishing destinations. A few hours' drive east of Melbourne, Gippsland offers pristine coastal lakes; estuaries; rivers; and long, empty beaches such as Ninety Mile Beach.
In this region, along the southern coast of Australia, you can cast a line in a clear mountain stream for brown and rainbow trout; fish one of the rivers or lakes for redfin, eel, carp, and Australian bass; or cast in the coastal waters for species such as King George whiting, silver trevally, bream, Australian salmon, gummy sharks, and snapper.
Top spots include the popular vacation hamlet of Lakes Entrance, where the Gippsland lakes connect to Bass Strait, with many inland channels and rivers. The Avon River is also a popular spot for brown trout, bass, and redfin, while Blue Rock Lake, with brown trout and redfin, is famous for its fly fishing.
Inverloch and Corinella are also top spots along the coast, with sheltered beaches and plenty of fish, while Mallacoota and Tamboon are known for their dusky flathead. The mild climate of this scenic region makes for excellent fishing conditions most of the year.
11. Lake Jindabyne, New South Wales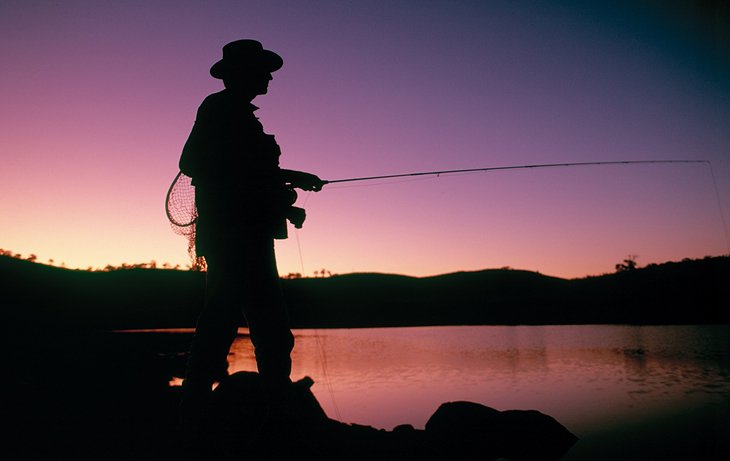 Lake Jindabyne, New South Wales
Snuggled in the Snowy Mountains of New South Wales, a five-and-a-half-hour drive from Sydney, Lake Jindabyne is one of the best trout-fishing lakes in Australia. The lake sits at 930 meters and is fed by the Thredbo, Snowy, and Eucumbene rivers.
Anglers can catch brown, brook, and rainbow trout here, as well as Atlantic salmon. All types of fishing are permitted, including bait, spinning, trolling, and fly fishing. Prime spots are usually around the lake edges. Fish early or late in the day for the best results.
In the township of Jindabyne, anglers can organize boat charter and rental, hire guides, and rent fishing equipment. If you're planning to visit during the popular winter season, from June through October, book accommodation well in advance.
In addition to the lakes, the region's streams and rivers also offer excellent fishing—especially the Thredbo River, but check for seasonal closures before you go. Jindabyne is also home to the Gaden Trout Hatchery, where you can learn about the region's fish breeding before you cast your line.
12. Sydney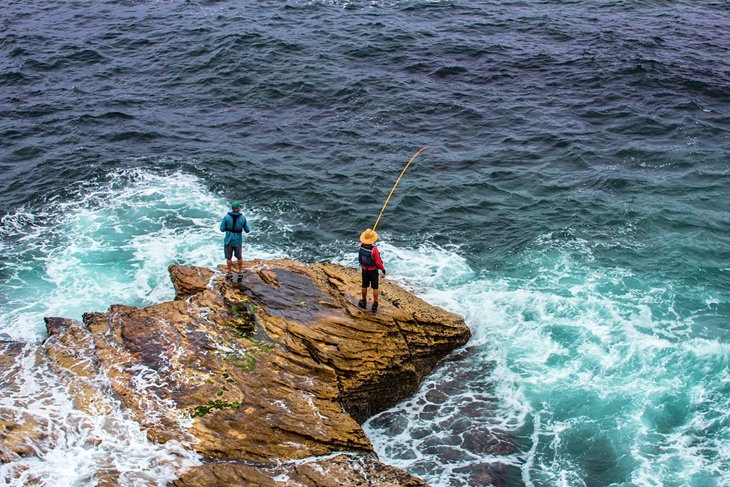 Two fisherman on the rocks at Bondi Beach
Surrounded by serpentine waterways, Sydney offers diverse and scenic fishing experiences. Casting from a boat in Sydney Harbour, with views of the Sydney Opera House and Sydney Harbour Bridge, is an unforgettable experience. Australian salmon, tailor, kingfish, yellowtail, bream, John dory, and flathead are just some of the many species you can catch here.
Fishing at one of Sydney's beautiful beaches is also rewarding—especially at Coogee, Bondi, and Palm Beach. Many anglers also like to try rock fishing along the coast, but beware of rogue swells—unsuspecting anglers are swept off the craggy headlands around Sydney's bays and beaches every year.
Another one of the best fishing spots in Sydney is the Parramatta River, Sydney Harbour's main tributary. Its many waterways offer excellent fishing for bream, blackfish, tailor, luderick, and flathead. You can also cast a line from Gladesville Wharf and Cabarita Wharf, but it's better to fish for fun rather than food along this river due to pollution.
Botany Bay is another fishing hot spot, where you can catch species like bream, tailor, whiting, salmon, blackfish, and flathead, and if you want to catch big game species, book an offshore fishing charter. Favorite catches include yellowfin, bluefin, and albacore tuna; mahimahi; striped, black, and blue marlin; as well as many shark species. You can also fish the offshore reefs and wrecks for snapper (September through March), mulloway, leatherjacket, and kingfish.
By: www.planetware.com