Banff is one of our favorite places on earth and one of Canada's greatest travel destinations. It is, however, phenomenally expensive and as such many people's trips here are short. You don't want to waste a precious minute of your bucket list trip to Banff making an easy mistake.
We've put together the most common mistakes people make when planning their trip or when in Banff so you won't join them!
1 – Trying to park at Moraine Lake or Lake Louise after sunrise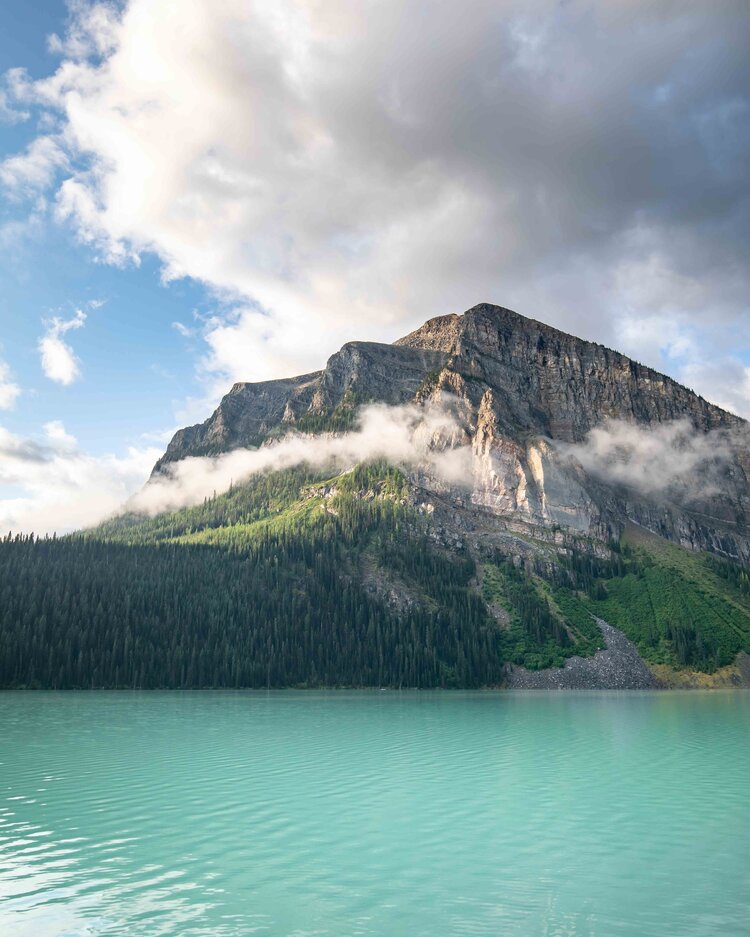 Just trust us on this one, if you've visited in peak season it just isn't worth the hassle. If you are extremely lucky you might get a space but we spent many days in this area and only saw the road open before 4 pm to Moraine Lake once.
Lake Louise has a higher chance of getting a spot but it's still a major gamble and a time suck if you can't and end up having to get the shuttle. We met people who had to wait two hours for the shuttle after arriving at 10 am and it meant that they could only complete half their hike. If you have limited time in the area it just isn't worth missing out on some of Canada's greatest experiences.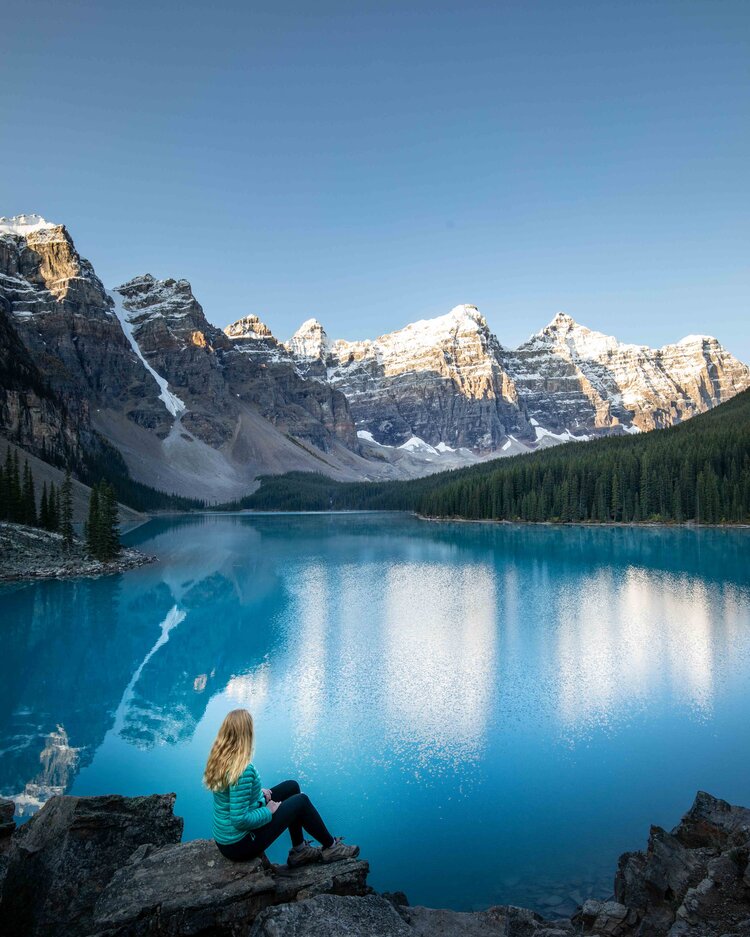 We get it, it's hideous to get up at 4-5 am on holiday but when you have one of the coveted parking spots at the lakes and can spend as long as you like there you will not be thinking about those lost hours of sleep.
If this just sounds too crazy for you on a holiday we do have one secret hack that can get you into Lake Louise during the day, you can read the details in this post.
2 – Only giving yourself a couple of days
Whilst Banff town itself is fairly small, the surrounding area of Banff National Park is where all the action is and it's huge. There is probably more to do in this national park than pretty much any other area we've been to.
Even if you only want to tick off the big-ticket items it's worth noting that many are not so close to Banff town. Did you know Moraine Lake is 72km away?
Maybe you think that's not too far but when you factor in that if you haven't got there long before sunrise then you probably need to take the shuttle and this could take up almost a full day in itself.
We spent two weeks in Banff and there is so much that we didn't get the chance to see. If you can, give yourself at least four days which will give you a really good taster of what this patch of paradise has to offer. If you need help planning we've written a detailed Banff itinerary.
3 – Thinking you can use American dollars everywhere
Now, this one probably only applies to our American friends but we saw people try and use American dollars so many times during our time in the Canadian Rockies. For the most part, they were accepted.
BUT, change was given in Canadian dollars and American dollars were treated at the same rate as Canadian dollars. People were seriously upset when they had to pay 25% more for everything in what is already an incredibly expensive part of the world.
4 – Visiting Lake Louise and not going to one of the teahouses
So if you've read any of our posts before you know we're hiking fanatics but I promise this is not all about hiking. We met so many people who had barely hiked a day in their lives but made the effort to get to one of the two historic teahouses.
It really is worth the effort to sit and have a cup of tea with one of The Rockies greatest views. There are two to choose from, the Lake Agnes Teahouse and the Plain of Six Glaciers Teahouse.
Lake Agnes is the most famous and our pick if you can only do one, you'll find it at the end of a 3.5km hiking trail from the shore of Lake Louise. You can read more about them both in our post on the best things to do in Banff.
5 – Leaving it to the last minute to book accommodation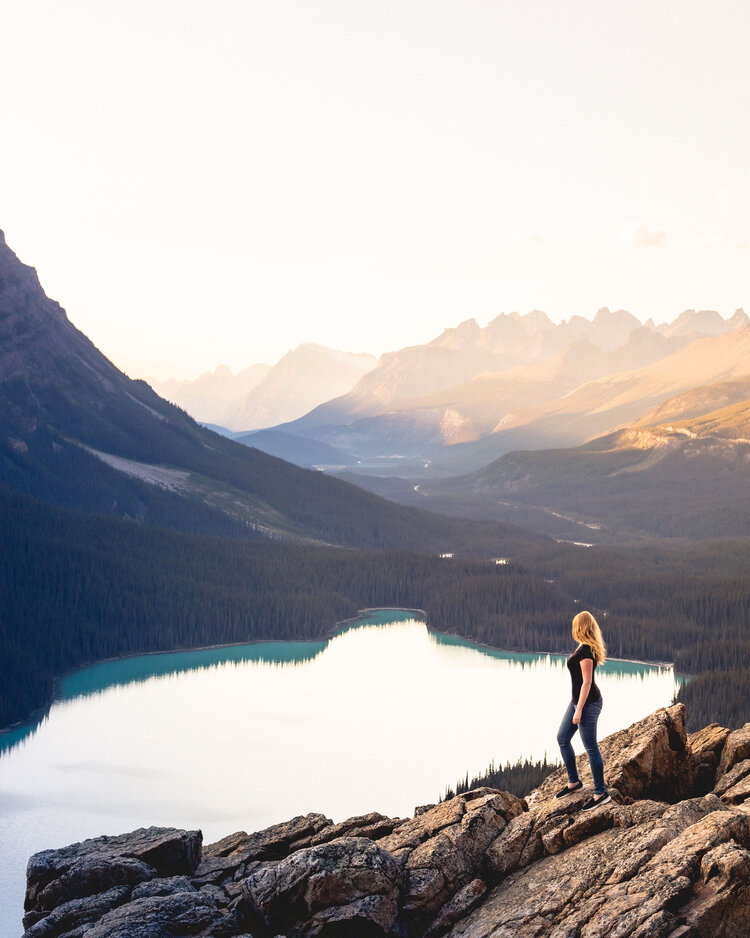 There are certain times and destinations when we are full advocates of not booking in advance and trying to snag last-minute deals. Banff is categorically not one of them! In April we decided we were going to visit during the month of August and to our horror almost everywhere was already sold out.
We were left with very few options and they certainly weren't cheap. When we arrived in August everywhere had no vacancy signs, even the ones that looked pretty dubious from the outside.
You'll fair much better outside of peak season but you'll still find a lot of the best places are already gone and you'll be paying the same high rates for inferior accommodation.
6 – The Skywalk on the Icefields Parkway
If you take a tour of the Columbia Icefield you will get the Skywalk included free of charge. Otherwise, you are paying a crazy $36 per person to walk along the side of the main road with views you can see from the road!
The view is great, just like they are along the entire Icefields Parkway, but it's not the best view along this route.
We think that it's incredibly overpriced and if you don't take the glacier tour then you are much better off doing one of the short walking trails along the Parkway which we can guarantee have better views! Go for the Parker Ridge or Wilcox Pass Lookout trail.
7 – Visiting the Banff Hot Springs at the end of the day
Banff as you know it today would literally not exist without these hot springs. The initial tourism boom was entirely centered around them and their healing properties, and no one loves a good hot spring more than us.
However, they remain one of the most popular Banff tourist attractions and we knew we wanted to avoid the crowds so we turned up at 8.30 pm thinking this would be a quieter time to visit.
The water was great and the mountain views were insane – we even got a double rainbow – but, and this is a big but, the whole experience was spoilt for me when I looked down at my legs and saw they were covered in long black hairs. Eeek.
I then looked around and realized that there were ALOT of hairs floating in the water and it kind of grossed me out.
We'd definitely recommend visiting the springs but not at the end of the day, well certainly not in peak season anyway!
8 – Not taking on a mountain hike – even if you're a nonhiker!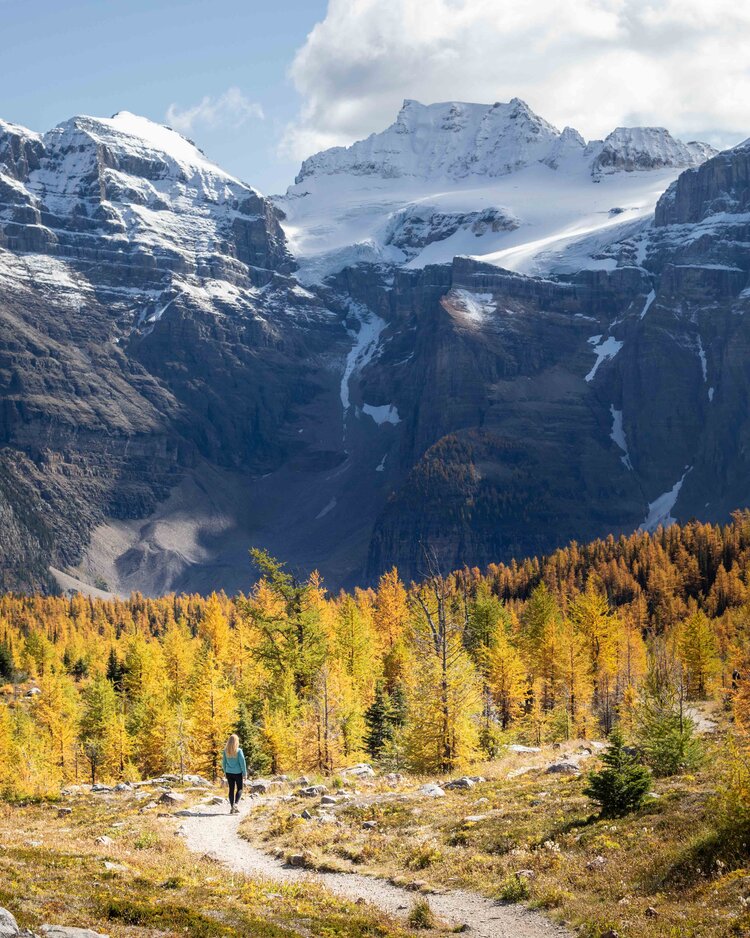 Banff hikes are steep, there are no two ways about it. But even if you are not a hiker we highly recommend trying at least once.
They are truly some of the best hiking trails in the world and the views surpass anything you can see at ground level.
If you don't want to tackle a big one then try hiking up to the Larch Valley which is a couple of kilometers uphill on switchbacks (each way).
If that is still sounding a bit much go up to Tunnel Mountain, right in Banff town itself, for sunset and enjoy the spectacular views of the town, electric blue Bow River and the surrounding mountain range. It's a 3.5km return and there are plenty of places to sit and rest along the way.
9 – Hiking without bear spray
You shouldn't let the fear of bears put you off tackling some of the world's greatest hiking trails but it is important to be aware that this is a grizzly country.
Carrying bear spray will give you peace of mind as you hike as well as being a great deterrent on the very unlikely chance you do run into a rogue bear (most try to avoid humans at all costs).
Bear spray is $50 a pop and you can buy it from Amazon or REI (just make sure you don't take it on a plane or across an international border as it's classed as a weapon).
If you don't want to buy, you can ask your hotel reception. Most guests will leave their spray when they leave the area (you can't fly with it) and hotels are happy to lend you it.
10 – Not renting a car
You can definitely get by in Banff without a car but you will see a lot less. Public transport doesn't service all the areas you might want to see and having a car gives you the freedom to stop at places that you might not even have heard of, but are always absolutely stunning. Also, this area is road trip heaven!
Having a car also allows you to avoid the crowds by visiting major attractions outside of peak hours. Watching a sunrise at Moraine Lake or Lake Louise is something not to be missed and only possible when you have your own transport.
11 – Not understanding how long 'winter' lasts
Visiting Banff in the off-season has plenty of advantages, particularly the lack of crowds and lower prices, but you need to be aware of what will be closed during your visit. Winter conditions last a good six months of the year and you'll find many of the hiking trails and attractions closed during this period.
If seeing Moraine Lake is on your bucket don't plan a trip between mid-October (after Thanksgiving weekend) and June (exact dates in June varies) when the road closes and the only access is by cross country skiing.
Whilst Lake Louise is accessible year-round it will be frozen for many months, again that is beautiful in its own right but it might not be what you had in mind.
Many major hiking trails will be closed due to avalanche risk and this can even be as late in the year as of June! We're not saying by any means not to visit in the off-season but just be aware that many things are closed for a lot longer than the winter season in many other parts of the world.
12 – Thinking that all the best wildlife watching opportunities are in Jasper
Jasper has incredible wildlife watching opportunities and we highly recommend a visit but Banff has the best chance to observe grizzly bears in the wild (safely).
The Lake Louise gondola takes you over a patch of prime grizzly territory and particularly in July and August offers an incredible chance of sighting them. Watching a mother and cubs frolic in the meadows was a highlight of our trip to the Canadian Rockies.
Grizzlies can be found in many areas around Banff but the gondola is one of the best places to see them in a 100% safe situation.
Packing suggestions for Banff
–  Having the right gear can make a huge difference, and Banff is the kind of place that can become unbelievably cold even in the middle of Winter. Here's what we pack and have relied upon for years:
–  Bear Spray: As we said above, this is the item you hope you never have to use, but never want to be without. Check out bear sprays on Amazon or REI
–  Sunscreen: A lot of the trails in Banff have very little shade and the sun is brutal most of the year! Check for sunscreen on Amazon or REI
–  Day Pack: Osprey Talon 22 (we've owned this for years). Check on Amazon, REI or direct with Osprey
–  Hiking Boots: Merrell Moab (for men and women). We've both used these for over three years and they just keep going. Check them out on REI or Amazon
–  Yak Trax: A game-changer for hiking in the snow. Check them out on REI or Amazon
–  Trekking poles: We've used Black Diamond for years as they are light, solid and durable. Check out REI or Amazon.
–  Reusable water bottle: To avoid single-use plastic. Check then out on REI or Amazon
–  Icebreaker Base Layer: What we always wear in the winter and makes a huge difference for keeping warm. Check out on REI or Amazon
By: Walk My World