The capital of the mountainous state of Vorarlberg, Bregenz lies on the southeastern shores of Lake Constance at the foot of the Pfänder on the westernmost tip of Austria. Extending southwards as far as the Bregenzer Ache and divided into the Lower and Upper Towns (Unterstadt and Oberstadt), Bregenz is best known for its many festivals and cultural attractions. Of these, the most visited is the annual Bregenz Festival, which brings both serious music lovers and casual tourists to enjoy lakeside opera and orchestral concerts each summer.
The town can trace its roots back as far as the Bronze Age, when a settlement of Celts built a fortress here. This was in turn conquered by the Romans in 15 BC and later developed into an important trading post. After eventually being Christianized by Gaelic monks around the 8th century, the town became the seat of the Counts of Bregenz.
Today, its beautiful setting alongside Lake Constance (Bodensee) and its proximity to both Germany and Switzerland make it one of the top places to visit in Austria. Plan your sightseeing with our list of the top attractions in Bregenz.
Note: Some businesses may be temporarily closed due to recent global health and safety issues.
1. Bregenz Promenade and Festival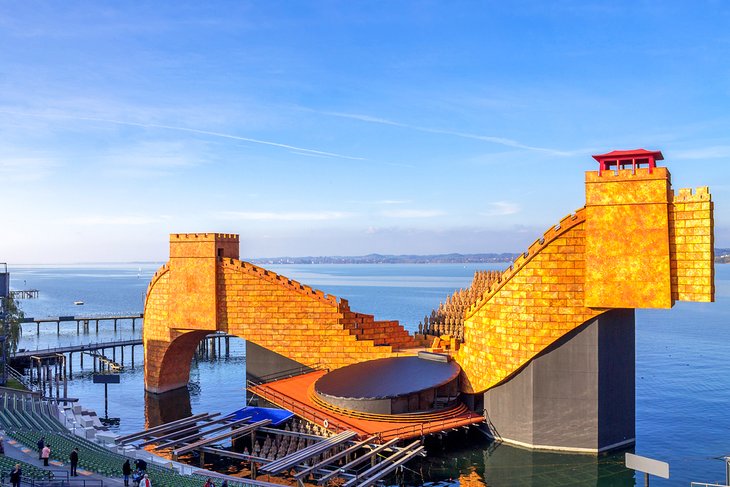 Located on idyllic Lake Constance, one of Europe's most scenic lakes and the continent's third largest, Bregenz is a convenient base for exploring one of the most picturesque corners of Austria. The town itself lies on a plateau at the base of the Pfänder Mountain, which provides stunning views over the lake, and its busy harbor is fun to visit for its promenade, the Seepromenade, and swimming areas.
Just offshore is the town's "floating" lake stage. Built over the water, it's the venue for numerous concerts, theatrical productions, and festivals such as the famous Bregenz Festival (Bregenzer Festspiele). Held each July and August, it's one of Europe's most popular festivals and features prominent operatic figures and major musicians and institutions such as the Vienna Symphony Orchestra.
2. The Pfänder and Pfänderbahn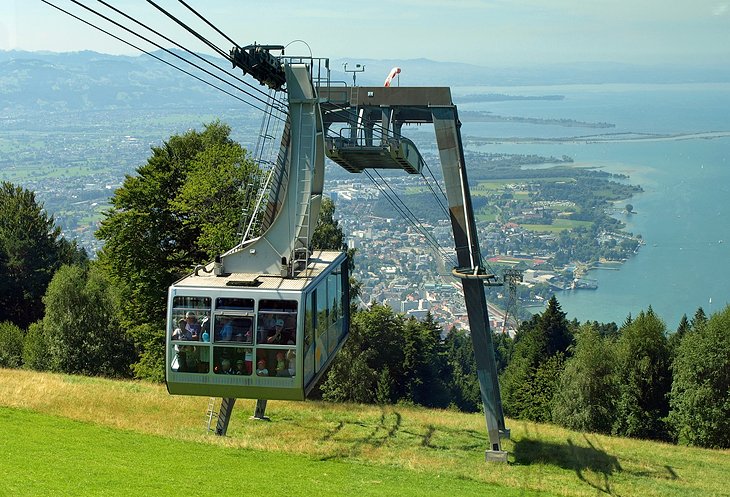 Pfänderbahn cable car
Immediately east of Bregenz and dominating the town is the 1,064-meter-tall Pfänder. Accessible via a two-kilometer, six-minute journey to the summit aboard the Pfänderbahn cable car — or a two-hour trek via a steep footpath from Bregenz via Hintermoos — it's a must-visit for its incredible views over Lake Constance and the German and Swiss towns set along the lakeshore. On a clear day, some 240 mountain peaks are usually visible, making it one of the most famous lookout points in Austria.
Other fun things to do include stopping for a meal at the cableway's upper station restaurant, which offers spectacular views from its terrace.
At the Pfänder Alpine Wildlife Park, visitors can enjoy a pleasant 30-minute stroll through a green space with herds of alpine mountain goats, and at the neighboring Eagle Observatory, they can watch birds of prey demonstrations.
In winter, the Pfänder welcomes skiers from across Europe to its slopes.
Address: Ferdinand Kinz, Pfänder 4, A-6911 Lochau
3. Bregenz Lower Town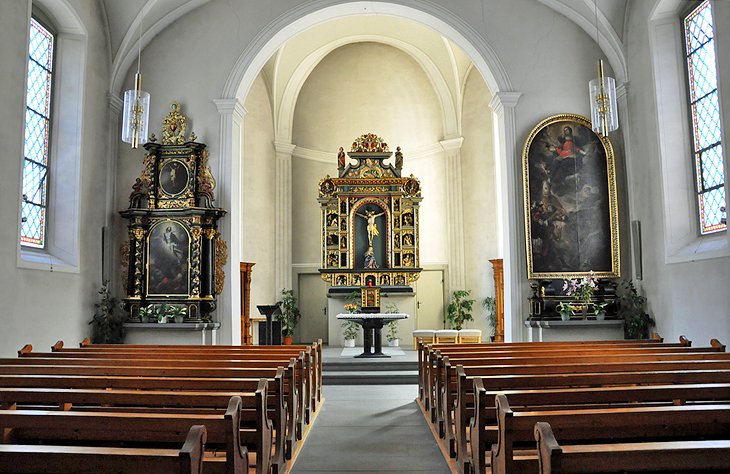 Lake Chapel of St. George | János Korom Dr. / photo modified
Lower Town (Unterstadt) is the newer part of Bregenz, with the Kornmarktplatz at its center. Highlights include the former Kornmarkthaus built in 1838 (now home to a theater); St. Nepomuk Chapel, an 18th-century Rococo Church notable for its rounded shape; and the Kornmesser Inn built in 1720.
Also of interest is the nearby New Town Hall (Rathaus) built in 1686 and the adjoining Lake Chapel of St. George (Seekapelle) endowed in 1408 in memory of the victory over the peasants in the Appenzell War of 1403.
4. Bregenz Upper Town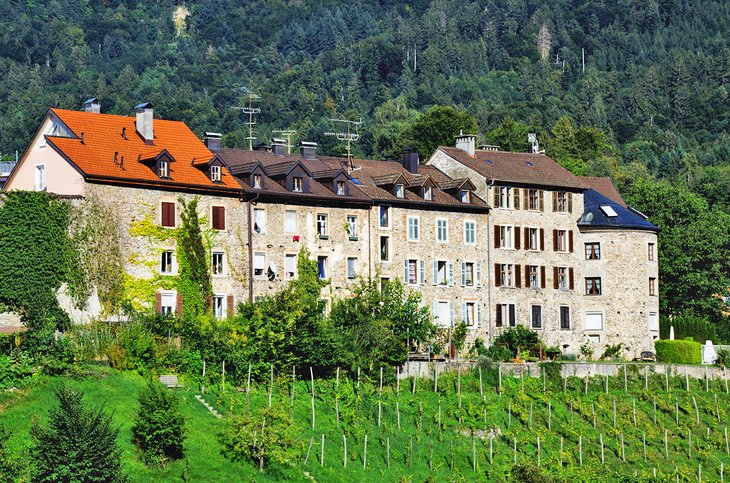 Houses in Bregenz Upper Town
The once fortified old Bregenz Upper Town (Oberstadt) occupies the site of the Celtic and walled Late Roman town of Brigantium. It's a wonderful area to explore on foot, as many of the streets have preserved their old-world character and charm and are largely free of traffic. In places, remnants of the old 13th-century town walls still stand.
Other Upper Town highlights include the Old Town Hall (Alte Rathaus), a half-timbered building from 1622; the Deuringschlösschen, a little palace built in 1698; the walled Capuchin Monastery and Church from 1636, with the Chapel of St. Joseph (added in the 18th century); and the splendid Parish Church of St. Gallus, a simple 14th-century Gothic structure rebuilt in 1738 and notable for its rich Late Baroque and Rococo interior decoration.
5. Vorarlberg Museum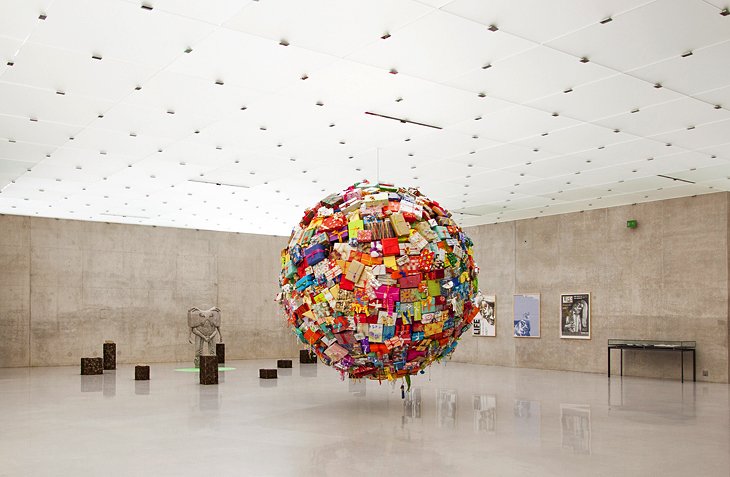 Vorarlberg Museum | Andrea Osti / photo modified
On the northern side of the Kornmarktplatz in Bregenz's Lower Town stands the Vorarlberg Museum. Founded in 1857 to preserve the state's rich cultural heritage, it's one of the top places to visit in Bregenz.
Highlights of its many displays include the collections of historical, cultural, and artistic interest ranging from prehistoric times to the present day, including ancient stone memorials and archaeological finds from the Stone, Bronze, and Iron Ages. There's also a sizable collection of Roman finds from the 1st to 4th centuries.
Other displays are devoted to local culture from the Gothic and Renaissance periods, including musical instruments, costumes, crafts, and weapons. The museum is also home to a rich collection of goldsmiths' work, coins, and tapestries.
Address: Kornmarktplatz 1, 6900 Bregenz
6. Kunsthaus Bregenz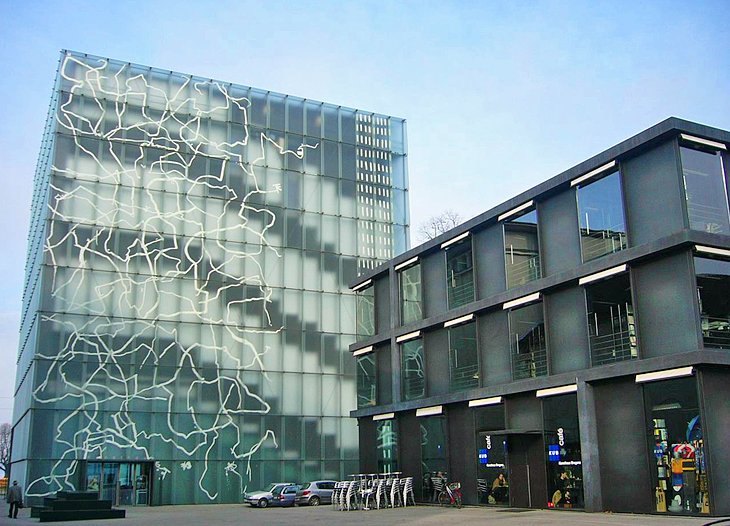 Kunsthaus Bregenz | Rory Hyde / photo modified
One of the most attractive modern structures in town — it's basically a steel skeleton with a layer of glass sheets surrounding but not touching it — Kunsthaus Bregenz is noted for hosting a wide variety of rotating exhibits of international contemporary art. Opened in 1997, it has fast become one of the town's most important cultural attractions.
In addition to its art exhibits, it hosts an eclectic mix of events and educational programming. Don't miss seeing the building at night for its spectacular lighting. A café is located on-site for those looking to extend their visit to this attractive Bregenz landmark.
Address: Karl-Tizian-Platz, 6900 Bregenz
7. St. Martin's Tower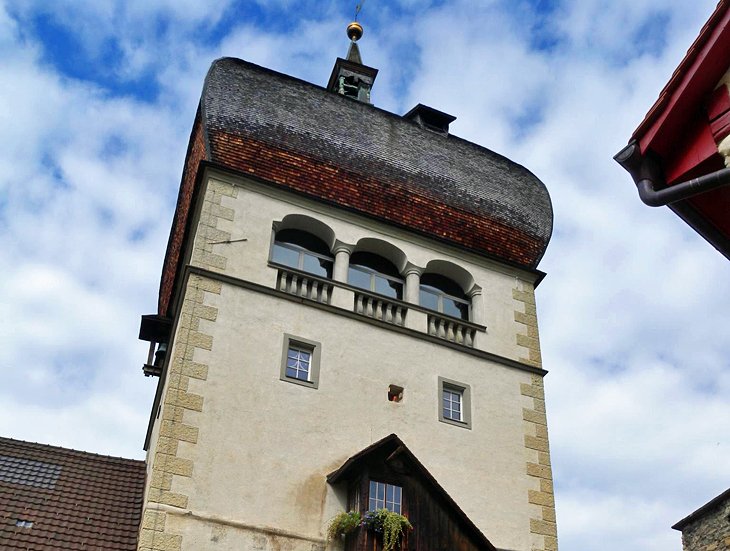 St. Martin's Tower | weisserstier / photo modified
Probably the most noticeable landmark in Bregenz is the massive St. Martin's Tower (Martinsturm). Built between 1599 and 1602 as a watchtower, this historic Baroque building offers superb panoramic views over the town and Lake Constance from its upper levels. Highlights include a number of superb ceiling frescoes, as well as a large collection of local history exhibits and displays.
Address: Graf-Wilkhelm-Strasse, Bregenz
8. Dornbirn and the Rappenlochschlucht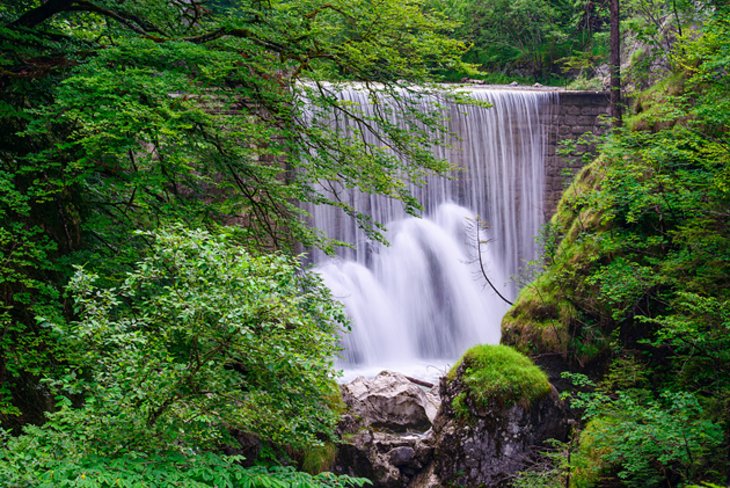 Dornbirn and the Rappenlochschlucht
Dornbirn, the newest and largest town in the state of Vorarlberg, lies only a few kilometers south of Bregenz at the edge of the Bregenzerwald. The town is well known for its many textile firms, and savvy shoppers can visit company outlets for bargains. First mentioned in records in AD 895, Dornbirn has existed under its current name only since 1901 and now extends all the way to the Rhine.
A highlight of a visit is the Rappenlochschlucht, a magnificent gorge into which the turbulent River Ache flows, and which can be easily accessed from the small village of Gütle (it's just a 10-minute walk). A highlight of this beautiful area is the picturesque Alplochschlucht, a 120-meter-high waterfall. The area features a number of well-marked trails that are popular with hikers.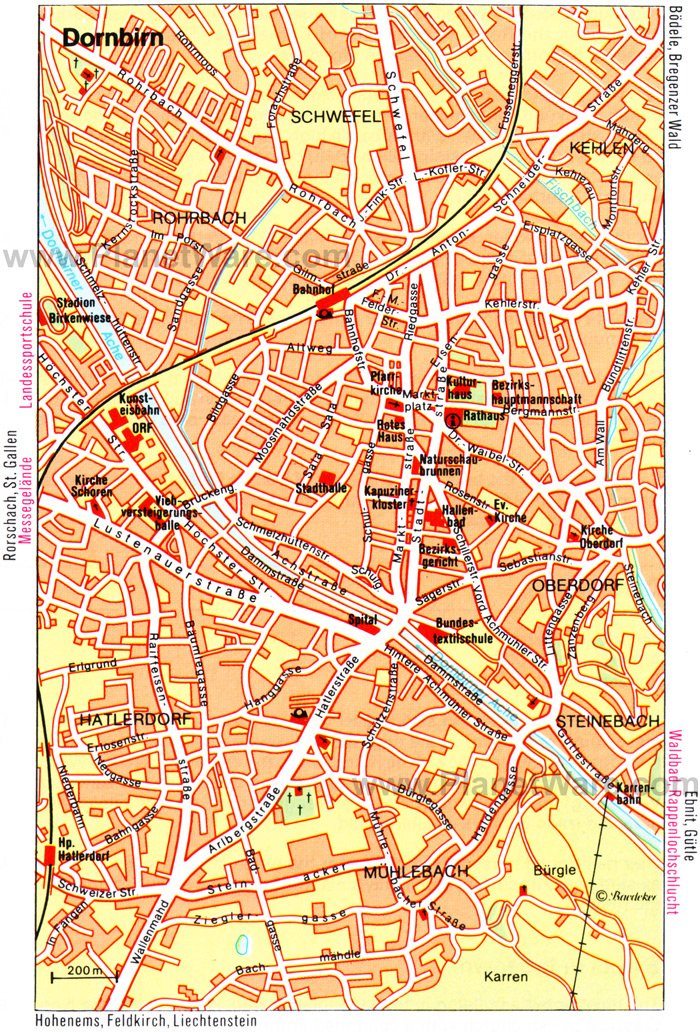 Dornbirn Map – Attractions (Historical)
9. Feldkirch and Schattenburg Castle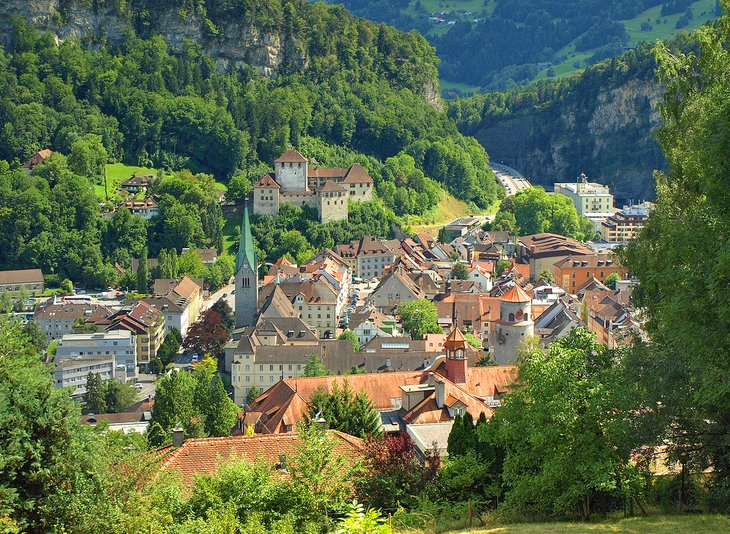 Feldkirch
Feldkirch, the old district capital of Vorarlberg and the most westerly town in Austria, lies some 35 kilometers south of Bregenz, where the River Ill carves its way through a rocky gorge from the Wallgau into the Rhine Valley. Inhabited since the Bronze Age, the town features a very well-preserved and historic old town center.
Dominating the town, Schattenburg Castle provides superb views over Feldkirch. Reached by a steep track, this stunning fortress was once the seat of the Counts of Montfort from the early 12th century until 1390.
Highlights include a beautiful courtyard with a wooden ambulatory, and a palace with a banqueting room. It also houses a local museum with a collection of weapons and a Romanesque crucifix from 1250, as well as an old inn and restaurant. English language guided tours of the castle are available.
Address: Burggasse 1, 6800 Feldkirch
10. Gebhardsberg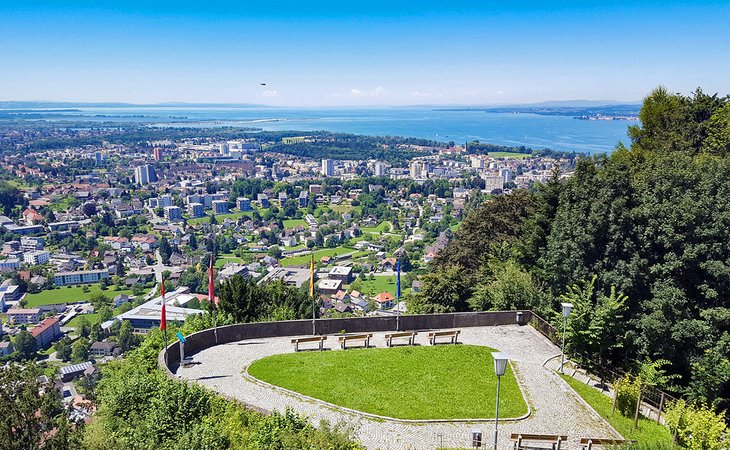 View from the Gebhardsberg | EladeManu / photo modified
A short drive south of Bregenz rises the Gebhardsberg, a 600-meter-tall heavily wooded hill that's popular among walkers and hikers for its many forest trails. Worth exploring are the ruins of Burg Hohenbregenz, destroyed by the Swedes in 1647, and an 18th-century pilgrimage chapel with frescoes added around 1900.
From the popular Burgrestaurant, there are magnificent views of the town, the lake, and the Rhine Valley. A climb southwards along the Ferdinand-Kinz-Weg is also well worthwhile.
11. Boat Tours of Lake Constance (Bodensee)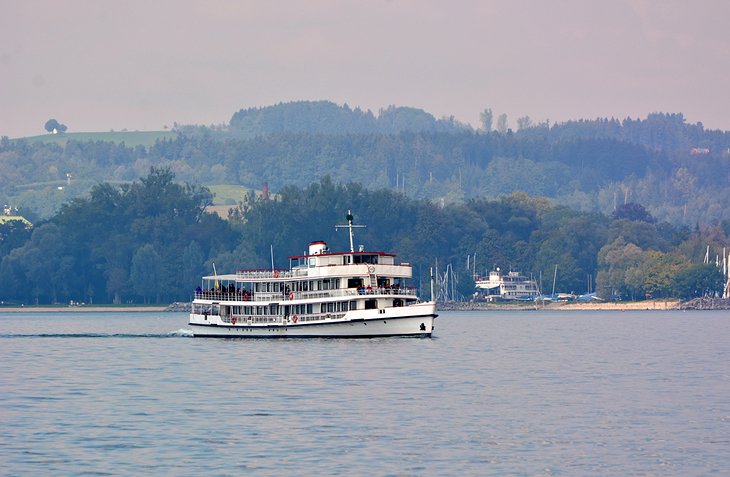 Boat Tours of Lake Constance (Bodensee)
The busy harbor, Bregenz Hafen, serves commercial and pleasure boats, as well as ferries to other lake towns. A scenic one-hour cruise around Lake Constance gives photographers plenty of good views over the lake and the pretty harbor of Lindau with its lighthouse and lion guarding its pleasure-boat basin. These cruises are especially popular at sunset, and there are also evening dinner cruises.
By: www.planetware.com