Austria's capital is one of Europe's most beautiful cities, popular for its charming character and rich culture. Here's how to explore Vienna on a shoestring without missing out on all the amazing experiences that will make you fall in love with the city.
Get your fix at Vienna's free museums
The MAK (Museum of Applied Arts) houses a variety of fascinating curiosities related to the arts that will delight and intrigue. Usually, entrance fees are a little steep so visit on Tuesday evening, when all the exhibitions are open to the public free of charge and you can wander around to your heart's content. Also, on the first Sunday of every month, a string of museums around the city open their doors free of charge, including the Wien Museum Karlsplatz, Römermuseum, MAK and Otto Wagner Hofpavillon Hietzing.
Top tip: The "street art passage", showcasing local and international artists' work, is located in the Museum Quarter (MuseumsQuartier) and is always free of charge. Museums are also free of charge on Austria's National Day, on 26 October.
Visit the Danube Island
The Danube, a thick vein of a river that runs through Germany, Austria, Slovakia and Hungary, acts as a refuge from the stifling heat that hits Vienna during the summer and is a frequently visited spot for locals, who sip beer and submerge themselves in the cooling waters. The Danube Island is a favourite spot for sunbathers and swimmers and also has a family beach and a climbing park – all entirely free of charge, of course.
Top tip: Get to the Danube Island early in order to avoid the crowds and reserve a spot on one of the wooden piers.
Hang out for free in Vienna's beautiful parks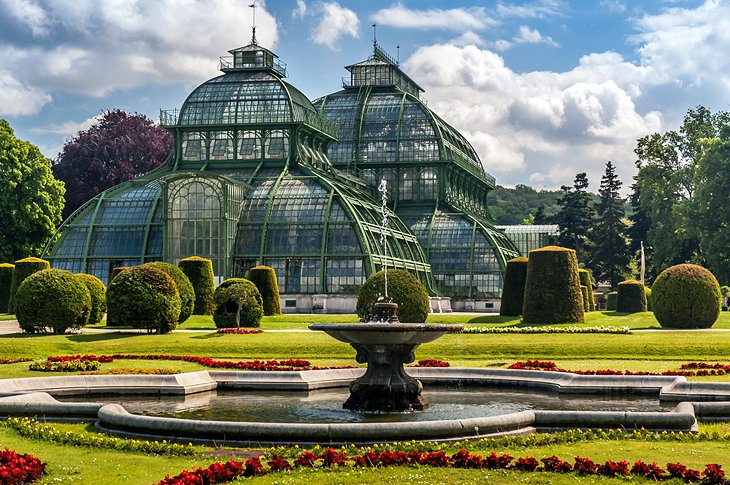 From the meticulously groomed gravel paths of formerly royal gardens of Schonbrunn and the Belvedere to the wild forested areas of Vienna Woods and exotic vineyard areas, Vienna boasts some gorgeous outdoor areas. Get your hiking boots on and explore the city by foot or settle down in the grass for a picnic.
Watch a film under the stars
During the summer, countless open-air cinemas open up around the city, screening films of every genre. Two of the most popular events include Cinema On The Roof, which shows films on top of the city's main library, and Music Film Festival, which sees City Hall Square transformed into a space for movie buffs.
Explore Vienna's diverse music scene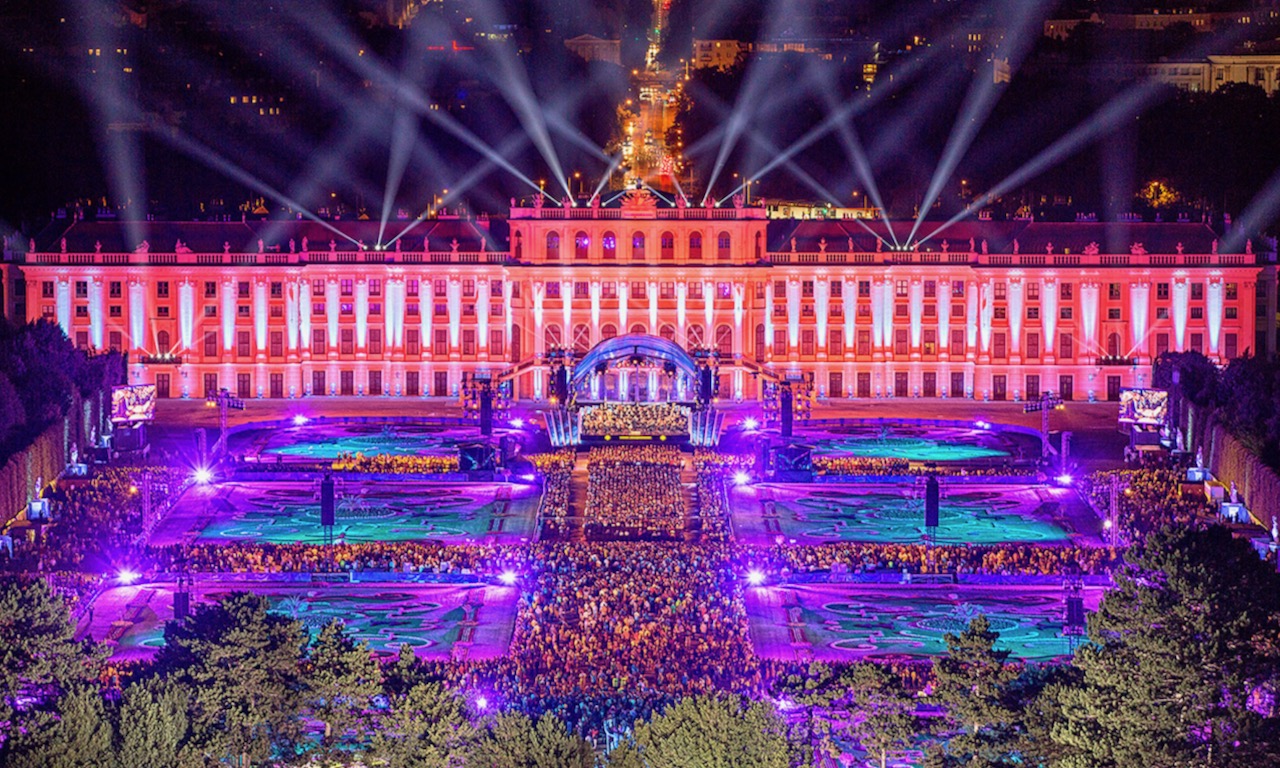 Vienna has a buzzing music scene that has something for every taste. Classical music buffs can enjoy a range of concerts without spending a penny, from the extravagant Schoenbrunn Summer Night Concert to atmospheric carol concerts in St Stephen's Cathedral at Christmas time. For fans of electronica, indie and everything in between, music venues B72 and The Chelsea put on lots of free gigs throughout the year and there are a number of music festivals free of charge, such as the vibrant Danube Festival (pictured below).
Enjoy a free performance at the Vienna State Opera House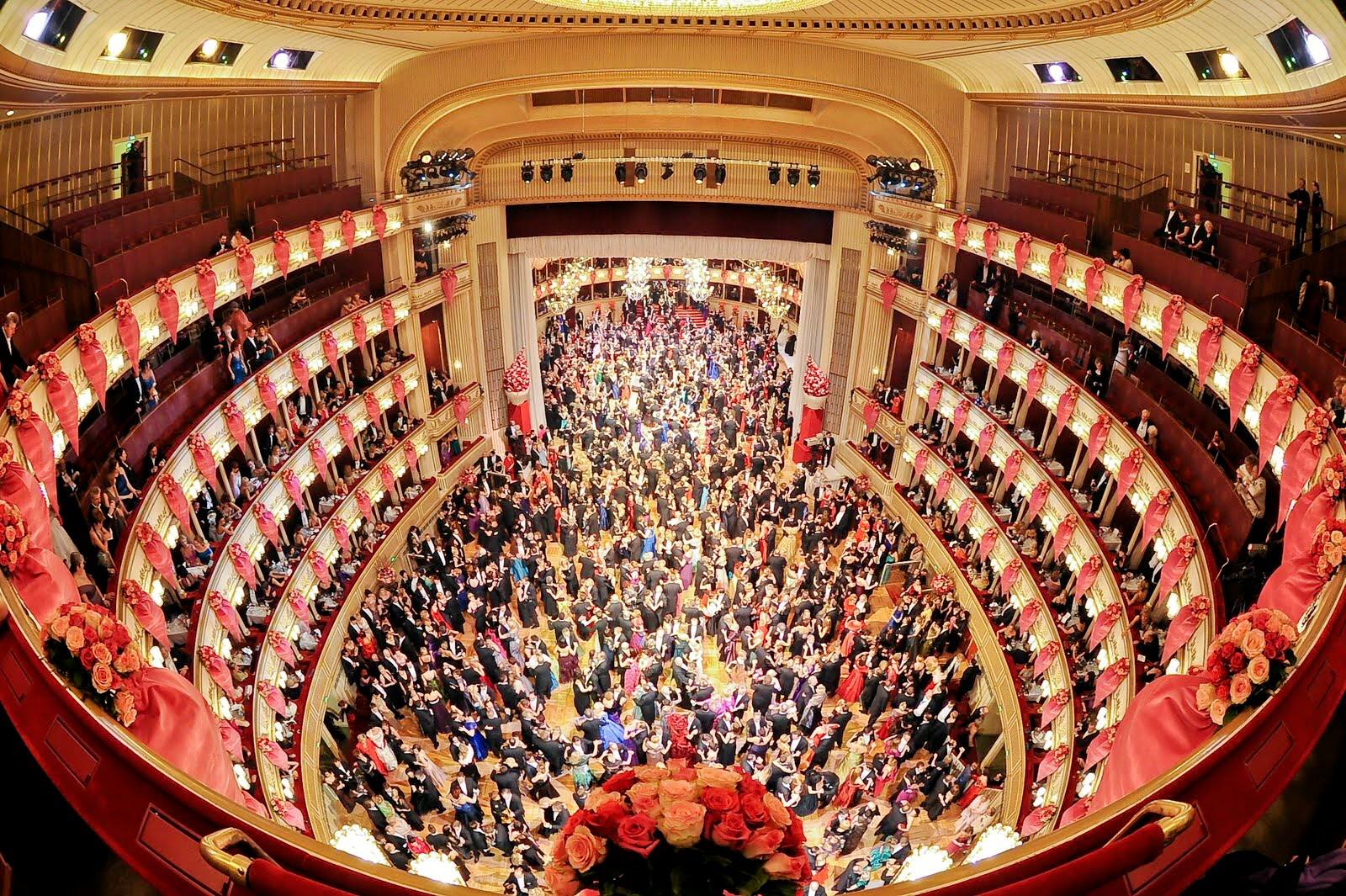 Watching a performance at the Vienna State Opera House is often on the bucket lists of visitors to Austria, and there's no reason you should miss out just because you can't fork out a few hundred euros for a ticket in the front row. Luckily, for visitors on a shoestring, you can watch performances for free outside the Opera House in the summer, when they are projected on a screen in front of a few rows of seats. There are a few downsides, however. Performances are screened with German subtitles only, and the screenings are, of course, dependent on the weather.
Top tip: Standing tickets cost just a few Euros if you get to the ticket booth at the back of the opera house an hour before the show starts.
Drink a glass of mountain clear water
This may sound like a joke, but hear us out. Vienna's water is renowned for its high quality; the city's water supply comes directly from mountain springs in the Styrian/Lower Austrian Alps, reaching the Austrian capital city a mere 36 hours later, without the aid of pumps. You can sample a glass for free from one of the city's 900 public fountains. A small but nonetheless satisfying tip, especially during the sultry summer days.
Peek inside Vienna's secret buildings
Open House Vienna, an annual event taking place annually in the autumn, allows access to some of Vienna's most curious architectural gems, giving tourists the opportunity to explore a side to the city that is not ordinarily available. Buildings such as the shocking pink Wohnen mit scharf apartments and the Microsoft headquarters are among those who open their doors to the public during this time.
Take a walking tour of famous monuments
You will likely have a few landmarks on your list that you want to see (or more likely, take photos of). St Stephen's Cathedral is a Gothic edifice, known as the mother church of the Roman Catholic Archdiocese, and is one of Vienna's most culturally significant landmarks, known throughout Austria and the world as an important heritage site. It is perhaps best admired from the outside, when its colourful roof tiles are on display, but it is also free to enter (certain areas such as the bell tower require an entrance fee). From the cathedral, you can make your way to several notable monuments in whichever order you please, including the Hofburg Palace, Museum Quarter, and Karlskirche.
Explore the city on two wheels
Renting a bike at one of the city's cycle stands is free of charge for the first couple of hours, and cheap as chips (€3-4) thereafter. Vienna is ideal for exploring by bike, with wide, clearly marked cycle lanes in the city centre and plenty of leafy routes to explore along the River Danube.
Try free samples at the Naschmarkt
Amble along Vienna's 16th-century flea and food market and sample some authentic Austrian and Turkish cuisine, which is often offered free of charge in the form of tasters – perhaps a bite of falafel, sausage or something sweet. Naschmarkt is a melting pot of culture and cuisine and is Vienna's oldest and largest market – a must-visit.
By: theculturetrip.com