South Africa has numerous popular beaches. From the West Coast just south of Namibia all the way around to Kosi Bay just south of Mozambique, there are more beaches than one can count. But there are few that remain untamed, out of the ordinary and barely frequented (unless you are prepared to consistently head to the Wild Coast for your swim).
For the most part, you are more likely to be directed to the country's more popular beaches (Camps Bay, Clifton, Ballito, Umhlanga, Cape Vidal, etc.) than to those known by few.
Here is a list of the beaches in South Africa you might not know about. They're not your highly popular swimming and surfing beaches (although a couple has blue flag status), but each has a uniqueness and beauty that make them well worth seeking out …
Elands Bay, Cape West Coast
Something of a surprise to all who head here, the endless beach (it is really long) is particularly beautiful, and the coastal town undeveloped. Three hours' drive from Cape Town, Elands Bay's coastal wilderness functions as a palliate for the soul. Watch the gulls throwing mussels onto the rocks in a bid to open them. Left Point is a world-class surfing beach.
Smitswinkel Bay, Cape Town
Out of the ordinary, and found by few, Smitswinkel Bay lies right down at the base of a cliff on the bend before Cape Point Nature Reserve. You will need to tramp down the pathway that is more accessible than it looks but takes little with you, or the return will be tough. But the bay is beautiful. Not a great swimming beach, but perfect for getaway beach time. Consider the residents who enjoy their privacy.
Rooi Els, Overberg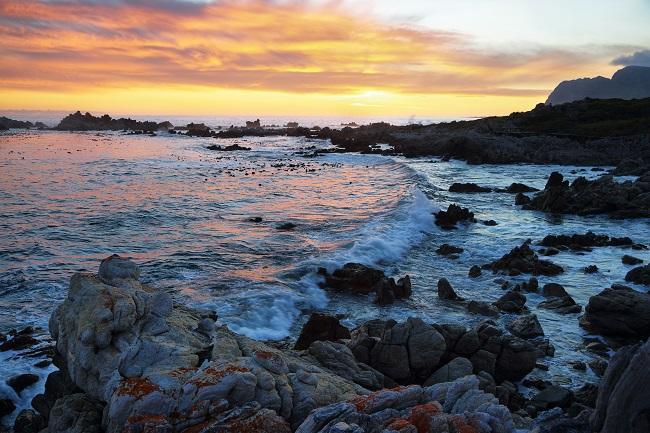 On the very tip of the Kogelberg Biosphere, you will find Rooi Els, a relatively unknown seaside village and one of four little towns on this stretch of Route 44. The beach's unique layout not only includes safe seaside swimming, and access to shellfish diving and fishing, but it also flanks a lagoon in which you can often spot the Cape clawless otter. Hangklip looms in the background.
Grotto Beach, Hermanus
Despite being a blue flag beach with an incredible stretch of sandy beach, all 18 km of it, and mountains in the background, Grotto Beach is not all that well known probably because it is outside of Hermanus and you need to know the little road that takes you there. Great for swimming, bodyboarding, and children (there is a park), although you might want to avoid it in season.
Noetzie, Knysna
Known as the beach of the castles (because there really are a number of castles), Noetzie lies ten minutes east of Knysna in a rather secluded cove with a beautiful beach, part of the Noetzie Conservancy. The secluded spot has quite a history as a holiday retreat, and horse-drawn carts originally brought farmers here from Knysna and Oudtshoorn to the holiday.
Gonubie, East London
A little more popular than is strictly necessary to classify this beach as 'secret', Gonubie lies roughly 20 km northeast of East London on the Gonubie River. A beach with tidal pools, and a wooden walkway and lagoon, children can spend hours discovering shells and other little sea creatures here. And the village behind the beach is seriously laidback. A wonderful place to chill.
Shelley Bay, Kenton-on-Sea
The highlight of this beach is the high rock on either side of the sandy strip that seems to slope in towards you, sheltering the bay in a way that makes you feel cut off from the world. It is small enough that it is sometimes referred to as a tidal pool, whilst its relative anonymity makes it a hideout for that intent on escape. From here you can traipse over the sand dunes and through a milkwood forest in the Joan Muirhead Nature Reserve for even more romance.
Fail, Wild Coast
A secluded and virtually flawless cove set on the edge of the Hluleka Nature Reserve on the Wild Coast, this beach lies bounded by coastal forest from which you can hear the calls of birds and monkeys. Perfect for walks and picnics, shell collecting, fishing, and spotting dolphins and whales from the rocky shore, Hluleka is the kind of beach you will find difficult to leave.
Umzumbe, south coast KwaZulu-Natal
Often called Pumula beach because it lies rather close to a hotel of the same name, Umzumbe is a blue flag beach, fringed by a dune forest with safe swimming and a tidal pool. A relative newcomer to blue flag status you will need to walk down a rather steep walkway to reach it, but by all accounts, it is well worth the effort.
Sodwana Bay beach, iSimangaliso Wetland park
Sodwana has long been known as the diver's choice location with three reefs to explore. Night dives easily make it onto the 'must-do' list, whilst in summer leatherback and loggerhead turtles use the beach to lay their eggs, which draws eco-tourists. But over and above these attractions are the kilometers of unspoiled beach fringed by forest.
By: blog.sa-venues.com