From skydiving to swimming with white sharks, Australia has a lot of adventures to offer, canyoning being one of them. If you have a thirst for outdoor adventures, then a canyoning tour is a must for you. The peak season for canyoning in Australia is from December to March and that is when you'll see a huge influx of adventure seekers coming to this country. Want to know more about this famous sport and where you can engage in it in this beautiful country? Scroll down.
Australia is a dry continent, so there are low water flows and stagnant pools. People often wear wetsuits, beanies along with thermals, as there are lots of dark passages to swim and abseil through waterfalls. Let's talk about the best canyoning in Australia to explore this summer.
1. Behana Canyon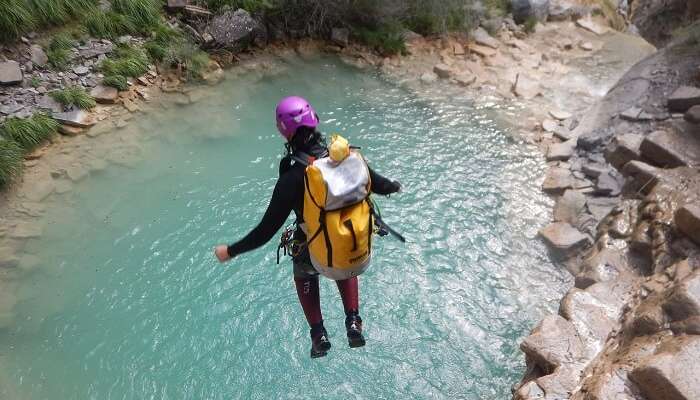 Canyoning in Cairns, Australia includes Behana, a fun and exciting adventure tour that provides for cliff-jumping, abseiling and canyon down the waters of Behana Creek in Behana Gorge. Behana Gorge is a local and famous spot in the Cairns region. It is about 10 km from the Gillie range toward the south.
2. Crystal Canyon Rainforest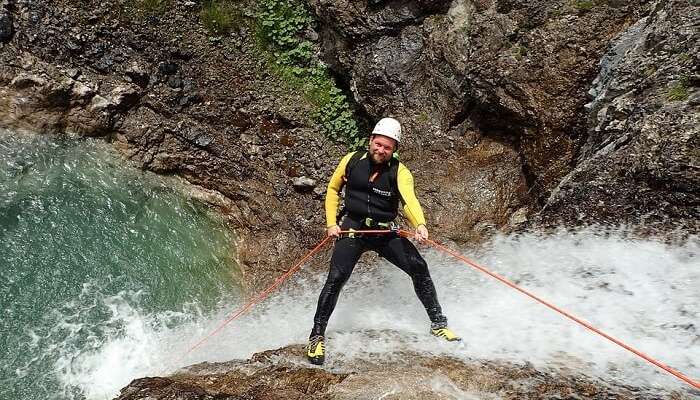 It's time to bring out your inner devil canyoning for this adventure tour. Crystal Canyon is located at crystal cascades in the Cairns rainforest where you can zipline, jump, abseil through the waterfalls and canyon the rocky watercourse. Spend your whole day in the beautiful lush tropical rainforest and crystal clear pools.
3. Katoomba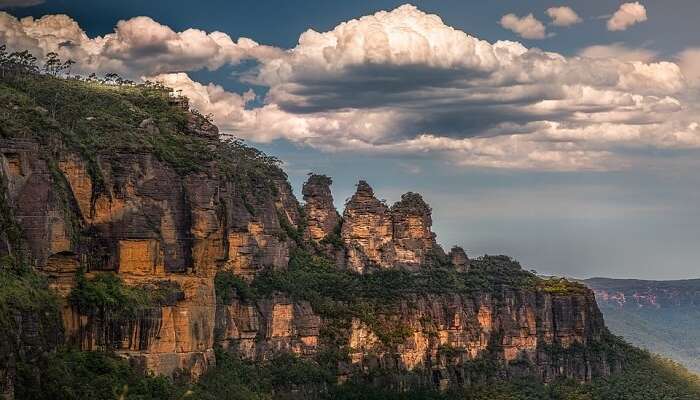 Katoomba canyoning is packed with a walk through beautiful lush vegetation, stunning mountain views, and waterfalls. Katoomba is the heart of the Blue Mountain region. Katoomba canyon is a very technical canyon that involves lots of rope work to cross mountains and waterfalls, which is why it's one of the best places for canyoning in Australia.
4. Illawarra Escarpment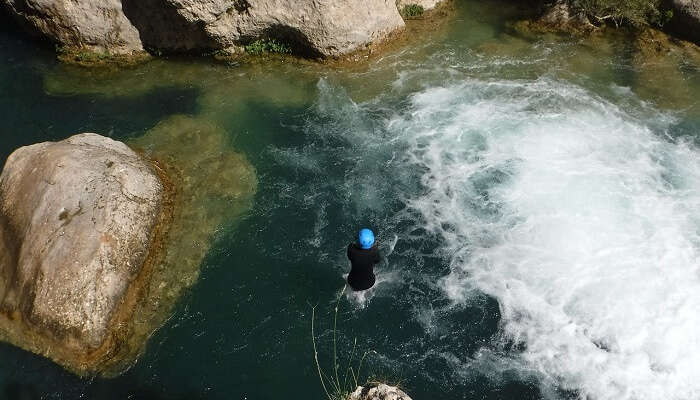 Discover the breath-taking views of southern highlands in the south of Sydney with Illawarra Escarpment canyoning activity through tropical rainforests. This canyon features excellent views of Pacific oceans and local wildlife along with rock slides, jumps, rock pool, and picturesque waterfall abseils perfect to beat the summer heat. Canyoning in South Australia is mostly famous for tropical rainforests and wildlife.
5. Empress Canyon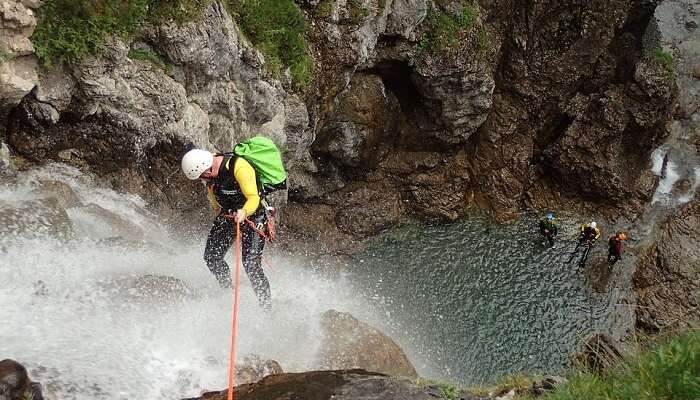 A fantastic adventure sport that is ideal for any entry-level abseiling and canyoning experience. Empress Canyon includes sandstone cliffs, wading, swimming through pools, scrambling, and jumping. Abseiling through the magnificent and crystal clear waterfall down, Empress Falls is also an experience of a lifetime.
6. Juggler Canyon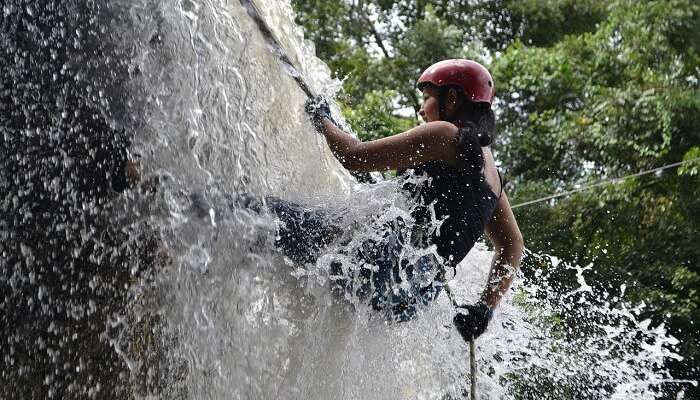 One of the famous spots for beginners, the Juggler's canyon is located at the Medlow Bath. This is one of the few canyons that you can enjoy during the winter as there is no swimming part if you're careful enough. This canyon is heavily eroded, but that does not stop people from calling it one of the best spots for canyoning in Australia. There are some spots that will give you the adrenaline rush you were always looking for.
7. Rocky Creek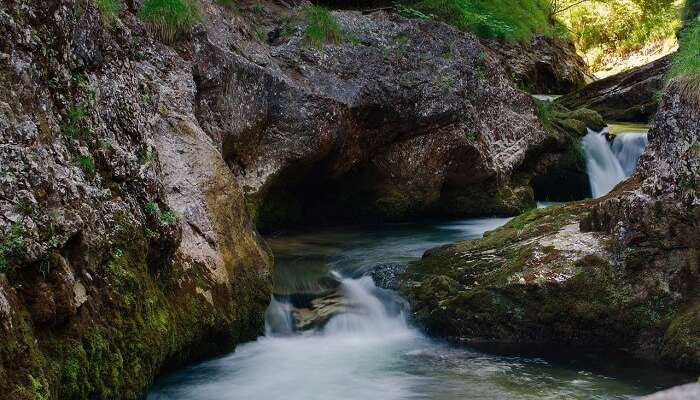 One of the canyoning places in Australia of Blue Mountains can be done even if you are a beginner. The trip starts with sheep dip canyon, where you can encounter lots of waterfalls, slides, jumps, and exciting scrambles. Walkthrough the Rocky Creek Canyon and experience the breath-taking slot canyons in the blue mountains.
8. Gold Coast Hinterland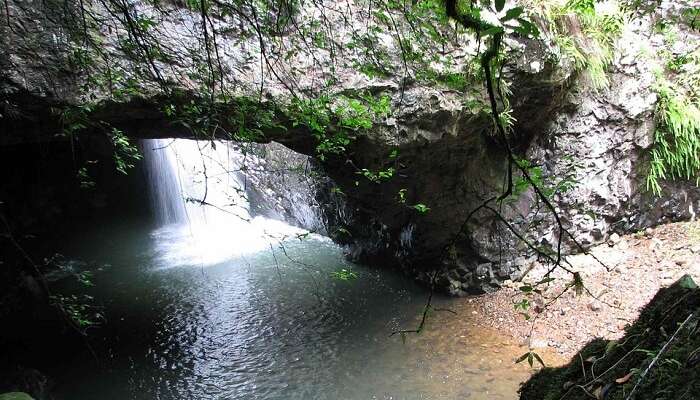 The Gold Coast Hinterland is one of the most famous places for canyoning in Western Australia. It is popular for the subtropical jungle, rampant wildlife, and waterfalls to abseil through. Located in southeast Queensland comprises the Tweed Range, Nimmel Range, Tamborine Mountain, Numinbah Valley with fresh air, and dense sea forest.
9. Wollangambe Canyon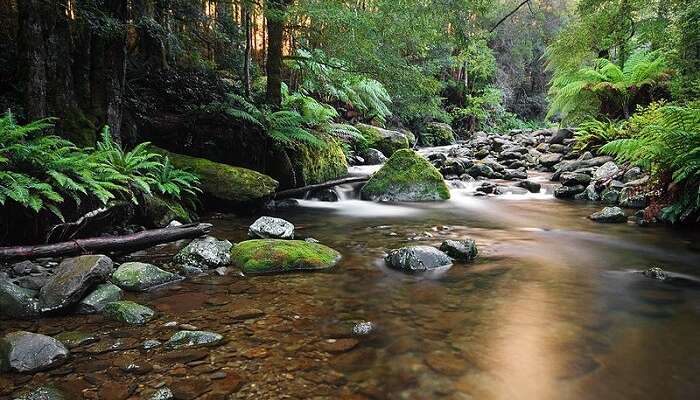 Popular for gentle canyoning trips in Australia, which requires no experience in abseiling and can be done by canyoners of all ages. The water here is slow-moving, and winds are gentle. It's a way through beautiful and breath-taking sceneries between sandstone cliffs. The white sand of Wollangambe beach is the memory that lasts forever.
10. Serendipity Canyon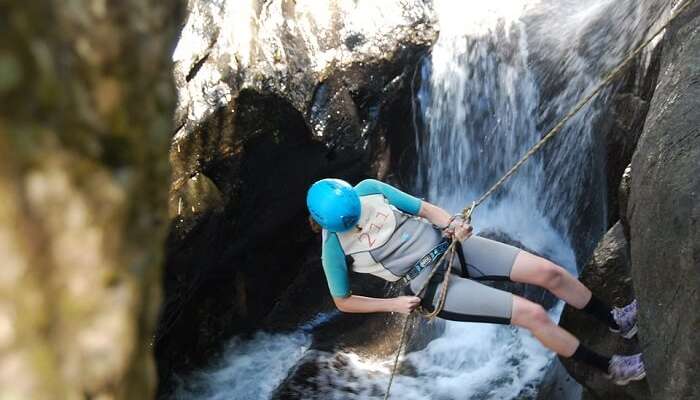 Best canyoning adventure where you can explore freshwater yabbies, birdlife, plants, rock formations, and wildlife. This canyon includes exciting abseils, water jumps, and short swims through pools. This trip is recommended to those who have never canyoned before but do have some outdoor experience and a keen sense of adventure.
By: traveltriangle.com