Portugal is a country that travelers love to come to and explore. It houses cities reflecting its rich cultural and historical heritage, sundry wildlife, and some amazing food delicacies to treat one's hunger! There is something unique about this place that makes one fall in love with it. On one hand this country houses urbanized cosmopolitan cities and on the other it has villages with awe-inspiring picturesque sceneries that will leave you spellbound for days. It has got lively beach resorts, gloriously sandy beaches and world-class golf courses. And let's not forget to mention the pristine lakes in Portugal on our list.
The beautiful plains, remote mountain ranges, broad rivers, and verdant valleys are some attractions of Portugal. And do not miss out on its beautiful and breathtaking lakes. Here are the top 10!
1. Lagoa do Fogo
Popularly known as the lake of fire, this breathtaking body of water is home to many hiking trails and bird nests. The winding road uphill from Remedios will lead you to the top, and give a vast enchanting view of the entire place. The lake shimmers as the light and soft rays of the sun fall on it and one can enjoy the pleasant breeze too. The experience is truly magnificent.
Location: Miradouro da Serra Barrosa | Água de Pau, Sao Miguel, Portugal
2. Lagoa das Sete Cidades
This lake is located in the crater of a dormant volcano on the Portuguese archipelago of the Azores. Yes, you completely saw it right, it is a twin lake! The grass indeed is that green and the water that beautiful blue. A hike can lead you up to this gorgeous place or you could take a tour with a bigger group, either way, you get to this lovely place. If you miss out on it, you'll regret it all your life. The photographs and your eyes won't lie, this place is absolutely the highlight that you need.
Location: From Ponta Delgada 10 km, Sao Miguel 9240-113, Portugal
3. Furnas Lake
This is a beautiful crater lake with volcanic hot springs and is one of the most famous lakes in Portugal! Take a little detour and visit this peaceful and serene place. It is surrounded by an even more gorgeous green field accompanied by a chapel which on most clear days reflects magnificently in the shimmering crystal clear water of the lake. While the volcanic activity is great and quite interesting to observe, a calm walk around the land may also give you some peace of mind. Also, having several fumaroles and mud pools, it gives you a wide variety of natural beauty at its best. It's completely worth visiting.
Location: Estrada Regional Do Sul, Lagoa das Furnas | Caldeiras das Furnas, Sao Miguel 9675, Portugal
4. Lagoa do Canário
It is one of those peaceful places in the Azores islands which features a beautiful lagoon completely surrounded by a dense forest full of moss and vegetation with calm and serene waters. It's a unique place, easy to access, and with great opportunities for abstract and wonderful pictures. Whether you want to take a long walk or just sit by and listen to your favorite music, you can do it all here. Enjoy the isolated nature at its best!
Location: Sao Miguel, Portugal
5. Lagoa do Congro
This is an absolutely breathtaking lake for everyone to visit. You can take your car or engage in a hike, which won't be easy, but all good things require some sweat and effort. Sao Miguel has a galaxy of natural beauty hidden behind each layer. It's extraordinary in its essence and all of your trouble will seem to be worth, the minute you lay your eyes on it for the very first time.
Location: Vila Franca do Campo, Sao Miguel, Portugal
6. Lagoa da Brejoeira
Besides being a pretty lake, it has a beautiful neoclassical building from the nineteenth century, a huge vineyard, a lush green forest and serenity so captivating that you won't believe your eyes. The lake surrounds a small island at its center which has a bridge surrounded by vibrant, rich vegetation. This could be a trip for an entire day, exploring the elegant rustic rooms of the palace, taking walks through the deep forests, and sitting by the lake, just absorbing all of the beauty.
Location: Pinheiros- Monção
7. The lakes of Cerveira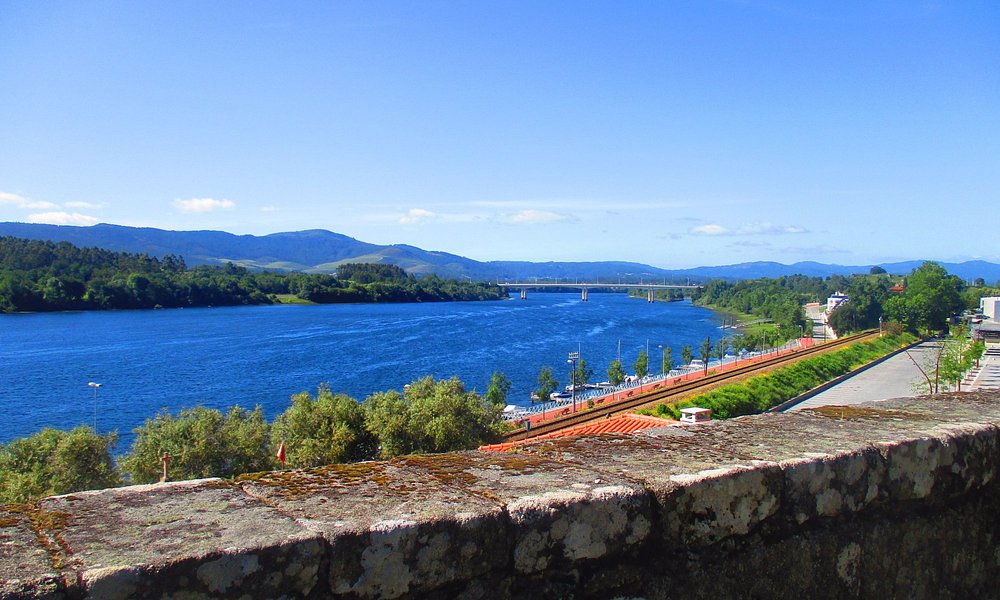 Situated in the nice little town with a wall surrounding what today is the great Pousada, installed in the sixteenth-century castle by King Dom Dinis, this lake is absolutely magnificent. The gorgeous scenery of the mother church and the Chapel of Mercy from the top of the mountain will leave you mesmerized. The lake is just a complementary natural beauty to all the stunning elements that already make this place special. So don't think so much, take a detour and visit one of the best lakes in Portugal.
Location: Mte de Cerveira
8. Lagoa do Carvao
This lake is easily accessible. The most impressive features of this lake are the walls of the crater of the volcano eroded which is similar to other places like El Charco. The surrounding beautiful landscape, also with its easily accessible location makes it a very obvious and wonderful trip. It is a superb place for some soul searching! So, make sure this is on your list while holidaying there with friends or solo!
Location: Ponta Delgada, Sao Miguel, Azores
9. Lagoas de Bertiandos
Bertiandos ponds as known in the north of Portugal, are a protected area of great environmental value and known for scenic beauty. Highlighted is the existence of an interesting mosaic of habitats, particularly wetlands, natural vegetation, and the river Estoraos. A refuge for many wildlife and bird species, this place can be absorbed through the space protected by wooden walkways in a good stretch of the wetlands.
Location: S Pedro de Across
10. Poco Azul
You can start exploring this place by first visiting the Boca do Inferno viewpoint where you will be surrounded by the ravishing view of the Lagoa Azul and Lagoa Verde. After this you can drive down to Sete Cidades and walk around Lagoa Azul experiencing some beautiful views of this place. It is advisable to rent a canoe or hire a guide to take you around the place and make you familiar with the surroundings. Afterward, you can head to Sete Cidades for lunch. And there you have your perfect day!
Location: Cm 1238, Sobrosa 3660, Portugal
By: traveltriangle.com