The relaxed island lifestyle in Hawaii is undoubtedly reflected in the local music scene. Using slack-key guitars and ukuleles to create simple melodies that brim with emotion, Hawaii-based musicians have mastered the delicate balance of staying true to their history and heritage while keeping a keen eye on contemporary styles and tastes. Here is our list of 10 Hawaii-based musicians you should know.
Israel Kamakawiwo'ole
Israel Kamakawio'ole got his start performing at the Steamboat Lounge in Waikiki where his parents worked. Invited on stage by the scheduled musical performers to play his ukulele, Israel quickly developed a love and passion for music. In 1976, Israel and friend Jerome 'John' Koko formed the five-member band, The Makaha Sons of Ni'ihau. In 1993, however, Israel decided to start his solo career by releasing his first independent album titled Facing Future, which remains the number one selling Hawaiian music album in the world. In 2005, Facing Future was the first Hawaiian music album to be certified platinum, selling over one million copies. He also received international acclaim and recognition for his popular rendition of 'Over the Rainbow/What a Wonderful World.' His music has gone on to be featured in national commercials and blockbuster hits such as 50 First Dates. His tender voice has made him a mainstay on the Billboard World Charts long after his untimely death in 1997.
Ledward Kaapana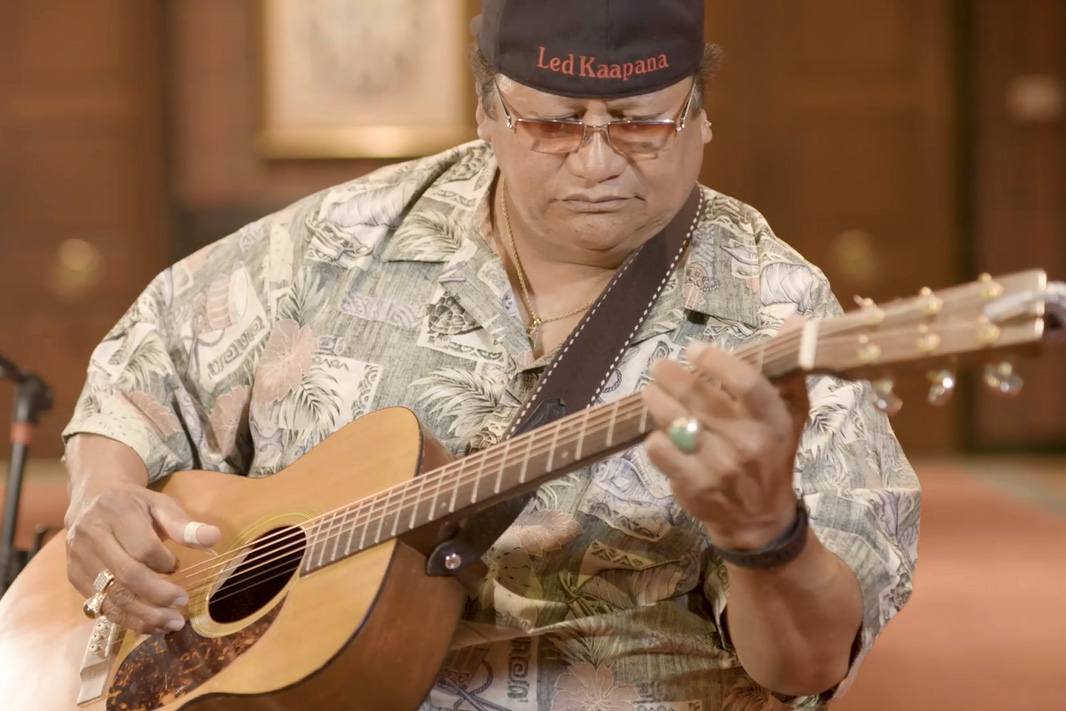 Ledward Kaapana grew up in a rural town on the Big Island of Hawaii with no electricity or television. As a form of entertainment, his family and neighbors would host backyard parties and play live music. This was how Kaapana first learned to play the slack-key guitar. Together with his twin brother Ned and cousin Dennis Pavao, Kaapana formed the musical group, Hui Ohana. They released their first album in 1973 and produced 14 best-selling albums before Kaapana branched out on his own as a solo artist. His first album, Lima Wela, won the Na Hoku Hanohano Award (Hawaii's equivalent of a Grammy Award) for Instrumental Album of the Year. In 2006, Kaapana's Ki Ho'alu: Hawaiian Slack Key Guitar was nominated for a Grammy for Best Hawaiian Music Album. Kaapana's mastery of the slack-key guitar, his iconic baritone, and his loyalty to the music and culture that first inspired him have made him a living legend.
Don Ho
Born on Oahu, Don Ho got his start performing in his family's restaurant and lounge called Honey's, named after his mother, after retiring from the air force. Attracting tourists with his affable and infectious personality, Ho carved out a musical image that kept locals and visitors flocking to see him perform. He became a fixture of Waikiki nightlife once he started headlining at Duke Kahanamoku's club with his accompaniment, The Ali's. He played the organ while singing pop-infused tunes with his deep, silky bravado. He achieved international stardom with the release of his single 'Tiny Bubbles' in 1966 and became a popular icon, securing television appearances with the likes of Johnny Carson and Andy Williams and his own T.V. show on CBS, The Don Ho Show. He died in 2007 due to heart failure, but he continues to be revered as a seminal figure of contemporary Hawaiian music.
Keali'i Reichel
Born and raised on the island of Maui, Keali'i Reichel blends contemporary Hawaiian music with traditional Hawaiian chanting. He released his first album, Kawaipunahele, independently in 1994. The album received immediate success and fanfare and went on to win him five Na Hoku Hanohano Awards including Male Vocalist of the Year, Album of the Year, and Hawaiian Album of the Year. His most recent album, Ke'alaokamaile, was released in 2003 and reached number one on Billboard Chart's Top World Music Album. In addition to selling out concerts in Honolulu, Reichel has also performed at Carnegie Hall and opened concerts for LeAnn Rimes, Celine Dion, and Sting. In 1980, he founded his own hula school, Halau Ke'alaokamaile, as a way to further spread and practice his passion for the Hawaiian language that made him pursue music in the first place.
Jack Johnson
Born on the island of Oahu, Jack Johnson's first love was the ocean. His father, Jeff Johnson, was a professional surfer and showed him his way around a board at a young age. He became the youngest person to qualify for the finals in the Pipeline Masters surfing competition at 17 years old. Following a traumatic surfing accident, however, he retired from competitions and devoted his energy to the music. A self-taught guitarist, he released his first album, Brushfire Fairytales, in 2001. His third album, In Between Dreams, was released in 2005 and made him a household name. The album, which included such singles as 'Banana Pancakes' and 'Better Together,' peaked at number two on Billboard Chart's Top 200 albums. A prolific musician with nine albums, Johnson has carved out his place in the musical world by staying true to his roots, using his mellow, folky, beach bum cadence and acoustic instrumentals to transmit the laid-back island lifestyle in which he grew up.
Voices of Peace
Meaning 'voices blending together in warmth,' Na Leo Pilimehana is a contemporary Hawaiian music group consisting of three childhood friends: Nalani Choy, Lehua Kalima, and Angela Morales. Their big break came in 1984 when they entered Hawaii's statewide talent contest, Brown Bags to Stardom, with their original song, 'Local Boys.' At the time, it became Hawaii's biggest selling single and won them their first Na Hoku Hanohano Award for Single of the Year. Building off of that momentum, they released their first album later that year, also titled Local Boys. It would be nine years before they released their second album, Friends, in 1993. The hiatus gave the members time to attend college and start families. They made a prolific comeback, however, releasing 23 CDs, winning a total of 22 Na Hoku Hanohano Awards, and starting their own record label, NLP Music, solidifying their position as one of the top female Hawaiian music groups on the islands.
Jake Shimabukuro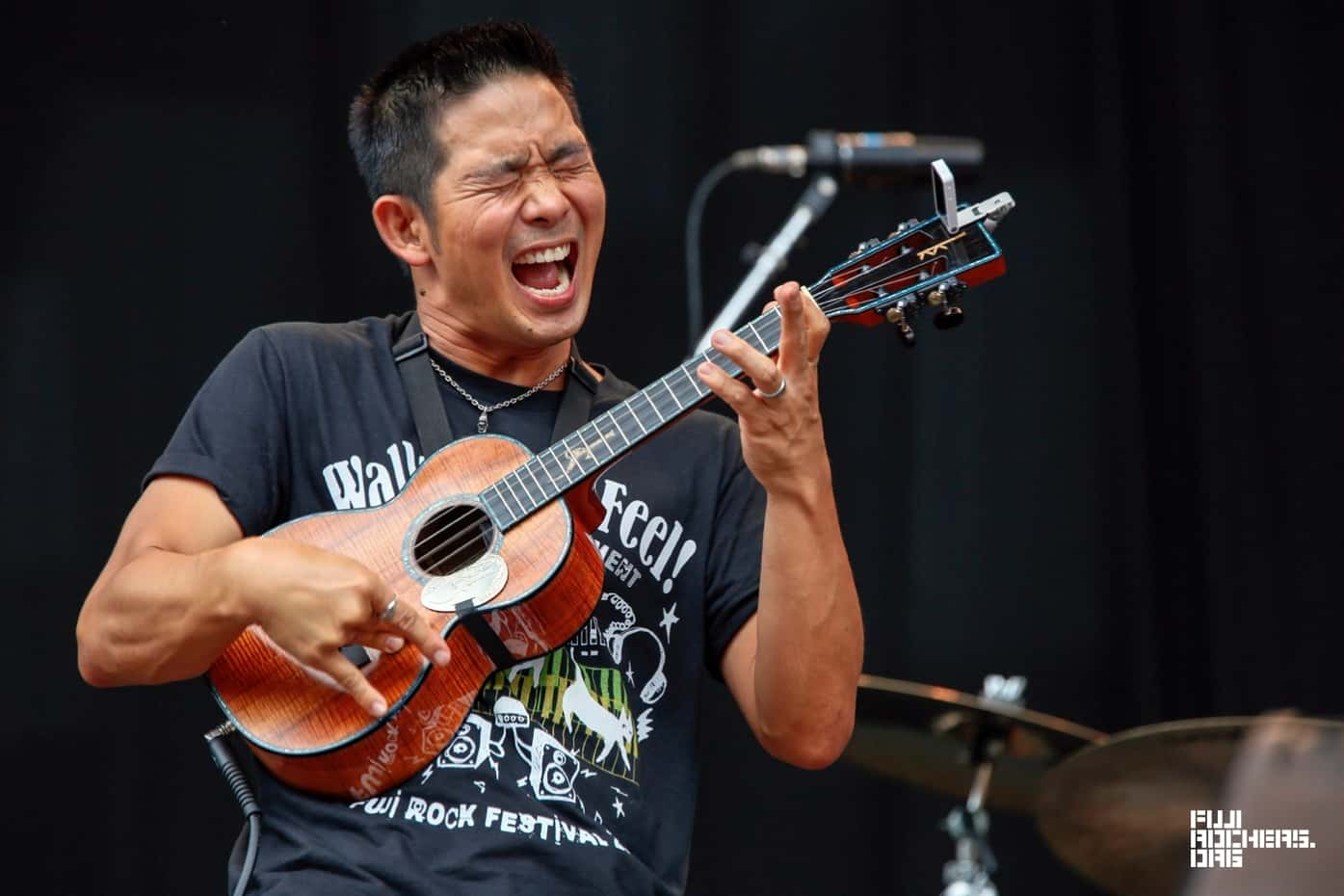 A ukulele prodigy, Jake Shimabukuro began his career performing at local coffee shops around Honolulu before signing with Epic Records in 2002. He gained national recognition when he posted his cover of 'While My Guitar Gently Weeps' to YouTube. It quickly went viral, gaining over 13 million views. This has given Shimabukuro the opportunity to collaborate with artists such as Yo-Yo Ma, Jimmy Buffet, Cyndi Lauper, and Ziggy Marley. He's wowed audiences with his appearances on Good Morning America and The Today Show and had the opportunity to perform for Queen Elizabeth II at the Royal Variety Performance in 2009. His effortless, spirited fusion of classic rock influences with the traditional sounds of the ukulele has made him the recipient of numerous Na Hoku Hanohano Awards including Instrumental Album of the Year and Favorite Entertainer of the Year.
Willie K
Willie Kahaiakli'i was raised on the island of Maui and began entertaining audiences at the young age of ten by performing in his father's band. A singer, songwriter, and entertainer, K is unrestricted by genre and performs a wide variety of music including Hawaiian, jazz, country, and opera. He released his first album, Kahaiakli'i, in 1992 and won four Na Hoku Hanohano Awards including Album of the Year, Most Promising Artist of the Year, and Male Vocalist of the Year. He has performed with or opened for musical giants such as B.B. King, Santana, Willie Nelson, Prince, and Jimmy Buffet. His versatility as an artist has made him an enduring force in the mainstream and Hawaiian music scene, defying boundaries and expectations all the while staying true to the traditional music with which he grew up.
Queen Liliuokalani
Queen Liliuokalani was the last sovereign monarch of the Hawaiian Kingdom before her overthrow in 1893. Although known for her steadfast commitment to her people and her country, she was also a prolific songwriter and composer, writing some of the most seminal pieces of Hawaiian music that are still sung and performed today. Chief among these is the song 'Aloha 'Oe.' Originally intended to be a love song, it has since become a song of somber farewell and has evolved into a symbol of Hawaii's lost cultural identity following its overthrow and eventual annexation by the U.S. government. Queen Liliuokalani used composing as a means of comfort. During her imprisonment at Iolani Palace, she used her music to express her injustice and to attempt to preserve the history of her people, translating the Hawaiian creation chant or 'Kumulipo' and transcribing 'Aloha 'Oe.' She will remain a revered and respected figure in Hawaiian history for the way she used her art to fight for and inspire her people.
Anuhea
Anuhea Jenkins is taking the Hawaiian music scene by storm as an up-and-coming star. Her passion for music led Anuhea to drop out of college to pursue her dream full time. Her first self-titled album was released in 2009 and earned her a pair of Na Hoku Hanohano Awards for Most Promising Artist and Album of the Year. She draws inspiration from Bob Marley, Jack Johnson, and Jason Mraz to create her unique blend of soul and relaxed Hawaiian melodies. Anuhea peaked at number two on Billboard Charts Top World Albums. In 2011, she performed at the ProBowl Halftime show in a packed stadium. Her most recent EP, Shoulders, was released in February 2016.
By: theculturetrip.com