There are loads of beautiful Hawaii waterfalls scattered throughout the islands, and Maui is home to quite a few of them! While most of these waterfalls are located along the road to Hana (also known as the Hana Highway), there are a few hidden gems dotted throughout the rest of the island.
Simply put, if you're looking for the best Maui waterfalls, this guide has everything you need to know.
Twin Falls
If you're looking for a Maui waterfall that requires minimal effort, you'll want to head to Twin Falls. I always make fun of Waimea Falls on Oahu for being more of a stroll than a "hike," but the walk to Twin Falls is even easier.
Located just two miles into the road to Hana, you'll see the unpaved parking area for Twin Falls. Be prepared for a five- to ten-minute walk before you see this gorgeous waterfall duo.
Makapipi Falls
Makapipi Falls is another Maui waterfall that's quite unique. Rather than seeing this waterfall from below, you'll get a slightly different angle. If you park your car just before the bridge near mile marker 25 on the road to Hana and look over the edge of the bridge, you'll actually be able to see Makapipi Falls from above! That's definitely a unique experience.
It's important to note that Makapipi Falls is a seasonal waterfall. If you want to see this waterfall, your best bet is to drive the road to Hana after a few days of solid rainfall.
Oheo Gulch (Seven Sacred Pools)
Oheo Gulch, also known as the Seven Sacred Pools, is undoubtedly the most famous Maui waterfall. Situated at the end of the road to Hana, you'll have to prepare for quite a long drive before you reach this beautiful natural wonder.
As the name of this Maui waterfall implies, there are several pools and waterfalls to discover! As a matter of fact, a couple of other noteworthy waterfalls on Maui, including Waimoku Falls and Makahiku Falls, are included in Oheo Gulch.
For the best views of Oheo Gulch, you'll want to hike the two-mile Pipiwai Trail, which is undoubtedly one of the best waterfall hikes on Maui. It is important to note that, while this hike is short, it can be difficult after heavy rain.
Since Oheo Gulch is technically located in Haleakala National Park, a $25 ticket per car is required, but this ticket is good for three days. To make sure you're spending your money wisely, you should plan your visits to Oheo Gulch and Haleakala within a couple days of each other.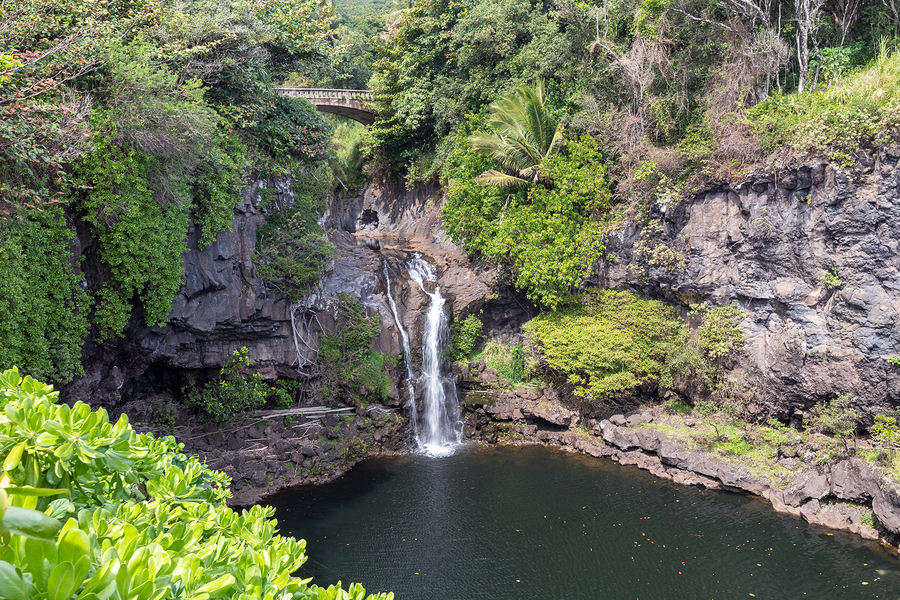 Wailua Falls
While Wailua Falls on Kauai is more well-known, Wailua Falls on Maui is nothing to balk at either.
Situated on the road to Hana, Wailua Falls is often called the most photographed waterfall on Maui. Why? Because it's right on the side of the road! You don't have to hike or even park to get a glimpse of this 80-foot waterfall (although, I do highly recommend that you park, so you can take as many pictures as you want).
If you'd like, you can even take a dip in the swimming hole at the base of the falls. It's the perfect way to cool off from the hot Hawaiian sun.
Upper Waikani Falls (Three Bears)
Upper Waikani Falls, also known as Three Bears is another beautiful waterfall on the road to Hana. Situated between mile markers 19 and 20, this specific waterfall is a little bit different. It's segmented into three separate waterfalls (hence, the name "three bears"), which is a cool sight to see, especially considering these cascades are 70 feet tall!
Honokohau Falls
Honokohau Falls is the tallest waterfall on Maui, boasting a whopping 1,100 feet of cascading water. This two-tiered waterfall is known to be one of the most picture-perfect waterfalls in the Hawaiian Islands, and its aerial shots are actually used in quite a few Hawaii tourism advertisements.
Honokohau Falls is only accessible by air. If you'd like to see these falls, you can book a tour with Hawaii Tours or Sunshine Helicopters.
Puohokamoa Falls (Garden of Eden Arboretum Waterfall)
During your drive on the road to Hana, you'll pass the Garden of Eden Arboretum between mile markers 10 and 11. And while the lovely plants and animals of this arboretum make this stop worthwhile already, the striking Puohokamoa Falls just sets everything over the top.
While in the Garden of Eden Arboretum, you can catch a breathtaking bird's eye view of Puohokamoa Falls. Or you can skip the arboretum altogether, park at mile marker 11, and take the path there to the Lower Puohokamoa Falls.
Alelele Falls
Alelele Falls is one of the most under-the-radar waterfalls on Maui. It's located on the "back road" to Hana, which means it is past Hana, Oheo Gulch, and all of the other main road to Hana stops.
And while you might have to drive a while to reach Alelele Falls, you'll only have to hike 0.3 miles, starting from the Alelele Bridge! Once you reach the end of the trail, you'll be greeted by a 50-foot waterfall and a natural pool that's deep enough to swim in!
It's important to note that Alelele Falls is a seasonal waterfall. If you want to see this waterfall, your best bet is to drive the road to Hana after a few days of solid rainfall.
Makamakaole Falls
Makamakaole Falls is one of the few best waterfalls on Maui that is not on the road to Hana. Rather, it is located in the West Maui Mountains.
There are a couple of different ways to see Makamakaole Falls. First, there's the Makamakaole Falls Trail, also known as the 13 Crossings Trail. While this trail is only one mile long, it is quite difficult and dangerous, thanks to the narrow trail and multiple stream crossings. When you finish, you'll get an awesome view from the base of the falls.
Another way to see Makamakaole Falls is by hiking the Waihee Ridge Trail. This amazing trail is one of the best hikes on Maui
Waikamoi Falls
Waikamoi Falls is one of my personal favorite Maui waterfalls, despite the fact that most people haven't heard of it.
Situated just after mile marker 10 on the road to Hana, there actually isn't a designated parking area for Waikamoi Falls. But, if you're lucky, there will be an area along the side of the road that is big enough for a couple of cars. Due to this limited parking, you'll likely be one of just a handful of people at these beautiful falls!
And after parking, you'll just need to walk for about a minute before reaching the base of this breathtaking waterfall.
Are there any other Maui waterfalls that you think should make it onto this list? Let me know in the comments below!
Want to remember these waterfalls for your next trip to Maui?
Source: bordersandbucketlists.com