Austria is considered as the heart of Europe and it has so much to offer to tourists. It is a beautiful place that has beautiful mountains as its backdrop along with breathtaking landscapes against which the life of the locals and animals play out. It is a popular tourist destination because it has some gorgeous lakes, insightful museums, relaxing parks and and offers various kinds of activities. Apart from all this, there are some great churches because almost the entire population consists of Catholics and Christians. There are plenty of beautiful older churches that you can find as well as some newer ones. Here is a list of the best churches in Austria that you must visit!
10 Best Churches In Austria
Take a look at some of the best churches in Austria that are an epitome of architecture and will leave you boggled with their majestic grandeur. And oh, don't forget to add these to your next Europe itinerary!
1. Corners Fellowship Church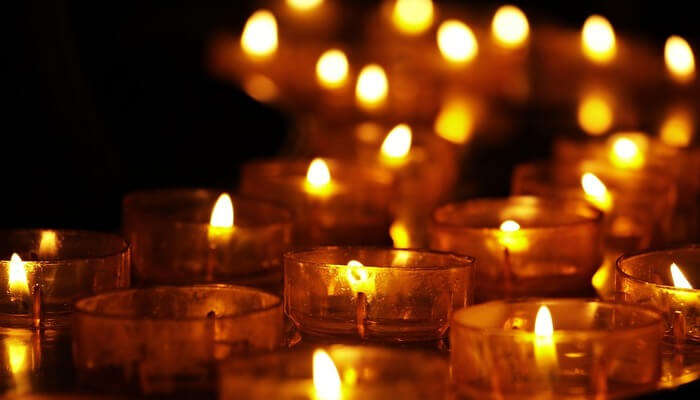 This is one of the most popular Pentecostal churches in Austria. The church itself is a rather simple one that consists of a large hall with a podium in front where people perform and there is a little table in the middle of the room where the effects are handled. They have Sunday services that are followed by small prayer groups.
Location: Abserberggasse, 27, 1100, Wien, Australia
Timings: Sundays 5:00 pm- 7:30 pm
2. St. Charles Church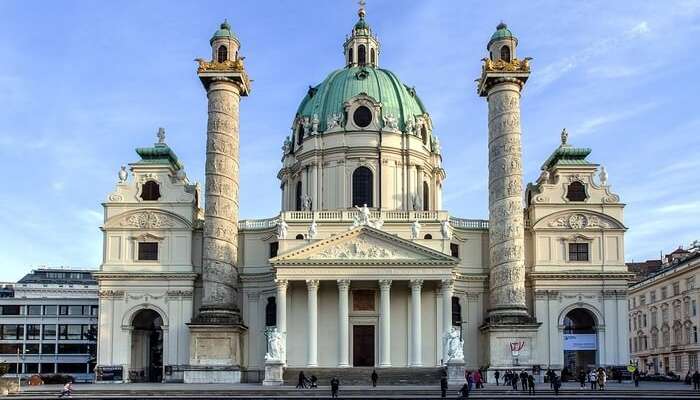 This is considered to be one of the be the most beautiful Catholic churches in Austria. It is located on the northern side of the Alps. It is influenced by the Baroque style and the exterior is nothing short of breathtaking. If you climb up to the top of the dome, you can get a great view of the city. It is important to note the Greek and Roman elements present in the design. Special concerts take place here on Fridays and Saturdays, which you should definitely check out.
Location: Kreuzherrengasse 1, 1040 Wien, Austria
Timings: Monday to Saturday 9:00 am-6:00 pm and Sundays 12:00 pm-7:00 pm
Entry fee: INR 683 for adults and INR 341 for students.
3. St. Michaels Church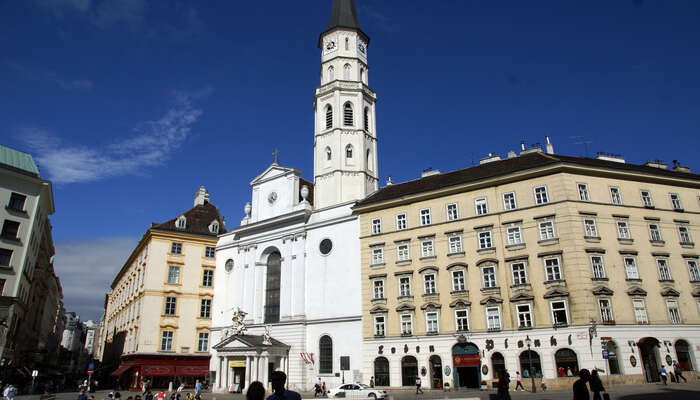 This peaceful place is one of the oldest churches and is still one of the famous churches in Vienna. It dates back to the thirteenth century. Although the exterior is rather plain, don't let that fool you. There are plenty of interesting things on the inside like encrypted texts and more. The architecture inside is really unique and unlike anything that the other churches have. It is influenced by Roman, Gothic and Baroque styles.
Location: Michaelerplatz, 12, Vienna, Austria
Timings: Monday to Saturday 7:00 am-10:00 pm and Sundays 8:00 am-10:00 pm
4. St. Peter's Church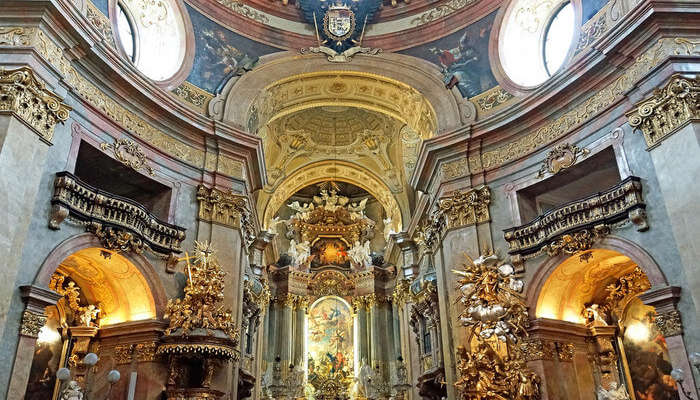 This hidden gem is one of the best Catholic churches in Vienna Austria. It can be found on Graben street amidst all the other buildings, but you need to look carefully because you might pass it by. There are some beautiful paintings on the ceilings, so don't forget to look up when you get inside. The highlight of this place would be the stunning Baroque organ that has still survived after all these years.
Location: Peterplatz, 1, 1010, Vienna, Austria
Timings: Monday-Friday 7:00 am-8:00 pm and Saturday to Sunday 9:00 am-9:00 pm
5. St. Stephen's Cathedral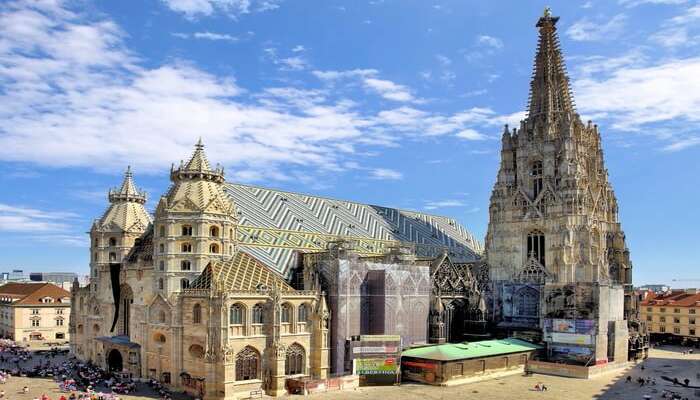 This church is actually a very important landmark in Vienna and the most famous gothic church in the area. St. Stephen's Cathedral in Vienna Australia is a massive cathedral that has four huge towers, one of them has the largest bell that can be found in the whole of Europe. One can hear this bell from anywhere in the city. After you are done visiting the church, do check out the catacombs, where the graves of the archbishops and cardinals can be found.
Location: Stephansplatz, 3, 1010, Vienna
Timings: Monday to Saturday 6:00 am-10:00 pm and Sundays 7:00 am-10:00 pm
Entry fee: INR 384
6. Franciscan Church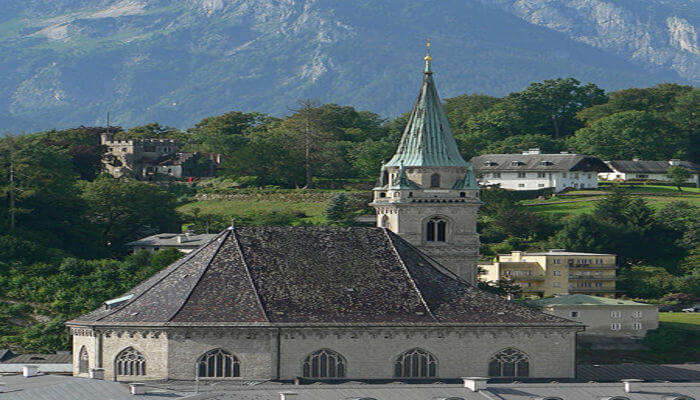 This traditional Baroque style church is one of the oldest Catholic churches in Salzburg Austria. There are a lot of valuable statues and fine artifacts that can be found all around the church. However, the highlight of this place is the statue of Madonna that can be found right on the altar and is a great centerpiece. If you love old buildings then this is the place to be.
Location: Franciscan street, 5, 5020, Salzburg, Vienna
Timings: 6:30 am-7:00 pm
7. Protestant Church of Christ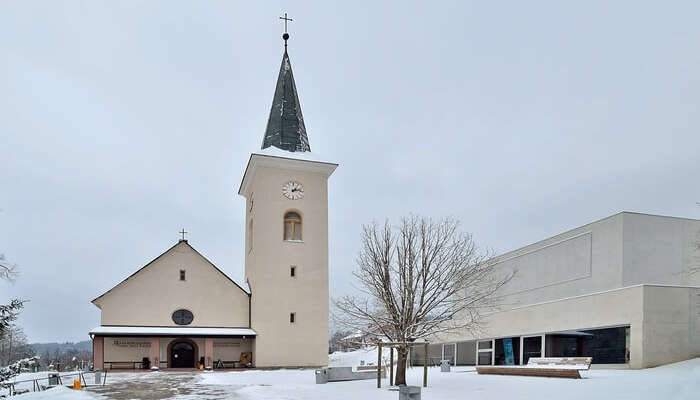 This is one of the popular Evangelical churches in Vienna Austria that has a perfect combination of Gothic, Romanesque and Renaissance styles. The stained glass window is beautiful. You can join in on the service (which will be in German) at around 9:30 am every Sunday. The clock at the top of the tower is what makes it one of the most popular churches in Salzburg Austria.
Location: Shwartzstreet, 5, 5020, Salzburg, Austria.
Timings: 8:30 am- 6:00 pm daily.
8. Court Church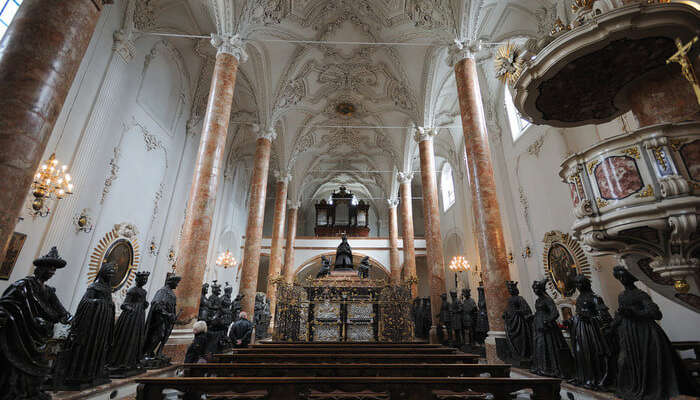 Also called Hoffkirche, this is one of the popular churches in Innsbruck, Austria. It may not look like much from the outside but the interior is beautiful and the artifacts that you can find inside are very interesting as well. There is a little museum attached to the church and if you pay a fee, you can take pictures of all the statues. If you just want to attend service, however, well that's free of course. There are 28 statues in total and the best statues would be that of Emperor Maximilian and King Arthur.
Location: University street 2, 6020, Innsbruck, Austria
Timings: Monday to Saturday 9:00 am-5:00 pm and Sundays 12:30 pm-5:00 pm
Entry fee: INR 598
9. Basilica St. Michael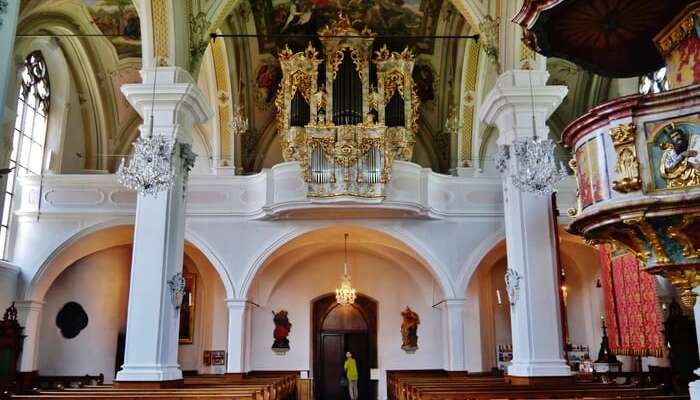 This huge church in Mondsee Austria is famous because the wedding scene from the movie 'Sound of Music' was filmed here. You can see the remains of 5 important saints which is a part of the altarpiece and you can even observe the remains of Abbot Konrad II who died while defending this abbey in 1145. If you love history then this church is a great historical sight that also combines religion. After you are done visiting the church you can take a walk to Mondsee Lake or visit the souvenir shop nearby to buy items related to the 'Sound of Music' movie.
Location: Church alley (kirchengasse) 1, Mondsee, Austria
Timings: 9:00 am-7:00 pm daily
10. Zirl Parish Church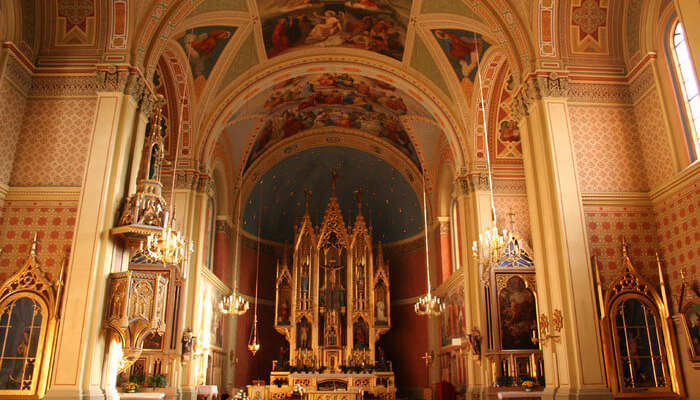 It is also known as the Holy Cross Parish Church and the biggest place of worship in Zirl. If this church isn't in your list of Catholic churches in Austria to visit, then this surely should be. The paintings here were created by Franz Plattner who painted the entire ceiling with vivid watercolors. There are beautiful floral patterns that cover the walls in the interior. The entire church is basically a beautiful masterpiece.
Location: 1 Auer Street, Zirl 6170, Austria
This list of some of the best churches in Austria can really add more peace to your holiday. So, plan your next Europe trip with TravelTriangle and customize your itinerary so that you can explore these beauties during your vacation.
By: Ruchika Anand/ traveltriangle.com