Happily, Swiss mountain resorts cater to families and often have big elaborate playgrounds right next to the big views. This is a great reward and motivation for kids to finish the hike. Here are our favorites.
1. Allmendhübel Flower Park – Jungfrau Region
This enormous playground in the flower filled hills above Mürren is full of amusements for the kids as well as breathtaking views of the Eiger, Jungfrau and Mönch across the valley. If you want to hike to this trail, I suggest the Mürren Mountain View Trail, which is a fall favorite.
2. Mooraculum – Central Switzerland
This big playground in Central Switzerland has lots of interactive play stations educating children about nature, particularly the endangered moor. There's water play, swings, slides, climbing stuff, obstacle courses, games, and a little scavenger hunt. There's even a short theme trail, with 18 stations. This is particularly nice for small children (3-7) since the trail is short and the amusements are within their reach.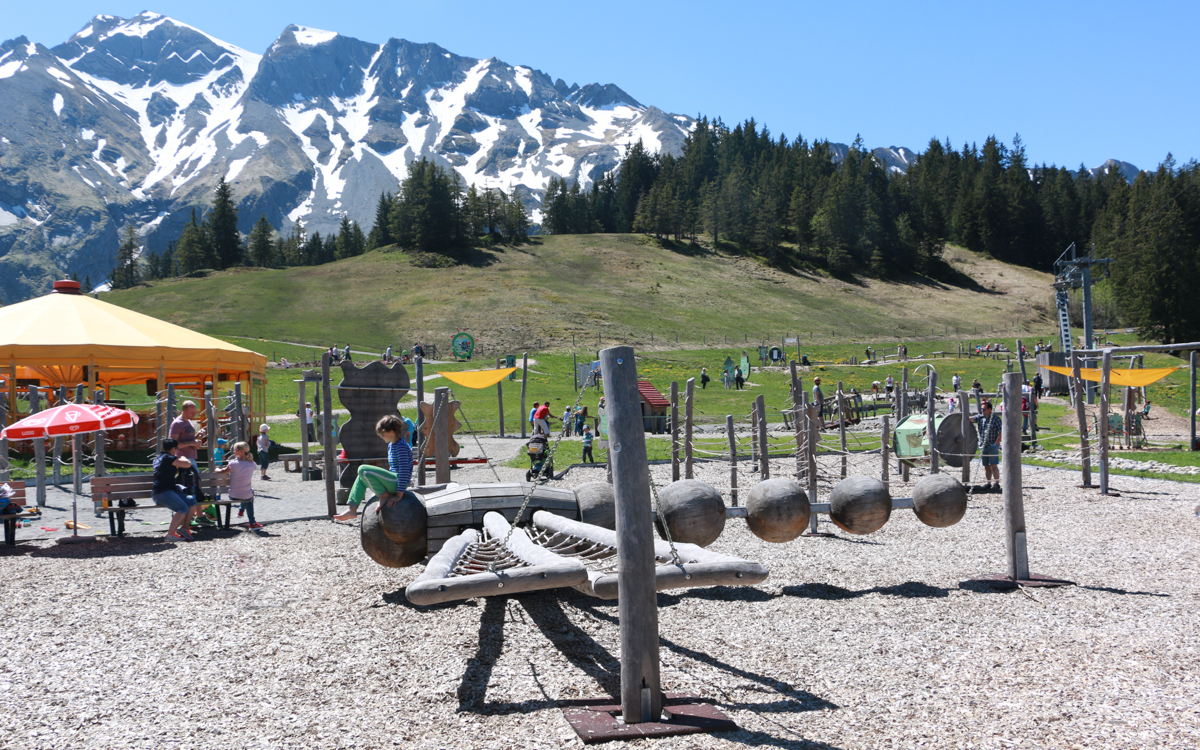 3. Brunni Playground & Waterworld
Kids will love this enormous playground with climbing structures, slides, swings, trampolines, and lots of waterways to play with. From here, you can either hike or ride a chair lift up to the beloved barefoot path and have a picnic. Then hike the Globi treasure hunt trail back down and jump some more before going home.
4. Elm Trampolines
Before heading out on the trail, let the kids jump around on these trampolines while you relax on the sunbeds and enjoy the view. The short "Giants' Forest" theme trail through the forest and ends back here. My kids ask me to take them here every year, just for the trampolines.
5. Stoos playground – Central Switzerland
This playground is new in 2019, a big improvement on the old one. The views are still unbeatable. With under 6s, do the short Panorama Trail at the top. With 7+, try the gorgeous Ridge Trail first and reward them with ice cream and play time.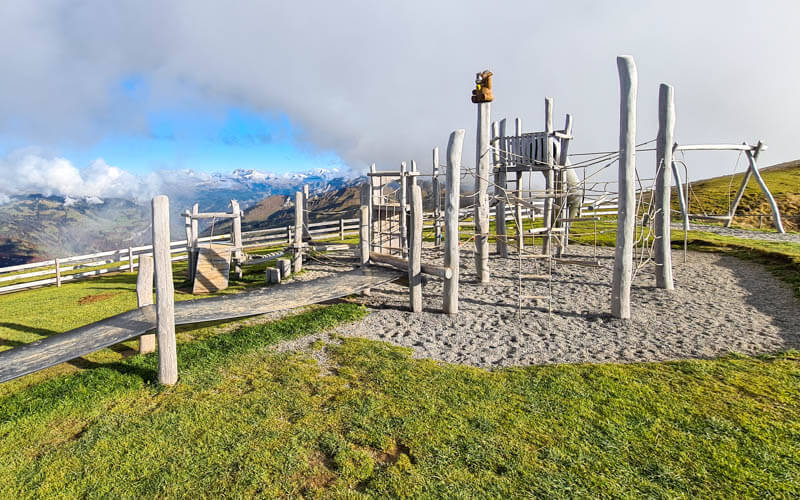 6. Jumpy Park – Sattel Hoch Stückli – Central Switzerland
For a small fee, kids can jump their hearts out on the many jumpy castles and trampolines. There's also a summer toboggan and a themed hiking trail. This one is very popular and can get crowded on sunny weekends. I suggest going right when it opens, as it's usually rather quiet until lunch time.
7. Alpenspielplatz at Grindelwald First – Jungfrau Region
This beautiful playground at the middle station of Grindelwald-First has lots of climbing structures, swing, slide, mini trampoline, water play, etc. They even do a story-telling hour on Wednesdays during the summer school holidays.
8. Klewenalp Stockhütte – Central Switzerland
This playground was a pleasant surprise at the end of our hike from Klewenalp to Stockhütte, which has a stroller-friendly variation. The mountain views are spectacular and you can even see down to Lake Luzern. Add on a mountain scooter to the bottom and you've got one happy family.
9. Männlichen Alpine Playground – Jungfrau Region
This crazy cow slide overlooks the whole Jungfrau region, with some of the best views you can get around here. Lots of play equipment here and a restaurant for refreshments. Combine this with the short Royal walk for a better vantage point or hike over to Kleine Scheidegg to get a closer look at the glacier.
10. Trampolines & More – Rigi Scheidegg
The spectacular Rigi Panorama trail ends at this playground just before reaching the Rigi Scheidegg cable car. Kids will compete for space on the trampolines, race back and forth between climbing structures, slide and swing while parents lounge at the restaurant or picnic tables.
A little farther afield
Here are a couple honorable mentions that are a bit far from Zürich for a day trip. But definitely worth visiting if you are in the Valais region.
Wolli's Adventure Park at Sunegga Paradise – Zermatt
After hiking, kids are rewarded with this big playground, with slides and lots to climb on. If its really hot, you can cool off in the little pond nearby. If you forgot a picnic, just grab lunch at the restaurant next door. Afterwards, you can ride a mountain scooter back down to Zermatt. We've done two trails that lead here: the Three Lake Trail from Riffealp to Sunegga and the Rothorn Flower Trail
Hohsi Land – Saas Grund, Valais
At Hohsi Land near Saas Grund, you'll find a big playground, rock climbing boulder, water play, a little pond, go karts, trotti scooters, a little petting zoo, and a sensory theme trail with a suspension bridge.
Do you have a favorite that's not on this list? Leave a comment and tell us all about it.
Source: swissfamilyfun.com